Tania Karen de Jong, AM, is an Australian soprano, social entrepreneur, business woman, creative innovation catalyst and motivational speaker. She is the co-founder and artistic director of entertainment and event company Music Theatre Australia - MTA Entertainment and Events. She is also the founder and a performer in the musical group Pot-Pourri which has released seven albums, and has founded several social enterprises. De Jong has performed with the Victoria State Opera and has performed in over 40 countries. De Jong has developed Creative Universe and Inspiring Minds to help unleash potential and improve wellbeing, engagement, innovation and productivity in organisations through creative thinking, innovation and leadership programs. De Jong presents keynote speeches in Australia and internationally for a diverse range of conferences and events. She is Founder and Executive Producer of Creative Innovation 2010-2015, a global future-shaping innovation forum. Ci2013 was named Corporate Event of the Year in the Global Eventex Awards. De Jong is working on a number of creative projects and released her first solo album Heaven on Earth in 2015 and is releasing her new album Flying Free in 2017. She is also working on a book on creative leadership and ECHO a new music theatre work with Stefan Cassomenos and John Romeril. She has sung in many languages, including English, Spanish, French, Latin, German, Italian, Russian, Mandarin Chinese, Japanese and Hebrew.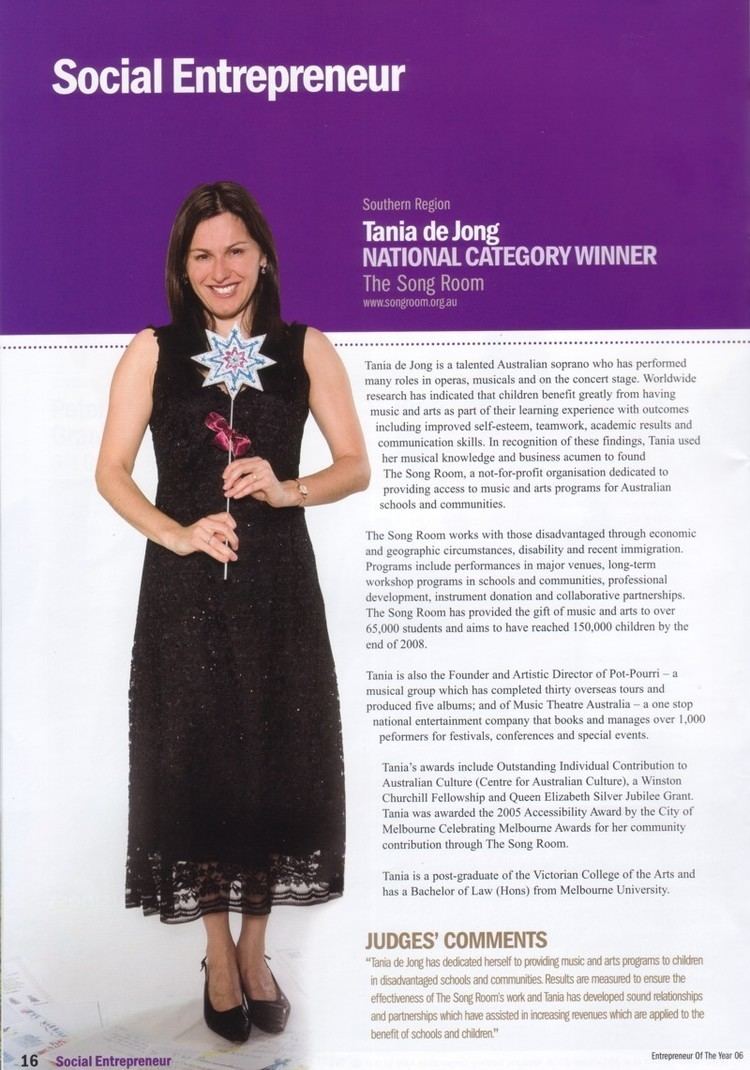 De Jong was born in Arnhem, The Netherlands, to her Dutch father and Austrian mother; and the family moved to Melbourne, Australia, when de Jong was one year-old. Her grandfather was a Polish refugee who escaped the Holocaust, was a Vienna-trained sculptor. Her grandmother also trained in Vienna who created the world's first modern folding umbrella in Vienna. Their home in Melbourne's Malvern East now operates as a museum. De Jong's mother was a Dutch national tennis champion, a Federation Cup player for Australia and a quarter-finalist at Wimbledon.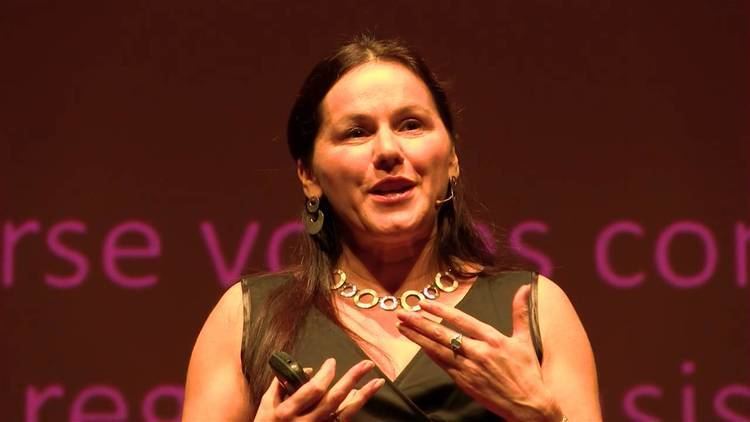 Aged 14, de Jong was advised by a friend not to bother with singing lessons. She finally got up the courage to audition for the chorus of her school's performance of Oklahoma at age 17 and won the lead role. Interviewed in 2009, she recalled:
"I was the kid who said my favourite pop group was Beethoven."
De Jong graduated from the University of Melbourne with a Bachelor of Law (Honours) and from the Victorian College of the Arts with a Graduate Diploma in Opera and Music Theatre and a Postgraduate Diploma in Music (Opera and Voice). She also attended college in the USA on a tennis scholarship.
Tania's recent TED Talk How Singing Together Changes The Brain has sparked international interest. Creativity Australia was named one of Australia's top social innovations in Anthill's Smart 100 for the second year in a row.
Tania's grandmother Slawa Duldig invented the first foldable umbrella in Vienna in 1929.
In 1999, de Jong created The Song Room, a not-for-profit organisation dedicated to providing access to music and arts programs in Australian schools and communities. Since 2001, The Song Room has reached over 300,000 disadvantaged children, enhancing their education, personal development and community involvement and engaging them in a passion for creativity and lifelong learning.
In November 2008, she founded Creativity Australia, a non-profit organisation that delivers programs for employers that are designed to unlock the creativity of their staff and encourage teamwork through workplace choirs and other artistic endeavours.
The With One Voice choir social inclusion and community wellbeing programs aim to recognise each unique voice. The choir programs are unique in that they deliberately build and bridge social capital. They bring together people of all ages and from all walks of life, cutting across socioeconomic, cultural, religious, generational and linguistic barriers in the pursuit of harmony. The program was named in Anthill's Smart 100 awards.
De Jong donates time to a range of charities via performances and speaking and served on the Board of Child Abuse Prevention and Research Australia.
1995: Rhythm of Life - Pot-Pourri
1997: Something Familiar!, Something Peculiar! - Pot-Pourri
1999: This is the Moment - Pot-Pourri
2001: Friends for Life - Pot-Pourri
2003: Chanson d'Amour - Pot-Pourri
2004: Soundsations - Dorje and Diva (Tania de Jong & Chris Walker)
2006: Nella Fantasia - Pot-Pourri
2012: Silver - Pot-Pourri
2015: Heaven on Earth - Tania de Jong
In 2006 de Jong received the Ernst and Young Australian Social Entrepreneur of the Year Award for her work with The Song Room charity. De Jong's other awards include the "Outstanding Individual Contribution to Australian Culture" (1998) and the Accessibility Award in The Melbourne Awards (2005). She was a finalist in the Telstra Business Women's Awards (2001) and studied overseas on a Churchill Fellowship in (1996). She has recently been inducted into the AGSE Entrepreneurs Hall of Fame at Swinburne University. De Jong was named Brainlink Woman of Achievement 2009. She was a runner-up in the Westpac Community Leader Awards in 2013. Creativity Australia was named one of Australia's top social innovations in Anthill's Smart 100 for the second year in a row.
De Jong was appointed a Member of the Order of Australia in 2008 for service to the arts as a performer and entrepreneur and through the establishment and development of music and arts enrichment programs for schools and communities.