Tambaram is a suburb located in Chennai Metropolitan Area Tambaram taluk of the Kanchipuram district in the South Indian state of Tamil Nadu. Tambaram is a suburb of Chennai situated 27 km (17 mi) south of the city in Tamil Nadu, India. It is on the Chennai–Trichy national highway. The highway and the railway line from Chennai Egmore to Kanyakumari divide the town into East Tambaram and West Tambaram. The neighbourhood is served by the Tambaram railway station of the Chennai Suburban Railway Network. Tambaram is described as Gateway of the Beautiful Metropolitan City, Chennai. As of 2011, the city had a population of 174,787.
Tambaram is also home to the Tambaram Air Force Station of the Indian Air Force.
Originally a camp for the East India Company in the late 17th century during the Carnatic wars, Tambaram has its origins in a village of the same name which lay on the outskirts of Chennai city.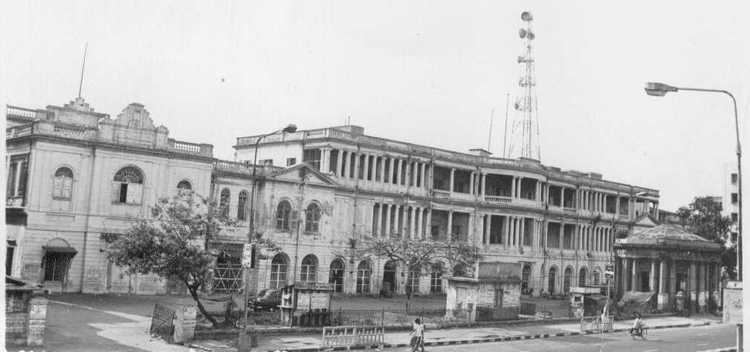 In 1936-1937, the Madras Christian College campus was moved to Tambaram heralding development and accelerating the process of inclusion of Tambaram in Madras city. and the first commissioned suburban trains from Tambaram to Beach. This Municipal Town is also proud of being home to a number of industrial units established at the Madras Export Processing Zone (MEPZ). The units in the MEPZ export various items to several foreign countries thereby earning foreign exchange for the country.
Tambaram is one of the busiest towns in and around Chennai with extensive transport facilities. Tambaram Town is also well known for its reputed educational institutions.
Chennai outer ring road, as Central government project is going on to connect Vandaloor and Minjur to reduce the road traffic inside in chennai.
The two dates, mentioned above, are landmarks in the history of the Indian Air Force. On 1 April 1932, the Indian Air Force came into being and on 1 April 1954 Air Marshal Subroto Mukherjee, one of the founding members of the Air Force took over as the first Indian Chief of Air Staff.
The interim witnessed the most bloodiest war in the history of mankind, for the second time-World War II. The IAF lent its support to UK during the war. KK Majumdar, one of the legendary heroes of the Indian Air Force was rated one of the twelve best pilots of the Allied Air Forces.
The same decade also saw the birth of an Independent India followed by the formation of the Indian Air Force, as we know it today.
(,)http://www.thehindu.com/multimedia/dynamic/01176/DC12TAMBARAM2_GTK5_1176782g.jpg(,)http://www.chennai.tn.nic.in/images/oldcoll.jpg(,)https://sriramv.files.wordpress.com/2012/08/pic_01-1.jpg(,)http://www.thehindu.com/multimedia/dynamic/02029/TH29_SANATORIUM_2029051g.jpg(,)http://www.irfca.org/~shankie/emuenigma/sig.jpg(,)http://www.thehindu.com/multimedia/dynamic/00916/07_STATION_916688g.jpg(,)http://www.thehindu.com/multimedia/dynamic/01352/04THTAMBSANT_1352931f.jpg(,)http://upload.wikimedia.org/wikipedia/commons/a/af/Central_Railway_Station,_Madras_1880.jpg(,)http://upload.wikimedia.org/wikipedia/commons/6/6d/HOTEL_D%27ANGELIS_,MADRAS_EARLY%27S_1900.jpg(,)https://jovincey.files.wordpress.com/2011/09/chennai-old-mount-road-anna-salai.jpg(,)http://upload.wikimedia.org/wikipedia/commons/4/4f/Fort_St._George,_Chennai.jpg(,)http://www.xsreal.com/blog/images/cmc23-blog-header.jpg(,)http://i.ytimg.com/vi/OFF3RxD_pGY/hqdefault.jpg(,)http://web.mit.edu/rama/www/oldMadras1.jpg(,)http://web.mit.edu/rama/www/oldMadras3.jpg
(,)http://eveningflavors.com/DynamicImages.war/Restaurant/Chennai/23414/base/profileBase/hNw2adoaYZ.jpg(,)http://eveningflavors.com/DynamicImages.war/Restaurant/Chennai/23658/base/profileBase/nlNXIlABHn.jpg(,)http://eveningflavors.com/DynamicImages.war/Restaurant/Chennai/23573/base/profileBase/JkSHpjp3sV.jpg(,)http://eveningflavors.com/DynamicImages.war/Restaurant/Chennai/24373/base/profileBase/otxbB1jFav.jpg