Senegal




Tambacounda Region




Oury Ba



Tambacounda is the largest city in eastern Senegal, 250 miles (400 km) southeast of Dakar, and is the Regional capital of the province of the same name. Its estimated population in 2007 was 78,800.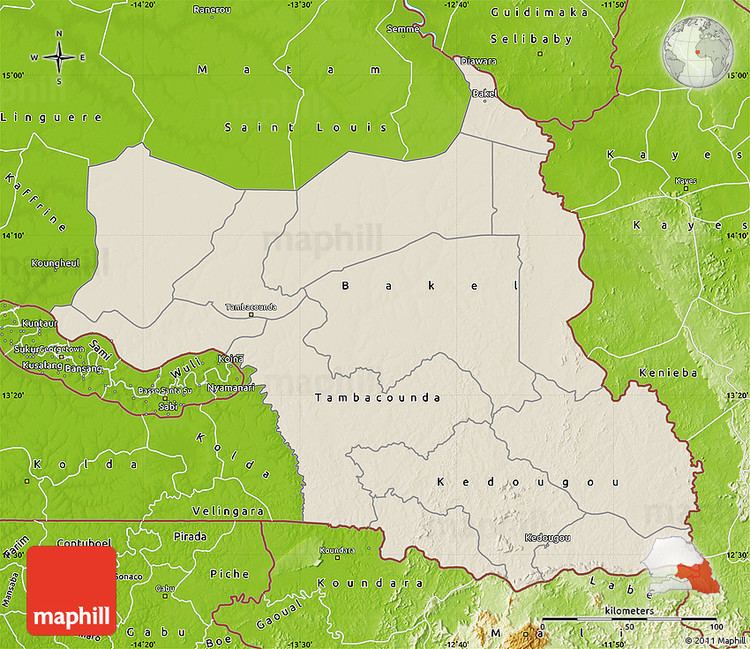 Tambacounda is situated on the sparsely populated sahelien plains of eastern Senegal. Like most of West Africa, the area has two seasons, the rainy season from June to October, characterized by heat, humidity and storms, and the dry season from November to May.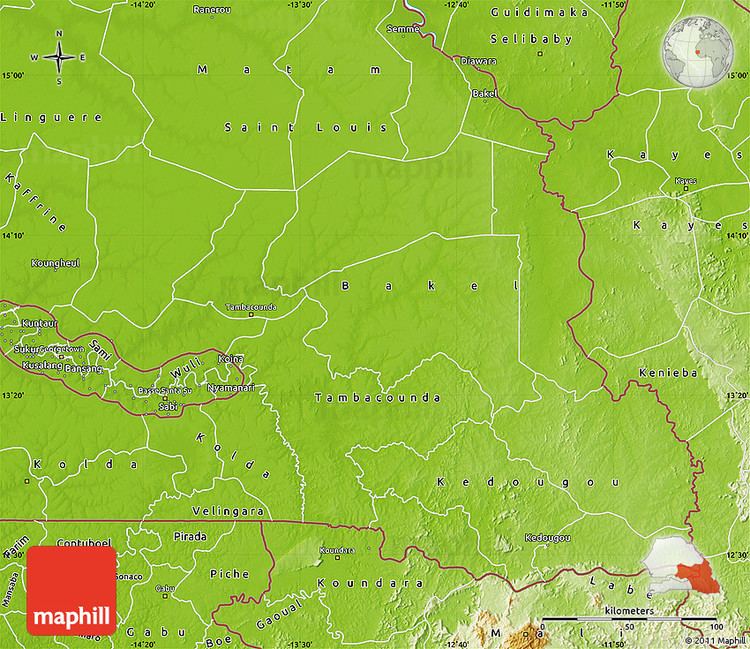 Nearby towns include Madina Maboule, Koukari, Yoro Sankoule, Sambadian, Djidje Kounda, Afia Seno, Saare Boylii and Kanderi Niana.
Between the censuses of 1988 and 2002, Tambacounda grew from 41,885 to 67,543 inhabitants.
In 2007, according to official estimates, the population reached 78,800 persons.
Settled first by Mandike peoples on the outskirts of the Mali Empire, on the regular transhumance routes of Fula cattle herders, and settled again by Wolof farmers in the early 20th century, Tambacounda has a mix of most of the ethnic groups in Senegal.
The Tambacounda region is famous for its rich djembe and dance culture and heritage. Some of the greatest djembe masters from Segu, Mali came to Tambacounda in the mid 1900s, bringing with them their history, knowledge, and secrets of the djembe. Among the famous musicians from Tambacounda is drummer Abdoulaye Diakite.
Tambacounda is also a center for agricultural processing, with millet, sorgum, maize and cotton grown in the dry plains of the region. Sodefitex operates a large cotton processing plant in the town.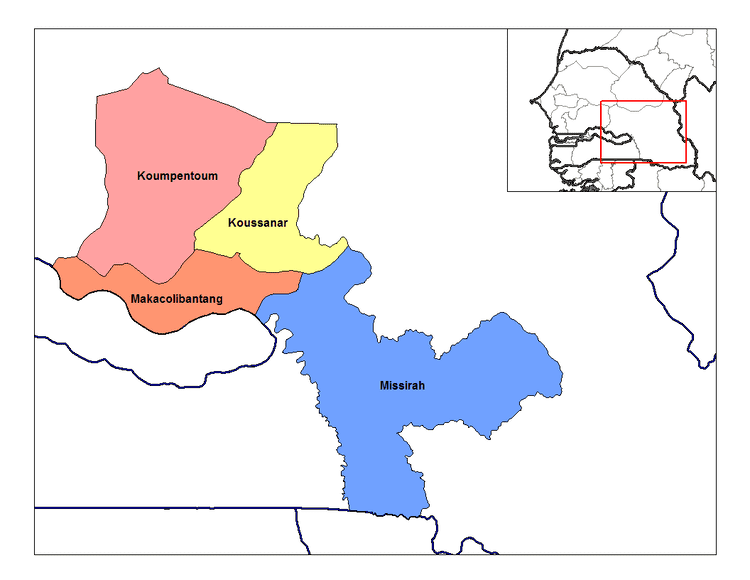 Tambacounda was a Mandike town and trade center at the beginning of French colonialisation. With the railway came more intensive cultivation of grains and cotton by Wolof peoples seeking arable land. French colonialists made the town a major transport center, and a number of buildings, including the rail station retain the colonial flavor.
Tambacounda Wikipedia
(,)http://upload.wikimedia.org/wikipedia/commons/f/f3/Tambacounda_arrondissements.png(,)https://dbffkv15yp72v.cloudfront.net/production/reports/year/000/029/224/f834e219/daily_high_and_low_temperature_temperature_f.png(,)http://africanperspectivesblog.files.wordpress.com/2011/11/tmbacounda-88-kopie.jpg(,)http://www.moxon.net/images/the_gambia/570/basse_santa_to_tambacounda2.jpg(,)http://static1.squarespace.com/static/500dc4c6e4b0dda5a7eabcd5/t/51e2baace4b0a4450d956b55/1373813428302/Tambacounda%2Bsenegal.jpg(,)https://africanperspectivesblog.files.wordpress.com/2011/11/tmbacounda-72.jpg%3Fw%3D1200(,)http://previews.123rf.com/images/carlosmora/carlosmora1201/carlosmora120100219/11906098-SENEGAL-Tambacounda-Region-BEDIK-Bassari-Country-BEDIK-Village-of-Iwol-Old-woman-spinning-cotton-Stock-Photo.jpg(,)http://previews.123rf.com/images/carlosmora/carlosmora1201/carlosmora120100221/11906101-SENEGAL-Tambacounda-Region-Bassari-Country-BEDIK-Village-of-Iwol-Old-woman-putting-on-dry-ground-mil-Stock-Photo.jpg(,)http://previews.123rf.com/images/carlosmora/carlosmora1201/carlosmora120100218/11906096-SENEGAL-Tambacounda-Region-Bassari-Country-BEDIK-Village-of-Iwol-Old-woman-applying-mud-to-his-hutStock-Photo.jpg(,)http://4.bp.blogspot.com/-UUi7-oH1qL0/UEtex6Xl6kI/AAAAAAAAAEo/7WZd7VNAkGI/s1600/F.27-400M%2BTroopship%2B%2B6W-STA%2B%2B%2B%2B5-10.jpg(,)http://pics.deejay.de/pics/xl/4/3/140143.jpg
(,)http://maps.maphill.com/senegal/tambacounda/maps/shaded-relief-map/physical-outside/shaded-relief-map-of-tambacounda-physical-outside.jpg(,)http://maps.maphill.com/senegal/tambacounda/maps/physical-map/physical-map-of-tambacounda.jpg(,)http://maps.maphill.com/senegal/tambacounda/tambacounda/3d-maps/physical-map/physical-3d-map-of-tambacounda.jpg(,)http://maps.maphill.com/senegal/tambacounda/maps/physical-map/shaded-relief-outside/physical-map-of-tambacounda-shaded-relief-outside.jpg(,)http://maps.maphill.com/senegal/tambacounda/panoramic-maps/physical-map/shaded-relief-outside/physical-panoramic-map-of-tambacounda-shaded-relief-outside.jpg
(,)http://www.tambagrillandbar.com/wp-content/uploads/2013/08/1-tamba1.jpg(,)http://media-cdn.tripadvisor.com/media/photo-s/02/be/47/cd/tamba-indian-grill-and.jpg(,)http://media-cdn.tripadvisor.com/media/photo-s/05/06/38/c8/tamba.jpg(,)http://media-cdn.tripadvisor.com/media/photo-s/05/32/c0/68/tamba-indian-cuisine.jpg(,)http://media-cdn.tripadvisor.com/media/photo-s/06/69/d9/f9/tamba-indian-cuisine.jpg(,)http://media-cdn.tripadvisor.com/media/photo-s/05/aa/bb/fb/tamba-indian-cuisine.jpg(,)http://www.menuclub.com/menus/986/page_1.jpg(,)http://www.menuclub.com/menus/986/page_2.jpg
(,)http://www.lerlu.com/wp-content/uploads/2015/04/tamba-culture-1.jpg(,)http://cdn3.vtourist.com/19/1460577-tambacounda_senegal_Tambacounda.jpg(,)http://www.xibartamba.com/IMG/arton2192.jpg(,)http://www.xibartamba.com/IMG/arton2168.jpg(,)http://www.lerlu.com/wp-content/uploads/2015/04/tamba-culture.jpg(,)http://i0.wp.com/www.tambacounda.info/wp/wp-content/uploads/2015/04/semaine_culturelle15_1.jpg%3Fresize%3D800%252C600(,)http://laviesenegalaise.com/wp-content/uploads/2015/04/Tambacounda.jpg(,)http://www.xibartamba.com/IMG/arton1806.jpg(,)http://p.vtourist.com/1460527-tambacounda_senegal-Tambacounda.jpg(,)http://tambacounda.info/images/stories/culture/diola_fete.gif(,)http://i2.wp.com/www.tambacounda.info/wp/wp-content/uploads/2014/08/tamba_Culture.jpg%3Fresize%3D515%252C250(,)http://www.senenews.com/wp-content/uploads/2014/12/Sina-Cissokho-Tambacounda.jpg(,)http://i2.wp.com/www.tambacounda.info/wp/wp-content/uploads/2015/04/mbagnick-tamba.jpg%3Fresize%3D515%252C250(,)http://i0.wp.com/www.tambacounda.info/wp/wp-content/uploads/2014/09/stade_Tamba.jpg%3Fresize%3D515%252C250(,)http://previews.123rf.com/images/carlosmora/carlosmora1201/carlosmora120100201/11906094-SENEGAL-Tambacounda-Region-Bassari-Country-BEDIK-Village-of-Iwol-Bedik-initiates-dancing-during-theStock-Photo.jpg