Japan




147,648 (2010)


21.08 km2


Kanto




Hiroyuki Abe (since April 2010)




Tama University, Keisen University



Tama (, Tama-shi) is a municipality classified as a city, located in Tokyo Metropolis, Japan.
As of 2011, the city has an estimated population of 147,171 and a population density of 6,981.55 persons per km2. The total area is 21.08 km2 (8.14 sq mi).
Its southern half forms part of the Tama New Town project, Japans largest residential development, constructed in the 1970s.
The city is located in the northern part of a large area of hills in south-western Tokyo, known as Tama Hills, which spans Tokyo and Kanagawa Prefecture. The entire region is historically referred to as Tama; therefore there are many place names scattered throughout the area with references to the name "Tama" which are not within the city limits. For example, Tama is the name of a ward several kilometres away under the jurisdiction of Kawasaki in Kanagawa prefecture. Tama River marks the citys northern boundary.
Tama is home to Tama Hills, a recreational facility of the U.S. Air Force, intended for use by United States service members and their families, as well as Japan Maritime Self-Defense Force service members and their families.
It is also home to the Sanrio theme park, Sanrio Puroland.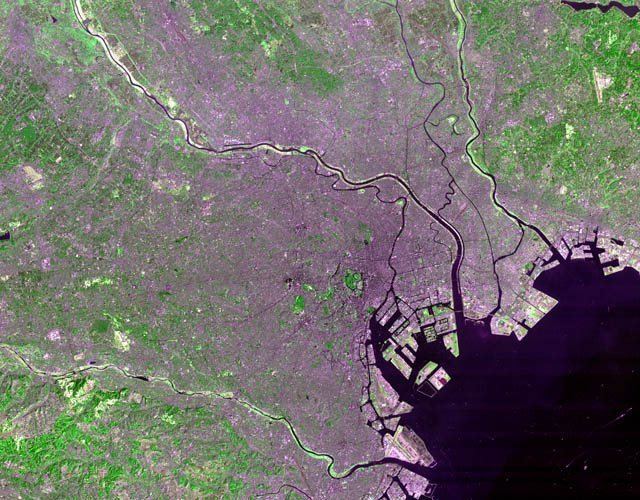 Tama as a municipality was founded on April 1, 1889 as "Tama Village" in what was then the Minamitama District from the merger of 10 pre-Meiji villages. On April 1, 1964, Tama Village was reclassified as Tama Town.
Construction of Tama New Town began in 1966, and the first occupants started moving in 1971. On November 1, 1971, Tama Town was reclassified as Tama City, dissolving Minamitama District. Tama was the last town in the former Minamitama District.
Tama, Tokyo Wikipedia
(,)http://upload.wikimedia.org/wikipedia/commons/5/59/Tokyo_Landsat.jpg(,)http://www.qooljan.com/wordpress/wp-content/uploads/2014/10/tokyowater_3115.jpg(,)http://upload.wikimedia.org/wikipedia/commons/thumb/6/63/Tokyo_Metropolis_Map.svg/700px-Tokyo_Metropolis_Map.svg.png(,)http://upload.wikimedia.org/wikipedia/commons/9/99/Tokyo_odaiba.jpg(,)http://www.esterior.net/wp-content/uploads/2014/12/xanadu02.jpg(,)https://markystar.files.wordpress.com/2014/08/tama-oume.jpg%3Fw%3D604(,)https://yokotafss.files.wordpress.com/2015/01/tamahistory_3.jpg%3Fw%3D470(,)https://yokotafss.files.wordpress.com/2015/01/tamahistory_2.jpg%3Fw%3D470%26h%3D627(,)http://upload.wikimedia.org/wikipedia/commons/e/eb/Tama-River-near-Ome.jpg
(,)http://www.gotokyo.org/en/tourists/topics_event/topics/120514/images/001.jpg(,)http://upload.wikimedia.org/wikipedia/commons/5/55/Gyu-tama-don_by_jetalone_in_Tsukishima,_Tokyo.jpg(,)http://fancy-edibles.com/wp-content/uploads/2013/09/Sushi-Art-by-Tama-chan7-585x854.jpg(,)http://media-cdn.tripadvisor.com/media/photo-s/05/c1/d6/24/tsukiji-tama-sushi.jpg(,)http://media-cdn.tripadvisor.com/media/photo-s/04/4b/4f/b0/tsukiji-tama-sushi.jpg(,)http://4.bp.blogspot.com/-natEJK5VMUU/VHKoObyYB1I/AAAAAAAAPo4/52Hpky5f6a0/s1600/DSC_0186.jpg(,)https://www.gotokyo.org/en/tourists/info/basic_info/basic/images/tokusan_photo.jpg(,)http://www.timeout.jp/data/files/00/00/00/03/62/64/b1519aec04ec1891465c2db50aac4afc46aaebf5_tn482x298.jpeg(,)http://foodfile.typepad.com/.a/6a0120a71b1d39970b01a73d87347c970d-800wi(,)http://assets.inhabitat.com/wp-content/blogs.dir/1/files/2013/03/risa-hirai-edible-artwork3-537x351.jpg(,)http://1.bp.blogspot.com/-RL6Lc7HHC6o/UIEZeAuWfuI/AAAAAAAAMfw/GvIU4bzvu4M/s1600/IMG_20121018_195949.jpg