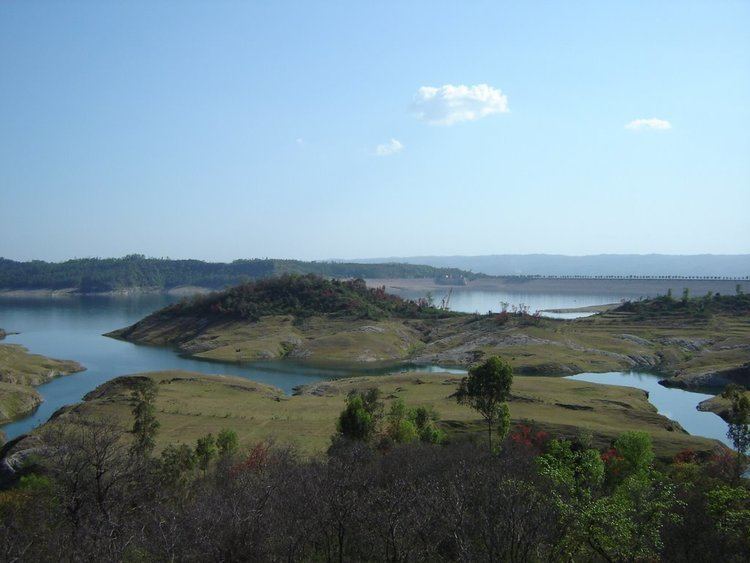 Talwara is located at 31.95°N 75.87°E / 31.95; 75.87. It has an average elevation of 326 metres (1069 ft).
As of 2001 India census, Talwara had a population of 22,580. Males constitute 53% of the population and females 47%. Talwara has an average literacy rate of 80%, higher than the national average of 59.5%: male literacy is 83%, and female literacy is 76%. In Talwara, 11% of the population is under 6 years of age.
The township area is inhabited with people from various parts of India who are employees of power-generating projects and government departments. There is no industry in Talwara. Goods are imported usually from other places to meet the daily needs of the residents.
Earlier name of the Talwara was 'Badda Pind' which include all today's main bazar, sectors, nearby places and villages. In British time earlier 1947, only a small bus stand surrounded by mango's park was there. A single bus was routed from Talwara to Mukerian. Later on this Badda Pind grew to Talwara town in early 1960s to provide accommodation to the workers of the Pong Dam on the Beas River and gained importance with the start of construction of the dam in 1964. The construction of Pong Dam was followed by Shah-Nehar Barrage, Shah-Nehar Hydel Channel and several hydel power generating stations. The architects of this township were also the same who designed Chandigarh.
Talwara is a beautiful modern township in the lap of nature and blessed with very pleasant climate. Talwara is divided roughly into two parts, one is the township area created and maintained by Bhakra Beas Management Board; the other is private area known as Old Talwara comprising Subhash Nagar, Model Town, Indra Colony, Sandpur Mohalla, main bazaar,Natholi,Nagar and haler village. The old one is an unplanned semi-hill town but the modern one is well-planned and is divided into four sectors with underground drainage.
Talwara is situated on the banks of the river Beas and is surrounded with beautiful Shiwalik hills. Surrounded by a river and hills, Talwara earlier had dense forests, the remnants of which are still visible in its two forest ranges. Talwara is known for famous earth-cum-rockfill Pong Dam and fresh water 42-km-long Maharana Pratap Sagar lake just 8 km away from township. The lake is famous for water sports and bird sanctuary. The dam comprises six tunnels and a power house with an installed capacity of 396 MW (6 x 66 MW). The dam and the power stations are managed by the control of the Beas Project Power Wing.
The Shah-Nehar-Barrage is down stream of Pong Dam situated at the River Beas. The barrage has 50 gates and the huge artificial lake with holding capacity of 3,404 acres (13.78 km2)-feet feeds the Mukerian Hydel Channel.
A rock garden created by Nek Chand (creator of Rock Garden, Chandigarh) inaugurated in 2006 is a major tourist attraction. Many Herbal Garden have been created on wasteland of BBMB at Talwara.
There is an old Shiv temple and well in village Sri Pandain near Talwara said to have been constructed by the Pandavas. One has to go 50 steps down to fetch water from this well. A fair held annually on Shivratri at the temple is visited by a large number of people.
Hindu Goddess Chintapurni Temple is also near Talwara.
The following text seems to have been copied from some book or website and may be deleted.
The peace of the Punjab was disturbed by an adventured, who appeared at Bajwara and pretended to be Sarang Khan from multan in 1396, a little before Taimur's invasion. There was a big rising at Bajwara. Sarang Khan was pursued, but he escaped to the Shiwalik Hills. At Timur's death in 1405 AD. Jasrat Gakhar (however the majority of historians consider jasrat to have been a Khokhar), ruler of Gakhar (or Khokhar) Dynasty regained his freedom, returned to the Punjab and reestablished the Gakhar state. Meanwhile, Timur's governor Khizr Khan seized the Delhi Sutanate for himself. Khizr Khan's son, Mubarak Shah, spent much of his reign trying to defend Delhi against the Gakhar ruler Jasrat who was growing stronger. Around AD 1420. Jasrat defeated the army of Kashmir. When Mubarak Shah reached Samana in July 1421, he heard that Jasrat Gakhars had raised the siege of Sirhind and had returned to Ludhiana. Mubarak Shah advanced to Ludhiana in the second half of September and found that Jasrat had abandoned the side of river Satluj. After the rains had ceased, Mubarak Shah also crossed the river a little higher up. Jasrat hastened back to his strongest fort at Talwara. Mubarak Shah followed him and with the help of Raja Bhim of Jammu captured the Talwara fort and razed it, but not before Jasrat had escaped further into the mountains. AD1520-1525: During these years, the Punjab remained disturbed, when Babar, the first Mughal Emperor, started his expeditions against Hindustan. Babar crossed the river Beas opposite Kahnuwan and encamped at the mouth of the Valley of the Shiwalik Hills in which lies the Fort of Malout. Babar took the fort and made Daulat Khan prisoner. Babar marched via Bajwara, Rupnagar, Sirhind and Sunam on way to Delhi. 1530-1556 In 1555, on arriving at Kalanaur in the Gurdaspur District from Lahore, Humayun despatched a strong body of troops under Bairam Khan and Tardi Beg to attack Nasib Khan, the Afghan General, who lay encamped at Panj Bhain near Hariana in the Hoshiarpur District . Bairam Khan pushed on to Hariana, which after a slight skirmish was surrendered by Nasib Khan. Bairam Khan marched to Jalandhar from Hariana via Sham Chaurasi where the afghans had taken up position.e. On 17 December 1557, the imperial forces advanced through Jalandhar to the Shiwalik Hills and encamped at Dasua in the Hoshiarpur District and moved further to Nurpur. The hill Rajas, who had sided with Sikandar Sur, deserted him and submitted to Akbar. After Bairam Khan was defeated by the imperial forces at Gunachaur, he went to Talwara, the capital of Raja Ganesh. There was a great battle fought between the imperialist and Bairam Khan's troops. The royal troops besieged the fortress at Talwara. Bairam Khan after a brief resistance surrendered at Hajipur in October 1560 and threw himself at the mercy of the Emperor Akbar. He was pardoned by the emperor at Hariana and thereafter, he left for Mecca. After that we don't find any evidence of Talwara and its Fort in History.
According to Punjab revenue records, one Talu of Awan Caste owned the land and after his name the village was known as Talwara or Talwara. He died issueless and the village was deserted. Subsequently, a Raja brought certain persons from villages Namoli of Namol got. One Rajput of Jaryal got came and settled in village Budhawar tahsil Dasuya. He married away his daughter to Raja Kamand Chand of Datarpur. The area around Talwara was given by Raja as a jagir to his Rani. She carved out certain areas from the adjoining villages. On account of this, Talwara was also known as 'Barapind'. It was also cynically called as 'Chandarpind' as it was the place for which the adjoining chiefs constantly fought.
Talwara is linked with other cities by road
A 25 km railway line was constructed from Mukerian on Jalandhar-Mukerian-Pathankot main railway line in late 1950s for construction of Pong Dam. The rail link between Mukerian city and Talwara was uprooted by the project authorities after completion of the dam as it had no other traffic and was no longer needed.
A new railway line from Talwara to Nangal Dam is being built for the last two decades. It has been built from Nangal to Una and further to Amb Andaura. The line from Amb Andaura to Daulatpur Chowk may be commissioned in early 2016 or 2017. A 22 km section from Daulatpur Chowk to Talwara will remain to be constructed to complete the link.
The closest railway stations are:-
Mukerian city- 25 km
Dasuya- 32 km
Distances to other main cities:-
New Delhi:- 440 km
Chandigarh:- 190 km
Amritsar:- 110 km
Pathankot:- 55 km
Una:- 75 km
Hoshiarpur:- 60 km
Jalandhar:- 100 km
Mukerian:- 22 km
Nangal:- 90 km