6.6

/

10

Alchetron

Rate This




Director

Adam McKay




Screenplay

Will Ferrell, Adam McKay




Country

United States






Genre

Action, Comedy, Sport




Duration




Language

English







Release date

August 4, 2006 (2006-08-04)




Writer

Will Ferrell, Adam McKay




Film series

Mediocre American Man Trilogy




Cast

Will Ferrell

(Ricky Bobby),

John C. Reilly

(Cal Naughton, Jr.),

Gary Cole

(Reese Bobby),

Austin Crim

(10-Year-Old Cal),

Jake Johnson

(5-Year-Old Ricky),

Leslie Bibb

(Carley Bobby)


Similar movies

Thank You for Smoking

,

Election

,

The Short Game




Tagline

The story of a man who could only count to #1
Talladega nights the ballad of ricky bobby trailer
Talladega Nights: The Ballad of Ricky Bobby is a 2006 American sports comedy film directed by Adam McKay and starring Will Ferrell, while written by both McKay and Ferrell. Additionally, the film features John C. Reilly, Sacha Baron Cohen, Gary Cole and Michael Clarke Duncan, and appearances by Saturday Night Live alumni. NASCAR drivers Jamie McMurray and Dale Earnhardt Jr. make cameos, as do broadcasting teams from NASCAR on Fox (Mike Joy, Larry McReynolds and Darrell Waltrip) and NASCAR on NBC (Bill Weber, Wally Dallenbach Jr. and Benny Parsons). Talladega Nights was Pat Hingle's last film before his death in 2009.
Contents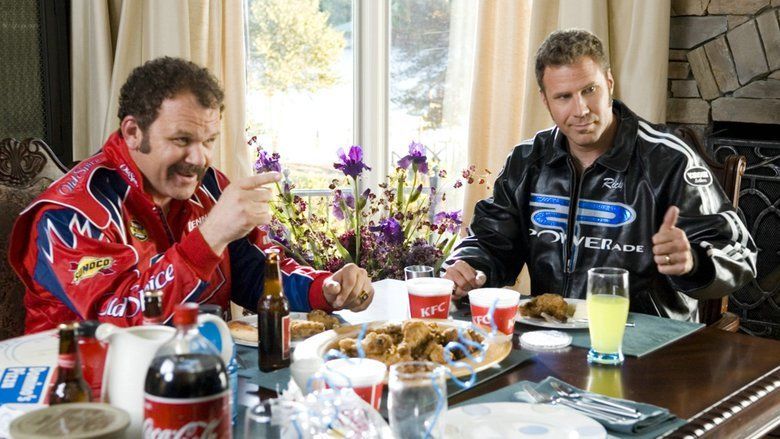 Andy Hillenburg's Fast Track Enterprises and K4 Motorsports combined to provide race cars, hauler transportation and stunt coordination. Previously, the companies had assisted in promotion for Herbie: Fully Loaded, 3: The Dale Earnhardt Story, and other stock car racing films. Within Talladega Nights: The Ballad of Ricky Bobby, K4 Motorsports created custom wrapping for specific race cars, notably Bobby's "ME" car.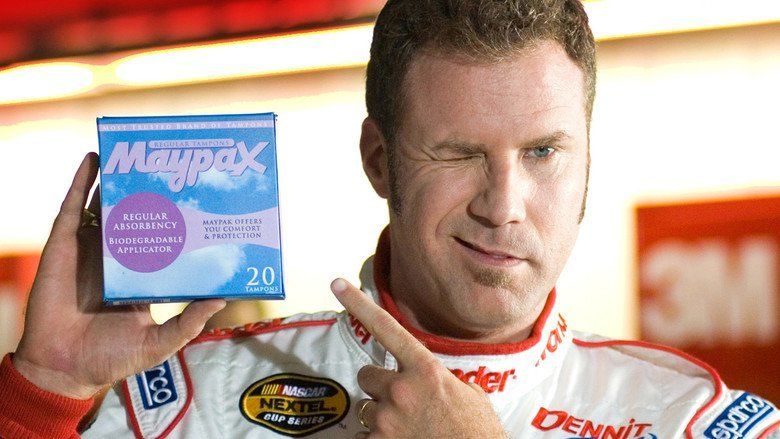 Talladega nights the ballad of ricky bobby credits
Plot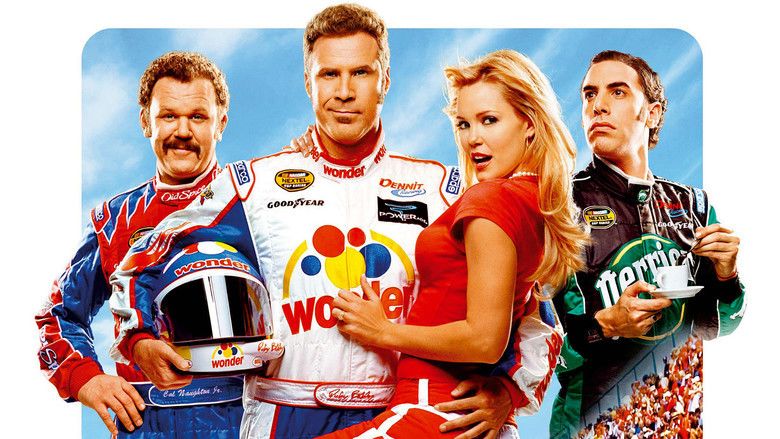 Ricky Bobby (Will Ferrell) is a man who grows up dreaming of going fast. While working on the pit crew of Dennit Racing driver Terry Cheveaux (Adam McKay), Bobby acts as a replacement driver after Terry decides to take a bathroom break while in last place. After starting in last place in place of Cheveaux, Bobby finishes third. Bobby becomes the new great in NASCAR and gains fame and fortune at Dennit Racing. While racing, he meets his future wife Carley (Leslie Bibb), after she flashes her breasts.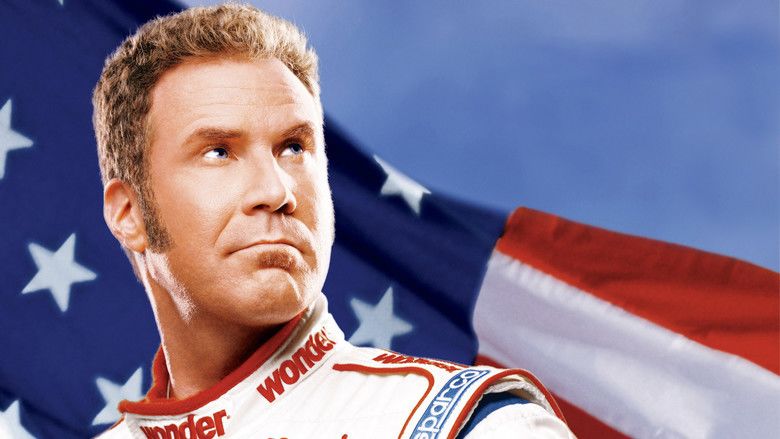 Bobby persuades Dennit Racing to sponsor an additional team car and arranges to have his best friend, Cal Naughton Jr. (John C. Reilly), on his team. Bobby and Naughton succeed throughout competitions but are soon introduced to their new teammate, openly gay French Formula One rival Jean Girard (Sacha Baron Cohen). In a bar, Jean tries to force Ricky into saying "I love crepes." Ricky refuses and Girard breaks Ricky's arm. Girard soon outperforms both Bobby and Naughton to become Dennit Racing's latest success story.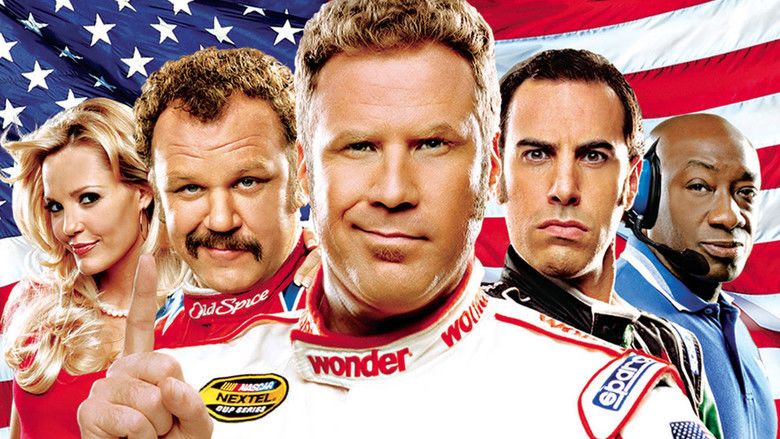 Desperate to win, Bobby exceeds his limitations and crashes at Charlotte Motor Speedway, which included his car rolling and flipping in the air. While paramedics attempt to take him to the hospital, Bobby runs around on the track. Wearing only his helmet and underwear, Bobby insists he is on fire. During his recovery, Bobby believes he is paralyzed; after deliberately stabbing himself in the leg, he realizes that he is not.
After leaving the hospital, Bobby is eager to rejoin the NASCAR circuit. Before a race at Rockingham Speedway, Bobby completed a test drive but fear caused him to drive exceedingly slow. Bobby is fired from Dennit Racing and his pit crew now works for Girard. Jamie McMurray acts as Bobby's replacement for the Wonder Bread car.
Desperate to remain wealthy, Carley divorces Bobby and marries Naughton. After accusing Naughton of ruining his life, Bobby ends their friendship.
Ricky moves in with his mom, Lucy Bobby (Jane Lynch), and brings his two trash-talking sons, Walker and Texas Ranger (Houston Tumlin and Grayson Russell), with him while taking a job as a pizza delivery man. After colliding with a shopping cart, Bobby loses his driver's license and has to use a bicycle and a public bus to deliver pizzas. Meanwhile, Grandma Lucy is determined to reform her two disrespectful grandsons.
Bobby's estranged father, Reese (Gary Cole), returns to remind Bobby how to drive, using unorthodox methods such as putting a live cougar in his car. After his father leaves him again, Bobby's former assistant, Susan (Amy Adams), persuades him to return to NASCAR, since it's in his nature to drive fast. After deciding to take Susan's advice and race at the Talladega 500, Bobby and Susan become romantic. With the Talladega 500 on his mind, Bobby gathers a race car and pit crew.
Before the race, Bobby makes amends with Carley, Girard and Naughton, while uniting with his pit crew chief and close friend, Lucius Washington (Michael Clarke Duncan). Bobby is forced to start in last place, after spare parts were donated to build the engine in Bobby's new race car. At the start of the race, Bobby passes all of the drivers, except Girard. In the closing laps, Naughton uses a slingshot technique for Bobby to pass Girard.
The replacement driver of Bobby's Wonder Bread car causes a massive wreck that makes all drivers crash, except Bobby and Girard. On the final lap of the race, Bobby and Girard collide with each other and their race cars roll towards the finish line. Bobby and Girard exit their cars and run towards the finish line. In the background, "We Belong" by Pat Benatar is playing. Bobby wins the race but he and Girard are disqualified for exiting their cars. When Girard offers a handshake, Bobby responds by kissing him on the lips. As a result of being in third place at the time of the first major crash, Naughton is officially declared the winner of the Talladega 500, his first career victory. Bobby is one of the first to congratulate Naughton and the two reconcile their friendship. Carley asks Bobby to move back in with her and start over, but he chooses to stay with Susan instead. At the end of the event, Bobby is congratulated in the parking lot by Reese; Bobby declares that it was no longer about winning, knowing that he has a family who loves him no matter where he finishes.
In a post credits scene, Lucy is shown reading a story to Walker and Texas Ranger, both having fully been disciplined by her and are now presented as polite, respectful children.
Critical reception
Talladega Nights: The Ballad of Ricky Bobby received positive reviews from critics. On Rotten Tomatoes, the film has a rating of 72%, from 182 reviews. The site's critical consensus reads: "Though it occasionally stalls, Talladega Nights' mix of satire, clever gags, and excellent ensemble performances put it squarely in the winner's circle." On Metacritic, the film has a score of 66 out of 100, from 33 critics, indicating "generally favorable reviews."
British magazine Total Film gave it a perfect five-star rating, with the following verdict: "Forget the recent blips; Ferrell is back in freewheeling form. More than just the year's funniest film, Talladega Nights is one of the best films of the year." Automotive journalist Leo Parente said, "the most accurate racing film ever, trust me," while emphasizing that he was not being sarcastic.
Box office
The film grossed $148.2 million in the U.S. and Canada and $14.8 million in other territories for a total worldwide gross of $163 million.
The film grossed $47 million in its first week, earning No. 1 film at the box office. Behind The Lego Movie ($69.1 million), it is the second largest opening for a film starring Will Ferrell.
Home media
The Blu-ray version was released on November 17, 2006. Standard DVD and PSP UMD were released on December 12, 2006. When viewing, the opening menu gives viewers choices for Super Speedway (with footage of the film used as introductions for special features, scene selection, etc.) or Short Track (without video introductions). The film is presented on standard DVD in four different configurations, giving consumers the choice between either theatrical or unrated versions and anamorphic widescreen (2.40:1 aspect ratio) or pan and scan presentations. As for the audio, each standard DVD carries Dolby Digital 5.1 tracks in English and French with optional English and French subtitles.
Extras for the standard DVD editions include a retrospective "25 Years Later" commentary track featuring most of the main cast, deleted and extended scenes along with bonus race footage, features, interviews with Bobby, Naughton, and Carley, a gag reel, a 'line-o-rama' feature with alternate dialogue from the film, and DVD-ROM content. The unrated disc contains additional deleted scenes ("Cal Calls Ricky" and "What'd You Do Today?"), an interview with Girard and Gregory, and commercials. The "Unrated & Uncut" DVD omits two scenes that were in theaters: Bobby, as a child, steals his mother's station wagon and the happenings of Bobby's pit crew. The scenes are not present in the deleted scenes either.
The Blu-ray release is available on a dual-layer disc with the majority of features presented in high definition. These include: nine deleted/extended scenes, three interviews, gag reel, line-o-rama, bonus race footage, Bobby & Naughton's Commercials, Bobby & Naughton's public service announcements, Walker & Texas Ranger, Will Ferrell Returns to Talladega and a theatrical trailer. Three non-high definition extras include: Daytona 500 Spot, NASCAR Chase for the Nextel Cup Spot, and Sirius and NASCAR Spot. In terms of technical aspects, this edition carries the unrated cut and presents the film with a widescreen transfer at its 2.40:1 theatrical aspect ratio and includes Dolby Digital 5.1 tracks in English and French and an uncompressed PCM 5.1 audio track in English, along with English, French, Spanish, Chinese, Portuguese, Korean and Thai subtitles.
The first one million 60GB and 20GB PlayStation 3 units included a free Blu-ray copy of the film.
Real-world homage
On the final lap of the 2009 Aaron's 499 (one of two Sprint Cup Series races at Talladega Superspeedway), Carl Edwards crashed after Brad Keselowski made contact with his car on the final lap. His car turned backwards, went airborne, bounced off and crushed Ryan Newman's hood, flew into the catch fence, and came to a stop on the track apron. At this point, his car was just beyond the pit-road exit, as Keselowski and Dale Earnhardt, Jr. crossed the finish line. Edwards climbed out of his car and jogged to the finish line. He received a standing ovation from the crowd. Fox play-by-play commentator Mike Joy commented on how it was "shades of Ricky Bobby." Edwards was later asked about this on Larry King Live; he responded, "I'm kind of a Will Ferrell fan. He did that at the end of Talladega Nights."
In May 2012 at the Aaron's 499 at Talladega, Kurt Busch's No. 51 Phoenix Racing Chevrolet was painted like Ricky Bobby's ME car. Busch and his team were heard reciting movie lines over the team radio. Busch was running up front when contact from behind sent Busch spinning.
In October 2013, Kurt Busch's No. 78 was sponsored by Wonder Bread for the fall race at Talladega. Its paint scheme was based on Ricky's original No. 26.
During qualifying at the 2013 United States Grand Prix, Sebastian Vettel and his race engineer Guillaume "Rocky" Rocquelin made reference to the movie over team radio when Vettel posted the fastest lap and gained pole position. The pair referenced the movie in saying "shake and bake" over the team radio, the same phrase used by Bobby and Naughton.
References
Talladega Nights: The Ballad of Ricky Bobby Wikipedia
(Text) CC BY-SA
Talladega Nights: The Ballad of Ricky Bobby IMDb
Talladega Nights: The Ballad of Ricky Bobby themoviedb.org