Takashi Matsumoto (Japanese: 松本隆, Hepburn: Matsumoto Takashi, born July 16, 1949 in Aoyama, Tokyo) is a Japanese lyricist and former musician. As of 2015, he had written over 2,100 songs, 130 of which entered the top 10 on the Oricon chart. Total sales of the singles he has written exceed 49.8 million copies, making him the third best-selling lyricist in Japan.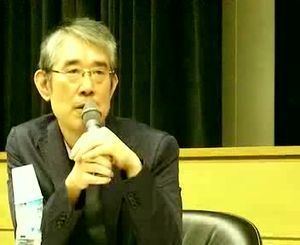 In elementary school, Matsumoto listened to Igor Stravinsky and read poetry by Jean Cocteau. However, he bought a drum kit and became obsessed with rock music because of the Beatles. Matsumoto is a Keio University graduate.
His first band was the psychedelic rock band Apryl Fool, going by the alias Reiji Matsumoto, after being invited to join by Haruomi Hosono. However, they announced their break up on the release day of their only album. In 1969, he and Hosono then formed the pioneering rock band Happy End, for which he wrote most of the lyrics. They officially disbanded on New Year's Eve 1972.
Upon declaring himself a lyricist, Matsumoto told a friend that he wanted to write a "commercial" song, meaning a TV advertisement. But the friend mistakenly thought by "commercial" he meant "popular" and got him a job writing for Agnes Chan, a pop idol. Matsumoto made his debut as a lyricist in 1974 with "Pocket Ippai no Himitsu" by Chan. Matsumoto said that while in Happy End he focused on the quality of the music over its potential popularity, but upon becoming a lyricist, he vowed to focus on both quality and sales.
He was most prolific in late 1970s and 1980s, offering lyrics to many idol singers such Seiko Matsuda (including 17 of her 24 consecutive No. 1 singles), Kyōko Koizumi, Miho Nakayama, Masahiko Kondo and Hiroko Yakushimaru as well as musical artists such as Yellow Magic Orchestra. The songs "Garasu no Shounen", "Hakka Candy" and "Boku no Senaka ni wa Hane ga Aru" by KinKi Kids are some of his notable recent work.
Matsumoto took part in two winning works at 1981's 23rd Japan Record Awards. Akira Terao's hit song "Ruby no Yubiwa" won the Grand Prix award. Matsumoto wrote nine of the ten songs on his Happy End band mate Eiichi Ohtaki's record A Long Vacation, which won Best Album. Matsuda's album Supreme, which Matsumoto produced, won Best Album at 1986's 28th Japan Record Awards.
In 2002, he formed the independent record label Kazemachi Records (風待レコード, Kazemachi Rekōdo).
In 2015, the tribute album Kazemachi Aimashō (風街であひませう) was created to commemorate Matsumoto's 45th anniversary as a lyricist. The album won a Planning Award at the 57th Japan Record Awards. A special two-day concert for the same anniversary was held at the Tokyo International Forum on August 21–22, 2015 featuring numerous artists such as Hiromi Ōta, Shinji Harada, Shoko Nakagawa, Yū Hayami, Junichi Inagaki, Akiko Yano. Matsumoto himself stepped behind the drum kit once again to perform songs with the surviving members of Happy End; Hosono and Shigeru Suzuki.