Takaka is a small town situated at the southeastern end of Golden Bay, at the northern end of New Zealand's South Island, located on the lower reaches of the Takaka River. It lies at the start of the winding road which follows the river valley before climbing over Takaka Hill, linking Golden Bay with the more populated coast of Tasman Bay to the southeast.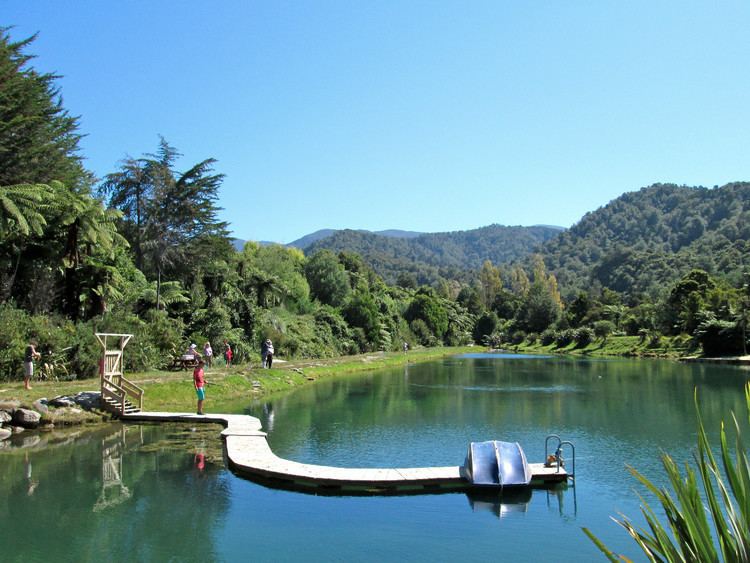 During the period, 1853 to 1876, Takaka was administrated as part of the Nelson Province.
Farming, sawmilling, limestone quarrying and tourism are major local industries. The area around Takaka is mineral-rich, with gold, iron ore, copper, silver and asbestos all found locally, although not all in commercially viable amounts. The area around Takaka Hill is also notable for its cave systems, with New Zealand's deepest vertical shaft, Harwood's Hole located nearby.There is also a large Fonterra dairy factory located in the township of Takaka.
Takaka and Golden Bay are also known for rock climbing, the most area being Paynes Ford. This area is situated about 20 minutes walk from Takaka and has over 200 bolted climbs. The most famous climb is 1080 and the letter G because of its unique "no-hands-rest" at the top and its views of Golden Bay.
The town is also known for Te Waikoropupu Springs (colloquially known as Pupu Springs), which holds the world record for fresh water clarity.
In June 2005, much of the town was temporarily evacuated after fire swept through Takaka's biggest industrial complex, a dairy factory. There were fears that volatile chemicals stored at the plant might explode, leading to the release of poisonous gases, which later proved to be unfounded.
The antipode of Takaka is exactly in the town of Coriscada, Portugal.