Japan


91.24 km2


Chubu




Masanori Furukawa (since April 2007)




112,595 (2010)



Tajimi (, Tajimi-shi) is a city located in Gifu Prefecture, Japan. The city was founded on August 1, 1940.
As of April 1, 2011, the city has an estimated population of 112,165, with 40,413 households and a population density of persons per km². The total area is 91.24 km².
Tajimi is located in the Tono region of Gifu Prefecture, on the Toki River. Tajimi is well known for ceramics, especially Oribe and Seto styles. In addition to biannual pottery fairs, the city hosts the Mino International Ceramics Festival every three years.
Tajimi is also home to Eiho-ji, which belongs to the Nanzenji faction of the Rinzai school of Zen Buddhism. Eihoji is located on Kokeizan, in the northern section of the city. Tajimi is also home to a Catholic monastery belonging to the Society of the Divine Word. The monastery is famous for its wine.
Tajimi has had a strong sister-city relationship with Terre Haute, Indiana, USA since the 1960s.
The hottest temperature ever measured in Japan - 40.9? Celsius - was recorded in Tajimi on August 16, 2007.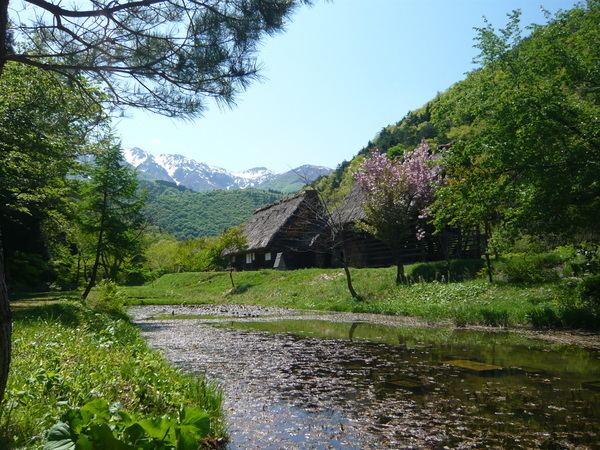 Tajimi falls under the humid subtropical climate classification with very hot, humid summers and relatively cold winters. During the summer, Tajimi is one of the hottest cities within mainland Japan with an average daytime high during of just over 34.1? Celsius during the peak of the summer. Tajami set the record for Japans highest recorded daytime temperature of 40.9? Celsius, which happened in Tajimi on August 16, 2007. Contrarily, Tajimi experiences relatively cold winters with frequent frosts and occasional snow throughout the winter.
Tajimi, Gifu Wikipedia
(,)http://a0.cdn.japantravel.com/photo/sbj-photo28052/600x400/photo28052.jpg(,)http://www.chubu.meti.go.jp/sangyokanko/tokai_monozukuri1710web/en/gifu_ing/map_gifu3_e.gif(,)http://image.space.rakuten.co.jp/lg01/59/0001140759/17/img3a5624eczikdzj.jpeg(,)http://farm5.static.flickr.com/4076/4773321819_19aff04635_b.jpg(,)http://4.bp.blogspot.com/-lXxHfBJGgqY/Tvkd6WlVigI/AAAAAAAALEY/-rO4ZUCcbrU/s1600/pP1280948%2B%252528Medium%252529.JPG(,)http://images.travelpod.com/cache/accom_maps/Hotel-Tono-Tajimi.gif(,)http://www.amazon.jobs/sites/default/files/styles/500_281/public/location/image/jpgifu-tajimi.jpg%3Fitok%3DgyVI7QIh(,)http://4.bp.blogspot.com/-VBqcWYSZlr8/U4iUR9uC1sI/AAAAAAAACSU/3-q2f0FtLVM/s1600/japanesemakersmark_modern_sealtype.jpg(,)http://4.bp.blogspot.com/-PWye6TlDvG4/UUnAPkS7S9I/AAAAAAAAc7E/tcNesFIijfA/s1600/c-1.jpg
(,)https://www.jalan.net/assets/global/eng/img/pages/pref_top/about_Gifu.jpg(,)https://c1.staticflickr.com/5/4130/5050939700_a17fe10d9c_b.jpg(,)https://jowoffinden.files.wordpress.com/2013/02/2-landscape.jpg%3Fw%3D600(,)http://japantraveladvice.com/wp-content/uploads/2014/01/kokeizan-eihoji-temple-pond-and-waterfall-1024x768.jpg(,)http://mw2.google.com/mw-panoramio/photos/medium/6080354.jpg(,)http://mw2.google.com/mw-panoramio/photos/medium/11249422.jpg(,)http://mw2.google.com/mw-panoramio/photos/medium/14276327.jpg(,)http://www.cocopalace.jp/list/fall21.jpg
(,)http://image1-3.tabelog.k-img.com/restaurant/images/Rvw/34002/34002899.jpg(,)http://media-cdn.tripadvisor.com/media/photo-s/04/4b/64/0a/shabushabu-kisoji-tajimiten.jpg(,)http://image1-1.tabelog.k-img.com/restaurant/images/Rvw/17665/17665472.jpg
(,)http://travel.kankou-gifu.jp/image.php%3Fw%3D771%26p%3D.%26f%3D/db_img/cate_img/2/digest.jpg(,)http://www.studiokotokoto.com/wp-content/uploads/2014/05/Narumi-Oribe.jpg(,)http://www.studiokotokoto.com/wp-content/uploads/2014/05/tile-art.jpg(,)http://www.studiokotokoto.com/wp-content/uploads/2014/05/Tajimi-creators-market.jpg(,)http://www.jcrafts.com/guide/eg/special/special_colum_tokinokumo04/images/mainimage.jpg(,)http://upload.wikimedia.org/wikipedia/commons/1/16/Dosan_Festival_1.jpg(,)http://upload.wikimedia.org/wikipedia/commons/a/a9/Gujo_Gifu_Japan.jpg(,)http://i.ytimg.com/vi/UpQIn8jXlXQ/hqdefault.jpg
(,)http://japan-attractions.jp/wpxxxxx/wp-content/uploads/2013/05/tajimi-wine-festa2013.jpg(,)http://orontas.com/img/orontas_incorporated.jpg(,)http://www.widewalls.ch/wp-content/uploads/Art-Fair-Tokyo-2015-Logo-865x576.jpg(,)http://www.goldenjipangu.com/photo/140308dmts2.jpg(,)http://www.chubu.meti.go.jp/sangyokanko/tokai_monozukuri1710web/en/gifu_ing/map_gifu4_e.gif(,)http://images.travelpod.com/cache/accom_maps/Tajimi_Sun_Hotel-Tajimi.gif(,)http://www.goldenjipangu.com/photo/140308dmts.png(,)https://www.mintbook.com/sites/default/files/culture_0.jpg
(,)http://japan-magazine.jnto.go.jp/jntowm/wp-content/uploads/1412_kisoji_main.jpg(,)http://cdn2.vtourist.com/19/4143840-Gifu_castle_Gifu.jpg(,)http://3.bp.blogspot.com/_efJCzrn5IMU/TMoQEn2OI9I/AAAAAAAACmg/zLKarQtoBZg/s1600/DSCN4326small.jpg(,)http://a2.cdn.japantravel.com/photo/sbj-photo27920/600x400/photo27920.jpg(,)http://www.japan-guide.com/g10/prefecture_gifu_top.jpg(,)http://go-centraljapan.jp/lsc/lsc-upfile/sightseeing/01/68/168_1_l.jpg(,)http://go-centraljapan.jp/lsc/lsc-upfile/sightseeing/01/67/167_1_l.jpg(,)http://cdn2-www.amazon.jobs/sites/default/files/styles/500_281/public/location/image/jpgifu-tajimi.jpg%3Fitok%3DgyVI7QIh(,)http://2.bp.blogspot.com/-tpYhjSm9AMU/UQdE8F4sRoI/AAAAAAAAcas/hnkVUqnsIOo/s1600/tajimi-6.jpg(,)http://go-centraljapan.jp/lsc/lsc-upfile/sightseeing/02/00/200_1_l.jpg(,)http://3.bp.blogspot.com/-rd4vU6XJOQc/UQc9fgXUtFI/AAAAAAAAcZU/JHIqvgjpxvo/s1600/tajimi-1.jpg