Tadpole was a New Zealand rock band from Auckland fronted by female vocalist Renée Brennan. The band formed in June, 1994, and, after numerous line-up changes, disbanded in late 2006.
Contents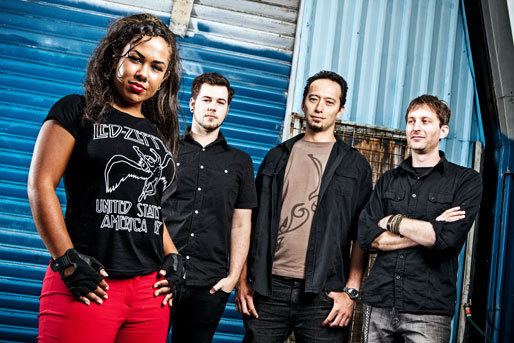 Before 2000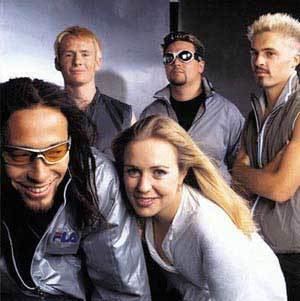 Between the band's beginning and 1999, Tadpole went through so many line-up changes that there soon ended up being no original members left in the band. At one point, Tadpole was almost a girl band as there were three female members.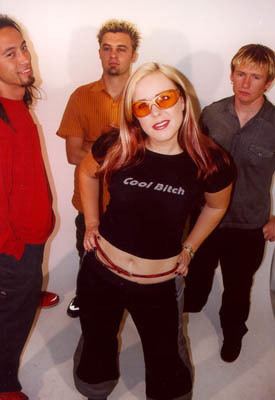 However, vocalist Renée Brennan and drummer/manager Dean Lawton have been stable members of the band since the late 1990s, just prior to their New Zealand rise to fame.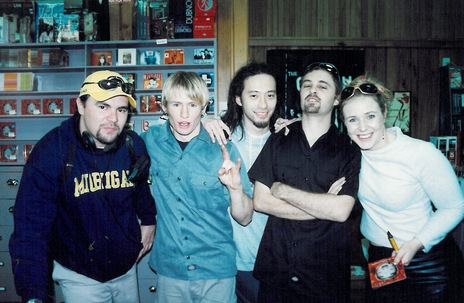 During that time, the singles "Blind" (Radio release only, 1998), "For Me" (single release, 1999) and "Backdoor" (also a single release, 1999), were released.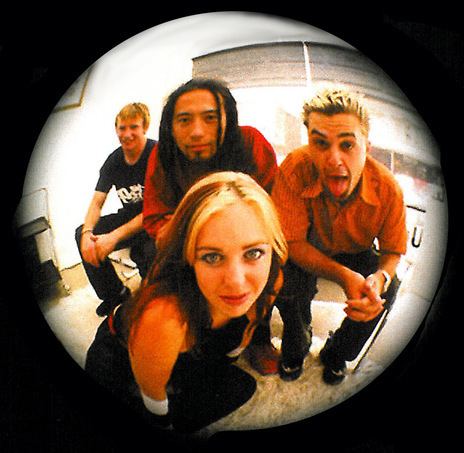 They said their song "Backdoor" was "about our struggle thus far to make it in the New Zealand music industry, and the initial frustration of trying to get our music played on radio, TV - or anywhere really. The 'backdoor' part came about because we felt we were never going to be accepted by the student radio stations, we'd just have to come in through the back door somehow. And yes - for those who want to know, the metaphor of anal sex is intended. I liken our struggle to getting buggered over, and over, and over again. In a very loving and tongue in cheek way."
2000 - 2002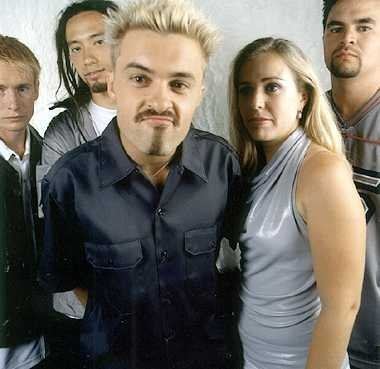 Their debut album The Buddhafinger, was released in New Zealand mid-2000, and proved to be a huge hit, debuting at #2 on the Official New Zealand Top 40 Albumschart. The Buddhafinger had a distinctive pop/punkish slant to it, and featured part-time vinyl scratcher, DJ Kritikl (Kevin May), on most tracks. The 2000 line-up officially consisted of Renée Brennan (vocals), Dean Lawton (drums), Chris Yong (guitar), Paul Matthews (bass) and DJ Kritikl. DJ Kritikl would leave the lineup late in 2000, and the band reverted to a 4-piece.
In January 2002, Paul Matthews left to concentrate on work with fellow New Zealand band Stylus. After a few months' speculation, his place was taken by Hamilton bass player Shannon Brown, previously from the band Mama Said.
August 2002 came the follow-up album, The Medusa which was also a top 10 hit. In contrast with The Buddhafinger, The Medusa had "a much darker, at times menacing sound".
2003 - 2006
In February 2003 came a large upheaval to the band. Citing musical differences, both guitarist Chris Yong and bassist Shannon Brown left. Both would go into other bands, Redline and 48May respectively.
For months after Tadpole played sporadically with temporary guitar/bass parts, before settling on two new members, Henry Penny and Ollie Gordon. This line-up kept a low profile during 2004-2005, playing 4-5 gigs at a time, rather than whole tours.
The Taddie (as fans affectionately call them) have ended up touring several times in New Zealand and have played gigs all around the world. In February 2005, their third album, Tadpole was recorded, however it took a year and a half for its release. During that time, the singles "Too Hard" and "Yesterday" were released to New Zealand radio and video stations.
Due to being a band in a small country, Tadpole cannot be considered as a full-time entity for the members. The vocalist, Renée, is a DJ on New Zealand's 100% NZ music radio station Kiwi FM, and also does some voiceover (she is heard on many New Zealand advertisements, promoting everything from fast-food to department stores) and acting work.
Split
As of May 2006, Renée announced on Breakfast that after 12 years together and due to a personal conflict between herself and drummer, Dean Lawton, Tadpole as a band were to go their separate ways indefinitely, effective 24 June 2006 after a final Auckland concert and self-titled album release, Tadpole. All have now gone their separate ways:
Renée Brennan will be heading to Spain and Africa, as an English teacher and to gain a more cultural perspective on life.
Dean Lawton now is to focus on his landscaping business.
Henry Penny has returned to The United Kingdom and has founded the band A Quick Minute with Dave Phillips.
Paul Matthews is currently the bass guitarist in the London-based New Zealand rock band I Am Giant.
Chris Yong is a member of the Internet Party (New Zealand), where he is a candidate for the Te Atatu electorate.
Songs
Condition ChronicThe Medusa · 2002
Set to FadeThe Buddhafinger · 2000
AlrightThe Buddhafinger · 2000

References
Tadpole (band) Wikipedia
(Text) CC BY-SA