Russia




117 km²




178,750 (2010)




1683



Syzran (Russian: ; ) is the third largest city in Samara Oblast, Russia, located on the right bank of Saratov Reservoir of the Volga River. Population: 178,750?(2010 Census); 188,107?(2002 Census); 174,335?(1989 Census).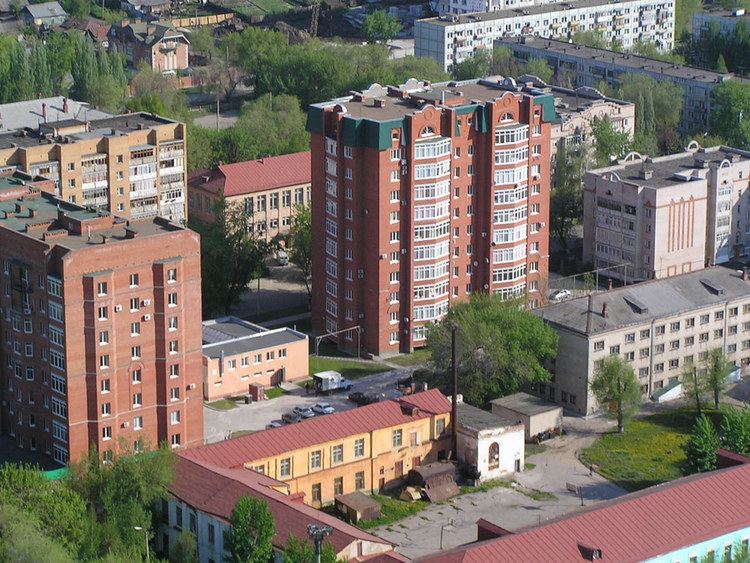 Founded in 1683 as a fortress, Syzran grew into an important trading center and was granted town status in 1796. One tower from the 17th-century fortress still stands. It is also the site of Syzran Bridge, once the longest bridge in Europe.
The citys main employers are a large oil refinery owned by Rosneft, OAO Tyazhmash, and the Syzran power station.
Syzran Wikipedia
(,)http://russiatrek.org/images/photo/syzran-city-russia-view.jpg(,)http://www.strangehistory.net/blog/wp-content/uploads/2011/03/syzran.jpg(,)http://russiatrek.org/blog/wp-content/uploads/2013/06/syzran-city-cathedral.jpg(,)http://i.dailymail.co.uk/i/pix/2014/03/31/article-2593614-1CB9BFC800000578-290_634x427.jpg(,)http://www.transsib.ru/Photo/Old/old-133.jpg(,)https://01varvara.files.wordpress.com/2010/04/saida-afonina-syzran-kids-2008-e1272680095377.jpg(,)http://cdn3.vtourist.com/19/6021045-Inside_the_Kremlin_Syzran.jpg%3Fversion%3D2(,)http://www.minecreek.info/bullock-collection/images/8809_11_36-ekaterinburg-ukraine.jpg(,)http://media.tumblr.com/775912a94aaabd1fa658c7bd0fe34bef/tumblr_inline_netst2BAlP1qft6dw.png
(,)http://russiatrek.org/images/photo/syzran-city-street.jpg(,)http://media-cdn.tripadvisor.com/media/photo-s/02/fd/63/91/at-the-kremlin.jpg(,)http://media-1.web.britannica.com/eb-media/62/144462-004-54569ADC.jpg(,)http://media-cdn.tripadvisor.com/media/photo-s/04/bd/8b/4c/caption.jpg(,)http://media-cdn.tripadvisor.com/media/photo-s/04/94/ce/05/caption.jpg(,)http://gosamara.ru/sites/default/files/dramaticheskiy_teatr_syzran_3.jpg(,)http://media-cdn.tripadvisor.com/media/photo-s/07/16/0a/b7/syzran-kreml.jpg(,)http://media-cdn.tripadvisor.com/media/photo-s/02/fd/63/85/at-the-kremlin.jpg(,)http://media-cdn.tripadvisor.com/media/photo-s/07/16/0c/ef/syzran-kreml.jpg(,)http://media-cdn.tripadvisor.com/media/photo-s/07/16/0a/b5/syzran-kreml.jpg(,)http://cdn1.vtourist.com/19/6022842-Local_History_Museum_Syzran_Syzran.jpg%3Fversion%3D2(,)http://cdn2.vtourist.com/19/6023213-Exhibition_Centre_Syzran_Syzran.jpg%3Fversion%3D2(,)http://cdn3.vtourist.com/19/6023216-Part_of_Local_History_Museum_Syzran_Syzran.jpg%3Fversion%3D2