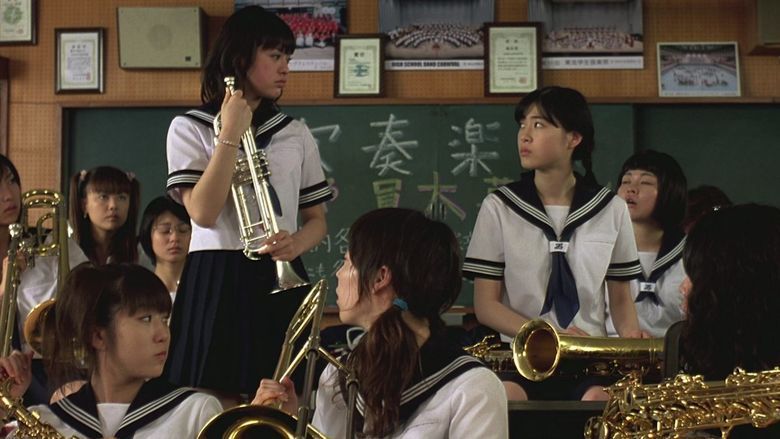 On a hot summer's day, 13 schoolgirls are bored in a remedial math class. One girl, Tomoko, watches the school's brass band leave to perform at a baseball game, but they have forgotten their bento lunches. Tomoko and the other girls persuade their teacher, Mr Ozawa, to let them deliver the lunches. On the train, Tomoko eats a lunch, and the girls fall asleep and miss their stop. By the time they deliver the lunches to the band, they have spoiled, and all 42 band members become sick. Only the cymbal player, Nakamura, whose lunch Tomoko ate, is unaffected.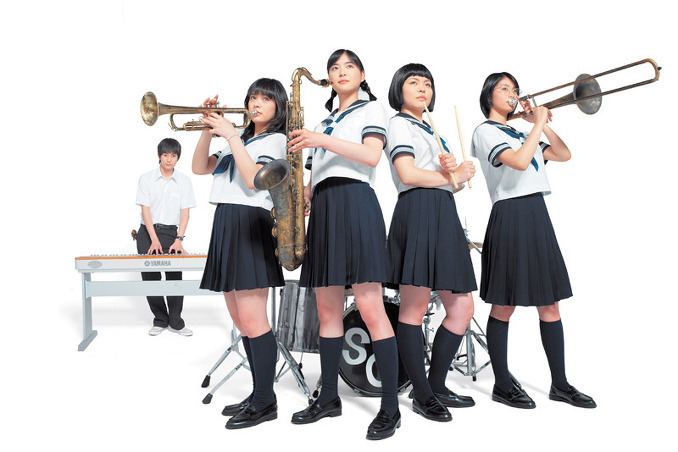 The next day, Nakamura holds an audition for band replacements. Knowing it was the girls' fault the band became sick, he threatens to turn them in if they don't audition. The girls have no musical experience and clown around with their instruments. As they are eight members short of a brass band, Nakamura decides to turn the girls into a big band and perform swing jazz.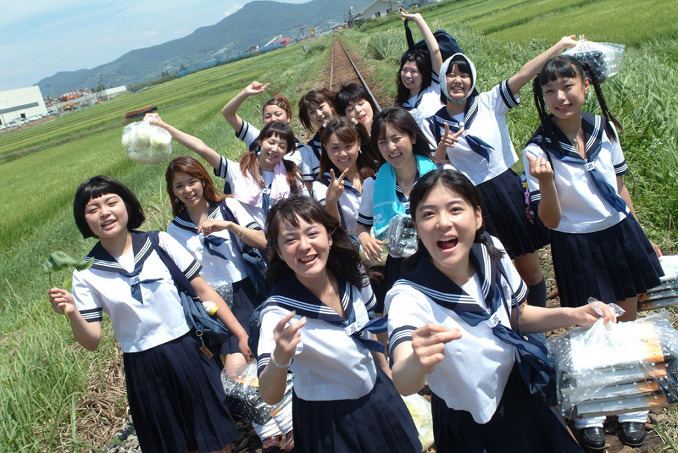 Nakamura trains the girls hard throughout the week. However, on the day before the game, the recovered brass band members return to school and take over the band. The girls are devastated. Tomoko and three other girls get supermarket jobs to earn money for instruments, but lose their wages when they start a fire. The other girls spend their money on designer clothes and run off with the school baseball team. The remaining girls take jobs picking matsutake mushrooms, but they are attacked by a boar; they manage to kill it and claim reward money, as the boar had been destroying crops.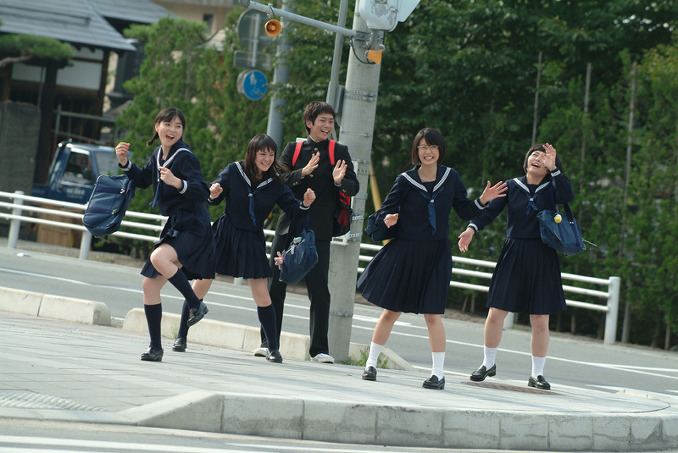 With the reward money, they buy second-hand instruments and have their ex-boyfriends repair them. The girls play their first show and receive advice from an anonymous jazz fan and amateur saxophone player. Chasing him to his home, they discover it is their math teacher, Mr. Ozawa, and convince him to lead the band. After another public performance, the girls who left are persuaded to rejoin.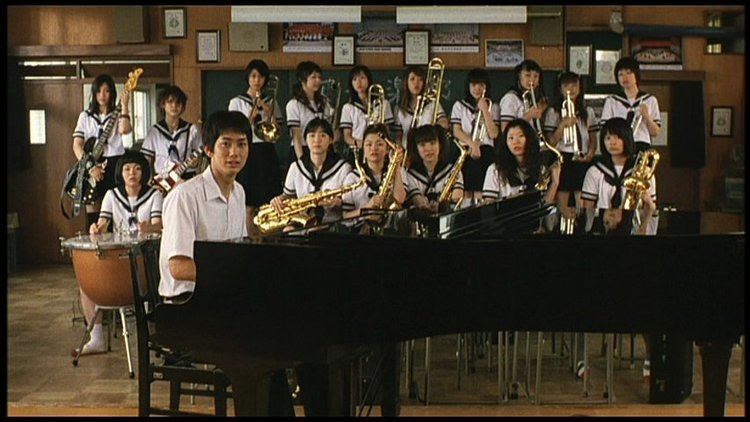 The band records an audition tape for a winter music festival. They leave Tomoko in charge of the tape, but she sends it too late and the band is rejected as the bands are selected on a first-come, first-served basis. Tomoko is too embarrassed to tell the others. Later, Nakamura discovers that Mr. Ozawa is not really a professional saxophonist, and Mr. Ozawa leaves the band. On the train to the music festival, Tomoko confesses the band have no place at the festival, and the train is halted by snow. Mr. Ozawa finds them and rushes them by bus to the festival, where they are allowed to perform as a replacement for another band that could not perform due to the snow. They rush onstage just in time to perform. They gave a 15-minute concert, wowing the crowd.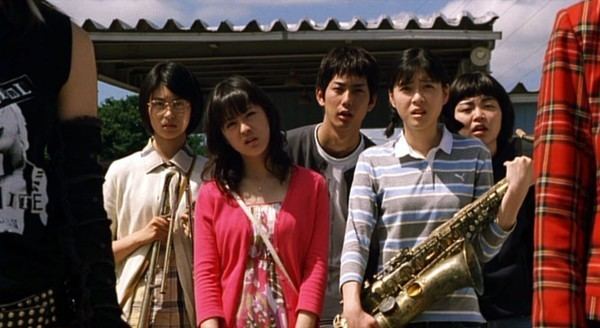 Juri Ueno as Tomoko Suzuki (Tenor Sax)
Yuta Hiraoka as Takuo Nakamura (Piano)
Shihori Kanjiya as Yoshie Saito (Trumpet)
Yuika Motokariya as Kaori Sekiguchi (Trombone)
Yukari Toyoshima as Naomi Tanaka (Drums)
Kana Sekine as Hiromi Watanabe
Asuka as Chika Kubo (Alto Saxophone)
Chise Nakamura as Emiko Okamura (Alto Saxophone)
Fumiko Mizuta as Yuka Yamamoto (Bass)
Masae Nemoto as Akemi Otsu
Madoka Matsuda as Yumiko Shimizu (Saxophone)
Mutsumi Kanazaki as Rie Ishikawa
Nagisa Abe as Reiko Shimoda (Trumpet)
Naoto Takenaka as Tadahiko Ozawa
Miho Shiraishi as Yayoi Itami
Fumiyo Kohinata as Yasumi Suzuki
Eriko Watanabe as Sanae Suzuki
Mutsuko Sakura as Mie Suzuki
Misa Nagashima as Misato Miyazaki
Eri Maehara as Kayo Yoshida
Issei Takahashi as Band Club Leader
Mayuko Iwasa as Chie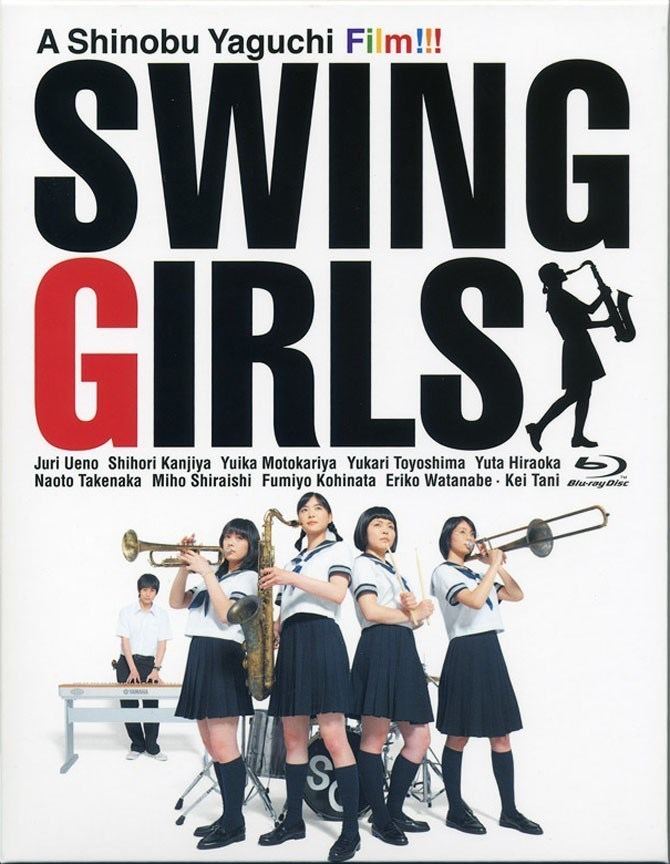 The song played by the band for their audition tape was "In the Mood" by the Glenn Miller Orchestra.
The first song played at the concert finale is "Moonlight Serenade" by Glenn Miller.
The second song played is "Mexican Flyer" by Ken Woodman. It is featured in Space Channel 5, which Tomoko's little sister plays early on in the movie.
The final song played is "Sing, Sing, Sing (With a Swing)" by Benny Goodman. "Sing, Sing, Sing (With a Swing)" is a 1936 song written and composed by Louis Prima. But it was performed as an instrumental by Fletcher Henderson and, most famously, by Benny Goodman. The final song played by the band is Benny Goodman's version.
Swing Girls was released in Japan on September 11, 2004 where it was distributed by Toho.