Nationality

Indian


Name

Swami Samarth




Died

1878, Akkalkot










Notable disciple(s)

Shree Balappa Maharaj,Shree Cholappa Maharaj,Shree Nrusimha Saraswati Maharaj of Alandi,Shree Ramanand Beedkar Maharaj of Pune


Quotation

"Fear not, I am always with you" (Marathi: भिऊ नकोस मी तुझ्या पाठीशी आहे)


Similar

Gajanan Maharaj, Sai Baba of Shirdi, Samarth Ramdas, Shripad Shri Vallabha, Swami Vivekananda
Exclusive swami samarth played by mohan joshi deool band marathi movie
Swāmi Samarth Mahāraj also known as Akkalkot Swāmi Mahāraj of Akkalkot was an Indian Guru of the Dattatreya tradition (sampradaya), widely respected in indian states of Maharashtra as well as in Karnataka and Andhra Pradesh with Shripad Shri Vallabha and Narasimha Saraswati. His existence in physical form is dated to the nineteenth century AD.
Contents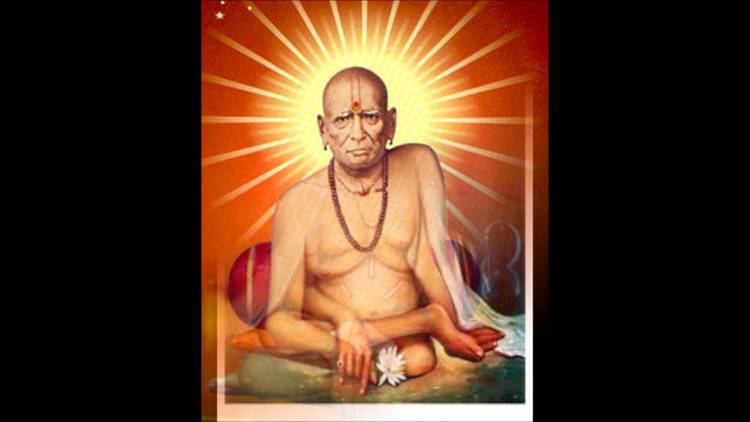 He was lovingly referred to as Swami Samartha or Akkalkot Swami by his devotees. Sri Swami Samarth traveled all over the country and eventually set his abode at Akkalkot village in Maharashtra, India. Maharaj first appeared at Akkalkot on a Wednesday around the September–October period in the year 1856 AD near Khandoba Mandir. He stayed in Akkalkot for close to twenty-two years. His parentage & native place details remain obscure to this day. Once, when a devotee posed him a question about his life, Sri Swami Samarth indicated that he originated from the Banyan tree (Vata-Vriksha). On another occasion Swami Samarth said that his name was Nrusimha Bhan and that he was from Kardalivan near Srisailam.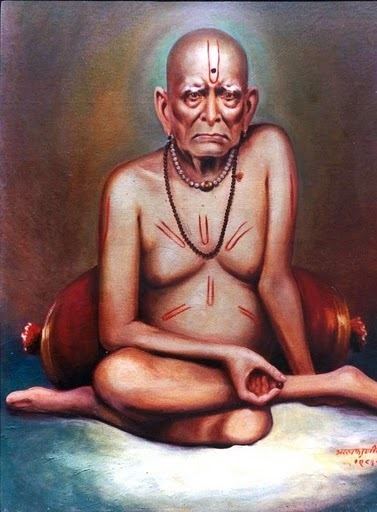 Watch interesting story of shivaji maharaj and swami samarth ramdas
Biography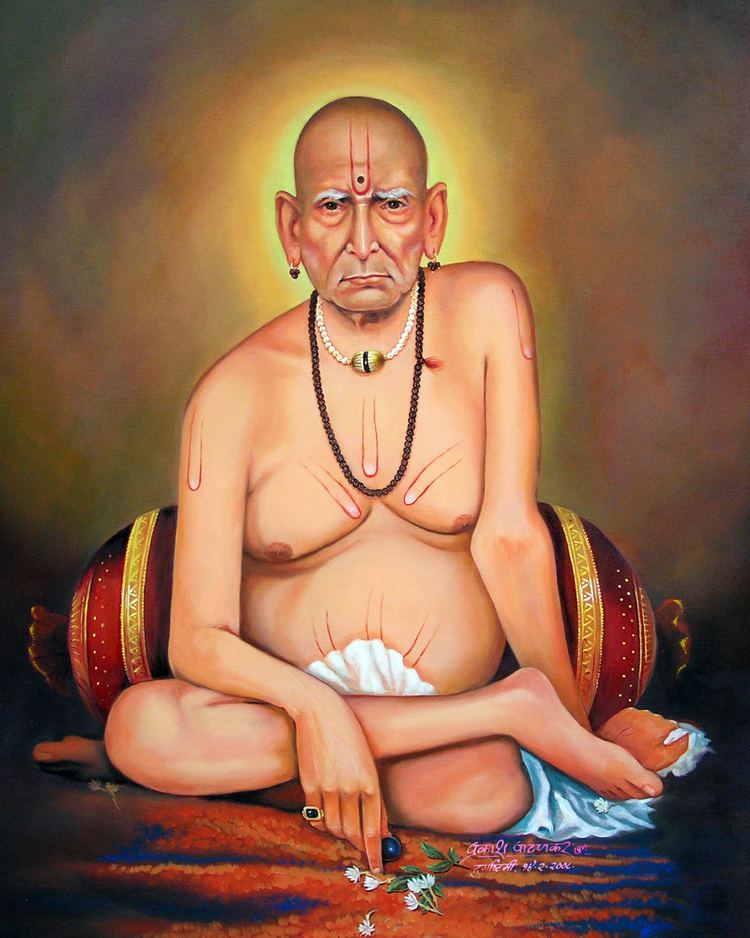 Swami Samarth himself said that he came from the Kardali forest. He repeatedly visited places like Puri, Banaras (Kashi), Haridwar, Girnar, Kathiawad and Rameswaram as well as China, Tibet and Nepal and stayed at Mangalvedha, a town near Pandharpur in Solapur district before settling down in Akkalkot.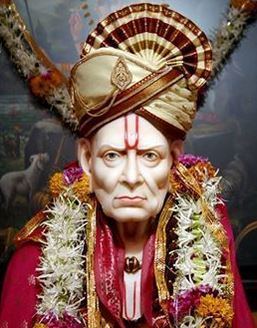 Swami Samarth came to Akkalkot in 1856 on the invitation of Chintopant Tol and stayed on the outskirts of the town for 22 years. He stayed at Ganagapura, Karnataka for a long time where he delivered the Nirguna Padukas to his disciples and devotees before leaving for the Kardali forest.
Swami's Appearance
The description of Sri Swami Samarth's appearance has been based on the vivid descriptions given by close devotees. Though he was seen at an advanced age, his skin was not wrinkled. He was very tall and his hands were long, extending down to his knees. His belly was protruding and he had broad shoulders. His complexion was fair and pinkish. He had big ears with thin and long ear-lobes which shook with the slightest movement of his body. He had long feet. He adorned a sacred mark (thilakam) on his forehead. He always wore a codpiece (kaupina). He had a fine set of teeth and a big and deep navel. He always wore a tulasi-rosary (which is very different from rudraksha) and a crystal (sphatika). He had ear-rings inset with gems.
Teachings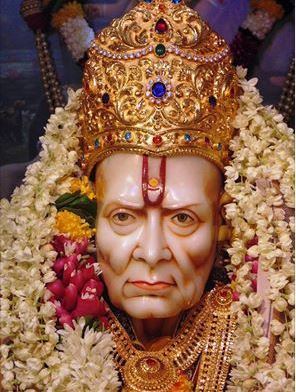 Following are some of the points based on statements made by Sri Swami Samartha on different occasions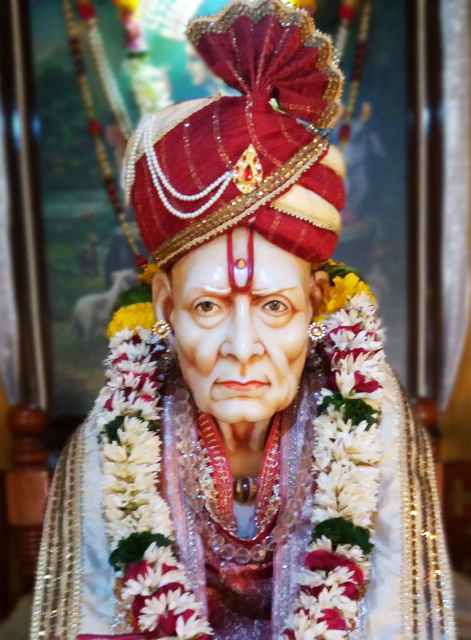 Once having met a supreme master, the seeker should continuously meditate upon his Master, serve him with devotion and pay utmost attention to His spiritual advice, as if every word coming from His lips were a Mantra.
Have firm belief that it is God alone exists in every seen and unseen thing in this universe.
Earn your livelihood through sincere efforts.
Whenever you come across an able guide on the spiritual path, try to gain as much knowledge and advice from him as possible. No master will share the knowledge on his own, as no farm will yield crops on its own.
While following spiritual practice, if you gain spiritual powers then do not fall prey to the lure of using them to show miracles.
Conduct of the people treading the spiritual path should be pure and righteous.
Since the final goal of all religious faiths and sects preaching Divine knowledge is one and the same, all sects and faiths are feathers of the same bird.
Vedic scriptures composed by seers should be read and repeated.
Try to purify your mind too as you try to maintain external sanctity of the body.
Do actions without expecting any rewards.
Bookish knowledge alone will not lead you to self-realization. Try to put the acquired knowledge into practice.
All disciples should have a firm belief and devotion.
Religious Scriptures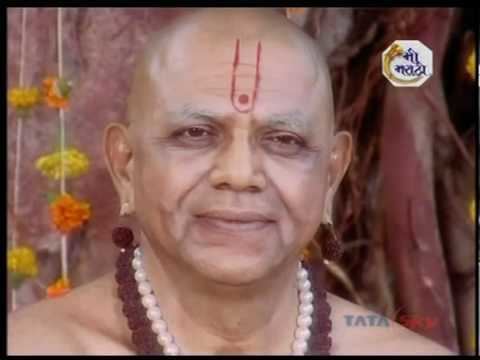 The Siddha Mantra of Sri Swami Samarth is: SHRI SWAMI SAMARTH (Marathi:

श्री स्वामी समर्थ

)
The biography of Shrivallabh is in the Shripada Shrivallabha Charitramrut
The biography of Nrusimha Saraswati is in the Gurucharitra.
The biography of Shri Swami Samarth is in the Guruleelamrut.
Samadhi
In the month of Chaitra (April–May) in 1878 on the thirteenth day of the dark-half of the lunar month, Swami Samartha Maharaj took Samadhi He lived mainly at the residence of his disciple Cholappa, where his shrine is now located.
References
Swami Samarth Wikipedia
(Text) CC BY-SA