Country

India




Language spoken

Hindi




State

Rajasthan




District

Jhunjhunun



Surajgarh is a city and a municipality in the Jhunjhunun district of the Indian state Rajasthan.
Contents
Map of Surajgarh
Demographics
In the 2001 Indian census, Surajgarh had a population of 18,857; of this 53% were male and 47% females. Surajgarh has an average literacy rate of 65%, higher than the national average of 59.5%: male literacy is 74%, and female literacy is 55%. In Surajgarh, 16% of the population is under 6 years of age.
Education
Surajgarh has many educational institutes (schools and degree colleges). Many students from different parts of Rajasthan and neighbouring states, come in to the town to study.education schools like Tagore children,saraswati,p.b. school,govt girls school,st.mann school etc. and in college like barasiya college,tagore girls college,keyston engineering college(pilod).
India rajasthan surajgarh surajgarh fort india hotels travel ecotourism travel to care
A hindu temple inside surajgarh haveli rajasthan
History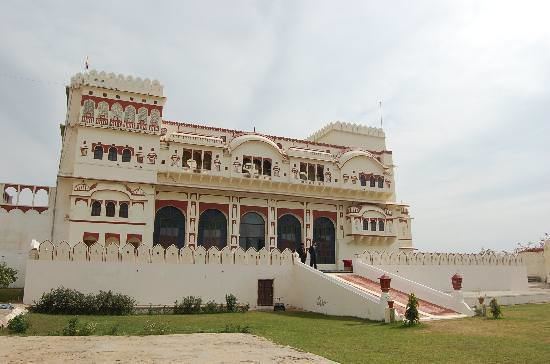 The old name of surajgarh used to be ADICHA.surjgarh was built by Thakur Surajmal Singh of Bissau . Whos fort has now been converted into a heritage hotel. There are many old hindu temples in Surajgarh. the town is divided in mainly two parts first one is surgjarh bazar(old surajgarh) and surajgarh mandi. one old temple on chirawa by pass called bhairu ke bagiche and one old talab called shivalya near ghardu village also part of surajgarh. The other notable landmark is the Dalmia house/ Shekhawati resort which was constructed in year 1947 by the very prominent citizen of Surajgarh Lt. Shri Murli Dhar Dalmia. The house is now a guest house.
Geography
Surajgarh is located at 28.32°N 75.73°E? / 28.32; 75.73. It has an average elevation of 280 metres (918 feet).
Rajasthani cuisine served at surajgarh haveli rajasthan
References
Surajgarh Wikipedia
(Text) CC BY-SA
(,)http://www.rajasthandirect.com/wp-content/uploads/2013/06/Surajgarh-Fort-Surajgarh.jpg(,)http://www.surajgarh.com/images/header.jpg(,)http://upload.wikimedia.org/wikipedia/commons/0/0b/Bawdi.jpg(,)http://image.slidesharecdn.com/abriefhistoryofshershahsuriandempiredurgeshkumarsasaram-140912033247-phpapp02/95/a-brief-history-of-sher-shah-suri-and-empire-durgesh-kumar-sasaram-4-638.jpg%3Fcb%3D1410492831(,)http://upload.wikimedia.org/wikipedia/commons/e/e2/Sher_Shah_Suri_by_Breshna.jpg(,)http://www.nivalink.com/watermark.ashx%3FImageUrl%3Dhotelimages/uploads/8620131738166146316.jpg(,)http://www.nivalink.com/watermark.ashx%3FImageUrl%3Dhotelimages/uploads/82020131522539798756.jpg(,)http://www.nivalink.com/watermark.ashx%3FImageUrl%3Dhotelimages/uploads/8120131150234395542.jpg%3F1430352000045(,)http://www.nivalink.com/watermark.ashx%3FImageUrl%3Dhotelimages/uploads/8120131150238035906.jpg(,)http://i.ytimg.com/vi/g_mofNih7pA/0.jpg
(,)http://www.rajasthantrip.com/images/header-banner/surajgarh-fort.jpg(,)http://mw2.google.com/mw-panoramio/photos/medium/3656801.jpg(,)http://mw2.google.com/mw-panoramio/photos/medium/39314340.jpg(,)http://mw2.google.com/mw-panoramio/photos/medium/33068644.jpg(,)http://mw2.google.com/mw-panoramio/photos/medium/90238544.jpg(,)http://mw2.google.com/mw-panoramio/photos/medium/42426449.jpg(,)http://mw2.google.com/mw-panoramio/photos/medium/53159113.jpg(,)http://i.ytimg.com/vi/MMdfKgCknKo/0.jpg(,)http://i.ytimg.com/vi/OPzszmFQtlI/0.jpg(,)http://i1.ytimg.com/vi/85hvQMCM0ok/0.jpg(,)http://i.ytimg.com/vi/k6KWCuCYOGY/0.jpg(,)http://i.ytimg.com/vi/KYH5oLD2SEY/0.jpg(,)http://i.ytimg.com/vi/j2m-WsXFFXM/0.jpg
(,)http://media-cdn.tripadvisor.com/media/photo-s/04/38/da/a2/surajgarh-fort.jpg(,)http://cms.outlookindia.com/Uploads/Outlook%2520Traveller/200909/CS_Feast3.jpg(,)http://uppercrustindia.com/dynamic/uploads/amit%2520bhatias%2520HR%2520b%2520copy.jpg(,)http://www.surajgarh.com/bigimages/50.jpg(,)http://www.outlooktraveller.com/common/uploads/article/2014/081014125649-nsew11.jpg(,)http://media-cdn.tripadvisor.com/media/photo-s/01/22/8f/1a/jhunjhunun.jpg(,)http://media-cdn.tripadvisor.com/media/photo-s/04/8f/96/de/surajgarh-fort.jpg(,)http://media-cdn.tripadvisor.com/media/photo-s/01/e4/80/cb/surajgarh-fort.jpg(,)http://www.indovacation.net/images/Surajgarh-Fort-Hotel-Mandawa10.jpg(,)http://www.surajgarh.com/bigimages/51.jpg(,)http://media-cdn.tripadvisor.com/media/photo-s/01/ba/f1/68/the-rani-mahal-in-the.jpg(,)http://i.ytimg.com/vi/IY5u_cp1YIY/maxresdefault.jpg