Top speed

266 km/h




Length

17 m




Retired

1945




Manufacturer

Supermarine




Wingspan

26 m




Introduced

1937




First flight

July 24, 1934





Supermarine stranraer top 5 facts
The Supermarine Stranraer was a 1930s flying boat designed and built by the British Supermarine Aviation Works company principally for the Royal Air Force. They entered operations in 1937 and many were in service at the outbreak of the Second World War undertaking anti-submarine and convoy escort patrols. They were withdrawn from operational service in March 1941 but continued to serve in a training capacity until October 1942. In addition to the British-built aeroplanes, the Canadian Vickers company in Montreal, Quebec, built 40 Stranraers under licence for the Royal Canadian Air Force. The RCAF Stranraers served in anti-submarine and coastal defence capacities on both Canada's Atlantic and Pacific coasts, and remained in service until 1946. Following their withdrawal from military service, many Canadian Stranraers were sold off to fledgeling regional airlines and they served in commercial passenger and freighter operation well into the 1950s.
Contents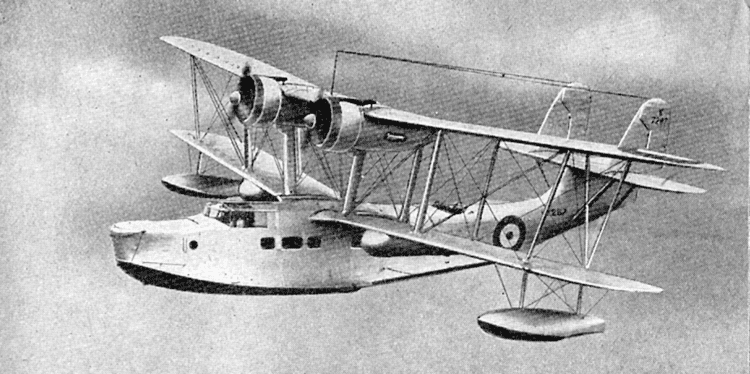 Design and development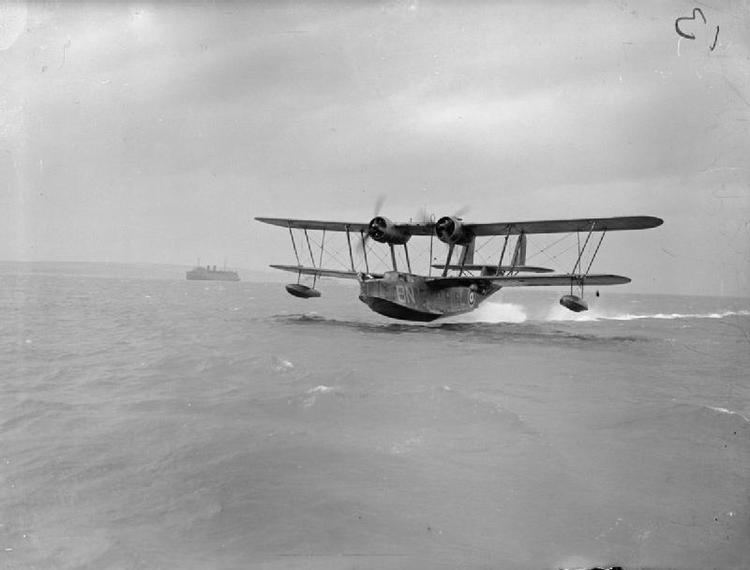 Designed by R. J. Mitchell as a tender to Air Ministry R.24/31 Specification for a coastal reconnaissance flying boat for the RAF, it was initially turned down but Supermarine proceeded with the type as a private venture first known as the Southampton V. A contract was placed in 1933 for a prototype powered by two 820 horsepower (610 kW) Bristol Pegasus IIIM engines and the type became known as the Stranraer.
The structure was mainly duralumin, with the hull covered with sheet metal and the wings with fabric.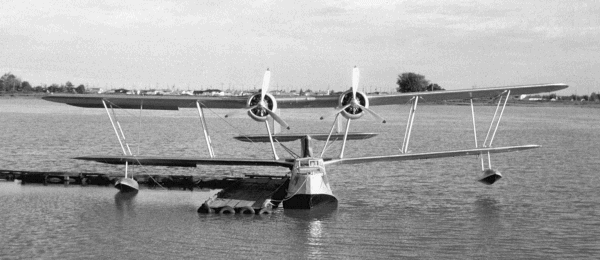 Following the initial flight-test programme, the Stranraer prototype (K3973) on 24 October 1934 was delivered to the RAF. On 29 August 1935, an initial order was placed for 17 aircraft (serial numbers K7287 to K7303) to the Air Ministry Specification 17/35. The production version was fitted with the 920 horsepower (690 kW) Pegasus X and first flew in December 1936, entering service operations on 16 April 1937; the last Stranraer was delivered 3 April 1939. An additional order for six aircraft (K9676 to K9681) was placed in May 1936, but subsequently cancelled. A total of 40 Stranraers were built in Canada by Canadian Vickers Limited; Supermarine and Canadian Vickers being subsidiaries of Vickers-Armstrongs.
Operational history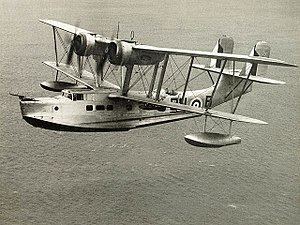 In service, only 17 Stranraers were operated by the RAF 1937–1941 primarily by No. 228, No, 209 and No. 240 Squadrons along with limited numbers at the No. 4 OTU. Generally, the aircraft was not well-received as its performance was considered marginal.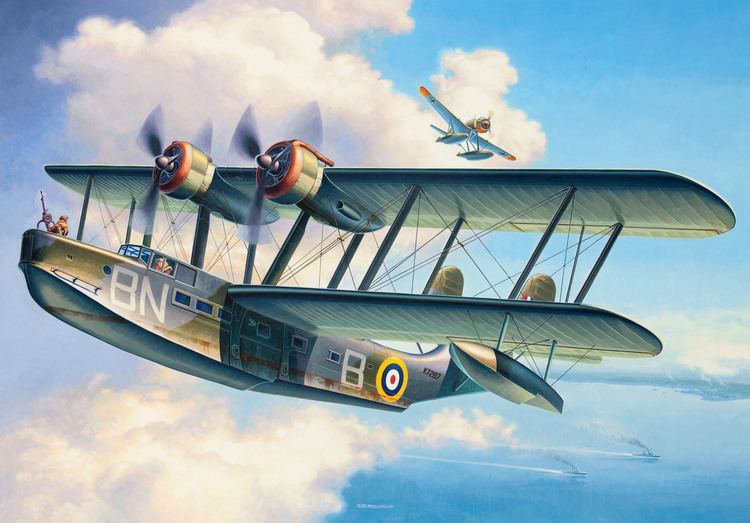 Due to its less than favourable reception by flight and ground crews, the Stranraer gained a large number of derisive nicknames. It was sometimes referred to as a "whistling shithouse" because the toilet opened out directly to the air and when the seat was lifted, the airflow caused the toilet to whistle. The Stranraer also acquired "Flying Meccano Set," "The Marpole Bridge," "Seymour Seine Net," "Strainer," "Flying Centre Section of the Lion's Gate Bridge" as well as a more genteel variant of its usual nickname, "Whistling Birdcage."
Royal Canadian Air Force Stranraers were exact equivalents of their RAF counterparts and they were employed in coastal patrol against submarine threats in a similar role to the British Stranraers. One source states no enemy action was recorded. However, the crew of a 5 Squadron Stranraer, flown by Flight Lieutenant Leonard Birchall, were responsible for the capture of an Italian merchant ship, the Capo Nola, in the Gulf of Saint Lawrence, hours after Canada declared war on Italy on 10 June 1940.
The Canadian Vickers-built Stranraers served with the RCAF until 1946.
Civilian use
Thirteen examples were sold through Crown Assets (Canadian government) and passed into civilian use after the war, several serving with Queen Charlotte Airlines (QCA) in British Columbia and operated until 1957. A re-engine project by the airline substituted 1,200 horsepower (890 kW) Wright GR-1820-G202GA engines in place of the original Pegasus units.
Queen Charlotte Airlines became at one point the third largest airline in Canada; however, it was popularly known as the Queer Collection of Aircraft. With limited money, it flew an eclectic mixture of types that were often the cast-offs of other operators. However, in QCA use, the Stranraer gained a more suitable reputation and was "well liked" by its crews. A total of eight surplus Stranraers were also sold to Aero Transport Ltd. of Tampa, Florida.
Military
Canada
Royal Canadian Air Force - Operational Squadrons of the Home War Establishment (HWE) (Based in Canada)
Eastern Air Command
No. 5 Squadron RCAF Used Supermarine Stranraer (Nov 38 – Sep 41)
No. 117 Squadron RCAF Used Supermarine Stranraer (Sep 41 – Oct 41)
Western Air Command
No. 4 Squadron RCAF Used Supermarine Stranraer (Jul 39 – Sep 43)
No. 6 Squadron RCAF Used Supermarine Stranraer (Nov 41 – May 43)
No. 7 Squadron RCAF Used Supermarine Stranraer (Feb 43 – Mar 44)
No. 9 Squadron RCAF Used Supermarine Stranraer (Dec 41 – Apr 43)
No. 13 (OT) Squadron RCAF Used Supermarine Stranraer (Oct 41 – Nov 42)
No. 120 Squadron RCAF Used Supermarine Stranraer (Nov 41 – Oct 43)
(OT)-Operational Training;
United Kingdom
Royal Air Force
No. 201 Squadron RAF
No. 209 Squadron RAF
No. 210 Squadron RAF
No. 228 Squadron RAF
No. 240 Squadron RAF
Civilian
United States
Aero Transport Ltd. (United States)
Canada
Pacific Western Airlines (Canada)
Queen Charlotte Airlines (Canada)
Specifications (Stranraer)
Data from "Database: Supermarine Stranraer."
General characteristics
Crew: 6-7
Length: 54 ft 9 in (16.7 m)
Wingspan: 85 ft 0 in (25.9 m)
Height: 21 ft 9 in (6.6 m)
Wing area: 1,457 ft² (135.4 m²)
Empty weight: 11,250 lb (5,100 kg)
Loaded weight: 19,000 lb (8,620 kg)
Powerplant: 2 × Bristol Pegasus X radial engines, 920 hp (685 kW) each
Performance
Maximum speed: 165 mph (265 km/h) at 6,000 ft (1,830 m)
Range: 1,000 mi (1,610 km)
Service ceiling: 18,500 ft (5,640 m)
Rate of climb: 1,350 ft/min (6.8 m/s)
Wing loading: 13 lb/ft² (63.7 kg/m²)
Power/mass: 0.097 hp/lb (159 W/kg)
Armament

Guns: 3 × 0.303 in (7.7 mm) Lewis guns
Surviving aircraft
A single intact Stranraer, 920/CF-BXO, survives in the collection of the Royal Air Force Museum London. This aircraft was built in 1940, one of 40 built by Canadian Vickers. In service with the Royal Canadian Air Force, it flew with several squadrons, on anti-submarine patrols, as a training aircraft and carrying passengers. In 1944, it was disposed of. In civil service, it was flown by Canadian Pacific Airlines until 1947, then Queen Charlotte Airlines, who replaced its original British engines with American Wright 1820s. Queen Charlotte Airlines flew it on passenger flights until 1952, flying from Vancouver along the Pacific coast of British Columbia. It flew with several other private owners until damaged by a ship in 1966. In 1970, it was bought by the RAF Museum and transported to the UK.
The parts of a second Stranraer, 915/CF-BYJ, are owned by the Shearwater Aviation Museum, Halifax, Canada. This aircraft also operated with Queen Charlotte Airlines until it crashed on Christmas Eve 1949 at Belize Inlet, British Columbia. Most of the aircraft was recovered in the 1980s, with the exception of the forward fuselage and cockpit.
References
Supermarine Stranraer Wikipedia
(Text) CC BY-SA