Director

Jay Chandrasekhar


Film series

Super Troopers




Language

English






Genre

Comedy, Crime, Mystery




Duration




Country

United States







Writer

Jay Chandrasekhar, Kevin Heffernan, Steve Lemme, Paul Soter,

Erik Stolhanske




Release date

January 19, 2001 (2001-01-19) (Sundance)February 15, 2002 (2002-02-15)(North America)


Screenplay

Jay Chandrasekhar, Steve Lemme, Kevin Heffernan, Paul Soter, Erik Stolhanske


Cast

Jay Chandrasekhar

(Thorny),

Steve Lemme

(Mac),

Kevin Heffernan

(Farva),

Paul Soter

(Foster), Geoffrey Arend (College Boy 3), Brian Cox (Captain O'Hagan)


Similar movies

Bridesmaids

,

I Still Know What You Did Last Summer

,

The Great Beauty

,

Calendar Girl

,

Wonder Boys

,

Out Cold




Tagline

Altered State Police
Super troopers 2 the time is meow 3 24 2015
Super Troopers is a 2001 American crime-comedy film directed by Jay Chandrasekhar, written by and starring the Broken Lizard comedy group (Jay Chandrasekhar, Kevin Heffernan, Steve Lemme, Paul Soter and Erik Stolhanske). Marisa Coughlan, Daniel von Bargen and Brian Cox co-star while Lynda Carter has a cameo appearance. In total, Fox Searchlight paid $3.25 million for distribution rights of the film and grossed $23.1 million at the box office.
Contents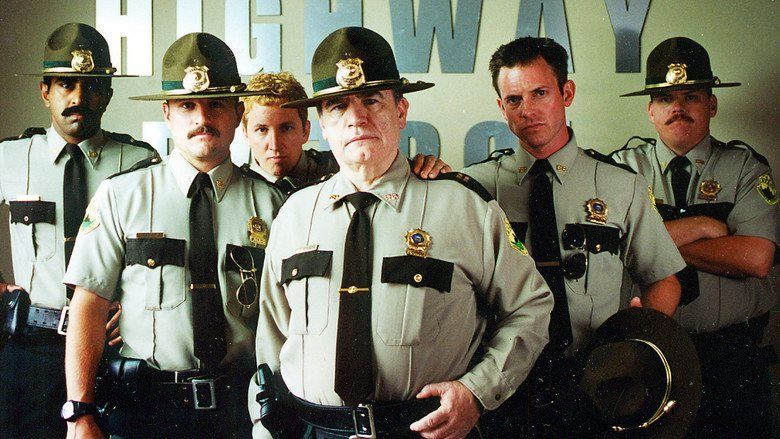 A sequel, Super Troopers 2, has finished post-production and will be released on April 20, 2018.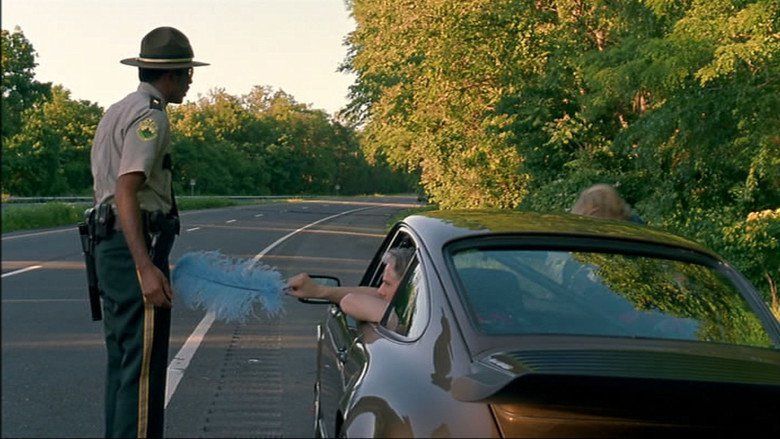 Plot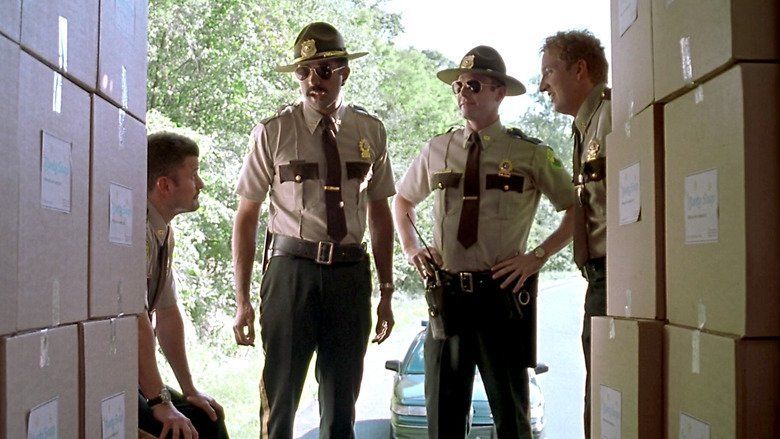 The film takes place in the fictional town of Spurbury, Vermont, near the Canada–US border. The plot centers on five Vermont state troopers who seem to have more of a knack for pranks than police work. Most of their time is spent devising new ways of messing with the heads of the people they pull over and hazing "Rabbit," a new recruit. They also find time to torment their easily infuriated radio dispatcher, Rodney Farva, who has been exiled from patrol work because he was involved in a fight with several students during a questionable traffic stop of a school bus, which is later revealed during the credits. Their days of pranking and slacking off are cut short when the troopers suddenly find themselves attempting to solve a murder, bust a drug-smuggling ring, and avoid having their post eliminated by the state's impending budget cut — resulting in their transfer, or quitting and opening up a roller disco.
The troopers have an ongoing rivalry with the Spurbury Police Department, Spurbury's local police. They repeatedly enter conflicts with them ("highway cops versus the local cops"); one such dispute breaks out into an all-out fistfight, further increasing the station's chances of being shut down. The rivalry eventually results in the governor's (Lynda Carter) praise for the efforts of the Spurbury PD, who had managed to keep one step ahead of the state police by making their department appear responsible for the confiscation of the smuggled drugs. Defeated, the defrocked troopers unexpectedly stumble upon the scheme in which the local police are running protection for the aforementioned drug smugglers. The film's epilogue finds the highway post still eliminated due to the budget cuts; however, the troopers become the new officers of the Spurbury PD replacing their incarcerated corrupt predecessors and thus free to continue their shenanigans in and around their jurisdiction.
Cast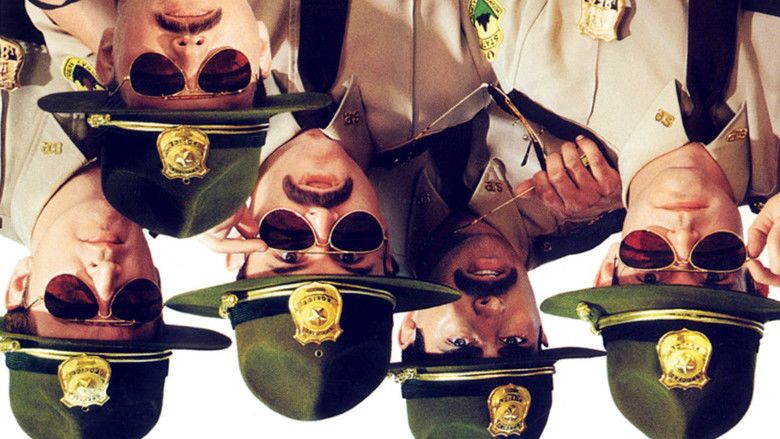 State Troopers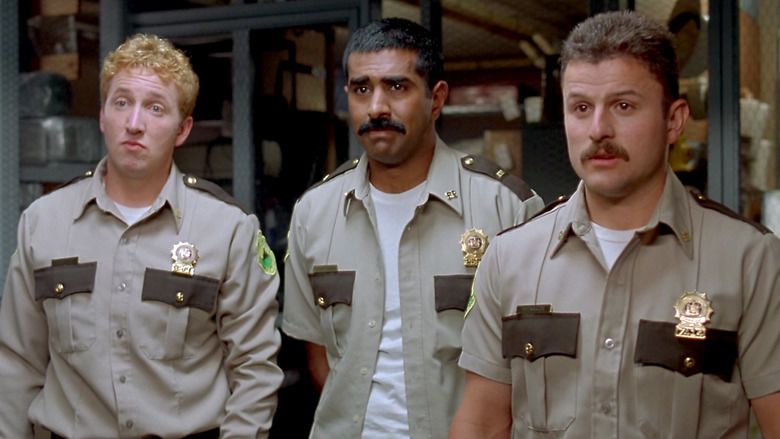 Jay Chandrasekhar as Trooper Arcot "Thorny" Ramathorn, a veteran of the Vermont State Police who is the second-in-command of his barracks.
Paul Soter as Trooper Jeff Foster, arguably the most calm and reserved Trooper of the force.
Steve Lemme as Trooper MacIntyre "Mac" Womack, the Trooper who enjoys pranks the most.
Erik Stolhanske as Trooper Robert "Rabbit" Roto, a rookie State Trooper.
Kevin Heffernan as Trooper Rodney "Rod" Farva, a fat, loud, obnoxious and arrogant radio operator.
Brian Cox as Captain John O'Hagen, the commander of his Vermont State Trooper barracks.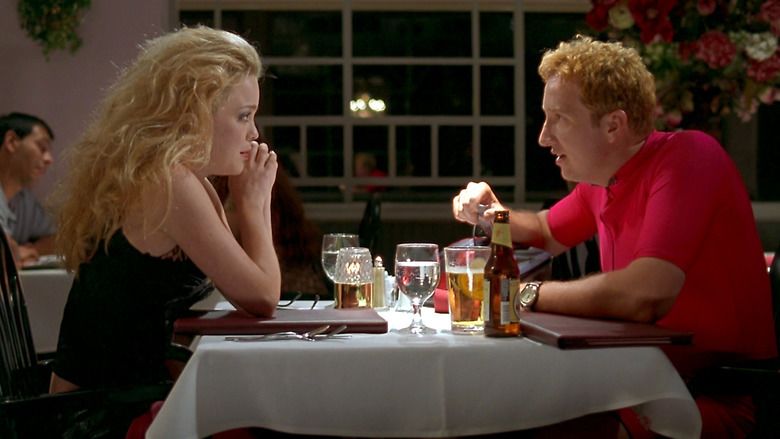 Spurbury Police
Daniel von Bargen as Police Chief Bruce Grady
Marisa Coughlan as Officer Ursula Hanson
James Grace as Officer Jim Rando
Michael Weaver as Officer Samuel Smy
Dan Fey as Officer Jack Burton
Other cast
Andre Vippolis as College boy 1
Joey Kern as College boy 2
Geoffrey Arend as College boy 3
Amy de Lucia as Bobbi
Philippe Brenninkmeyer as German man
Maria Tornberg as German woman
Jimmy Noonan as Frank Galikanokus
Jim Gaffigan as Larry Johnson
Blanchard Ryan as Casino La Fantastique Sally
Charlie Finn as Dimpus Burger guy
Lynda Carter as Vermont Governor Jessman
John Bedford Lloyd as Mayor Timber
Production
Broken Lizard member Steve Lemme stated that the idea for the film came from road tripping to various weddings in his friend and fellow BL member Jay Chandraskhar's car and frequently getting pulled over by cops. As they were frequently under the influence of drugs, the gang began to wonder what would happen if the cops were A) aware of the situation and B) "had a sense of humor". Theorizing that if they did that they "could have fucked with us so much."
The syrup chugging scene was filmed in M's Cozy Corner located in Fishkill, NY which has since closed and been replaced by a pharmacy. The pharmacy closed in 2007 due to flooding.
Critical reception
On Rotten Tomatoes, the film has a 35% "Rotten" rating based on 88 reviews, with an average rating of 5/10, with the critical consensus reading, "A more miss-than-hit affair, Super Troopers will most likely appeal to those looking for something silly". On Metacritic, the film has a score of 48 out of 100, based on 24 critics, indicating "mixed or average reviews". Film critic Roger Ebert awarded the film 2½ stars out of 4, saying "I can't quite recommend it — it's too patched together — but I almost can; it's the kind of movie that makes you want to like it".
Overall, the film grossed $18,492,362 in the United States and $23,182,223 worldwide. The film would eventually become a cult movie with Esquire describing it as "shaggy-dog classic for Generation Y,"
Soundtrack
Trooper With an Attitude - 38 Special
Geez Louise - The Unband
Shoot First, Run Like Hell - Nashville Pussy
Pass the Hatchet - Southern Culture on the Skids
Big Bear - Steak
Cheap Motels - Southern Culture on the Skids
Cannot One Night Stand It (Anymore) - Jack Grace Band
Bad Apples - Royal Fingerbowl
Bidibodi Bidibu - The Bubbles
Wrong Side of a Gun - Nashville Pussy
Corn Rocket, The - Southern Culture on the Skids
King of the Mountain - Southern Culture on the Skids
Worm Farm - Jack Grace Band
Second to the Bottle - Steak
Pink Slip - The Unband
Who's the King (You Know That's Me) - Joseph Henry
Awards
In 2001 Super Troopers won the Audience Award at the South By South West Film Competition. The movie tied with Lady Porn (2001) and Wave Twisters (2001).
Sequel
A sequel was funded partly through crowdfunding site Indiegogo and is currently in development.
References
Super Troopers Wikipedia
(Text) CC BY-SA
Super Troopers IMDb
Super Troopers themoviedb.org