9.4

/

10

Alchetron

Rate This





Composer(s)

Chipzel




Initial release date

31 August 2012




Designer

Terry Cavanagh







Mode(s)

Single-player




Developer

Terry Cavanagh






Genres

Action game, Twitch gameplay




Platforms

Android, iOS, Microsoft Windows, Linux, Macintosh operating systems, BlackBerry




Nominations

BAFTA Games Award for British Game




Similar

VVVVVV, Beat Hazard, BitTrip Beat, Runner2, BitTrip Runner
Super hexagon hardest game ever made
Super Hexagon is an independent twitch video game developed by Terry Cavanagh, with music composed by Chipzel. Originally released for iOS in September 2012, versions for Windows and macOS were released 3 months later, and Android, BlackBerry and Linux versions followed in early 2013.
Contents
The game is based on an earlier prototype by Cavanagh, simply titled Hexagon, which was created for a twelve-hour game jam in early 2012.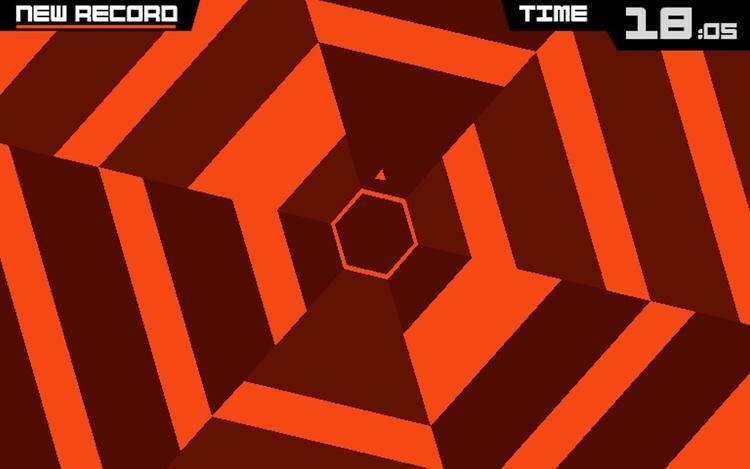 Gameplay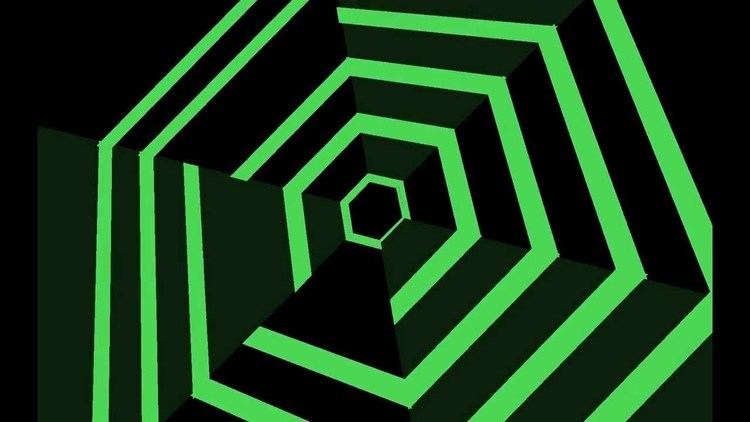 The goal of Super Hexagon is to control a small triangle which circles around a central hexagon (which occasionally collapses into a pentagon or square in the hexagon and hyper hexagon difficulty) while avoiding contact in the front with incoming "walls" (touching the sides is allowed). The game has six difficulties, a set of "normal" modes - Hexagon, Hexagoner, and Hexagonest - and a set of "Hyper" versions of those levels which are unlocked upon surviving for 60 seconds or more on their respective normal modes. After surviving 60 seconds in the normal modes the level will change into the hyper mode, along with changes to the colour, speed and gauntlet patterns of the level. Further surviving another 60 seconds in the first two levels (Hexagon and Hexagoner) will result in a palette swap of colors, continuing at the same difficulty. Surviving a further 60 seconds (in normal mode, this means you have survived 180 seconds), the game will change to the next level of hyper hexagon difficulty. Surviving 120 seconds in Hexagonest will not cause this, but surviving 60 seconds in Hyper Hexagonest will change the appearance of the game to a stationary hexagon (top and bottom parallel to top and bottom of screen), black background, and white walls. Every attempt on any given difficulty is timed, with the best survival time being saved separately for each level as a high score. The timer resets upon "death" (collision with a wall). All high scores are tracked on the leaderboards, in which people can choose to view friends scores or worldwide scores. This is done via Steam for PC, Game Center for iOS and the Play Games feature of the Play Store for Android.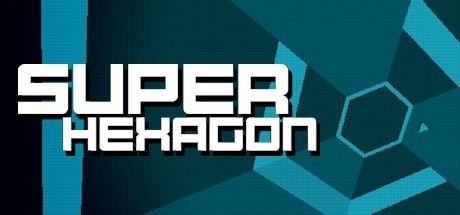 Wall locations are different for each mode, and ordered in different "gauntlets" (sections of repeated walls), which are different upon each attempt, forcing the player to learn how to navigate each set of wall locations rather than the level as a whole. Hyper modes of their respective difficulties contain a similar set of wall locations with some variations, but they appear faster than previously encountered.
Completion of the game is awarded to the player when 60 seconds have been survived on the Hexagonest difficulty (normal ending) and the Hyper Hexagonest difficulty (true ending). However the true ending cannot be obtained by surviving for 120 seconds in the Hexagonest difficulty (completing the regular Hexagonest difficulty then the subsequent Hyper Mode immediately after that). For completing each level, there are achievements available on the Steam, iOS and Android versions.
Development
Super Hexagon started off as a smaller game prototype titled Hexagon, intended for the game jam Pirate Kart. As the game's designer Terry Cavanagh saw potential in the project, he decided to increase the game's difficulty and expand upon its concept. Cavanagh has stated that he is "not much of a visual artist," thus settling on a minimal look quickly. The visuals of Super Hexagon are barely different from its original Hexagon iteration.
Over the course of developing Super Hexagon, Cavanagh had played through it a large amount of time, becoming particularly experienced with the mechanics. During the development of the game, Cavanagh made various changes based on "what felt good", before starting the beta testing process. Cavanagh found that anyone could beat the game once they get better reflexes and a better understanding of the game's mechanics.
Super Hexagon is voiced by journalist Jenn Frank. Cavanagh had intended to use a professional voice actor, but did not like their results and returned to Frank, the voice of Hexagon, to reprise the role. Frank stated that, when a game like Super Hexagon is almost entirely created by a single person, it can become a very personal piece of work; "a product of thousands of tiny decisions, and every one is the reflection of the person who made it, what they're like, and what they think about."
Music
After Cavanagh used Chipzel's track "Courtesy" in the original Hexagon game, he again sought to use her music in the full game Super Hexagon. Chipzel happily obliged, and created a three-track chiptune soundtrack that was subsequently released as Super Hexagon EP. The soundtrack again included the track "Courtesy", as well as "Focus" from Chipzel's previous album Phonetic Symphony and a new track titled "Otis". Each track corresponded to a level in the game: "Courtesy" was used on the Hexagon level, "Otis" on the Hexagoner level, and "Focus" on the Hexagonest level. When a level in Super Hexagon is restarted, the track always starts off at a random place in order to keep players from feeling like they have to start back from the beginning every time.
In late 2015, the EP was re-released on hexagonal vinyl.
All music composed by Chipzel.
Reception
Super Hexagon has received a positive critical response with a score of 86% on reviews aggregation website Metacritic for the iOS version and 88% for the PC version.
Awards
The game was the runner-up for Apple's App Store "Best of 2012" Game of the Year and was a finalist for the 2013 Independent Games Festival Excellence in Design award (losing to FTL: Faster Than Light) with an Honorable Mention for the Seumas McNally Grand Prize. It was also nominated for "British Game" in the British Academy Video Games Awards in 2013.
References
Super Hexagon Wikipedia
(Text) CC BY-SA