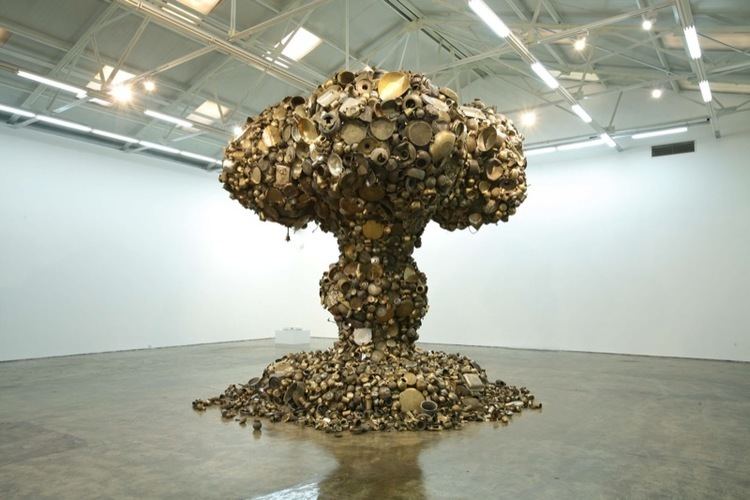 Gupta was born one of seven children in Khagaul, in Patna, Bihar. His father, a railway guard, died in his early forties, when Gupta was 12. His mother came from a farming family and sent Gupta to live with her brother for few years in a remote village. "Not a single school kid wore shoes, and there is no road to go to school. Sometimes we stop in the field and we sit down and eat green chickpea's before we go to school," he said in an interview with Ginny Dougary for The Times. "After leaving school, Gupta joined one of the four small theatre groups in Khagaul and worked as an actor for five years. He also designed posters to advertise the plays, which is when it was first suggested that he go to art college. He ended up working as a part-time newspaper designer and illustrator while studying at the College of Art, Patna (from 1983-1988). The day he was offered a permanent job by the newspaper, he packed it in to try his luck in Delhi, where he was awarded a scholarship by a government-run initiative, and a space to work in the Garhi Studios," wrote Dougary in her 2009 article "Subodh Gupta, India's hottest new artist, talks about skulls, milk pails and cow dung." Gupta met artist Bharti Kher during his residency at Garhi. They were soon married and had two children.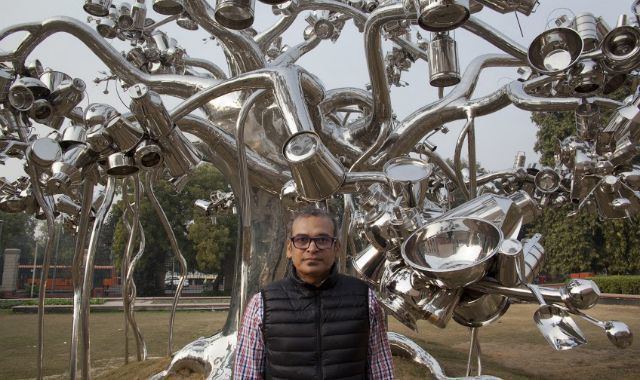 Gupta is best known for incorporating everyday objects that are ubiquitous throughout India, such as the steel tiffin boxes used by millions to carry their lunch as well as thali pans, bicycles, and milk pails. From such ordinary items the artist produces sculptures that reflect on the economic transformation of his homeland and which relate to Gupta's own life and memories. As Gupta says: 'All these things were part of the way I grew up. They are used in the rituals and ceremonies that were part of my childhood. Indians either remember them from their youth, or they want to remember them.' And: 'I am the idol thief. I steal from the drama of Hindu life. And from the kitchen - these pots, they are like stolen gods, smuggled out of the country. Hindu kitchens are as important as prayer rooms.'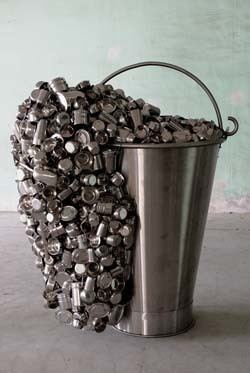 Gupta transforms the icons of Indian everyday life into artworks that are readable globally. He is among a generation of young Indian artists whose commentary tells of a country on the move, fuelled by boiling economic growth and a more materialistic mindset. Gupta's strategy of appropriating everyday objects and turning them into artworks that dissolve their former meaning and function brings him close to artists like Duchamp; The Guardian called him 'the Damien Hirst of Delhi.' He succeeds in finding an art language that references India and at the same time can be appreciated for its aesthetic throughout world; as Gupta says: 'Art language is the same all over the world. Which allows me to be anywhere.'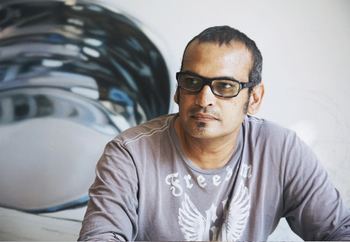 One of his recent major works, consisting of Indian cooking utensils, is 'Line of Control' (2008), a colossal mushroom cloud constructed entirely of pots and pans. The work was shown in the Tate Triennial at Tate Britain in 2009 and is currently exhibited at the Kiran Nadar Museum of Art in Delhi.
Painting is also an important part of Subodh Gupta's art practice. His series 'Still Steal Steel' consists of photorealistic paintings of kitchen utensils falling and moving in space. In his early paintings, Gupta used another element of Indian every day life, cow dung. This is used in India for building houses and as fuel for cooking fires. Moreover, it is a cleaning agent. The idea that cow dung is inherently clean is ingrained in rural India. There, it is a purifying element, both ritual and symbolic. In his video 'Pure' (2000, 9 min.), Gupta takes the detergent concept literally and has filmed himself taking a shower, to free himself of the thick layer of dung that covers his body.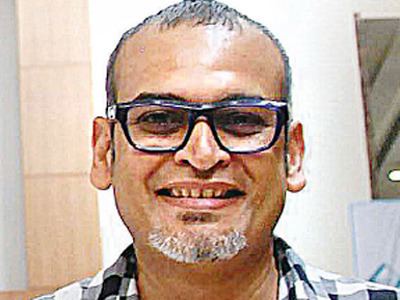 An earlier series of paintings is 'Saat Samunder Paar'. Baggages, migration and the "return home" have been enduring concerns of Subodh Gupta. It is a theme that crystallised in works such as 'Across the Seven Seas' (2006) where he uses baggage trolleys of modern airports to allude to the grim historical reality of migration from India, especially from his home state of Bihar.
In works that Subodh Gupta presented at Hauser & Wirth in October 2009, the artist moved away from composite sculptures toward objects that possess an auratic quality. Ready-made commodities experience transformations in scale and material. Relations to European art history were now to be found. Among the new works is a three-dimensional reworking in bronze of Duchamp's mustachioed Mona Lisa 'L.H.O.O.Q.' (1919).
His oil on canvas painting 'Saat Samundar Paar' went under the hammer for Rs 34 million in the Saffronart autumn online auction. In 2008, he along with several other artists raised 39.3 million for Bihar flood victims.
In 2010, Gupta designed the stage set for the ballet CREATION 2010 by Angelin Preljocaj, the French choreographer. The ballet was produced by the Bolshoi Theatre, Moscow, and the Ballet Preljocaj.
Recent solo exhibitions include 2011's ' Et Tu, Duchamp', at the KÖR am Kunsthalle in Vienna and ' A glass of water' at Hauser & Wirth, New York.
He has created a Banyan Tree from stainless steel which is kept in the National Gallery of Modern Art, New Delhi.
2016
Everyday Devine, National Gallery of Victoria ( NGV), Melbourne, Australia
2015
Seven Billion Light Years, Hauser & Wirth, New York, USA
2014
Everything is inside, MMK Museum für Moderne Kunst, Frankfurt am Main, Germany
2013
Everything is inside, National Gallery of Modern Art, New Delhi, India
2011
A glass of water, Hauser & Wirth, New York, USA Sara Hildén Art Museum, Tampere, Finland
2010
Faith Matters, PinchukArtCentre, Kiev, Ukraine Take off your shoes and wash your hands, Tramway, Glasgow, UK; Arario Gallery, Cheonan, Korea; Arario Gallery, Seoul, Korea Et tu, Duchamp, KÖR Kunst im öffentlichen Raum Kunsthalle Wien project space, Vienna, Austria; Gallery Nature Morte, New Delhi, India; Hauser & Wirth, Zurich, Switzerland
2009
Common Man, Hauser & Wirth, London, UK Line of Control, The Gallery of Modern Art, Brisbane, Australia
2008
Still Steal Steel, Jack Shainman Gallery, New York City There is always Cinema, Galleria Continua, San Gimignano, Italy Line of Control, Arario Beijing, China
2007
Start.Stop, Bodhi Art Gallery, Bombay Silk Route, Baltic Art Centre, Newcastle upon Tyne, UK Idol Thief, IN SITU - Fabienne Leclerc, Paris, France
2006
Hungry God, Gallery Nature Morte, New Delhi Artes Mundi Prize, Cardiff National Museum, UK
2005
Jootha, IN SITU - Fabienne Leclerc, Paris, France I go home every single day, Jack Shainman Gallery, New York, USA Jootha, Sakshi Gallery, Mumbai, India
2004
I go home every single day, The Showroom Gallery, London, UK
2003
Saat Samunder Paar, Gallery Nature Morte, New Delhi, India This side is the other side, Art & Public, Geneva, Switzerland
2000
Recent Works, Gallery Nature Morte, New Delhi, India
1999
Recent Works, Gallery Foundation for Indian Art, Amsterdam, Netherlands
1997
Bose Pacia Modern, New York, USA The Way Home, Gallery Chemould, Mumbai, India
1996
Grey Zones, Jehangir Art Gallery, Mumbai, India
2016
Megacities in Asia, Museum of Fine Arts, Boston, MA, USA
2015
A Republic of Art. French regional collections of contemporary art, Van Abbemuseum, Eindhoven, Netherlands
Arts and Food, La Triennale di Milano, Milan, Italy
After Midnight. Indian Modernism to Contemporary India 1947/1997, Queens Museum, New York NY
A Secret Affair, FLAG Art Foundation, New York NY
2014
By Destiny, Arario Museum, Jeju, Korea
"A Secret Affair: Selections from the Fuhrman Family Collection, The Contemporary Austin, Austin TX
Sparsha - Berührung der Sinne. Ritual und zeitgenössische Kunst aus Indien, Kunstmuseum Bochum, Germany
Sapporo International Art Festival 2014, Sapporo, Japan
2013
Performa 13, New York NY
Asia Code Zero, Seoul Olympic Museum of Art, Seoul, Korea
My Mother and Me, 1997
Gupta set himself apart from others of his generation by adopting organic materials intrinsic to Indian culture in his work, most notably cowdung. My Mother and Me was a cylindrical structure ten feet high made from cowpats with a layer of ash spread across the floor. The seminal work was constructed during a workshop conducted by the Khoj Artists' Association workshop at Modinagar near Delhi.
Bihari, 1999
Gupta addressed his identity and rural roots through a self-portrait enmeshed in cow dung and a single LED-inscribed Devanagiri word, "Bihari," meaning someone from Bihar, a qualifier often used as a slur deriding his fellow people who seek economic refuge in other states. In doing so he not only embraced his identity but a certain aesthetic that could otherwise be dismissed as kitschy.
Very Hungry God, 2006
In 2007, this monumental skull composed of gleaming stainless steel vessels was displayed outside François Pinault's Palazzo Grassi, at the 2007 Venice Biennale. The French Billionaire had acquired the work that was displayed around the same time as Damien Hirst's diamond-encrusted skull For the Love of God at White Cube. "A giant skull made out of utensils, the sculpture related to the venerable Christian tradition of the memento mori, as well as modern special effects extravaganzas like The Mummy. Subodh had managed to take a ubiquitous symbol and make it meaningful anew, an enormously difficult task that could only have been accomplished by a consummate artist," wrote Indian art critic Girish Shahane in January 2007.
What does the vessel contain, that the river does not, 2012
Originally created for the first edition of the Kochi-Muziris Biennale, Gupta's poetically titled 21.35m long, 3.15m wide, 110 cm deep boat was stuffed with an assemblage of miscellaneous found objects; abandoned chairs, beds, fishing nets, window frames et al. It was displayed at Hauser & Wirth's Savile Row space in London in 2013. Echoing sentiments of migration, displacement, belonging, movement, and stability, the work derives its title from a line in Rumi's "The Sufi Path of Love": "What does the vat contain that is not in the river? / What does the room encompass that is not in the city? / This world is the vat, and the heart the running stream, / this world the room, and the heart the city of wonders."
Still Life Juggler, film on DVD, 1:50', 2008
All Things are Inside, film on DVD, 4:30', 2007
Haasil, appeared in his friend Tigmanshu Dhulia's film, 2003
Pure (I), performance at Khoj workshop, Modi Nagar, India, 1999
Pure, video on DVD, 9', 1999
Gupta's work has been acquired by a number of public and private collections including:
Tate Britain, London, England
Guggenheim Museum, New York, NY
National Gallery of Modern Art, New Delhi, India
Albright Knox Art Gallery, Art Museum, Buffalo, New York
MMK Museum für Moderne Kunst Frankfurt am Main, Germany
Sara Hilden Art Museum, Tampere, Finland
Kiran Nadar Museum of Art, New Delhi, India
François Pinault Foundation
Arario Gallery, Shanghai, China
On 9 March 2017, Artists In-Residence Subodh Gupta & Bharti Kher called on President Pranab Mukherjee at Rashtrapati Bhavan.
2013
Chevalier dans l'Ordre des Arts et des Lettres (Knight of the Order of Arts and Letters)
2004
French Government residency in Paris, Visiting Professor at L'Ecole des Beaux-arts, Paris, France
1997
Emerging Artist Award, BosePacia Modern, New York, USA
UNESCO-ASHBERG Bursaries for Artists, at Gasworks Studio, London, England
1996
All India Painting Exhibition, 1st Prize by M.F. Husain at Vadehra Art Gallery, New Delhi, India
1990- 91
Research Grant Scholarship, Lalit Kala Academy, New Delhi, India
1989
All India Festival, Dhanbad, India
1987-88
Students grant scholarship, Govt. of Bihar, Patna, India
1987
State Level Art Exhibition of Bihar, India
1986
All India Youth Festival, Madras, India