Occupation

Texas prisoner




Role

Con artist




Name

Steven Russell






Born

September 14, 1957 (age 66) (

1957-09-14

)

Elizabeth City, North Carolina




Known for

Multiple successful escapes from several prisons




Parents

Thomas Russell, Brenda Russell





Similar

Brenda Russell, Glenn Ficarra, Jim Carrey
Steven Jay Russell Rare Interview Part 1
Steven Jay Russell (born September 14, 1957) is a U.S. con artist known for escaping from prison multiple times. A film about his life and crimes was produced in 2009, named I Love You Phillip Morris. In 2011, his crimes were featured on the TV show I Almost Got Away with It in the episode "Got a Boyfriend to Support." A documentary about his crimes was aired on TV in 2005 On The Run episode "King of Cons" on Discovery Channel.
Contents
Steven Jay Russell Rare Interview Part 2
Biography
Russell claimed his life of crime started in the early 1990s when he was fired from his job as an executive of a food service company after his employers found out he was homosexual. He was later arrested for fraud for faking a slip-and-fall accident, and was sentenced to six months in prison. After serving four weeks in the Harris County jail, Russell escaped on May 13, 1992, by using a spare set of civilian clothes and a walkie talkie to impersonate a guard. He later went to take care of his boyfriend Jimmy Cambell who was dying of AIDS; Cambell died three weeks after Russell was re-arrested and sent back to Harris County jail.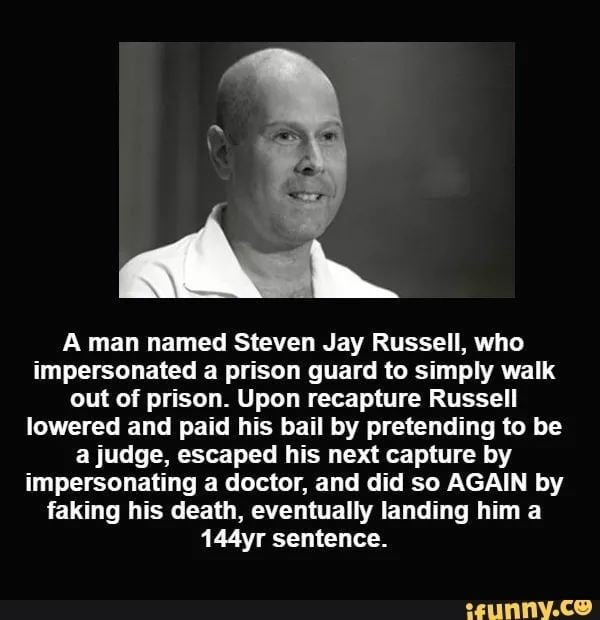 While in prison Russell met Phillip Morris, with whom he quickly fell in love. The two were later released from prison, and wanting to give Morris a glamorous lifestyle, Russell managed to get a job as the chief financial officer of North American Medical Management (NAMM). He then started embezzling funds, stealing $800,000 before the activity was detected and Russell and Morris were arrested. Sent back to the Harris County jail, Russell, considered a flight risk, had his bail set at $950,000, but later made his next escape by calling the Harris County Records Office, pretending to be a judge, and lowering his bail from $950,000 to $45,000 before posting the reduced bail. He was later tracked down via trap-and-trace phonecalls when he called his friends asking for money. He was arrested in a hotel room in West Palm Beach, Florida one week after his second escape.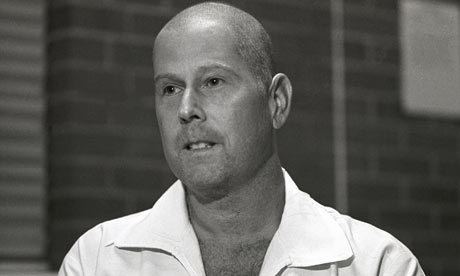 Russell was sentenced to 45 years in prison for the NAMM fraud and was sent to the Maximum Security Estelle Unit in Huntsville, Texas. Russell concocted a new escape after he began collecting green highlighter markers and a spare prison uniform and used his cell toilet to dye the uniform green to look like doctor's scrubs. He then walked out of the front door and hiked away from the prison to a house where he convinced a man to give him a ride into town. He then took a taxi to Houston. After tracking down Morris, on bail awaiting trial for his involvement in the NAMM case, he convinced him to run with him and the two fled to Biloxi, Mississippi, making money in casinos, where Russell was later identified and arrested by a U.S. Marshal. Morris was also quickly found and arrested.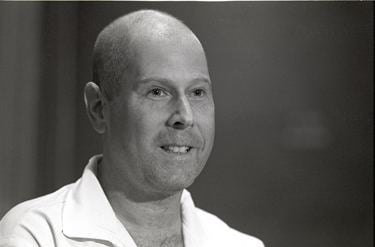 He was sent back to a maximum security prison in Texas to serve an additional and cumulative 45-year sentence. From here, Russell made his most inventive escape ever; he used acting and laxatives to fake the symptoms of AIDS, and a prison typewriter to fake his medical records to show him as HIV positive, being granted a special-needs parole to a nursing home to die. He then called the prison and parole board, posing as a doctor and AIDS specialist, asking for prisoners interested in an experimental treatment, and volunteered. Once out of Texas, he then sent death certificates to the prison and parole board stating he had died.
While out on the run, Russell (determined to get Morris out of prison) managed to make up an attorney's bar card. He then called the Estelle Unit where Morris was serving his time, posing as a judge, and issued a bench warrant to have Morris moved to a Dallas prison so he could visit him disguised as his attorney Jean Louis without being recognized. U.S. Marshals visited the prison to find Russell already gone. He then dropped off the radar for a period of time.
On March 20, 1998, Russell posed as a millionaire from Virginia in an attempt to legitimize a $75,000 loan from NationsBank in Dallas; when bank officials became suspicious and alerted the police, Russell feigned a heart attack and was transported to a hospital. Russell was placed on security watch but he impersonated an FBI agent and called the hospital on his cell phone to tell them he could be released.
U.S. Marshals later tracked Russell down in Florida where they arrested him on April 5, 1998 when he went to retrieve a fax. Russell was then sentenced to a total of 144 years in prison (99 years for the escapes and 45 years for subsequent scams).
As of 2010, Russell, Texas Department of Criminal Justice #00760259, is located in the Polunsky Unit, on a 23-hour lockup, only having one free hour a day to shower and exercise to prevent him from escaping. His release date from prison is July 12, 2140.
Film
A film about his life and crimes was produced in 2009, named I Love You Phillip Morris, starring Jim Carrey as Steven Jay Russell and Ewan McGregor as his boyfriend Phillip Morris.
Internet and print media
Since the movie went into production and Steven Jay Russell's story became more popular, several articles appeared in print and online uncovering lesser known details of his exploits. Esquire magazine interviewed both Steven Russell and Phillip Morris for its feature, "The Great Escapee", while The Guardian published "I Love You, Phillip Morris: A Conman's Story".
References
Steven Jay Russell Wikipedia
(Text) CC BY-SA