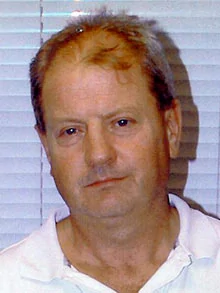 Steve Wright was born in the Norfolk village of Erpingham, the second of four children of military policeman Conrad and veterinary nurse Patricia. He has an older brother, David, and two younger sisters, Jeanette and Tina. While Wright's father was on military service, the family had lived in both Malta and Singapore. Wright's mother left in 1964 when he was 6; his father divorced his mother in 1977; both remarried. Wright and his siblings lived with their father, who fathered a son, Keith, and daughter, Natalie, with his second wife, Valerie.
He left school in 1974, and soon afterwards joined the Merchant Navy, becoming a chef on ferries sailing from Felixstowe, Suffolk. In 1978, in Milford Haven, at the age of twenty, he married Angela O'Donovan. They had a son, Michael. The couple separated in 1987, and later divorced. Wright became a steward on the QE2, a lorry driver, a barman and, just prior to his arrest, a forklift truck driver. Former sex worker Lindi St Clair said she was attacked by Wright in the 1980s. His second marriage was to 32 year old Diane Cassell at Braintree register office in August 1987. They split in July 1988 while he was a pub landlord in Norwich.
It was during this time that he also managed a public house in South London. This post was lost due to his gambling and heavy drinking. He was convicted in 2001 of theft, having stolen £80 to pay off his debts. This was his only criminal conviction prior to the murders.
It is known that throughout these times Wright built up large debts largely through gambling, and had recently been declared bankrupt. Wright had twice tried to commit suicide, first by carbon monoxide poisoning in his car in 1994; secondly in 2000, by an overdose of pills.
Wright met Pamela Wright (the shared surname was coincidental) in 2001 in Felixstowe, and they moved to the house in Ipswich together in 2004. Wright had always admitted that he used sex workers and had done since he was in the Merchant Navy, and continually throughout his life. In Ipswich, he admitted he went to certain massage and sauna establishments that were actually brothels. Throughout his trial, he had stated that he had used professional sex workers on many occasions, including three of the victims and when his partner began working night shifts and their sex life became almost non existent, he returned to using professional sex workers who were based on the nearby streets, procuring a dozen in the final three months of 2006.
Between 30 October and 10 December 2006, Wright murdered five sex workers in Ipswich. Forensic evidence led to his arrest on 19 December. At the time of the murders, Wright was working as a forklift truck driver. He was found guilty of all five murders on 21 February 2008. On the following day, he was sentenced to life imprisonment, and the judge recommended that he should never be released.
It was announced on 19 March 2008 that Wright was to appeal his convictions, but on 2 February 2009, it was announced that Wright had decided to drop this appeal case.
Prostitutes nicknamed him "Mondeo Man" and "Silver-Backed Gorilla", because of his hair colour and stocky build, and some said he liked dressing up in tight women's clothing, and wearing a black curly wig. Tiny flecks of blood were found on the back seats of Steve Wright's Ford Mondeo, and partially matched the DNA profile of Paula Clennell.
Wright is still being investigated in connection with other unsolved murders and disappearances.
He is one of a number of high profile murderers or sex offenders to have been identified as possible suspects in the Suzy Lamplugh case; he had worked with Lamplugh on the QE2 ocean liner during the early 1980s. Lamplugh went missing in London in July 1986, and was legally declared dead in 1994, but her body has never been found. However, the Metropolitan Police have stated that this is not a strong line of enquiry.
Cleveland Police have not ruled out a link between Wright and the murder of Vicky Glass, a heroin addict who vanished from Middlesbrough in September 2000, and whose naked body was later found in a brook on the North York Moors.
In June 2012, criminologist David Wilson suggested that the killer of Norwich prostitute Michelle Bettles may have been Wright, but his theory was dismissed by the police. Bettles was strangled in March 2002, and her body was found three days later in woodland.