Steven Peter Devereux Smith (born 2 June 1989) is an Australian cricketer who represents Australia, New South Wales Blues, and Sydney Sixers. He is currently the captain of the Australia national cricket team in Test & ODI formats. Although he was initially selected for Australia as an all-rounder who could bowl right-arm leg spin, Smith now plays primarily as a batsman. On July 16, 2015 he reached a Test batting rating of 936, the 10th highest of all time.
As of December 2015, Smith is ranked fourth in the list of top 10 Test batsmen in the world, according to the ICC Player Rankings. Smith was the leading run scorer in 2014–15 Border-Gavaskar Trophy series against India. In 2015, he won the Allan Border Medal for the best player in Australian Cricket. In June 2015, he was moved up to the coveted no. 3 spot in the Test batting order for the series against the West Indies and the 2015 Ashes series, a position previously held by Ricky Ponting. After taking over full-time captaincy of the national team, Smith now generally bats at no. 3 in the batting order, though that position was briefly taken by his fellow team-mate Usman Khawaja, until Smith covered for him again in the inaugural day-night Test match in Adelaide.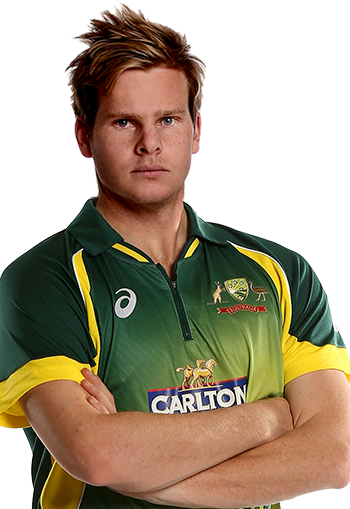 Smith was born in Sydney to an Australian father, Peter, who has a degree in chemistry and works with pigments and waxes, and an English mother. He was educated at Menai High School, but at 17 he dropped out of the Higher School Certificate (HSC) to play cricket in England.
Smith made his first class debut against Western Australia at the SCG on 24 January 2008. He scored 33 in his only innings as NSW defeated WA outright.
One of his earliest achievements was being the leading wicket taker at the 2008 KFC 20/20 competition. This was despite only playing four out of the five games. He took 4/15 against Queensland and finished with 9 wickets overall. Due to his efforts, he was named the second best player of the tournament.
He was part of the New South Wales team that won the 2009 Twenty20 Champions League. In the final against Trinidad and Tobago at Hyderabad, Smith made 33 with the bat and took two wickets.
By the end of the 2009–10 domestic season Smith had a first-class batting average of over 50 after just 13 first-class matches. While his first-class bowling average in the high forties was not as impressive, his bowling appeared to be steadily improving following some well-publicised mentoring and high praise from Shane Warne. In the final match of the season he took 7 for 64 in the second innings against South Australia.
Smith made his international cricket debut in a T20 international match against Pakistan at Melbourne in February 2010. The same month, he made his one-day international debut against the West Indies also at Melbourne, playing in the fifth match of the series.
In the 2010 ICC World Twenty20 competition held in the West Indies, Australia finished runners up to England. Smith took 11 wickets in seven matches at an average of 14.81 to finish as the equal second highest wicket-taker of the tournament.
Smith made his Test debut at Lords in July 2010, playing both Tests against Pakistan in the 2010 Test series played in England. He was selected mainly for his bowling, and batted down the order, although his bowling was not required in the first innings. In the second innings, he took 3 wickets for 51 as Australia won by 150 runs. In the second Test he was called to bowl only ten overs and took no wickets, although he played an impressive role with the bat in the second innings. Batting with the tail, he scored 77 including nine fours and two sixes off successive balls, helping Australia to set a competitive target after having been bowled out for 88 in the first innings.
Smith's fielding attracted attention during the 2009–10 season with some spectacular catches in the outfield.
In the 2010–11 Australian summer, Smith played three Tests in the 2010–11 Ashes series, this time playing more as a batsman, taking the number six spot in the order. His performances were solid during the series, getting a number of starts and scoring two half centuries. Following the 2010–11 Ashes, Smith did not play another Test for two years, his next Test series coming against India in March 2013. He posted several starts, with a top of 92 in the 1st Test at Mohali. Since then, Smith became a regular in the Australian Test line-up and he has been played mainly as a batsman. The 2013 Ashes series in England brought his maiden Test century, which he achieved in the first innings of the last Test of the series at The Oval, reaching the total in style by hitting a six off the bowling of Jonathan Trott. He became only the sixth Australian to reach his maiden Test 100 with a six.
On 15 December 2014, Smith was named Australia's new vice-captain and following an injury to Michael Clarke, he was appointed stand-in skipper against India with Brad Haddin as his deputy. He made his captaincy debut for Australia in the Second Test match against India at the Gabba, and also captained the Third and Fourth test matches at the MCG and SCG respectively . On 26 December, Smith scored his 1,000th run in the 2014 calendar year.
During the 4th Test against India in Sydney, Smith joined Don Bradman (6), Neil Harvey, Jack Fingleton and Matthew Hayden (4 each) as Australian centurions in four or more consecutive Tests, a streak Smith started during the 1st Test at Adelaide. Smith also became the first Australian skipper to open their captaincy with three consecutive centuries, and the second batsman since Jacques Kallis against West Indies to score a century in every match of a Test series. During the 2014–15 Border Gavaskar Trophy Test Series against India, Smith set a record for the most runs (769) scored by an individual in a series against India, surpassing the previous record held by Don Bradman.
After his man of the match effort against the West Indies in June, 2015, Smith became the second youngest player ever to reach the number 1 ICC test batsmen ranking and just the eighth Australian to do so.
The retirement of Michael Clarke following Australia's 3-2 defeat in the 2015 Ashes series saw Smith appointed as the full-time captain of the Australian Men's Test Team. Fellow New South Welshman David Warner was appointed as his vice-captain.
Smith made his domestic T20 cricket debut for New South Wales in a match against South Australia at Adelaide on 1 January 2008 during the six team KFC Big Bash competition. In 2011–12, the Australian T20 competition became the city-based Big Bash League featuring eight teams. Smith joined the Sydney Sixers and filled in as captain when Brad Haddin could not play due to Test duties, subsequently leading the team to victory in the inaugural season. As an all-rounder, he scored 166 runs with the bat from nine matches with a strike rate of 130.71, including one half century. With the ball, he took 6 wickets at an economy rate of 8.06 per over. He also took nine catches throughout the tournament. In the final match, the Sixers beat Perth Scorchers by 7 wickets while chasing down the target of 157 within 18.5 overs after the Scorchers made 5/156 in 20 overs. Smith's good form during the Big Bash League, attracted the attention of former India Captain Sourav Ganguly, and was recruited to play for the Pune Warriors India team captained by Sourav Ganguly in the 2012 Indian Premier League. Smith had also captained the team in 1 match, when Ganguly was rested, despite Australian captain Michael Clarke being the vice-captain. He continued to play for the same franchise in 2013, under the captaincy of Angelo Mathews.
Smith was first bought by Royal Challengers Bangalore for the 2010 Indian Premier League as a replacement for Jesse Ryder. During the 2011 IPL player auction, he was bought by Kochi Tuskers Kerala for $200,000, but he had to undergo an ankle operation and was not available to play for them that season.
The next season, Kochi Tuskers were dropped from the IPL and Smith was put up for auction. He went unsold at the 2012 IPL Players Auction, but was later bought as a replacement for Mitchell Marsh by the Pune Warriors India. In his first match for his new team, he scored 39 runs off 32 balls to lead his team to victory against the Mumbai Indians. He received the Man of the Match award for this effort.
In the auction for IPL 2014, Smith was bought by Rajasthan Royals for Rs. 40 million. Smith was given the captaincy of the Royals in the latter half of the 2015 season and led the team to significant victories, thus ensuring a berth for his team in the play-off part of the tournament.
Smith is a right-handed batsman with a technique that has attracted attention for its unorthodoxy. He moves around frequently in the crease, controls the bat with his bottom hand (that is, the hand closest to the blade of the bat), and is capable of playing unconventional cricket shots like the reverse sweep. Playing in a club match in January 2010, right-handed Smith took guard left-handed and hit a six. Due to his unorthodox style, Smith was initially labelled as a limited-overs batsman who might struggle in the longer form of the game, especially early in his career when he was vulnerable outside off stump. However, Smith compensates for his unique technique with outstanding hand-eye coordination, and his footwork, especially to spin bowlers, is exemplary.
Much of the credit for Smith's success can also be attributed to batting coach Trent Woodhill, who coached Smith as a junior and noted his abundant talent. He has also defended Smith's unique batting style, and has long argued that in Australia, many naturally talented cricketers who may not necessarily have an orthodox technique are let down by over-coaching; in the years between leaving school and his elevation into international cricket, Smith had his technique picked apart by a number of well-intentioned coaches. Since re-establishing his working relationship with Woodhill, Smith appears to have regained calm and confidence in his cricket, which has since produced results over the last few seasons.
As a bowler, with his quick rise up the batting order (until he became a captain, and settled in at 4, but having to cover at 3 and 5 in case of injuries or form struggles), however, his comparisons to Shane Warne never gathered momentum. He was an able option as a leg spinner early in his career, but was under-utilised because he was described as a very defensive bowler.
Despite a very short career as a captain, he has already been tagged as the second "Captain Grumpy" since Allan Border, having to warn Mitchell Starc for unsportsmanlike behaviour, and being highly critical of the team's bowling and fielding despite beating New Zealand by over 200 runs. Yet, he has also scored 4 centuries in 5 test as captain, including a maiden second-innings century against New Zealand in Perth, which was also Mitchell Johnson's final cricket match.
Smith started dating Dani Willis, a commerce and law student at Macquarie University, in 2011. He is also a keen horse racing fan who has a share in four racehorses, three with leading trainer Chris Waller.