Birth name

Steve Cahn




Role

Guitarist · stevekhan.com




Name

Steve Khan





Instruments

jazz guitar


Genres

Jazz, jazz fusion





Born

April 28, 1947 (age 68) (

1947-04-28

)


Origin

Los Angeles, California


Labels

Columbia RecordsNovus RecordsTone Center Records, a member of the Shrapnel Label Group


Associated acts

Steely Dan, Billy Joel, Hubert Laws, Billy Cobham, James Brown, Maynard Ferguson, Weather Report, Bob James


Movies

Joe Zawinul and Weather Update




Albums

Casa Loco, Parting Shot, Public Access, The Suitcase, Local color




Parents

Sammy Cahn, Gloria Delson



The suitcase steve khan anthony jackson dennis chambers
Steve Khan (born April 28, 1947) is an American jazz guitarist. He is known for his work with artists such as Steely Dan, Billy Joel, Michael Franks, Hubert Laws, Billy Cobham, Jack DeJohnette, James Brown, Maynard Ferguson, and Weather Report.
Contents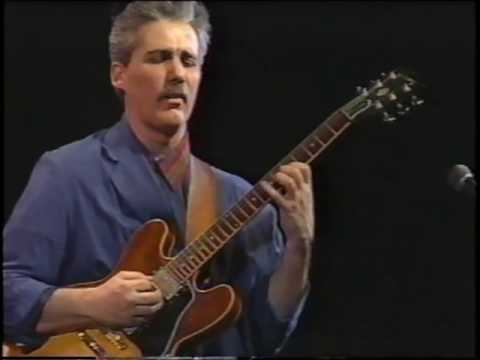 A native of Los Angeles, California, and the son of lyricist Sammy Cahn, Steve Khan took up the guitar when he was 20, having previously played piano and drums. He graduated from UCLA and moved to New York City, where he worked as a studio musician in pop, rock, jazz, and rhythm and blues, with such acts as Steely Dan, Maynard Ferguson, and Lou Rawls. He recorded a duet album with guitarist Larry Coryell and was a member of the Brecker Brothers band.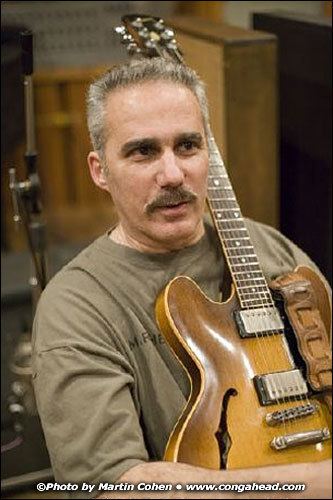 In 1977, he toured with the CBS Jazz All Stars in Japan, and led a band called Eyewitness that featured musicians such as Steve Jordan, Anthony Jackson and Manolo Badrena. During the 1980s and 90s he was a member of the group Elements.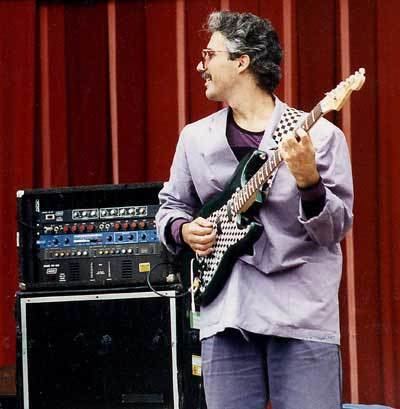 The guitar show with steve khan
Awards and honors
Grammy Award nomination, Local Color (1987)
Grammy Award nomination, Borrowed Time (2007)
Named to list of "22 All-Time Greatest Jazz Guitarists", Jazz Life magazine (1998)
Discography
Two for the Road (Wounded Bird, 1976) with Larry Coryell
Tightrope (Columbia, 1977)
The Blue Man (Columbia, 1978),
Arrows (Columbia, 1979),
Eyewitness (Antilles, 1981)
Modern Times also released as Blades (Passport, 1982)
Casa Loco (Antilles, 1983)
Helping Hand (Polydor, 1987)
Local Color (Denon, 1987) with Rob Mounsey
Public Access (GRP, 1989)
Let's Call This (Polydor, 1991) with Ron Carter, Al Foster
Headline (Mesa/Blue Moon, 1992)
Crossings (Verve/Polygram, 1994)
Got My Mental (Evidence, 1997) with John Patitucci, Jack DeJohnette
You Are Here (Siam, 1998) with Rob Mounsey
The Green Field, (Tone Center , 2006) with John Patitucci, Jack DeJohnette
Borrowed Time, (Tone Center, 2007)
The Suitcase:Live in Koln '94, (Tone Center, 2007) with Dennis Chambers, Anthony Jackson
Parting Shot, (Tone Center, 2011)
Subtext, (Tone Center, 2014)
Backlog (Tone Center, 2016)
As sideman
With Joe Beck
1975 Beck & Sanborn
1975 Beck
With Esther Phillips
1975 Esther Phillips and Joe Beck
1975 What a Diff'rence a Day Makes
1976 Capricorn Princess
1976 For All We Know
With Larry Coryell
1975 Level One
1975 Planet End
1976 Aspects
With Brecker Brothers
1976 Back to Back
1977 Don't Stop the Music
With Patti Austin
1976 End of a Rainbow
1977 Havana Candy
With Bob James
1977 Heads
1979 Lucky Seven
1981 Sign of the Times
1981 All Around the Town
1983 The Genie: Themes & Variations from the TV Series "Taxi"
1983 Foxie
1984 12
1987 Obsession
1995 The Swan
With Steely Dan
1977 Aja
1980 Gaucho
With Billy Joel
1977 The Stranger
1978 52nd Street
With Billy Cobham
1977 Inner Conflicts
1978 Alivemutherforya
1978 Simplicity of Expression
With Ashford & Simpson
1977 Send It
1977 So So Satisfied
1979 Stay Free
With Phoebe Snow
1977 Never Letting Go
1978 Against the Grain
With Michael Franks
1982 Objects of Desire
1985 Skin Dive
1987 The Camera Never Lies
1993 Dragonfly Summer
1999 Barefoot on the Beach
With Ben Sidran
1978 Live at Montreaux
1984 Bop City
1994 Life's a Lesson
With Diane Schuur
1985 Deedles
1988 Talkin' 'Bout You
With Aretha Franklin
1985 Who's Zoomin' Who?
1989 Through the Storm
With Lou Rawls
1989 At Last
1990 It's Supposed to Be Fun
With Dave Samuels
1989 Ten Degrees North
1998 Tjader-ized: A Cal Tjader Tribute
With Steps Ahead
1989 N.Y.C.
1992 Yin-Yang
With Caribbean Jazz Project
2000 New Horizons
2001 Paraiso
With others
1975 Taking Off, David Sanborn
1975 Night Life, Luther Allison
1976 A Secret Place, Grover Washington Jr.
1976 Benson & Farrell, George Benson/Joe Farrell
1976 Romeo & Juliet, Hubert Laws
1976 Sometime Other Than Now, Steve Marcus
1976 The Main Attraction, Grant Green
1976 Windjammer, Freddie Hubbard
1977 Rhapsody in Blue, Walter Murphy
1977 New Vintage, Maynard Ferguson
1978 Let It Be Now, Helen Schneider
1978 Lucumi Macumba Voodoo, Eddie Palmieri
1978 Pages, Pages
1979 Euphoria, Gato Barbieri
1980 Naughty, Chaka Khan
1980 Sebesky Fantasy, Don Sebesky
1981 Wanderlust, Mike Mainieri
1982 The Nightfly, Donald Fagen
1988 Time in Place, Mike Stern
1989 Amandla, Miles Davis
1989 Blackwood, Eddie Daniels
1989 Liberal Arts, Elements
1989 The Promise, Kirk Whalum
1992 Beyond Words, Mark Egan
1992 Jazzpaña, Mendoza/Mardin Project
1993 Tar Beach, John Sebastian
1997 Next Voyage, Philippe Saisse
1999 Sunshower, Dave Valentin
2000 So Nobody Else Can Hear, Jimmy Cobb
2005 Cosmopolitan, Jason Miles
2005 Weather Update, Joe Zawinul
2007 Courage, Paula Cole
2013 Nightsongs: A Late Night Interlude, Janis Siegel
Books
Pentatonic Khancepts
Contemporary Chord Khancepts
Wes Montgomery Guitar Folio
Pat Martino: The Early Years
References
Steve Khan Wikipedia
(Text) CC BY-SA