Steve Bleasdale is a Liverpool-born football coach. He has managed Bangor City, Leigh Genesis and Football League side Peterborough United and twice been assistant manager at Chester City.
Contents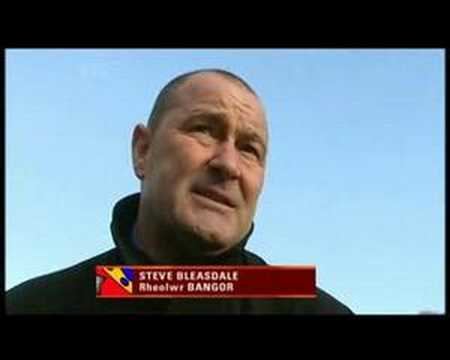 Early years
Before entering management at Peterborough United, he was assistant manager to Mark Wright at Chester City when they won promotion from the Football Conference in 2003-04. He was brought to the Posh again by Wright when he was appointed manager in the close season of 2005, after a spell as manager of Leigh RMI during the 2004–05 season.
Peterborough United and 'Big Ron Manager'
Despite the club being reasonably well placed in League Two, Wright was sacked in January 2006 due to alleged racist remarks to a youth player, leading to Bleasdale being appointed caretaker manager until the end of the season. After an excellent start, winning five of his first seven games in charge and taking the club to being close to the automatic promotion places, the club suffered a downturn in form with only one win in seven games. He quit an hour before Posh's game with Macclesfield Town, claiming that others had been interfering with the team, in particular Ron Atkinson who had been brought to the club in a "Football Troubleshooting" capacity by Sky Television who were making a documentary for their channel Sky One called Big Ron Manager. As a manager, Steve favoured the long-ball game and tried to ensure his players would not be afraid to get stuck into the opposition when needs be. As Steve himself famously says "When it's a battle, you fucking battle!"
After resigning, Bleasdale tried to regain his job by withdrawing his resignation but Director Of Football Barry Fry refused to have him back at Peterborough. The two then came to a financial settlement.
Bangor City
He was appointed 'Bangor boss' in November 2006. After leading Bangor to a mid-table finish in the Welsh Premier League in the 2006-07 season he resigned as manager on 30 April 2007, citing the inability to sign English based players and long travelling times from his Liverpool home as his reasons.
Leigh Genesis
Moving closer to home Steve was appointed as Leigh RMI manager for the second time in October 2007. Since then the club has changed its name to Leigh Genesis, and begun signing full-time players, ahead of the 2008-09 season.
Chester
On 14 November 2008, Bleasdale again joined Mark Wright as assistant at Chester City. However, on 21 February 2009, it was announced he had left the club, due to unspecified reasons, described by Wright as "there are a few things we're not happy about and we'll just have to get on with it. There are some things behind the scenes which I feel very, very let down about and which I'm not prepared to elaborate on at this time."
Coaching badges
Bleasdale has obtained both the UEFA A and Pro licences, which makes him one of the highest qualified coaches in the English football pyramid outside of the Premier League.
References
Steve Bleasdale Wikipedia
(Text) CC BY-SA