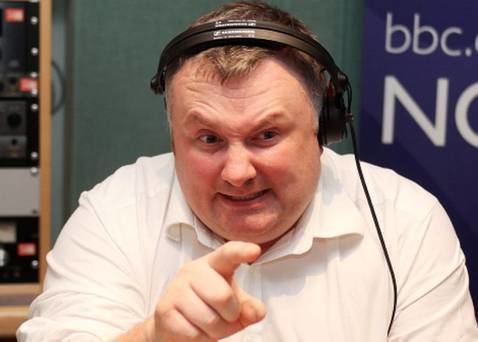 Born in Shankill Road area of Belfast, Nolan was educated at the Royal Belfast Academical Institution, and Queen's University Belfast where he studied French and Business Studies.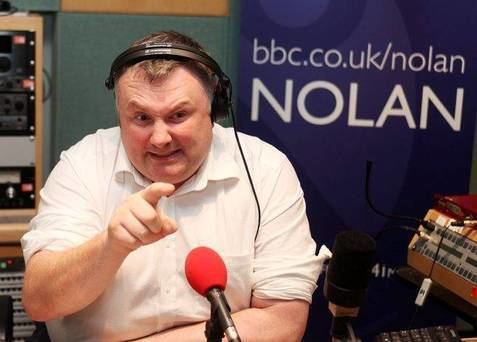 Nolan always wanted to work on radio for the BBC, but was told by a senior manager that he would never be good enough to work for the Corporation. Resultantly he joined Belfast CityBeat, for which he won a Sony Radio Academy Award. The following year, he was poached to work for BBC NI, where he has worked since 2003, presenting The Stephen Nolan Show on BBC Radio Ulster. In the handover from the Gerry Anderson show at half past ten each morning Nolan is usually on the end of a putdown or witticism from Anderson. Since 16 July 2005, he has presented his own weekend phone-in show for BBC Radio Five Live, airing from 10 pm to 1 am every Friday and Sunday, 9pm to midnight every Saturday, and Question Time Extra Time from 10 pm to 1 am every Thursday while Question Time is on BBC One, as one of the few Northern Irish presenters on mainstream UK radio. In 2006 he was involved in a charity "boxing" match with Gerry Anderson in aid of Children in Need. Nolan was knocked down from a stray uppercut from Anderson.
In May 2008, he featured heavily on Chris Moyles' Radio 1 Breakfast Show for the line "That is not my name" in his heavy Northern Irish accent, a mis-quote of the Sue Tilley interview with ITV News. Moyles also edited a clip of Nolan to make it sound like he is telling his listeners to "buy good crack!" The origin of this is Nolan's method of ending some calls, saying "Bye, cheers; bye, good craic."
Nolan has presented several television programmes. Nolan Live on BBC Northern Ireland, is a weekly television debate and phone-in show. Fair Play, also on BBC Northern Ireland, was a weekly consumer watchdog programme. Mission Employable was a series focusing on helping a group of unemployed people to find their dream career. He has also presented the BBC's Children in Need Northern Ireland broadcast, with Christine Bleakley and John Daly. Since 2008 he has presented Panic Attack, a new game airing on Friday nights in Northern Ireland. The show was repeated nationwide in a daytime slot starting in February 2010. In 2008 he stood in for Matthew Wright on Five's The Wright Stuff. In 2011, Nolan presented a documentary focusing on the Shankill Butchers. Since 2012, Nolan has hosted a weekly TV version of The Stephen Nolan Show on BBC Northern Ireland every Wednesday. In 2013, a new series 'Story of a Lifetime', hosted by Nolan began with episode one focusing on the life of Stephen's Radio Ulster colleague Hugo Duncan.
Nolan often discusses religion on his radio shows. In 2015, he stated he was an atheist.
In total, Nolan has won twelve Sony Radio Academy Awards. Of these, seven are Gold, giving him the record for the most Golds in the history of the awards. Five of these were awarded during his time with Belfast CityBeat radio, including: UK Speech Broadcaster of the Year 2003 and for his show, The Stephen Nolan Show, The Speech Programme Award of the Year 2006. He has also won the Royal Television Society's Regional Presenter of the Year Award in 2005 and 2006, as well as being nominated for the National Presenter Award in 2008.