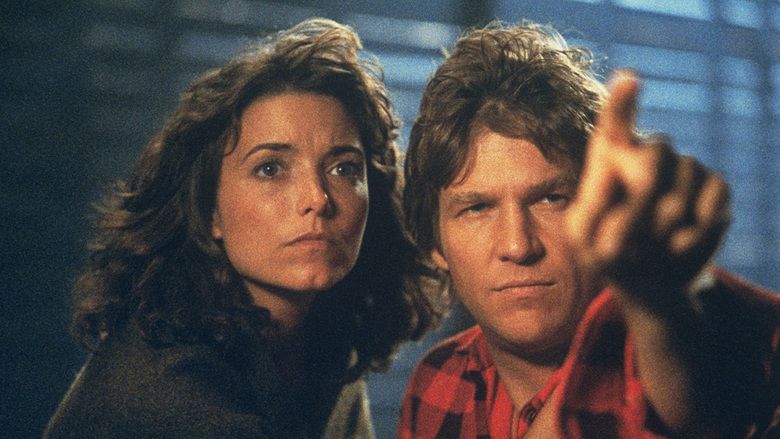 Launched in 1977, the Voyager 2 space probe carried a gold phonographic disk with a message of peace, inviting alien civilizations to visit Earth. The probe is intercepted by an alien ship which then sends a small scout vessel to establish first contact with Earth. However, instead of greeting the alien craft, the US government shoots it down. Crashing in Chequamegon Bay, Wisconsin, the lone alien occupant, looking like a floating ball of glowing energy, finds the home of recently widowed Jenny Hayden (Karen Allen). While there, the alien uses a lock of hair from her deceased husband, Scott, to clone a new body for himself as a terrified Jenny watches. The alien "Starman" (Jeff Bridges) has seven small silver spheres with him which provide energy to perform miraculous feats. He uses the first to send a message to his people stating that Earth is hostile and his spacecraft has been destroyed. He arranges to rendezvous with them in three days' time. He then uses the second sphere to create a holographic map of the United States, coercing Jenny into taking him to the rendezvous point in Arizona.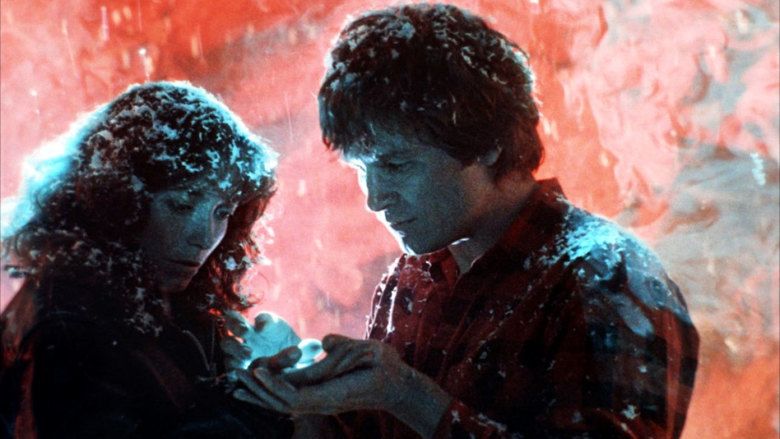 Jenny is initially both hostile and frightened of him and attempts to escape. Having a rough understanding of English language from the Voyager 2 disk, the Starman learns to communicate with Jenny and assures her that he means no harm. He explains that if he does not reach the rendezvous point, Arizona's Barringer Crater, in three days, he will die. Sympathetic but still wary, Jenny teaches him how to drive a car and use credit cards so he can continue the journey alone, but when she witnesses him miraculously resurrect a dead deer, she is deeply moved and decides to stay with him. However, they are pursued across the country by the authorities and, after nearly being caught, Jenny is shot and critically wounded by a police officer. In order to escape, the Starman crashes their car into a gas tanker and uses another sphere to protect the two of them from the explosion. They take refuge in a mobile home that is being towed. He uses another silver sphere to heal Jenny. After being assured that Jenny will recover, the Starman proceeds to hitchhike towards Arizona without her, but Jenny manages to catch up to him while he and his driver are stopped at a roadblock. Reunited, the two of them hitchhike together, resuming their journey towards the crater.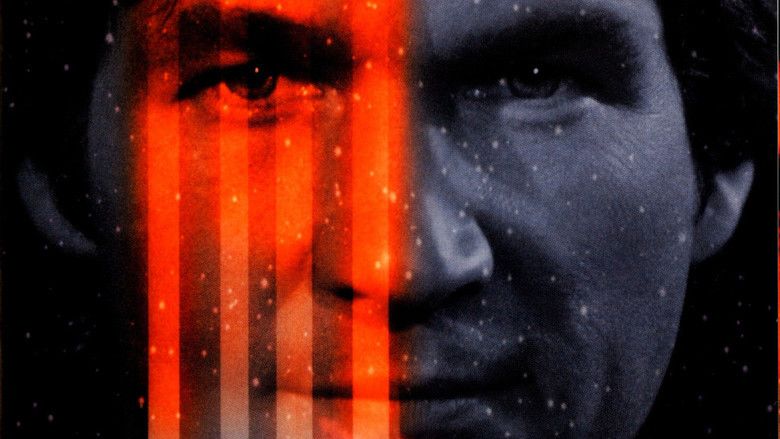 Later, while stowing away on a boxcar train, the couple makes love. The Starman tells Jenny "I gave you a baby tonight." Jenny explains that she is infertile and cannot have children, but he assures her she is now pregnant. He explains that the baby will be the son of her dead husband, because he (Starman) is a clone of Scott, but as a child of Starman as well, their son will possess all of the Starman's knowledge and will grow up to be a teacher. Starman offers to stop the pregnancy if she wishes, but the joyful Jenny embraces him, accepting the gift.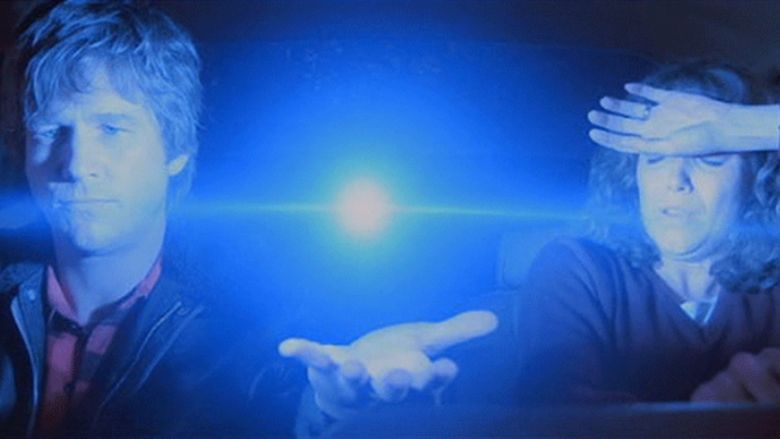 The couple mistakenly travel too far on the train and arrive in Las Vegas. Jenny realizes she has lost her wallet. The Starman uses one of their last quarters in a slot machine, which he manipulates in order to win the $500,000 jackpot. They then buy a new car to complete their journey to Arizona.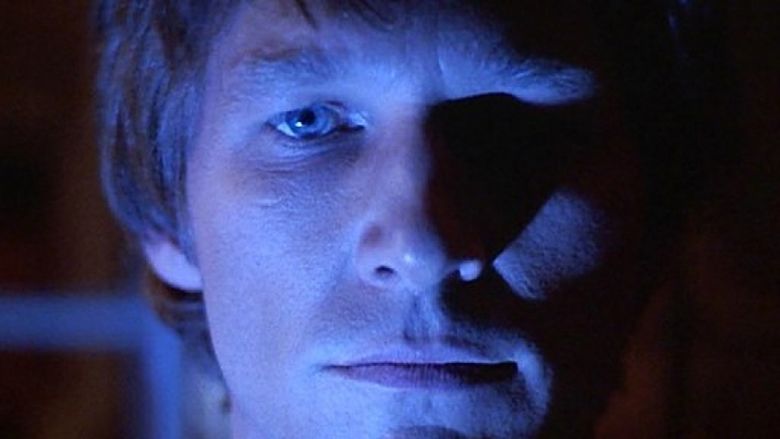 Meanwhile, National Security Agency director George Fox learns that the Starman's flight trajectory, prior to being shot down, was to the Barringer Crater. Fox arranges to have the Starman captured by the Army, dead or alive. SETI scientist Mark Shermin, another government official involved in the case, criticizes Fox's heavy-handed approach and reminds him that the Starman was invited to Earth. Appalled to learn that Fox is planning to vivisect the alien, Shermin then resolves to help the Starman escape rather than allow Fox to capture him.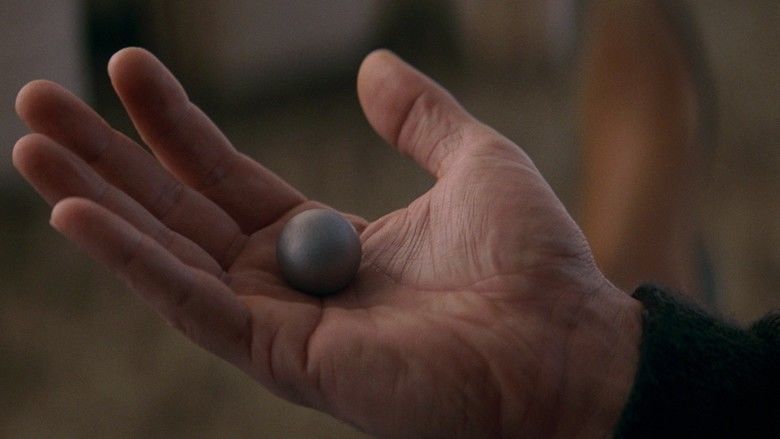 Jenny and the now dying Starman reach the crater as Army helicopters pursue them. Just as they are surrounded, a large, spherical spaceship appears and descends into the crater. Light surrounds the couple, and the Starman is instantly restored to health. As he prepares to leave, he tells Jenny he will never see her again. Jenny begs him to take her with him, but he says she would die on his world. He then gives her his last silver sphere, telling her that their son will know what to do with it. Jenny watches as the ship departs.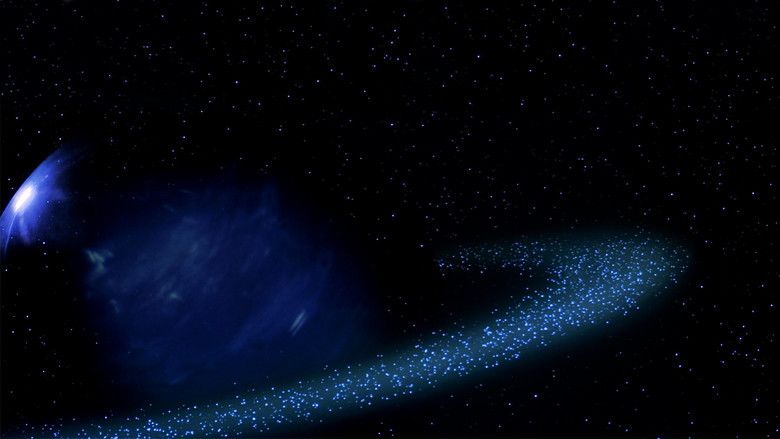 Jeff Bridges as Starman/Scott Hayden
Karen Allen as Jenny Hayden
Charles Martin Smith as Mark Shermin
Richard Jaeckel as George Fox
Robert Phalen as Major Bell
Tony Edwards as Sergeant Lemon
John Walter Davis as Brad Heinmuller
Ted White as Deer Hunter
Dirk Blocker as Cop number 1
M. C. Gainey as Cop number 2
George Buck Flower as Cook (as Buck Flower)
Ralph Cosham as Marine Lieutenant
Lu Leonard as Roadhouse waitress
Mickey Jones as truck driver
David Wells as Fox's assistant
Starman spent five years in development at Columbia. The original script by Bruce A. Evans and Raynold Gideon was purchased by the studio at the urging of executive producer Michael Douglas, shortly before it optioned Steven Spielberg's Night Skies. Screenwriter Dean Riesner came onto the project in late 1981 after director Mark Rydell left the project due to artistic differences with Douglas. Riesner worked on seven rewrites of Starman with six different directors, but did not receive screen credit because, according to him, "the Writers Guild, in their infinite wisdom, decided I didn't contribute 50 percent of the screenplay." Other uncredited writers who worked on the script were Edward Zwick and Diane Thomas. Columbia decided to abandon Night Skies, which was similar in plot to Starman, on the grounds that the former story was a more Disney-like story geared towards children, whereas Starman was for a more mature audience. Night Skies was eventually retitled E.T. the Extra-Terrestrial, which became the highest-grossing film of its time, upon which Riesner commented, "Goes to show how wrong you can be in this business." According to Riesner, producers at Columbia were concerned at the initial box office returns for E.T., feeling that Starman (on whose second rewrite Riesner was working at the time) was too similar. Adrian Lyne had briefly worked on the project before departing to direct Flashdance for Paramount. He was replaced by John Badham, who then left to direct WarGames as soon as he saw E.T., and concurred that the two projects were too similar. Riesner was charged with keeping Starman essentially the same while simultaneously making it distinct from E.T, and would work with three subsequent directors: Tony Scott, Peter Hyams and finally, John Carpenter. Whereas Scott was more interested in style than narrative drive and wanted to cast Philip Anglim, and Hyams pushed for a more conventional science fiction approach, Carpenter, who was eager to shed his image as a maker of exploitative thrillers, wished to emphasize the cross-country rapport that develops between the two leads à la The Defiant Ones, The 39 Steps, and It Happened One Night over special effects. Riesner dropped the "heavy political implications" from the script in order to comply with this.
Release and reception
Starman grossed $2,872,022 in its opening weekend, debuting at number 6. It was released the same week as David Lynch's film Dune and a week after the release of Peter Hyams' film 2010: The Year We Make Contact. The film grossed a total of $28,744,356 from its domestic (US and Canada) run.
Review aggregator Rotten Tomatoes reports that Starman gained an 81% approval rating based on 26 reviews from critics, with the consensus reading: "What initially begins as sci-fi transforms into a surprisingly sweet, offbeat drama, courtesy of John Carpenter's careful direction." The aggregator Metacritic gives the film a score of 71% based on 7 reviews. Film critic Roger Ebert gave the film three stars out of four and wrote "Starman contains the potential to be a very silly movie, but the two actors have so much sympathy for their characters that the movie, advertised as space fiction, turns into one of 1984's more touching love stories." In a highly positive review praising the film, actors and director, critic Janet Maslin stated "If Starman doesn't make a major difference in Jeff Bridges' career, Mr. Bridges is operating in the wrong galaxy."
Awards and honors
Jeff Bridges was nominated for the Academy Award for Best Actor, making Starman the only film by John Carpenter to receive an Academy Award nomination. Bridges was also nominated for the Golden Globe Award for Best Actor – Drama and was awarded the Saturn Award for Best Actor. Karen Allen also received a nod for Best Actress from the Academy of Science Fiction, Fantasy & Horror Films. The film itself was nominated Best Science Fiction Film. Jack Nitzsche received a Golden Globe nomination for his score.

The film is recognized by American Film Institute in these lists:
2002: AFI's 100 Years...100 Passions – Nominated
2008: AFI's 10 Top 10:
Nominated Science Fiction Film
The soundtrack to Starman was released on December 14, 1984. The album also contains a rendition of "All I Have to Do Is Dream" performed by stars Jeff Bridges and Karen Allen.
All music composed by Jack Nitzsche (except "All I Have to Do Is Dream," written by Felice and Boudleaux Bryant).
The City of Prague Philharmonic Orchestra covered "Starman Leaves (End Title)" for their 2005 cover compilation album, The Science Fiction Album. The 2010 single "Symphonies" by Dan Black, and its remix featuring Kid Cudi, sampled CoPPO's cover of the song. At the end of the music video the lead character is beamed away by a bright circular spaceship, similar to the manner in which the Starman from the film departs Earth. The music video itself contains scenes which pay homage to several Jeff Bridges films, including Tron and King Kong.
The film was released on a Bare Bones Blu Ray released on August 11, 2009.
In April 2016, The Hollywood Reporter reported that Shawn Levy will direct and produce a remake written by Arash Amel. Michael Douglas, who was a producer of the original, is also on board to produce, while Dan Cohen and Robert Mitas are executive producing, and Matt Milam and Adam North are overseeing the project for Columbia.