Ukraine




91.81 km²




79,121 (2011)



Stakhanov (Ukrainian: ; Russian: ) is a city in the Luhansk Oblast (province) of eastern Ukraine. The city is designated as its own separate raion (district) within the oblast.
As of 2012 the population is around 122,000.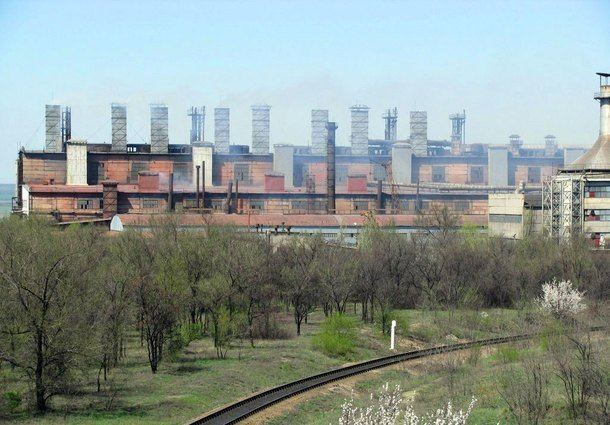 The city is named after the famous Soviet miner Alexey Stakhanov, who started his career there. From 1937 to 1940 the city was named Sergo (Ukrainian: ), and before 1937 and from 1940 to 1978 the city was known as Kadievka (Russian: ), or Ukrainian Kadiyivka (Ukrainian: ). A labor camp for German prisoners of war was established at Stakhanov during the Second World War.
The citys economy depends on a railway car building works, ferroalloy plant and coal mines.
Starting Mid-April 2014 pro-Russian separatists captured several towns in Donetsk Oblast; they took over Stakhanov on 2 May 2014. On 22 July 2014 a rally was held that demanded that the pro-Russian separatists should leave the town.
According to reports on September 16 2014, the city, which had been occupied by Lugansk Peoples Republic-affiliated Don Cossacks, seceded from the LPR on 14 September. It was said Don Cossacks there proclaimed the Republic of Stakhanov, and that a "Cossack government" now ruled in Stakhanov. However the following day this was claimed to be a fabrication, and an unnamed Don Cossack leader stated the September 14 meeting had, in fact, resulted in 12,000 Cossacks volunteering to join the LPR forces.
Stakhanov, Luhansk Oblast Wikipedia
(,)http://www.kyivpost.com/media/images/2014/05/19/p18o9k3j1f1h0rff41pghf0ji2p4/original_big.jpg(,)https://fbexternal-a.akamaihd.net/safe_image.php%3Fd%3DAQCy4hezH_wiuPAd%26w%3D720%26h%3D960%26url%3Dhttp%253A%252F%252Fupload.wikimedia.org%252Fwikipedia%252Fcommons%252Fthumb%252F6%252F6c%252FStreet_Engels_%252528Sverdlovsk%252529.JPG%252F720px-Street_Engels_%252528Sverdlovsk%252529.JPG(,)http://gdb.rferl.org/D09C4CD6-5444-4EE2-B63D-68338723649E_mw1024_s_n.jpg(,)http://www.kyivpost.com/media/images/2014/07/20/p18t9ffu274hmlnb1ld15nafouf/original_big.jpg(,)http://ukropnews.net/images/248493_974098_916576.jpg(,)http://previews.123rf.com/images/algol/algol1302/algol130200007/18112032-Monument-to-Soviet-miner-coal-industry-innovator-the-founder-of-the-Stakhanov-movement-Hero-of-Socia-Stock-Photo.jpg(,)http://ukrainetrek.com/images/lugansk-ukraine-city-views-20.jpg(,)http://www.encyclopediaofukraine.com/pic%255CA%255CR%255CArtemivsk%2520(Luhansk%2520oblast)%2520mine.jpg(,)http://i.ytimg.com/vi/RHpPijAg3cA/0.jpg(,)http://i.ytimg.com/vi/ZSfdISfMeag/hqdefault.jpg(,)http://i.ytimg.com/vi/GFyh6-cpF_Y/0.jpg(,)http://previews.123rf.com/images/algol/algol1302/algol130200008/18112035-Monument-to-Soviet-miner-coal-industry-innovator-the-founder-of-the-Stakhanov-movement-Hero-of-Socia-Stock-Photo.jpg(,)http://i.ytimg.com/vi/AP5ZPg9qzvU/hqdefault.jpg(,)http://i.ytimg.com/vi/jrlBIVfiBoY/0.jpg
(,)https://fbexternal-a.akamaihd.net/safe_image.php%3Fd%3DAQAGg1stEOxr0JVE%26w%3D720%26h%3D1115%26url%3Dhttp%253A%252F%252Fupload.wikimedia.org%252Fwikipedia%252Fcommons%252Fthumb%252F9%252F91%252FOleksiy_Kasyanov_at_TNT_-_Fortuna_Meeting_in_Kladno_15June2010_097.jpg%252F720px-Oleksiy_Kasyanov_at_TNT_-_Fortuna_Meeting_in_Kladno_15June2010_097.jpg(,)http://ukrainetrek.com/images/stakhanov-ukraine-city-views-10.jpg(,)http://ukrainetrek.com/images/stakhanov-ukraine-city-views-6.jpg(,)http://cdn4.vtourist.com/19/5054701-Walking_along_Lenin_Street_Stakhanov_Stakhanov.jpg(,)http://ukrainetrek.com/images/stakhanov-ukraine-city-views-11.jpg(,)http://cdn4.vtourist.com/19/7048068-Mir_movie_theater_invitation_poster_Stakhanov.jpg%3Fversion%3D2(,)http://cdn1.vtourist.com/19/5054640-Bus_terminal_Stakhanov_Ukraine_Stakhanov.jpg(,)https://fbexternal-a.akamaihd.net/safe_image.php%3Fd%3DAQAKUTYEzSzlDlZh%26w%3D720%26h%3D475%26url%3Dhttp%253A%252F%252Fupload.wikimedia.org%252Fwikipedia%252Fcommons%252Fthumb%252Ff%252Ff1%252FStakhanov.JPG%252F720px-Stakhanov.JPG(,)http://cdn4.vtourist.com/19/5054785-City_conference_center_Stakhanov_Stakhanov.jpg(,)http://www.unocha.org/sites/default/files/OCHA_Category/Top_Stories/i-G6S4BLS-X2.jpg(,)http://i.ytimg.com/vi/wRTj6SmqFYw/hqdefault.jpg