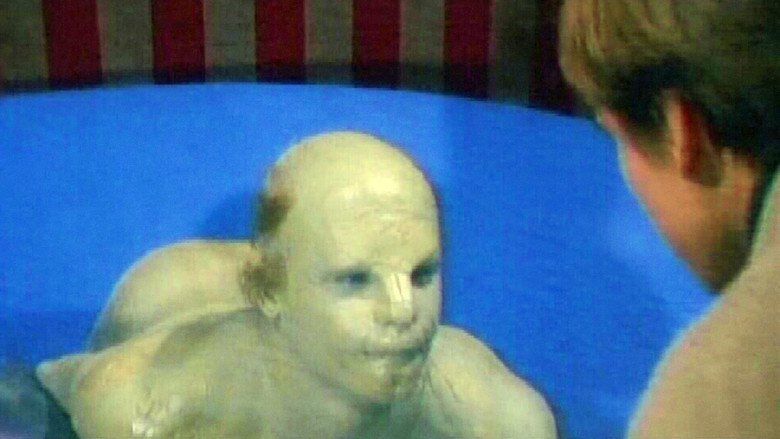 The movie begins with Dr. Carl Stoner (Martin) selling a mysterious creature in a crate to a carnival owner. It is later discovered that the creature is actually part-man/part-snake, the result of one of Stoner's bizarre experiments. College student David Blake (Benedict) is hired as an assistant by Stoner, an ophiologist. It transpires that Stoner's previous assistant had mysteriously left town without telling anyone (Stoner explains that he had gone back home to attend to a sick relative).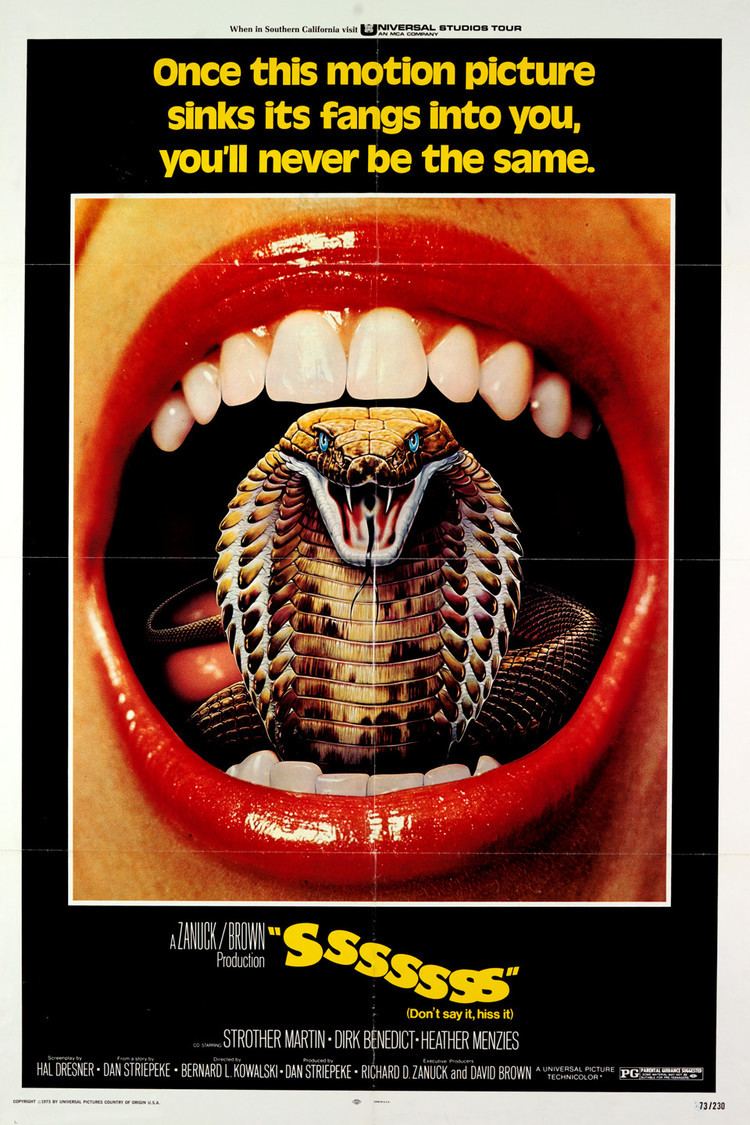 Unbeknownst to David or anyone else, Stoner is a delusional man, convinced that humanity is doomed and is attempting to prepare for what he believes to be the inevitable by working out a method of transforming humans into reptiles that can survive pollution and any other ecological disaster that would wipe humanity out.
Stoner begins David on a course of injections, purportedly as a safeguard against being bitten by a snake in his lab. David's skin slowly starts to change and even peel like a snakeskin. He begins to have strange nightmares and goes into a coma when having dinner with Stoner and does not wake up until a few days later. He also begins to lose weight as well, but Stoner tells him those are side affects from the venom. David begins a romance with Stoner's daughter Kristina (Menzies), although her father objects and insists that she not have any sexual relations with him.
When David wakes up the next morning he looks in the mirror and looks in horror as he screams, so he calls Stoner. Later Dave, now fully dressed, is on the bed as he clenches his sheets with his hand as we see that his hand is grey and slightly scaly. Dr. Stoner arrives in the room and gives David a drink which he drinks but spits out. Inside the lab David, whose face is facing Stoner, begins to throb in confinement as Stoner tells David not to call the doctor as they will not know how to treat him. Then David begins to throb in pain feeling his stomach being twisted, so Stoner grabs another injection which David refuses to take, but Stoner says it will calm him, to which Stoner lifts his button shirt up and injects him. We also see scales on his chest. Meanwhile, a police officer arrives to inspect the property, and as David begins to get weaker, Stoner hides him in a corner, as he goes to take care of the officer. But David gets enough strength to walk to the window before resting his head, but when the officer arrives David lifts his head revealing his face to be green and very scaly, but before the officer can react Stoner knocks him out, and David walks from the window and collapses.
Kristina visits a carnival freak show and is horrified when she sees a bizarre "snake-man", whom she recognises as Stoner's previous assistant, Tim. Meanwhile, Stoner feeds the officer to his pet python. And as for David, David loses all strength from his legs and collapses and begins to move around like a snake before Stoner arrives.
Distraught, she races back home to save David who is currently mutating into a king cobra, brought about by the injections that Stoner has been giving him. Stoner is bitten by a real king cobra from his lab and dies, just as David's transformation is complete. Kristina arrives home and finds her father dead with the real cobra next to him. The police then arrive and shoot the king cobra before heading to the lab where a mongoose is attacking David's neck, attempting to kill him. But the police do not have a clear shot, and as Kristina screams David's name, the movie ends abruptly, leaving their fates uncertain.
Strother Martin as Dr. Carl Stoner
Dirk Benedict as David Blake
Heather Menzies as Kristina Stoner
Richard B. Shull as Dr. Ken Daniels
Tim O'Connor as Kogen
Jack Ging as Sheriff Dale Hardison
Kathleen King as Kitty Stewart
Reb Brown as Steve Randall
Ted Grossman as Deputy Morgan Bock
Charles Seel as Old man
Ray Ballard as Waggish Tourist
Nobel Craig as Tim McGraw, the Snake Man
The film's executive producers were Richard Zanuck and David Brown, who went on to produce Jaws.
The venomous snakes in the film were not defanged during production. Five king cobras were imported from Thailand for this feature, ranging from 10–15 ft in length. They were recently caught in good health from the wild with full venom potency. The "Snake Park" milking scenes were real and meant to mimic what Bill Haast did at his Miami Serpentarium in Florida daily. About one ounce of venom was collected during each take with no harm to the snakes. A different cobra was used for each take. The filming of this part of the movie took most of a day, as the cobras spent most of their time trying to escape the fenced enclosure rather than rising up in the traditional cobra attack mode.
The film debuted made its DVD debut on September 7, 2004 where it was released by Universal Studios. Universal would re-release the film three additional times in 2009, 2011, and 2014 respectively. Shout Factory released the film on Blu-ray on April 26, 2016 marking its first Blu-ray release. In Japan, there was a VHS format release, and a DVD was released on April 7, 2010. The film received a Blu-ray release in Australia on February 1, 2017 by Shock Entertainment.
On Rotten Tomatoes the film has an approval rating of 22% based on 9 reviews with an average rating of 3.9/10. Film critic Leonard Maltin gave the film three out of a possible four stars, praising the film's "exceptional" make-up effects. Donald Guarisco from AllMovie gave the film a negative review. In his review he wrote, "Sssssss fails because it emulates the films that inspired it all too closely: the story moves forward at a laboriously slow pace, and its threadbare plot makes it all too easy for the viewer to pick apart its plot holes and implausible elements. To make matters worse, the characterizations and dialogue never rise above the level of a subpar comic book and the anticlimactic finale is likely to frustrate even the most patient viewer."