India




Telugu


20.89 km2


Andhra Pradesh




Coastal Andhra




Srikakulam




Balarama



Srikakulam is a city and district headquarters of Srikakulam district in the Indian state of Andhra Pradesh. It is also the mandal headquarters of Srikakulam mandal and one of the 11 municipalities in the state. It was formed by bifurcating it from Visakhapatnam district in the year 1950. The city was known as Chicacole before Indian Independence.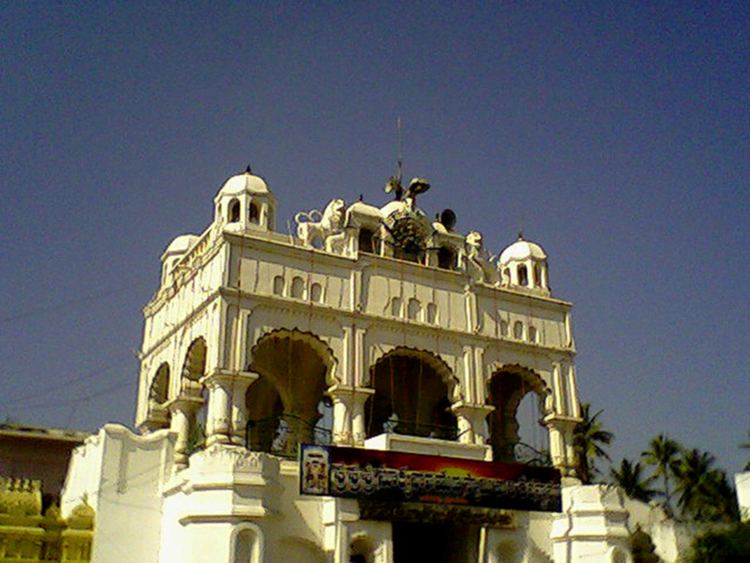 This region of Andhra Pradesh was part of Kalinga region at first, and later a part of Gajapati kingdom of Odisha up to the medieval period. It was in the Bendi Shilpa ruling in 1687 Srikakulam (Gulshanabad) was a village and formed as fauzdhari-center for their money transactions for the areas of Srikakulam, Vizianagaram, Vishakhapatnam, and some parts of Odisha. The word Gulshanabad derives from Persian words Gulshan that means Rose garden and -abad (cultivated place, or city). It was developed as a town in the Muslim ruling; today you can find more than 10,000 Muslims living in this town following their culture, tradition and values. Srikakulam has been a headquarters for revenue collection under Nizam state of Hyderabad since 1707. Nizams of Hyderabad assigned Gulshanabad (Srikakulam), Rajahmundry, Eluru and Mustafanagar (Kondapalli) districts to French India in 1753. French imperialists were driven out from these districts by British imperialists in 1756 during Anglo-French wars.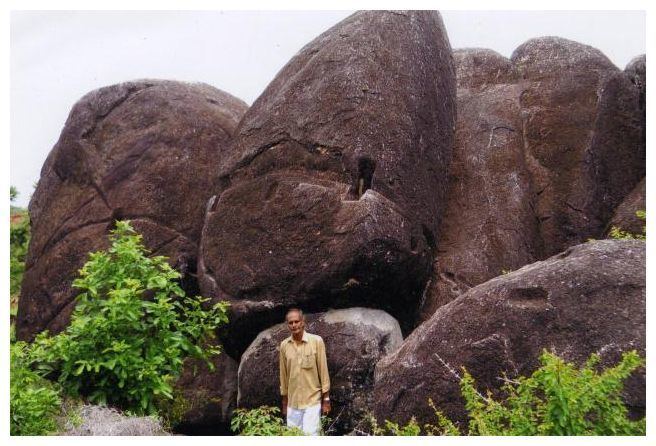 In 1759 the Fauzdhari ruling was ended and British ruling started, and Srikakulam town has been made part of Ganjam district and Palakonda and Rajam areas were included in Vizag district in the undivided Madras province. In 1936 the combined Madras-Odisha state was divided to Madras and Odisha and Parlakimidi Taluk was separated from combined Madras state. Srikakulam was renamed as Srikaklam taluk, Srikakulam town as Srikakulam municipality since 1857 under British rule. In 1947 after Indian independence, many including Potti Sriramulu fought for separate Andhra State. In 1948 many demanded for Srikakulam district as it was in combined vizag district. First chintada village was proposed as district headquarters by some central leaders. On 17 July 1950, a representation was given by Challa Narasimhu naidu, an eminent leader, Pullela Vemkataramanayya (P.V. Ramanayya), who was an eminent advocate, public prosecutor, and freedom fighter, to the then revenue minister H. Sitaramareddy on his visit to this area and requested to select Srikakulam as district headquarters at his camp office in Vizianagaram. Sitaramareddy personally saw some places in Srikakulam for selection.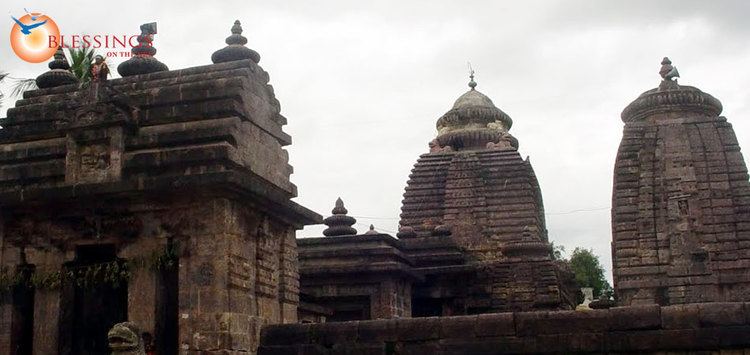 The Temple of Sun God is located at Arasavalli, 2 kilometers away from the town is the only Sun God temple in Southern India and was constructed by a Kalinga dynasty king. Mukhalingam: Sri Mukhalingam is another temple in Srikakulam which is believed to have been built in the 9th century. This holy place is on the left bank of Vamsadhara. This is a group of three temples built by the Eastern Ganga dynasty kings in the 10th century AD. The deities are Mukhalingeswara, Bhimeswara and Someswara. Salihundam on the right bank of the river Vamsadhara, about 16 km from Srikakulam town, there are a number of Buddhist stupas and a huge monastic complex on a hillock. The shrine of a famous Sufi saint lies in Kalingapatnam is 35 km away from Srikakulam. Kalingapatnam also has an old lighthouse. From its top one can see the confluence of beautiful Vamsadhara River into the sea which is a nature beauty and popular tourist spot. Kurmanatha temple dedicated to Kurma Avatar (Tortoise) of Vishnu, in village Sri Kurmam. It is approximately 13 kilometers east of Srikakulam.
Srikakulam Wikipedia
(,)http://upload.wikimedia.org/wikipedia/commons/f/fe/Arasavilli_Suryanarayana_Temple_in_Srikakulam.jpg(,)http://www.sott.net/image/s5/111987/full/TH23_CHITTVALSA_1186094f.jpg(,)http://www.holidayiq.com/images/attractions/1349372902_16573.jpg(,)http://upload.wikimedia.org/wikipedia/commons/5/57/A_Stone_carved_throne_in_the_backyard_of_Simhachalam_temple.jpg(,)http://photos.wikimapia.org/p/00/02/37/14/38_big.jpg(,)http://upload.wikimedia.org/wikipedia/commons/1/1a/Srikurmam_Temple_view_Srikakulam.jpg(,)http://cdn.wn.com/pd/da/3d/33cfe9549335124772764c77e0d4_grande.jpg
(,)http://www.cleartrip.com/places/hotels//7189/718958/images/20131220_100743-1_w.jpg(,)http://www.cleartrip.com/places/hotels//7189/718958/images/20131223_202245_w.jpg(,)http://bh.cleartrip.com/places/hotels//7189/718958/images/20131223_201950_w.jpg(,)http://bh.cleartrip.com/places/hotels//7189/718958/images/20131223_202104_w.jpg(,)http://bh.cleartrip.com/places/hotels//7189/718958/images/nag_w.jpg(,)http://imganuncios.mitula.net/naidu_restaurant_for_lease_purpose_srikakulam_3650051427154235126.jpg(,)https://www.expatads.com/adpics1/2015/1/manu-residency-amp-hotels54aa2bd200c174403d42.jpg(,)http://www.hotelnagavali.com/slides/banner4_09.jpg(,)http://bh.cleartrip.com/places/hotels//7189/718958/images/Suit2_w.jpg(,)https://www.expatads.com/adpics1/2013/11/Dining-out-at-family-restaurants52960750a8d4c2b5e29b.jpg(,)http://cdnvizag.marketinghypnoti.netdna-cdn.com/wp-content/uploads/2013/07/Hotels-srikakulam-02.jpg%3F9c3dfd(,)http://www.indianholiday.com/pictures/travelguide/other-images/dest_head_img-403.jpeg(,)http://im.hunt.in/cg/Andhra/About/Tourism/Andhra-Food.jpg
(,)http://blessingsonthenet.com/img/uploads/city/aim_bn_1318852113.jpg(,)http://www.srikakulam.ap.gov.in/Tourist/49.jpg(,)http://www.ebharat.in/sites/default/files/imagecache/node_preview/sites/default/files/Surya%2520in%2520the%2520center%2520of%2520lake-Vijayadithya%2520park_Srikakulam%2520dist..jpg(,)http://www.holidayiq.com/images/attractions/1345652450_16591.jpg(,)http://www.forum4researchers.com/images/srikakulam_clip_image006.jpg(,)http://www.holidayiq.com/images/attractions/1345652450_16581.jpg(,)http://www.thehindu.com/multimedia/dynamic/01259/05_srikakulam_1259023f.jpg(,)http://www.visakhatourism.com/wp-content/uploads/2015/04/Srimukhalingam-srikakulam-temple-tourism.jpg(,)http://www.onefivenine.com/images/Travel/604.jpg(,)http://dme.ap.nic.in/nodaldme/dist/Srikakulam.png(,)http://img1.holidayiq.com/photos/13/1345652450-16581-jpg-images-attractions-619x240-1405693852-cropped.jpg(,)http://www.holidayiq.com/images/attractions/1345652450_16585.jpg