Sridevi is an upcoming Telugu film starring Anukriti Govind Sharma in the titular role. It is directed by J. D. Chakravarthy and presented by Ram Gopal Varma which deals with the concept of a teenager's crush towards a woman older than him.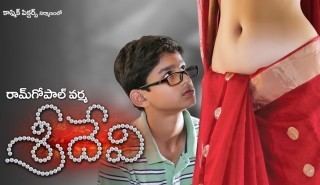 On 3 October 2014 Ram Gopal Varma announced his next film Savitri which deals with the concept of a teenager's crush towards a woman older than him by releasing a press release in which Varma urged people to share the details of their first crush in their respective lives which could be a woman next door or in your opposite house, or your elder sister's friend or your tuition teacher adding that he himself had a crush on his English lecturer Saraswathi. He also launched a contest named "Who is your Savitri?". Apart from the press release, Varma released the poster of the film. On 5 October 2014, Varma announced through a press release that the film's title has been changed to Sridevi and the same posters were re-released with a change in the title. He also said that the film is primarily about the ill effects of a boy being subjected to a fast moving present life style around us and how it affects him and the people around him. "Anukriti Govind Sharma", a fashion model and an actress, was selected to play the title role of a middle class housewife in the film, though it was speculated that the role would be of a teacher or an actress. Varma said "The film is about a 15 year old boys infatuation towards a 25 year old woman. The woman is not a teacher as assumed by the concerned. The story is that the boy of young age just sexually awakening and the film is primarily about how he gets affected due to his exposure to pornography and various such other things present in today's culture and also how he is influenced by such things as glamorous heroines and to advertisers using sex to sell their products. The film is produced by Cosmic pictures and directed by J D and is only presented by me" in the note issued to State Commission for Protection of Child Rights on 8 October 2014.
The poster released on 3 October 2014 portrayed a young boy, barely in his teens, ogling at the near bare mid-riff of a sari-clad woman. Women's organisations began spitting fire at the director the moment the news of the poster became public and his effigy was burnt in Guntur. The poster also drew severe criticism from the moral police and on social media. The State Child Rights Protection Commission took suo motu recognition of the matter opining that the poster involving a child was vulgar and is a violation of child rights and also held that violating child rights by involving children in any obscene or vulgar scenes or picturisation is a crime under Section 292 sub-clauses (I) and (II) of the IPC and punishable with imprisonment of five years or more. The Commission for the Protection of Child Rights issued notices to the Police Commissioner to prevent display of the poster, and the Censor Board and the director seeking an explanation.
On 6 October 2014, members of the city committees of AIDWA, SFI, DYFI burnt Varma's effigy and demanded that the government not only to ban this film but also to take action against him at Jagadamba Junction in Vishakhapatnam and also objected to the censor board for clearing such movies. United Teachers Federation secretary YARK Prasad demanded that the government crack the whip on the censor board to ensure that it adopts a stringent stance on such movies. They shouted slogans, demanding the arrest of Varma for the film's poster. They also demanded that the film's posters, online and on billboards, be removed immediately. AIDWA State President B. Padmavathi said "Two days back Ram Gopal Varma put up posters of his upcoming film Savitri on the Internet. They show a boy of around seven years staring at the navel of his teacher. What is RGV trying to prove with these vulgar posters? When a kid should be concentrating on studies and his career, how can he use the boy in the movie? And showing the woman in such an abusive manner puts all women in bad light. RGV also came up with an online contest asking people to share their stories if they had ever fallen for their teachers. If this continues, women teachers will lose their respect in society. All said and done, we are demanding that RGV be arrested for showing women in bad light. We also want to appeal to the film industry that it bans the director from making movies." Its secretary RN Madhavi condemned the director's attempts to set the country's youth astray through such provocative movies instead of making meaningful cinema that upholds time-honoured values and has a positive influence on young minds. SFI secretary U Raja and DYFI secretary VV Srinivas alleged that most of Varma's movies like Madhyanam Hathya, Ice Cream and Ice Cream 2 glamourised obscenity and violence.
Reacting to all the allegations regarding this film, Varma gave his explanation by issuing a press release which stated "I came to know some people more than for the poster, are offended by the content of my first press note. I am once again reiterating that during my childhood I used to be very much attracted to my teacher named Saraswathi. Recently I have told this to her and she took it with a smile and that's because she has the common sense knowledge that in teenage stages one goes through these kind of attractions which is quite natural and accepted by psychologists world over. So when she herself doesn't have any problem I don't know why, who doesn't know anything about this has a problem and this is the problem for me". He said that he is not obligated to reveal here to people who have no authority to ask him and if at all there is such objectionable material there is a government appointed censor board to deal with it at an appropriate time. He said that he would reply to the state commission for protection of child rights in detail on their misinformed allegations against him and added that the boy in the poster is already an actor who appeared in films before and in this film he did his job with his parents approval and actually in their presence before concluding by stating "I am going to move legally against all the people who for the sake of their own cheap publicity gave my film negative publicity thus affecting the monies,reputation and the efforts that went into making this movie because I am deeply hurt by such gross irresponsibility on their part."
A member of State Child Rights Protection Commission Achyuta Rao said "If he means to question why are we targeting just him and ignored the rest in the past, the answer is simple. It came to our notice, and as an institution that safeguards child rights, it is our responsibility to ask him for an explanation. Irrespective of who the woman is, the poster is objectionable. This is a democracy and every human being has a right to exercise his rights. He can go ahead and take legal support. All we demand is an explanation. We have filed a report with the police commissioner too" as a reply to the press release issued by Varma in an interview to The New Indian Express. As a response, Varma issued a note to the State Commission stating "By basing on the SCPCR Official Memorandum with reference to the suo motu Case it is very unfortunate that the SCPCR has without considering the facts nor verifying it from the concerned people has held that the issue with reference to the feature film poster released with regard to the movie Savitri comes under Section 21 to 26 of Juvenile Justice Act, 2000; Section 13 and 14 of Prevention of Children from Sexual Offences Act, 2012; Young Persons (Harmful Publication) Act, 1956 and Section 292 (I) and (II) of IPC. This action of the State Commission for Protection of Child Rights is highly preconceived, illegal and against the principles of natural justice apart being contrary to the Right to Freedom of Speech and Expression guaranteed by the Constitution of India."
He added "On legal advise it is to state that the Commission according to The Commissions For Protection of Child Rights Act, 2005 is ought to inquire into the matter pertaining to violation of child rights and recommend initiation of proceedings in such cases, but this is a case where it is pertinent to note that the rights of the child – the young artiste are no way affected as he is continuing to pursue his education and the artiste is performing in the movie under the guidance and supervision of his parents and the parents are in complete acceptance of the story. Further there is no exploitation of any of the child rights. It also to further state that as such there is no violation of child rights this SCPCR lacks jurisdiction to further on the issue of a simple feature film poster. It is also further to state that the SCPCR has failed in properly examining the facts or evidence on record and even before seeking any explanation issued a official memorandum stating that Section 21 to 26 of Juvenile Justice (Care and Protection of Children) Act, 2000; Section 13 and 14 of The Protection of Children from Sexual Offences Act, 2012; The Young Persons (Harmful Publications) Act, 1956 and Section 292 of IPC, without application of mind and with preconceived notions and against the procedure as contemplated in The Commissions for Protection of Child Rights Act, 2005 by assuming jurisdiction and also in violation of the right to freedom of speech and expression guaranteed by Constitution and contrary to the principles of natural justice" and concluded "Finally it is to state that I am a responsible person with ample experience in both life and profession where in I abide by law of this country and this sort of official memorandum has subjected negativity to me as a person and also as a professional thereby defamed me physically, mentally and also monetarily. Hence, i hope that the State Commission for Protection of Child Rights may be pleased to drop all the further proceedings and close SCPCR Case No. 71/ 2014."
After it was known that the title Savitri was registered by Neelima Thirumalasetti who was producing a family drama film with this title starring Nara Rohit in the lead role and directed by Pawan Sadineni, she said ""I was shocked when I saw the posters of RGV's film. I chose the title for my family entertainer and RGV's posters with the same title had skin showing. I was disturbed because I never expected this even in my wildest dreams. We have raised the issue. I received a call from RGV's office saying that they would pull down the posters and change the title. I am hoping they keep their word." He changed the film's title to Sridevi but did not mention anything about the suo motu case filed against him in the press release. When few people expressed their dissent over the title Savitri which is the name of a mythological character considered to be a symbol of chastity, Varma replied "A few others reportedly got offended by the title Savitri and the reason they say is as per mythology Savitri is a chaste.Does this means they are indirectly saying that women with all other names are not chaste. I am ashamed to hear such narrow thinking of those people".