Switzerland




1,475 m




418 (Dec 31, 2008)


60.49 km2


Hinterrhein




Walter Mengelt




Splugen Pass, Surettahorn, Teurihorn



Splugen (Romansh: Spleia, Italian: Spluga) is a municipality in the district of Hinterrhein in the Swiss canton of Graubunden. On 1 January 2006 Splugen incorporated its neighbouring municipality of Medels im Rheinwald.
In 1995, the Swiss Heritage Society bestowed the Wakker Prize to Splugen.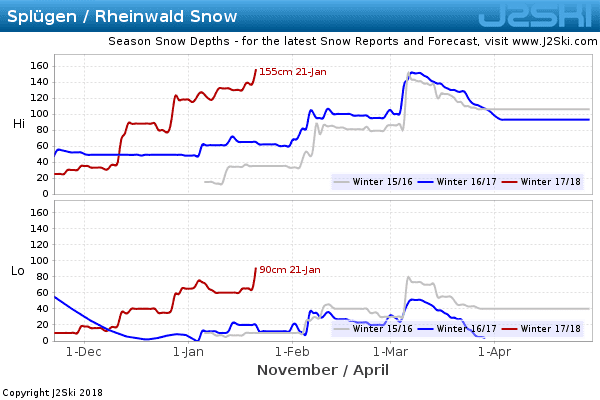 Splugen is first mentioned about 840 as cella in Speluca.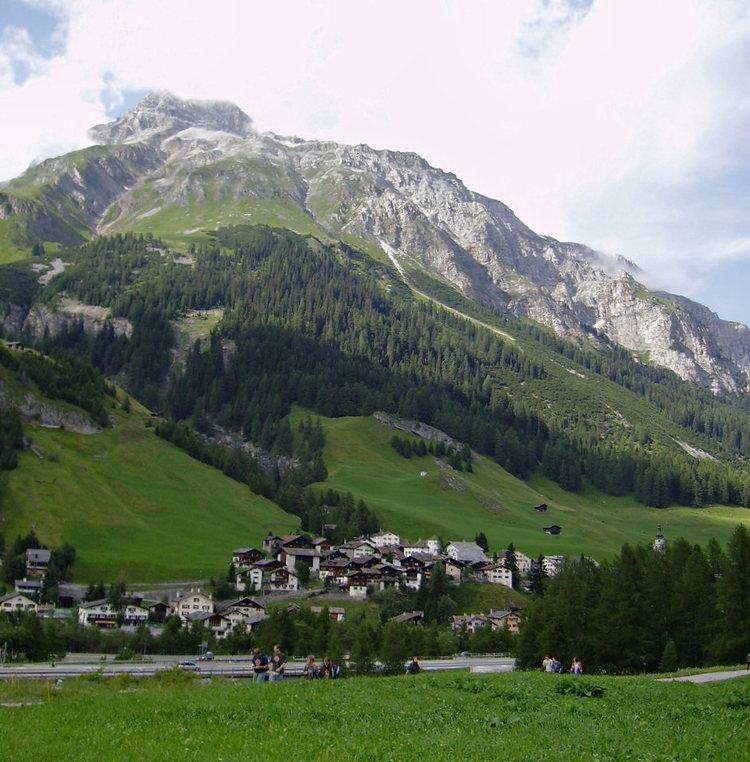 Splugen has an area, as of 2006, of 60.5 km2 (23.4 sq mi). Of this area, 38.3% is used for agricultural purposes, while 17.8% is forested. Of the rest of the land, 1% is settled (buildings or roads) and the remainder (42.9%) is non-productive (rivers, glaciers or mountains).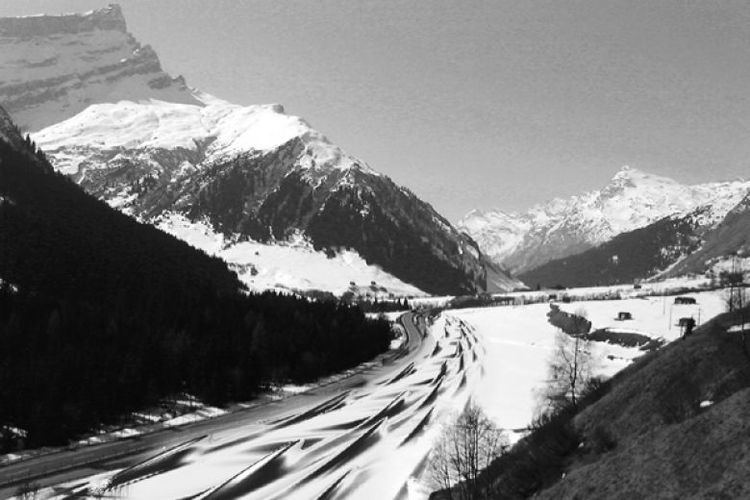 The municipality is located in the Rheinwald sub-district, of the Hinterrhein district. It consists of the village of Splugen and since 1 January 2006, Medels im Rheinwald. It is a haufendorf (an irregular, unplanned and quite closely packed village, built around a central square) located on a ridge between the Splugen pass and San Bernardino pass.
The Splugen Pass road leads from Splugen to Chiavenna and rises to a height of 2,020 meters (6,630 ft). The Italian name for the pass is Passo dello Spluga. The pass is closed in winter nowadays and the whole route hosts a number of historically interesting spots that can be reached on a common multiday hike between Thusis and Chiavenna, passing the two gorges Roflaschlucht and Viamala north of Splugen.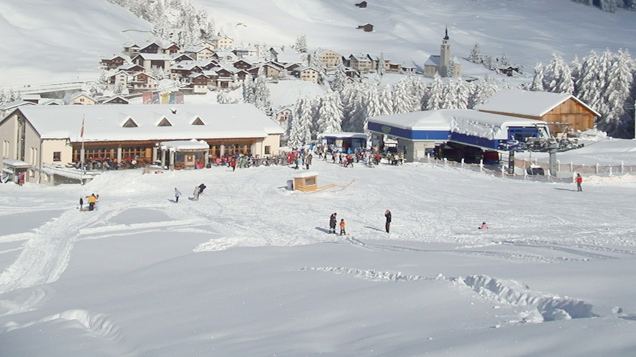 Splugen, in the winter, is a ski resort with a lift going in the direction of the Splugen Pass.
Splugen Wikipedia
(,)https://www.j2ski.com/snow_forecast/weather/Switzerland/Splugen_Rheinwald_Snow_History_Wide.png(,)http://images.myswitzerland.com/n26283/images/buehne/bild_109.jpg(,)http://images.myswitzerland.com/n26283/images/buehne/bild_049.jpg(,)http://images.myswitzerland.com/n49441/images/buehne/4748_neu.jpg(,)http://images.myswitzerland.com/n49455/images/buehne/weiss_kreuz_spluegen_zimmer.jpg(,)http://www.lukasspieker.com/blog/wp-content/uploads/2014/08/0102-spluegen.jpg(,)http://images.myswitzerland.com/n49441/images/buehne/3141_neu.jpg(,)http://images.myswitzerland.com/7398/images/buehne/Kv_ViaSpluga-1.jpg
(,)http://upload.wikimedia.org/wikipedia/commons/2/23/Splugen-Panorama.JPG(,)http://aurelvr.com/sites/default/files/styles/large/public/field/image/SPL_01.jpg(,)http://images.myswitzerland.com/n15048/images/buehne/andeerorig-1.jpg(,)http://images.myswitzerland.com/n17087/images/buehne/stn4748.jpg(,)http://upload.wikimedia.org/wikipedia/commons/thumb/6/6e/Spl%25C3%25BCgenpass_Nordseite.jpg/800px-Spl%25C3%25BCgenpass_Nordseite.jpg(,)http://i186.photobucket.com/albums/x106/redone1274/Day62.jpg(,)http://cache4.asset-cache.net/gc/114477654-landscape-splugen-pass-gettyimages.jpg%3Fv%3D1%26c%3DIWSAsset%26k%3D2%26d%3D3kPvcw7hq6uvQD1c5%252BfimEqJHZ670m8Y4NmBhX4SynPH9gGGhpveUvoD5RtVApCE70ULjVA3%252Bhm6so86SUSS2vYjKlMaLzvI8fQhoAyGp84%253D(,)http://thumbs.dreamstime.com/z/alpin-landscape-splugen-switzerland-ch-34074889.jpg(,)http://cache4.asset-cache.net/gc/142747310-the-road-to-splugen-pass-canton-graubunden-gettyimages.jpg%3Fv%3D1%26c%3DIWSAsset%26k%3D2%26d%3DL%252BYf%252BUwir%252FeOxJOpGbrOSThkHgBv03ZV%252B1LckAIO1l246GBXBUm7WICvh30ALapJ(,)http://previews.agefotostock.com/previewimage/bajaage/7cee859522a6e41f0ebd3f4898c4339b/h44-10962778.jpg(,)http://www.gettyimages.lu/detail/photo/the-road-to-splugen-pass-canton-graubunden-high-res-stock-photography/142747309(,)http://cache3.asset-cache.net/gc/139649404-switzerland-spl%25C3%25BCgen-pass-gettyimages.jpg%3Fv%3D1%26c%3DIWSAsset%26k%3D2%26d%3DALbaMYGIdi7BnUKEv46J3G97DJ73KEmagu%252FR4WtsCUE%253D(,)http://cache4.asset-cache.net/gc/185738258-stage-coach-on-splugen-pass-postcard-gettyimages.jpg%3Fv%3D1%26c%3DIWSAsset%26k%3D2%26d%3D%252FCBYDZmhWQYorBGnAEDKL0XUUwPyeBimlJFYVdSUPFk%253D
(,)http://image.architonic.com/img_pro2-1/121/2030/spluegen-06-b.jpg(,)http://image.architonic.com/img_pro2-1/115/0248/forster-spluegen-b.jpg(,)http://image.architonic.com/img_pro2-1/115/0248/forster-spluegen-2-b.jpg(,)http://media-cdn.tripadvisor.com/media/photo-s/03/4a/09/f1/alte-herberge-weiss-kreuz.jpg(,)http://media-cdn.tripadvisor.com/media/photo-s/04/3e/02/aa/hotel-bodenhaus.jpg(,)http://media-cdn.tripadvisor.com/media/photo-s/03/85/1f/cd/hotel-bodenhaus.jpg
(,)http://images.myswitzerland.com/n13501/images/buehne/splugen_orig-1.jpg(,)http://www.planetware.com/photos-large/CH/san-bernardino-pass.jpg(,)http://en.graubuenden.ch/typo3temp/pics/spluegen-dorf-winter_8d06370c35.jpg(,)http://images.myswitzerland.com/9660/images/buehne/IMG_2189-1.jpg(,)http://en.graubuenden.ch/typo3temp/pics/skigebiet-spluegen_c0d9458685.jpg(,)http://i244.photobucket.com/albums/gg7/notarian/DSCF0996.jpg(,)http://2.bp.blogspot.com/-9FeqURbVe1s/TfEQM20afxI/AAAAAAAAAIE/jbQoP9Fdtf8/s1600/Splugen%2BPass%25252C%2BSwitzerland%2Band%2BItaly.jpg(,)http://www.planetware.com/photos-large/CH/view-from-the-glacier-express.jpg(,)http://images.myswitzerland.com/n65886/images/buehne/st0034062_sufner_see.jpg(,)http://skabrat.com/wp-content/uploads/2013/09/DSC_0210-2-for-web.jpg(,)https://images0.schweizmobil.ch/image/Spluegen_T.jpg(,)http://www.penguintravel.com/uploads/products/prbig_148.jpg