Genre

Adventure, Comedy, Sci-Fi




Writer

Thomas Meehan

,

Ronny Graham

Release date

June 24, 1987 (1987-06-24)

Screenplay

Mel Brooks, Ronny Graham, Thomas Meehan

Cast

Mel Brooks

(President Skroob/Yoghurt),

Rick Moranis

(Dark Helmet),

Bill Pullman

(Lone Starr),

Daphne Zuniga

(Princess Vespa),

John Candy

(Barfolemew 'Barf'),

George Wyner

(Colonel Sandurz)




Similar movies

Aliens

,

Independence Day

,

Alien

,

2001: A Space Odyssey

,

Moonraker

,

Airplane II : The Sequel




Tagline

May the schwartz be with you
spaceballs 1987 theatrical trailer
Spaceballs is a 1987 American comic science fiction film co-written, produced and directed by Mel Brooks. Starring Brooks, Bill Pullman, John Candy, and Rick Moranis, the film also features Daphne Zuniga, Dick Van Patten, and the voice of Joan Rivers. In addition to Brooks in a supporting role, the film also features Brooks regulars Dom DeLuise and Rudy De Luca in cameo appearances.
Contents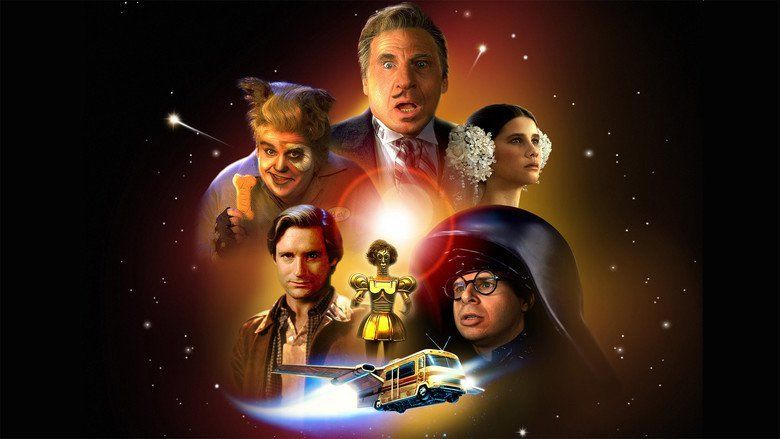 The film's setting and characters parody the original Star Wars trilogy, as well as other sci-fi franchises including Star Trek, Alien, and the Planet of the Apes films. It was released by Metro-Goldwyn-Mayer on June 24, 1987, and was met with a mixed reception. It has since become a cult classic on video and one of Brooks's most popular films.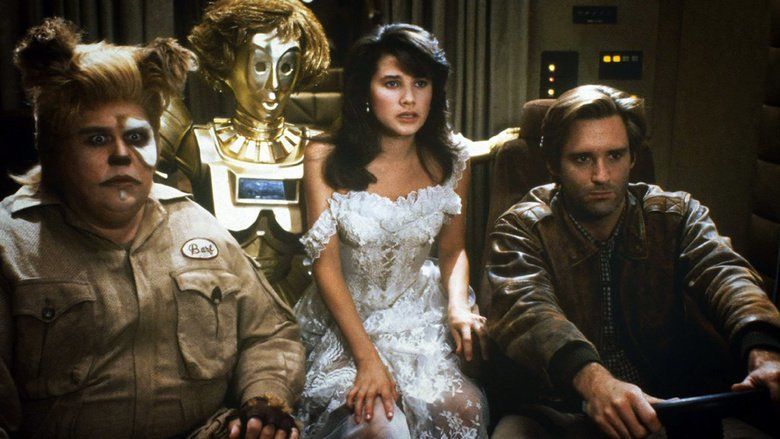 The funniest moments of spaceballs
Plot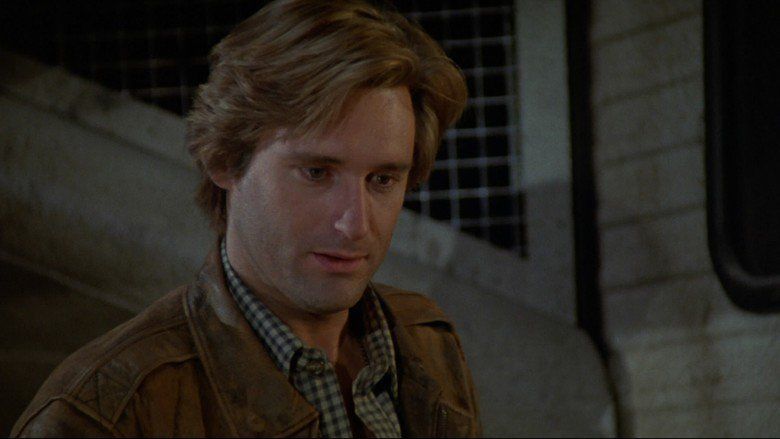 Planet Spaceball, led by the incompetent President Skroob, has squandered all of its fresh air. Skroob schemes to force King Roland of the neighboring planet Druidia to give them their air by kidnapping his daughter Princess Vespa on the day of her pre-arranged wedding to the narcoleptic Prince Valium. Skroob sends the villainous Dark Helmet to complete this task with Spaceball One, an impossibly huge ship helmed by Colonel Sandurz. Before they can arrive, Vespa abandons her wedding and flees the planet in her Mercedes spaceship with her droid of honor, Dot Matrix.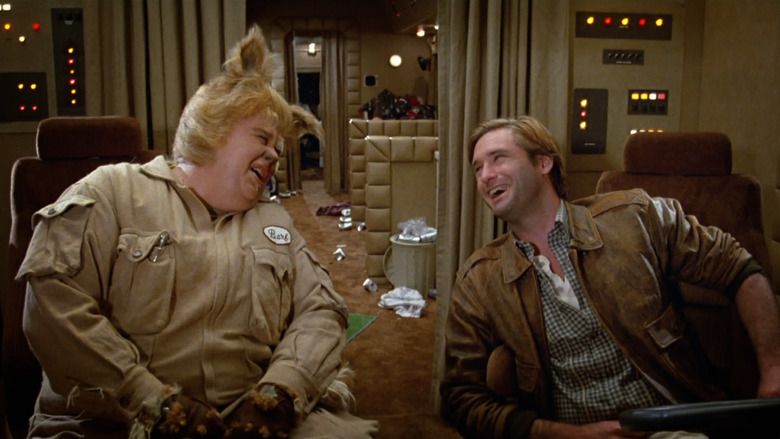 Roland contacts mercenary Lone Starr and his mog (half-man, half-dog) sidekick Barf, offering a lucrative reward to retrieve Vespa before she is captured. Lone Starr readily accepts, as he is in major debt with the gangster Pizza the Hutt. In their Winnebago space ship the Eagle 5, Lone Starr and Barf are able to reach Vespa before Spaceball One, rescue both her and Dot, then escape. Spaceball One tries to follow, but Helmet foolishly orders the ship to "ludicrous speed," causing it to overshoot the escapees by a week and a half.
Out of fuel, Lone Starr is forced to crash-land on the nearby "desert moon of Vega". The escapees travel on foot in blazing sun and pass out. They are found by the Dinks, a group of diminutive red-clad aliens, and are taken to a cave occupied by Yogurt, who is old and wise. Yogurt introduces Lone Starr to "The Schwartz", a metaphysical power similar to the Force. Yogurt also introduces the audience to the film's merchandising campaign. Starr and Vespa begin to flirt, but Vespa insists she can only be married to a prince.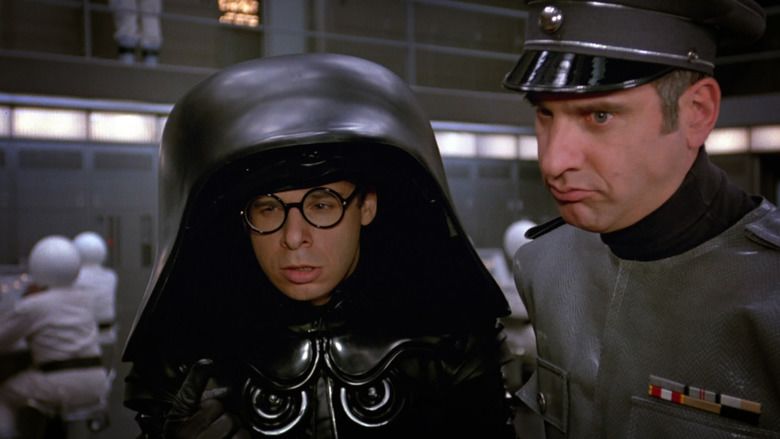 Helmet and Sandurz break the fourth wall by using a VHS copy of the film to discover Vespa's location, and Helmet orders Spaceball One to the moon. The Spaceballs capture Vespa and Dot, and return with them to planet Spaceball. Their captors threaten to reverse Vespa's nose job, forcing Roland to give over the code to the shield that protects Druidia. Helmet and Sandurz take Spaceball One to Druidia, while Lone Starr and Barf rescue Vespa and Dot from the Spaceballs prison complex. When they arrive at Druidia, the Spaceball One ship transforms into Mega Maid, a robotic maid with a vacuum cleaner. The vacuum is then turned on, sucking the air out of the planet. When the vacuum bag is almost full, Lone Starr uses the Schwartz to reverse the vacuum, successfully blowing the air back onto the planet.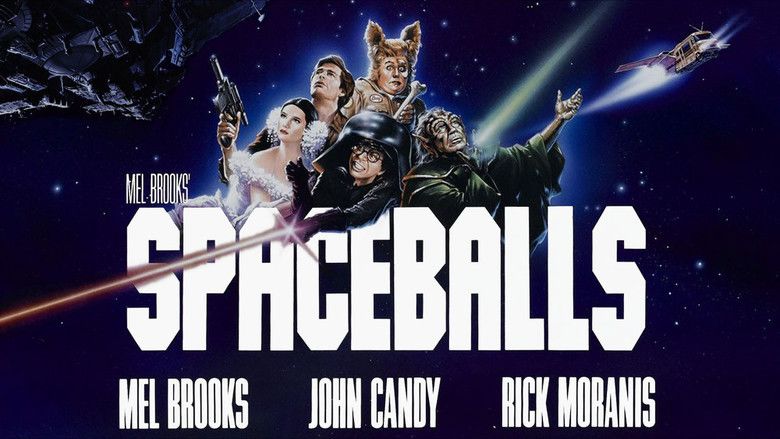 Once the air is successfully returned to the planet, Lone Starr and his allies enter the Mega Maid to attempt to destroy it. Lone Starr is forced to fight Helmet with lightsaber-like "Schwartz rings" near the ship's self-destruct button. Lone Starr manages to defeat Helmet, causing him to involuntarily strike the button. Lone Starr and his friends escape the ship. while Skroob, Helmet, and Sandurz fail to reach any escape pods in time, trapping them in the robot's head as the ship explodes. Subsequently, they land on a nearby planet, much to the regret of its Planet of the Apes-like population.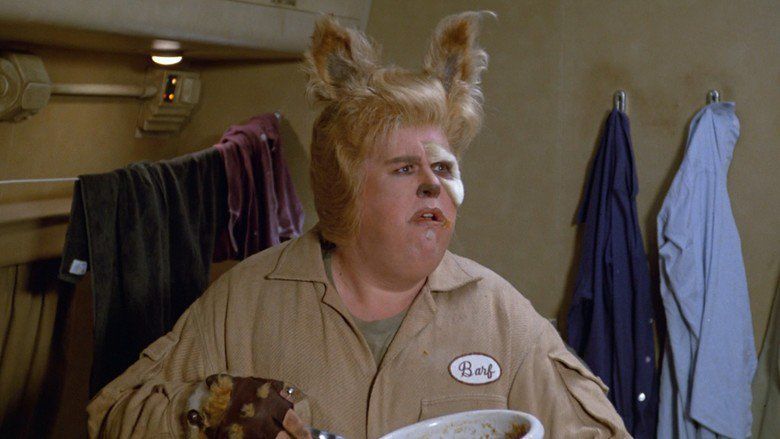 With Lone Starr's debt to Pizza nullified by the gangster's untimely death, he returns Vespa to Roland and leaves, taking only enough money to cover his expenses. After a lunch break at a diner and a strange incident involving an alien and an astronaut, Lone Starr finds a final message from Yogurt informing him that he is a prince and thus eligible to marry Vespa. He manages to reach Druidia in time to stop her wedding to Valium, announces his royal lineage, then marries Vespa.
Development
When Mel Brooks developed Spaceballs, he wanted his parody to be as close to the original as possible. Even though Yogurt mentioned merchandising during the movie, Brooks's deal with George Lucas on parodying Star Wars was that no Spaceballs action figures be made. According to Brooks, "[Lucas] said, 'Your [action figures] are going to look like mine.' I said OK."
Brooks also had Lucas's company handle the post-production, saying, "I was playing ball with the people who could have said no." Lucas later sent Brooks a note saying how much he loved Spaceballs and that he "was afraid [he] would bust something from laughing".
Bill Pullman got the part of Lone Starr when Mel Brooks and Anne Bancroft saw him in a play—he had never seen Star Wars prior to filming. Brooks had been unsuccessfully trying to sign on big-name actors such as Tom Cruise and Tom Hanks for the film. Pullman said, "I think [Mel] was hurt that they didn't take him up on it ... but then it attract[ed] two of the big comics at that time: John Candy and Rick Moranis. Once that was secured, then he said, 'Heck, I'll get somebody nobody knows!' And I got a chance to do it."
Daphne Zuniga initially found Brooks's film parodies "too crass and not too funny", but after working with Brooks, she said, "I have this image of Mel as totally wacko and out to lunch. And he is. But he's also really perceptive, real sensitive in ways that make actors respond."
Music
When the film was released, Spaceballs: The Soundtrack was also released on Atlantic Records on audio CD and Compact Cassette, featuring many of the songs heard in the film, as well as three score cues by composer John Morris.
For the "19th Anniversary", La-La Land Records released a "limited edition" CD, presenting the score in its entirety for the first time, with bonus tracks featuring alternate takes and tracks composed for, but not used in the film.
"Spaceballs Main Title Theme" – John Morris
"My Heart Has a Mind of Its Own" – Jeffrey Osborne and Kim Carnes
"Heartstrings" – Berlin
"Spaceballs Love Theme" (Instrumental) – John Morris
"The Winnebago Crashes"/"The Spaceballs Build Mega-Maid" – John Morris
"Spaceballs" – The Spinners
"Hot Together" – The Pointer Sisters
"Good Enough" – Van Halen
"Wanna Be Loved by You" – Ladyfire
"Raise Your Hands" (hidden track) – Bon Jovi
Box office
The budget for Spaceballs was an estimated $22.7 million. The film grossed $38,119,483 during its run in the United States, taking in $6,613,837 on its opening weekend, finishing behind Dragnet.
Critical reception
The film received mixed reviews from critics. Rotten Tomatoes reported that 54% of critics gave positive reviews based on 35 reviews with an average rating of 6.2/10. At another review aggregator, Metacritic, which assigns a rating out of 100 top reviews from mainstream critics, the film received an average score of 46%, based on 14 reviews. Many critics agreed that, while it was funny, doing a Star Wars parody ten years after the original film had been released seemed pointless. Roger Ebert of the Chicago Sun-Times gave the film 2.5 stars out of 4, and remarked "I enjoyed a lot of the movie, but I kept thinking I was at a revival…it should have been made several years ago, before our appetite for Star Wars satires had been completely exhausted."
Home media
Spaceballs was first made available on VHS and LaserDisc in February 1988; they were re-released in the late 1990s. The VHS edition was issued twice; the latter edition was presented in widescreen. The laserdisc, meanwhile, also gained a commentary track with Brooks; this was transferred over to the DVD and Blu-ray releases. The film was first released on DVD on April 25, 2000. This version also contained "the making of..." documentary and the collectible "making-of" booklet. The film was then released in the "Collectors Edition" on May 3, 2005. This edition contained more extras including the documentary about the film and the video conversation about the making of the film with Mel Brooks & Thomas Meehan. On August 7, 2012, the "25th Anniversary Edition" was released on Blu-ray containing many of the same bonus features as the 2005 DVD release with the addition of a new featurette.
Sequel and animated series
Spaceballs was eventually developed into an animated television show which debuted in September 2008 as Spaceballs: The Animated Series on G4 and the Canadian Super Channel.
Rick Moranis claimed in a 2013 interview that he and Brooks had discussed a potential sequel, with Moranis pitching the title Spaceballs III: The Search for Spaceballs II. However, he and Brooks were unable to structure a deal that would allow the project to move forward.
In February 2015, Brooks said that he would like to make a sequel to be released after the next Star Wars movie and hopes that Moranis would reprise his role. A sequel with the whole cast is not possible since John Candy, Joan Rivers, Dick Van Patten and Dom DeLuise are all dead. This proposed film, Brooks said, may be called Spaceballs 2: The Search for More Money.
References
Spaceballs Wikipedia
(Text) CC BY-SA
Spaceballs IMDb
Spaceballs themoviedb.org