7.2

/

10

Alchetron

7.2

Rate This





Country of origin

United Kingdom




No. of series

6




First episode date

6 September 1993




Number of episodes

90




Networks

ITV, ITV Granada, CITV






Created by

Matthew Corbett




Original language(s)

English




No. of episodes

90




Final episode date

14 December 1998




Program creator

Matthew Corbett






Starring

Matthew CorbettBrenda Longman




Cast

Matthew Corbett, Richard Cadell, Brian Sandford, Liana Bridges





Similar

The Sooty Show, Sooty Heights, Sooty (2011 TV series)
Sooty & Co. is a British children's television series that was produced for six series by Granada Television, that aired on ITV from 6 September 1993 to 14 December 1998. The series centres on Matthew Corbett, and puppets Sooty, Sweep, Soo and Little Cousin Scampi, as they try to run a junk shop in Manchester.
Contents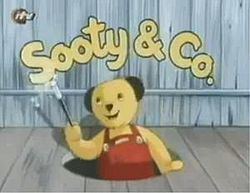 Plot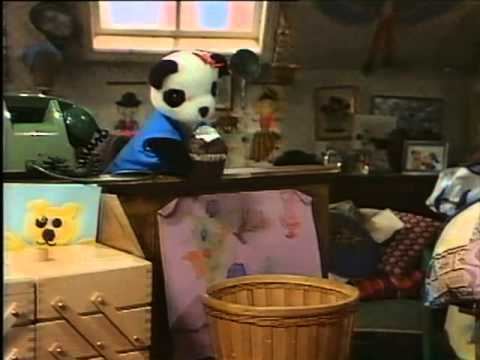 Matthew Corbett runs a shop in Manchester, with puppets Sooty (a yellow bear that can perform magic), Sweep (a squeaking dog), Soo (a female panda), and Little Cousin Scampi (another, if smaller, bear). Sooty and the gang are often getting up to mischief, and it is usually Soo and Matthew that are the more sensible ones.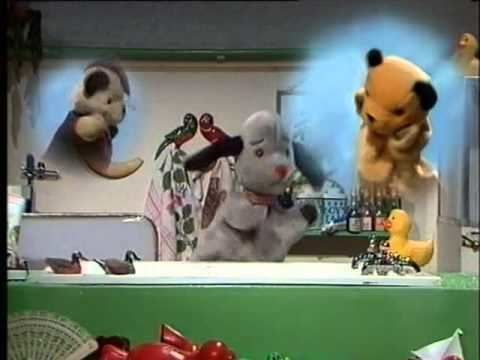 A regular visitor at Sooty & Co. is Mo (from the market) (played by Brenda Longman, the voice of Soo), and most episodes involve Matthew getting into a mess due to the puppets, whether it is having water poured over him or having cream cakes thrown at his face. Some episodes finish with a song, usually performed by Matthew and the group. Most episodes conclude with the gang and Matthew waving "Bye Bye, Everybody, bye bye".
Full episodes of Sooty & Co. are also available to watch on the Classic Sooty Show YouTube Channel.
Characters
Matthew Corbett - presenter.
Connie Creighton - guest presenter
Sooty - a mute yellow bear who is the protagonist of the show. He owns a magic wand whose power is invoked using the words "Izzy wizzy, let's get busy".
Sweep - a dim-witted grey dog with a penchant for bones and sausages.
Soo - a calm and collected female panda who acts as the foil for both Sooty and Sweep. Usually wears a red skirt. Voiced by Brenda Longman.
Little Cousin Scampi - he is very cheeky and a serial troublemaker. He wears a navy blue school uniform and, like his Big Cousin Sooty, is mute.
Maureen "Mo" Clinton - a regular customer with a blonde perm. Always introduces herself with "Hello (or "cooey"), it's only me, Mo from t'market." Played by Brenda Longman (the voice of Soo).
Dwayne Pipe - Mo's nephew. A stereotypical geek who is balding and wears thick glasses.
Setting
The show was initially shot on the same studio set as Coronation Street, with a few of the sets were visible whenever Matthew and the gang would go outside. A notable episode featured Les and Toyah Battersby appearing on the Series 6 Episode 'Estate Agents' and they were very rude to Matthew. For later series' scenes for the shop frontage were filmed on Whittaker Lane, Prestwich.
Controversy
A particular controversial episode of the show was "Soo's Babies", where Soo pretended to be pregnant. It received complaints from viewers, made it into the newspapers, and made E4's Top 20 Most 'Controversial TV Programmes' at number 20. On E4's show, Brenda Longman (who plays 'Mo' and voices 'Soo' in the show), said the idea came about because Matthew tended to write for his daughter. Matthew stated that he recalled his daughter wandering into his room with a pillow up her jumper, saying she was going to have a baby. He also said how it was a sort of educational piece.
In the same episode Soo says she feels she has got the whole of the Manchester football team inside her, a joke also seen as unsuitable for children by some. In the show's defence, Longman stated how the show was also watched by parents, and that there were jokes in it for parents. Uri Geller said the story was played in a 'nice' and 'humorous' way.
Other Sooty-based shows
Below is a list of other Sooty-based shows, before and after Sooty & Co.
References
Sooty & Co. Wikipedia
(Text) CC BY-SA