Reeve plays Richard Collier, a playwright who becomes obsessed with a photograph of a young woman at the Grand Hotel. Through self-hypnosis, he travels back in time to the year 1912 to find love with actress Elise McKenna (portrayed by Seymour). However, this relationship may not last as long as the two of them think; Elise's manager, William Fawcett Robinson (portrayed by Plummer), fears that romance will derail her career and resolves to stop him.
The film is known for its musical score composed by John Barry. The 18th variation of Sergei Rachmaninoff's Rhapsody on a Theme of Paganini also appears several times.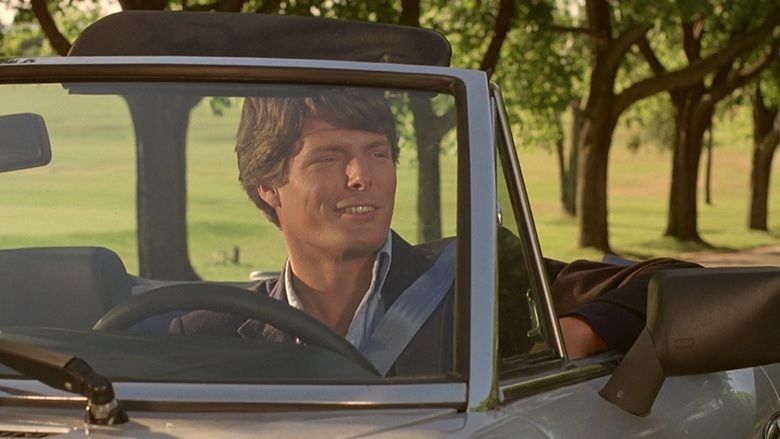 On May 19, 1972, college theatre student Richard Collier (Christopher Reeve) is celebrating the debut of a play he has written. During the celebration, he is approached by an elderly woman (Susan French) who places a pocket watch in his hand and pleads, "Come back to me." Richard does not recognize the woman, who returns to her own residence and dies soon afterward.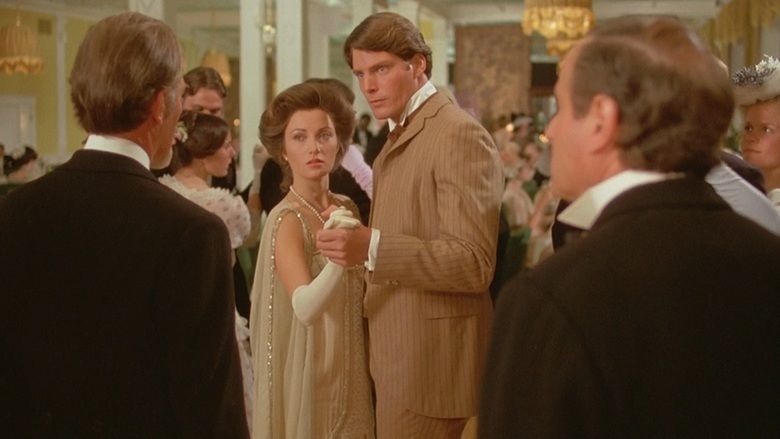 Eight years later, Richard is a successful playwright living in Chicago, but has recently broken up with his girlfriend and is struggling with writer's block. Feeling stressed from writing his play, he decides to take a break and travels out of town to the Grand Hotel. While looking at a display in the hotel's museum, Richard becomes enthralled by a photograph of a beautiful woman. With the assistance of Arthur Biehl (Bill Erwin), an elderly bellhop who has been at the hotel since 1910, Richard discovers that the woman is Elise McKenna (Jane Seymour), a famous early 20th century stage actress. Upon digging deeper, Richard learns that she was the aged woman who gave him the pocket watch eight years earlier. Traveling to the home of Laura Roberts (Teresa Wright), McKenna's former housekeeper and companion, he discovers a music box Elise had made, in the shape of the Grand Hotel, that plays his favorite melody. He also discovers among her effects a book on time travel written by his old college professor, Dr. Gerard Finney (George Voskovec). Learning that McKenna read the book several times, Richard becomes obsessed with the idea of traveling back to 1912 and meeting Elise McKenna, with whom he has fallen in love.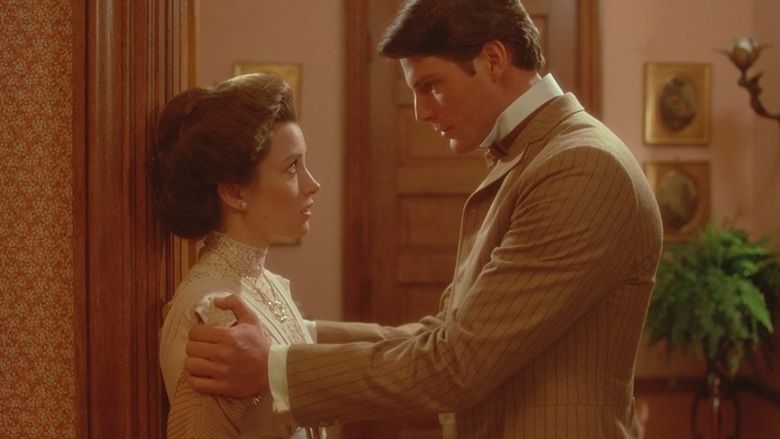 Visiting Dr. Finney, Richard learns that the professor believes that he very briefly time traveled once to 1571 through the power of self-suggestion. To accomplish this feat of self-hypnosis, Finney tells Richard, one must remove from sight all things that are related to the current time and trick the mind into believing that one is in the past. He also warns that such a process would leave one very weak, perhaps dangerously so. Richard buys an early 20th-century suit and some vintage money; he cuts his hair in a time-appropriate style. Dressing in the suit, he removes all modern objects from his hotel room and attempts to will himself into the year 1912 using tape-recorded suggestions, only to fail for lack of real conviction. Later, while searching the hotel's attic, Richard finds an old guest book from 1912 with his signature in it and realizes that he will eventually succeed.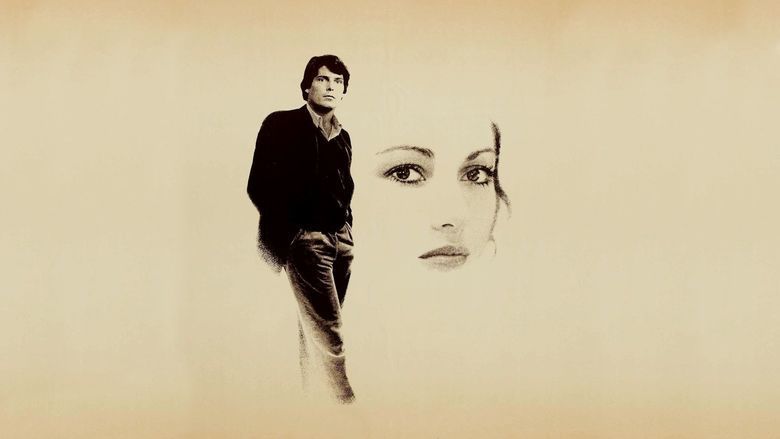 Richard again hypnotizes himself, this time with the tape recorder hidden under the bed. He allows his absolute faith in his eventual success to become the trigger for the journey back through time. He drifts off to sleep and awakens on June 27, 1912 to the sound of whinnying horses. Richard looks all over the hotel for Elise, even meeting Arthur Biehl as a little boy, but he has no luck finding her. Finally, he stumbles upon Elise walking by a tree near the lake. She seems to swoon slightly at the sight of him, but suddenly asks him "Is it you?" McKenna's manager, William Fawcett Robinson (Christopher Plummer), abruptly intervenes and sends Richard away. Richard stubbornly continues to pursue Elise until she agrees to accompany him on a stroll through the surrounding idyllic landscape. It is during their boat ride that Richard hums the theme from the 18th variation of opus 43, and Elise says that it's lovely but she never heard it before. (It was written 22 years into the future. In 1980 Richard had learned that it was her favorite piece of music and he hears her recording of it.) Richard ultimately asks why Elise wondered aloud "Is it you". She replies that Robinson somehow knows that she will meet a man one day who will change her life forever. Richard shows Elise the same pocket watch, which she will eventually give him in 1972, but he does not reveal its origin, merely offering that it was a gift.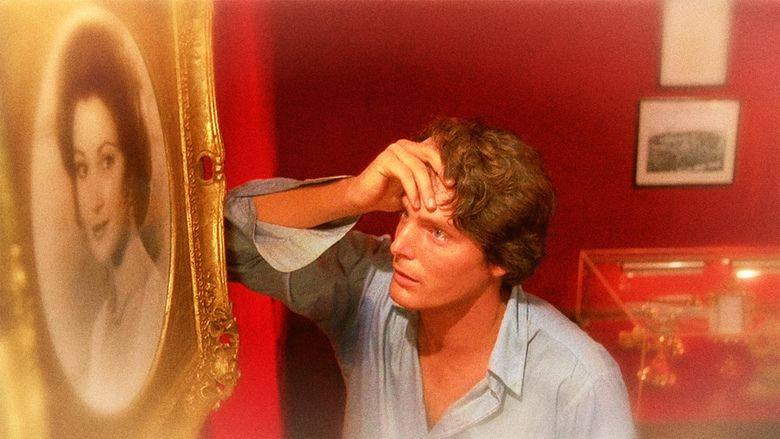 Richard accepts Elise's invitation to her play, where she recites an impromptu monologue dedicated to him. During intermission, he finds her posing formally for a photograph. Upon spotting Richard, Elise breaks into a radiant smile, the camera capturing the image which Richard first saw 68 years later. Afterward, Richard receives an urgent message from Robinson requesting a meeting. Robinson tries to get Richard to leave Elise, saying it is for her own good. When Richard professes his love for her, Robinson has him tied up and locked in the stables so he will miss the departure of the theatre company to Denver, and thus Elise, that same night. Later, Robinson tells Elise that Richard has left her and is not the one, but she does not believe him. She says that she loves Richard.
Richard wakes the next morning and manages to free himself. He runs to Elise's room, 117, and finds that her party has left. Despondent, he goes onto the hotel's porch. Suddenly, he hears Elise calling his name and sees her running towards him. They return to his room, 416, and make love. The next morning they agree to marry. Elise tells him that the first thing she will do for him is buy him a new suit, as the one he has been wearing is about 15 years out of date. Richard begins to show her how practical the suit is because of its many pockets. He is alarmed when he reaches into one and finds a Lincoln penny with a mint date of 1979. Seeing an item from his real present wrenches him out of his hypnotically induced time trip, and Richard feels himself rushing forward in time. Elise screams his name in horror as he is pulled inexorably out of 1912.
Richard awakens back in 1980, in the same room, 416, where he and Elise were last together in 1912. He is drenched in sweat and very weak, apparently exhausted from his trip through time and back. He scrambles desperately back to his own room, 313, which he had previously cleared of 1980 furniture and objects, and tries to hypnotize himself again, without success. Heartbroken, after wandering the hotel property and sitting interminably at the places where he spent time with Elise, he eventually retires to his room. He remains there unmoving for days until discovered by Arthur and the hotel manager, who send for a doctor and paramedics. Richard takes a final breath, suddenly smiles, and sees himself drifting above his body. Having presumably died of a broken heart, he is drawn to a light shining through the nearby window, where he is reunited with the also recently departed Elise.
Richard Matheson, who wrote the original novel and screenplay, appears in a cameo role as a 1912 hotel guest. He is astonished by Richard's having cut himself shaving with a straight razor.
A then-unknown William H. Macy has a bit role as a critic in the 1972 scene before Elise hands the watch to Richard. George Wendt is credited as a student during this same scene, but his appearance was omitted from the final cut of the film. Richard Matheson's daughter, Ali, is similarly credited as a student.
Many Mackinac Island residents at the time were cast as extras.
In the novel, Richard travels from 1971 to 1896 rather than from 1980 to 1912. The setting is the Hotel del Coronado in California, rather than the Grand Hotel in Michigan. Richard begins the book with the knowledge that he is dying of a brain tumor, and the book ultimately raises the possibility that the whole time-traveling experience was merely a series of hallucinations brought on by the tumor. The scene where the old woman hands Richard a pocket watch (which he had given to her in the past) does not appear in the book. Thus, the ontological paradox generated by this event (that the watch was never made, but simply exists eternally between 1912 and 1980) is absent. In the book, there are two psychics, not William Fawcett Robinson, who anticipate Richard's appearance, and Richard's death is brought about by his tumor, not by heartbreak.
Although this movie was well received during its previews, it was derided by critics upon release and underperformed at the box office. In 2009, in an interview with WGN America, Jane Seymour stated that "[i]t was just a little movie... The Blues Brothers came out the same week and it was a $4 million budget, so Universal didn't really support it. There was also an actors' strike, so Chris [Reeve] and I weren't allowed to publicize it. And they barely put it out because I don't think anyone really believed in it."
Review aggregator Rotten Tomatoes reports that 59% of 17 film critics have given the film a positive review; the rating average is 5.7 out of 10. Metacritic, which assigns a weighted average score out of 100 to reviews from mainstream critics, gives the film a score of 29 based on 7 reviews, signifying "Generally unfavorable reviews". After cable TV broadcast and home video rentals, the film went on to become a cult classic.
Somewhere in Time has received several awards, including Saturn Awards for Best Costume, Best Music, and Best Fantasy Film. The film was also nominated for the Academy Award for Costume Design (Jean-Pierre Dorleac).
The film is recognized by American Film Institute in these lists:
2002: AFI's 100 Years...100 Passions – Nominated
2005: AFI's 100 Years of Film Scores – Nominated
The original musical score for the film was composed and conducted by John Barry who was world-famous for his scoring of most of the James Bond films in the 1960s and '70s. A deeply emotional, lush and romantic score, it was written during a time shortly after Barry's parents had died and he was writing from a very personal place. Originally no one had thought of Barry to score the film until Jane Seymour, a long time friend, suggested he take a look. Until then the producers were thinking of having a score based on The 18th variation of Sergei Rachmaninoff's "Rhapsody on a Theme of Paganini" which is used in the film several times. After seeing some of the film and reading the story he was intrigued but his fee was an issue for the film's producers who had already wrapped the picture. He instead took a percentage of the proposed soundtrack for the first time in his career which was quite fortuitous for him as the soundtrack went on to become his best selling film score of all time.
The soundtrack album actually almost never happened. The film was not a success at the box office and a very limited run above promotional copies of the album was pressed with very limited circulation. Universal Pictures used "Somewhere in Time" as a test bed for soundtrack sales and did not expect it to do well at all. It was cable television the following spring where the film garnered a huge fan audience and interest in the music was tremendous. So many requests were made at record stores across the country that Universal pressed 500,000 more copies and the soundtrack now into several pressings still sells well on cd. The music became one of the most requested at weddings for a decade after the film's release.
Barry wrote the score at a very creative and prolific time in his career scoring the music for films such as Raise the Titanic, High Road to China and the highly acclaimed Body Heat all within an 18-month period yet the score for Somewhere in Time is considered to be among the best of his career.
The music from the film is often credited for much of its success by invoking a deeply emotional pull for the viewers. Barry's score pushes the emotion of the story to a level rarely seen. In the years since the film's release, the music has become as famous as the film, if not more so, with many hearing it and then seeking the film on video.
The music has been released on two albums, neither of which are from the original sessions from the film itself. Like most soundtracks of the time, the album was a series of re-recordings with highlights of the score recorded to fit onto two sides of an LP. The original release from MCA has nine tracks.
Somewhere in Time (2:58)
The Old Woman (2:49)
The Journey Back in Time (4:22)
A Day Together (6:02)
Rhapsody on a Theme of Paganini (composed by Rachmaninov) (2:57)
Is He the One? (3:10)
The Man of My Dreams (1:35)
Return to the Present (4:04)
Theme from "Somewhere in Time" (3:20)
A later release of the score was released on the Varese Sarabande label. It was recorded in 1998 by the Royal Scottish Orchestra conducted by John Debney.
Somewhere in Time (3:37)
Old Woman (1:00)
Grand Hotel (1:22)
1912 (1:42)
Thanks (1:20)
June 27 (1:32)
Room 417 (1:04)
The Attic (4:07)
Near the Lake (2:14)
Rhapsody on a Theme by Paganini (composed by Rachmaninov) (3:06)
Is He the One? (0:56)
A Day Together (2:31)
Rowing (1:29)
The Man of My Dreams (1:22)
Razor (1:12)
Total Dismay (4:07)
Coin (0:28)
Whimper (3:20)
Somewhere in Time (end credits) (4:55)
There has yet to be a release of the original scoring session music though bootlegs circulate on the internet.
Despite reviews calling the film "horrible" and a "superficial tear-jerker", the International Network of Somewhere In Time Enthusiasts (I.N.S.I.T.E.), an official fan club, was formed in 1990 and continues to meet regularly. During the month of October, the Grand Hotel hosts a Somewhere in Time Weekend that the club uses for an annual convention for such events as a big-screen showing of the film, panel discussions with some of the film's celebrities and crew, and a costume ball of members dressed in Edwardian attire. Adding to the film's legacy, is a Ken Davenport produced Broadway theatrical adaption of the story in the works with assistance from Matheson on the story book.