Full Name

Simone Henriette Charlotte Kaminker

Born

25 March 1921 (

1921-03-25

)

Children

Catherine Allegret, Patrick Allegret

Books

Nostalgia Isn't what it Used to be

Movies

Les Diaboliques, Room at the Top, Casque D'Or, Army of Shadows, Ship of Fools




Similar People

Yves Montand

, Catherine Allegret, Yves Allegret, Benjamin Castaldi, Henri‑Georges Clouzot
Interview simone signoret
Simone Signoret ([simɔn siɲɔʁɛ]; 25 March 1921 – 30 September 1985) was a French cinema actress often hailed as one of France's greatest film stars. She became the first French person to win an Academy Award, for her role in Room at the Top (1959).
Contents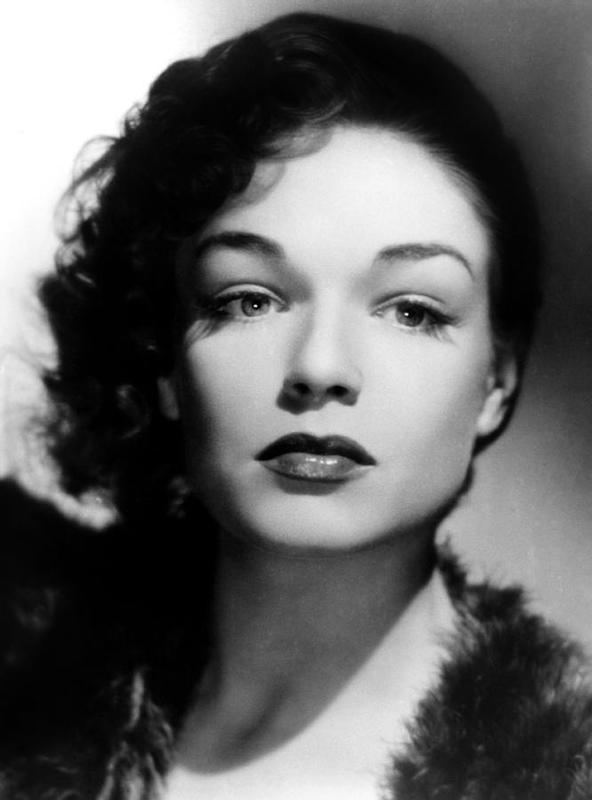 In her lifetime she also received two Césars, three BAFTAs, an Emmy, a Cannes Film Festival Award, the Silver Bear for Best Actress awards, a NBR Award and a Golden Globe nomination.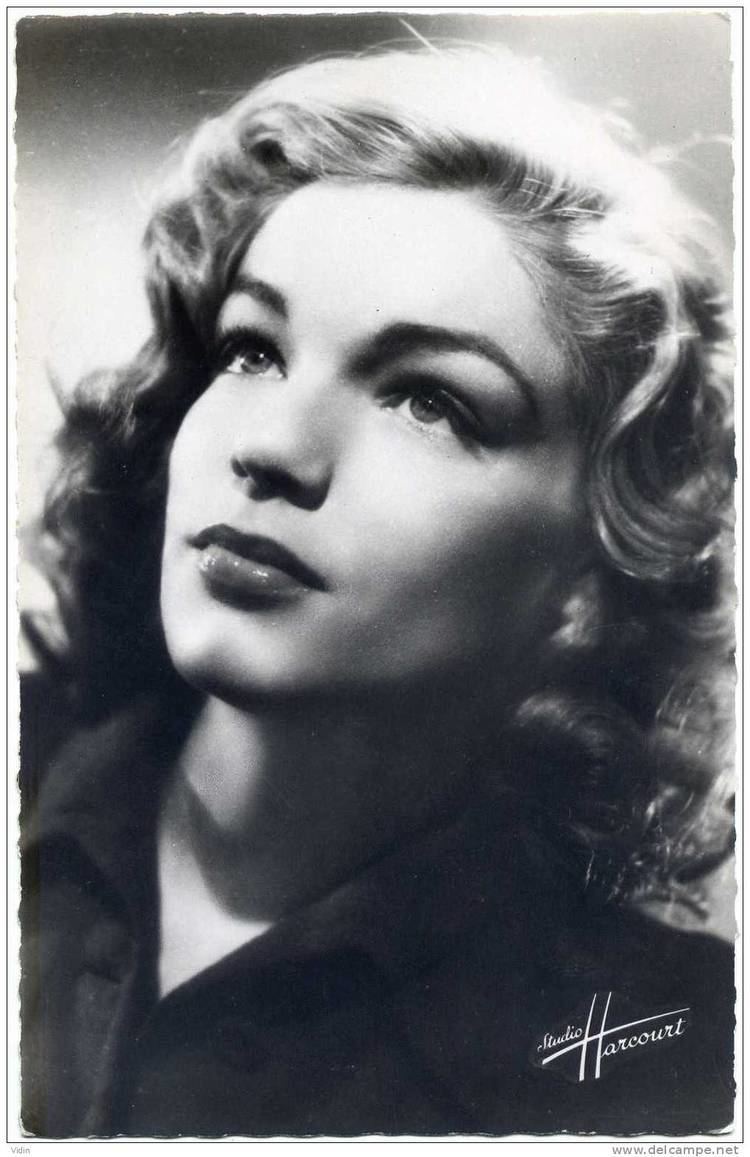 Simone signoret garden of dreams the life of simone signoret trailer
Early life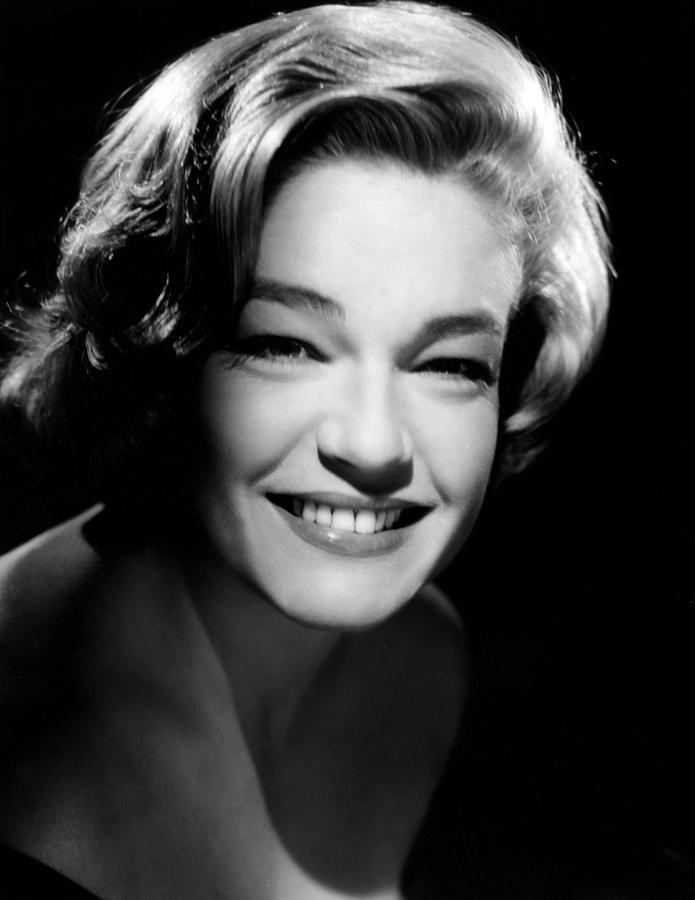 Signoret was born Simone Henriette Charlotte Kaminker in Wiesbaden, Germany, to André and Georgette (Signoret) Kaminker, as the eldest of three children, with two younger brothers. Her father, a pioneering interpreter who worked in the League of Nations, was a French-born army officer from a Polish Jewish family, who brought the family to Neuilly-sur-Seine on the outskirts of Paris. Her mother, Georgette, from whom she acquired her stage name, was a French Catholic.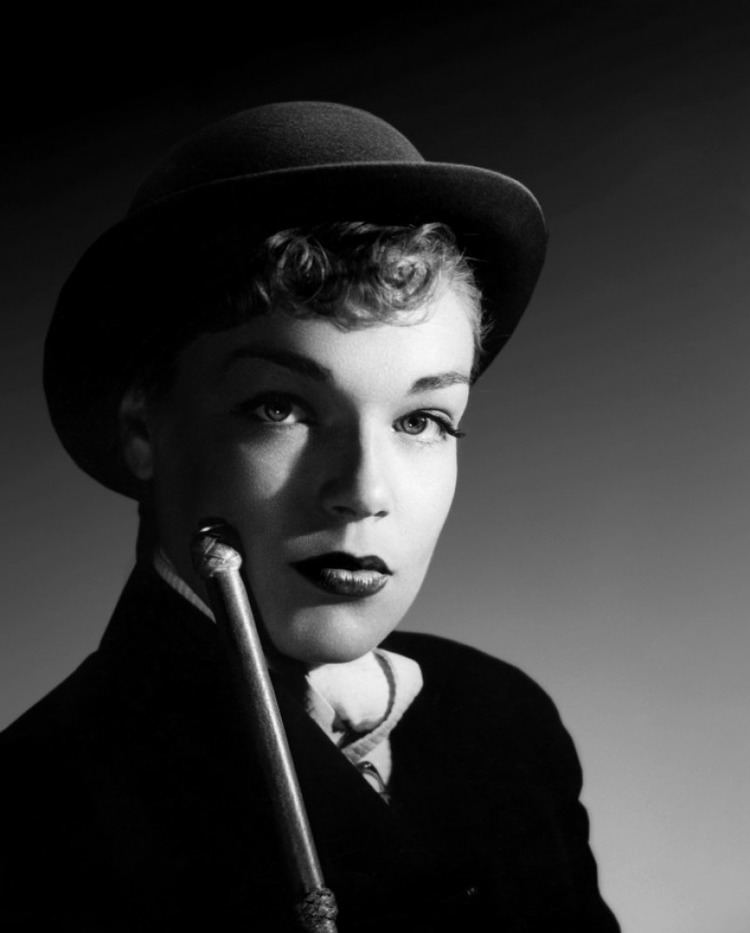 Signoret grew up in Paris in an intellectual atmosphere and studied English, German, and Latin. After completing secondary school during the Nazi Occupation, Simone was responsible for supporting her family and forced to take work as a typist for a French collaborationist newspaper, Les nouveaux temps, run by Jean Luchaire.
Career
During the German occupation of France, Signoret mixed with an artistic group of writers and actors who met at a café in the Saint-Germain-des-Prés quarter, Café de Flore. By this time, she had developed an interest in acting and was encouraged by her friends, including her lover, Daniel Gélin, to follow her ambition. In 1942, she began appearing in bit parts and was able to earn enough money to support her mother and two brothers as her father, who was a French patriot, had fled the country in 1940 to join General De Gaulle in England. She took her mother's maiden name for the screen to help hide her Jewish roots.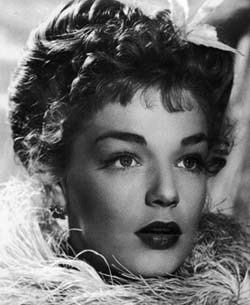 Signoret's sensual features and earthy nature led to type-casting and she was often seen in roles as a prostitute. She won considerable attention in La Ronde (1950), a film which was banned briefly in New York as immoral. She won further acclaim, including an acting award from the British Film Academy, for her portrayal of another prostitute in Jacques Becker's Casque d'or (1951). She appeared in many notable films in France during the 1950s, including Thérèse Raquin (1953), directed by Marcel Carné, Les Diaboliques (1954), and The Crucible (Les Sorcières de Salem; 1956), based on Arthur Miller's The Crucible.
In 1958, Signoret acted in the English independent film, Room at the Top (1959), which won her numerous awards including the Best Female Performance Prize at Cannes and the Academy Award for Best Actress. She was the only French cinema actress to receive an Oscar until Juliette Binoche in 1997 (Supporting Actress) and Marion Cotillard in 2008 (Best Actress), and the first woman to win the award appearing in a foreign film. She was offered films in Hollywood, but turned them down, continuing to work in France and England—notably opposite Laurence Olivier in Term of Trial (1962)—until 1965. Earning another Oscar nomination for her work on what would be Vivien Leigh's final film—Columbia Pictures' Ship of Fools, also starring Lee Marvin—Signoret appeared in a few other Hollywood films before returning to France in 1969.
In 1962, Signoret translated Lillian Hellman's play The Little Foxes into French for a production in Paris that ran for six months at the Theatre Sarah-Bernhardt. She played the Regina role as well. Hellman was displeased with the production, although the translation was approved by scholars selected by Hellman.
Signoret's one attempt at Shakespeare, performing Lady Macbeth opposite Alec Guinness at the Royal Court Theatre in London in 1966 proved to be ill-advised, with some harsh critics; one referred to her English as "impossibly Gallic".
Signoret's overall appearance aged noticeably in early middle-age and she was often criticized for gaining weight and letting her looks go, but she was never concerned with glamour, ignored the insults and continued giving finely etched performances. She won more acclaim for her portrayal of a weary madam in Madame Rosa (1977) and as an unmarried sister who unknowingly falls in love with her paralyzed brother via anonymous correspondence in I Sent a Letter to my Love (1980).
Personal life
Signoret's memoirs, Nostalgia Isn't What It Used To Be, were published in 1978. She also wrote a novel, Adieu Volodya, published in 1985, the year of her death.
Signoret first married filmmaker Yves Allégret (1944–49), with whom she had a daughter Catherine Allégret, herself an actress. Her second marriage was to the Italian-born French actor Yves Montand in 1951, a union which lasted until her death.
Signoret died of pancreatic cancer in Autheuil-Authouillet, France, aged 64. She was buried in Père Lachaise Cemetery in Paris and Yves Montand was later buried next to her.
Television award
Emmy Awards
1966: Won Emmy Outstanding Single Performance by an Actress in a Leading Role in a Drama for: Bob Hope Presents the Chrysler Theatre (1963) for episode A Small Rebellion
Popular culture
Marilyn (2011) by Sue Glover, premiered at the Citizens' Theatre, Glasgow on 17 February 2011. The play charted the deteriorating relationship between Signoret and Marilyn Monroe during the filming of Let's Make Love. Unable to achieve the recognition of Oscar-winning Signoret, Monroe begins an affair with Signoret's husband, Yves Montand.
Singer Nina Simone (Born Eunice Waymon) took her last name from Simone Signoret.
Filmography
Actress
1986
Music Hall (TV Movie)
as
Yvonne Pierre
1983
Thérèse Humbert (TV Series)
as
Thérèse Humbert
1982
Guy de Maupassant
as
Maupassant's mother
1982
L'étoile du Nord
as
Mme Louise Baron
1980
I Sent a Letter to My Love
as
Louise Martin
1979
The Adolescent
as
Catherine / la mère de Jean-Jean's mother
1978
Judith Therpauve
as
Judith Therpauve
1978
Her Ladyship the Judge (1978) (TV Series)
as
Élisabeth Massot - juge d'instruction
- Autopsie d'un témoignage (1978) - Élisabeth Massot - juge d'instruction
- 2 + 2 = 4 (1978) - Élisabeth Massot - juge d'instruction
- Le feu (1978) - Élisabeth Massot - juge d'instruction
- Un innocent (1978) - Élisabeth Massot - juge d'instruction
- Monsieur Bais (1978) - Élisabeth Massot - juge d'instruction
- Le dossier Françoise Muller (1978) - Élisabeth Massot - juge d'instruction
1977
Madame Rosa
as
Madame Rosa
1976
Police Python 357
as
Thérèse Ganay
1975
The Flesh of the Orchid
as
Lady Vamos
1973
Rude journée pour la reine
as
Jeanne
1973
Les granges brûlées
as
Rose
1971
The Widow Couderc
as
Veuve Couderc Tati
1971
Le Chat
as
Clémence Bouin
1971
Countdown to Vengeance
as
Léa Juliani
1970
Un otage (TV Movie)
as
Meg
1969
Army of Shadows
as
Mathilde
1968
The Sea Gull
as
Arkadina, an Actress
1968
Mr. Freedom
as
Cameo appearance (uncredited)
1967
The Deadly Affair
as
Elsa Fennan
1966
A Small Rebellion (TV Movie)
as
Sara Lescaut
1966
Les Enfants du Palais (TV Movie)
as
La Mère de la jeune délinquante (voice)
1966
Is Paris Burning?
as
Cafe Owner
1966
Bob Hope Presents the Chrysler Theatre (TV Series)
as
Sara Lescault
- A Small Rebellion (1966) - Sara Lescault
1965
The Sleeping Car Murder
as
Eliane Darrès - une comédienne - 4e victime
1965
Ship of Fools
as
La Condesa
1963
Sweet and Sour
as
Madame Geneviève
1963
The Day and the Hour
as
Thérèse Dutheil
1961
Famous Love Affairs
as
Jenny (segment "Jenny de Lacour")
1960
Adua e le compagne
as
Adua Giovannetti
1960
General Electric Theater (TV Series)
as
Woman
- Don't You Remember? (1960) - Woman
1958
Room at the Top
as
Alice Aisgill
1957
The Crucible
as
Elisabeth Proctor
1956
Un matin comme les autres (Short)
as
Janine Alix
1956
Death in the Garden
as
Djin
1955
Mutter Courage und ihre Kinder (Short)
as
Yvette, Lagerhure
1955
Diabolique
as
Nicole Horner
1953
Confidences en zig-zag sur l'amour (Short)
1953
The Adultress
as
Thérèse Raquin
1952
Casque d'Or
as
Marie 'Casque d'Or'
1951
Ombre et lumière
as
Isabelle Leritz
1951
Without Leaving an Address
as
Une journaliste au journal (uncredited)
1950
Gunman in the Streets
as
Denise Vernon
1950
Le traqué
as
Denise Vernon
1949
Four Days Leave
as
Yvonne
1948
Aller et retour (Short)
1948
Impasse des deux anges
as
Anne-Marie / Marianne
1948
Against the Wind
as
Michèle
1946
Le couple idéal
as
Annette
1946
Les démons de l'aube
as
Lily, la cabaretière
1945
Box of Dreams
as
Une femme (uncredited)
1944
Le mort ne reçoit plus
as
La maîtresse de Firmin
1944
Service de nuit
as
Une danseuse à la taverne (uncredited)
1944
Béatrice devant le désir
as
Liliane Moraccini
1944
L'ange de la nuit
as
Une étudiante (uncredited)
1943
Adieu Léonard
as
La gitane (uncredited)
1943
Le voyageur de la Toussaint
as
Extra (uncredited)
1942
Le bienfaiteur
as
La sécrétaire du journal (uncredited)
1942
Les Visiteurs du Soir
as
Extra (uncredited)
1942
Le prince charmant (uncredited)
1942
Boléro
as
Une employée de la maison de couture (uncredited)
Self
1985
Sieh an, sieh an (TV Series)
as
Self
- Episode dated 5 August 1985 (1985) - Self
1985
7 sur 7 (TV Series)
as
Self
- Episode dated 3 February 1985 (1985) - Self
1977
La nuit des Césars (TV Series documentary)
as
Self - President & Presenter / Self - Presenter / Self - Winner / ...
- 10ème nuit des Césars (1985) - Self - President & Presenter
- 7ème nuit des Césars (1982) - Self - Presenter
- 3ème nuit des Césars (1978) - Self - Winner
- 2ème nuit des Césars (1977) - Self
1976
Apostrophes (TV Series)
as
Self
- À cette époque- (1985) - Self
- D'Est en Ouest (1981) - Self
- La passion d'écrire (1979) - Self
- La vie des stars (1976) - Self
1984
Le cinéma de l'ombre (TV Movie documentary)
as
Self
1983
Des terroristes à la retraite (Documentary)
as
Récitante / Narrator (voice)
1978
Antenne 2 - Le journal de 20H (TV Series)
as
Self
- Episode dated 6 October 1982 (1982) - Self
- Episode dated 7 October 1978 (1978) - Self
1980
Antenne 2 Midi (TV Series)
as
Self
- Episode dated 27 March 1982 (1982) - Self
- Episode dated 9 April 1980 (1980) - Self
- Episode dated 8 April 1980 (1980) - Self
1982
Champs-Elysées (TV Series)
as
Self
- Episode dated 27 March 1982 (1982) - Self
1981
L'invité du jeudi (TV Series)
as
Self - Main Guest
- Simone Signoret (1981) - Self - Main Guest
1980
Le grand échiquier (TV Series)
as
Self
- Jean-Loup Dabadie (1980) - Self
1978
Spécial cinéma (TV Series)
as
Self
- Episode dated 15 April 1980 (1980) - Self
- Episode dated 7 February 1978 (1978) - Self
- Episode dated 6 February 1978 (1978) - Self
1977
Les rendez-vous du dimanche (TV Series)
as
Self
- Episode dated 13 April 1980 (1980) - Self
- Episode dated 30 October 1977 (1977) - Self
1978
Parlons Cinema (TV Series)
as
Self
- Simone Signoret, 2ème partie (1978) - Self
- Simone Signoret (1978) - Self
1978
Good Morning America (TV Series)
as
Self - Guest
- Episode dated 26 May 1978 (1978) - Self - Guest
1977
A Grin Without A Cat (Documentary)
as
Narrator (voice)
1976
Aujourd'hui Madame (TV Series)
as
Self
- Simone Signoret (1976) - Self
1974
La solitude du chanteur de fond (Documentary)
as
Self (voice, uncredited)
1971
Au cinéma ce soir (TV Series)
as
Self
- Manèges (1974) - Self
- Désiré (1971) - Self
1974
Gala du Midem (TV Series)
as
Self
- Gala du Midem 1974 (1974) - Self
1973
Septembre chilien (Short documentary)
as
Récitante / Narrator (voice)
1973
A Musical Celebration to Stephen Sondheim (TV Special)
as
Self - Performer
1973
Le dernier des cinq (TV Series)
as
Self
- Episode dated 17 June 1973 (1973) - Self
1971
You Speak of Prague: The Second Trial of Artur London (Short)
as
Self
1968
L'invité du dimanche (TV Series)
as
Self
- Daniel Gélin (1971) - Self
- Jean Renoir (1968) - Self
1971
Monsieur Cinéma (TV Series)
as
Self
- Episode dated 10 October 1971 (1971) - Self
1971
V.I.P.-Schaukel (TV Series documentary)
as
Self
- Episode #1.2 (1971) - Self
1970
Langlois (Documentary)
as
Self
1968
The Merv Griffin Show (TV Series)
as
Self
- Betsy Palmer, Lorin Hollander, Ronnie Dyson, Kaye Hart, Virginia Graham, Gunilla Knutson (1969) - Self
- Mort Sahl, Yvonne Constant, Skitch Henderson, Muhammad Ali, Jimmy Helms, Barry McGuire (1968) - Self
1969
Dee Time (TV Series)
as
Self
- Episode #5.9 (1969) - Self
1968
Release (TV Series documentary)
as
Self
- Released 1968 (1968) - Self
- Old Crome/Beside a Swedish Lake (1968) - Self
1965
The Tonight Show Starring Johnny Carson (TV Series)
as
Self - Guest / Self
- Episode dated 19 December 1968 (1968) - Self - Guest
- Joey Bishop (guest host); Llyod Hand, Simone Signoret (1965) - Self - Guest
- Joey Bishop (guest host); Buddy Hackett, Simone Signoret (1965) - Self
1968
Today (TV Series)
as
Self
- Episode dated 18 December 1968 (1968) - Self
1967
Cinéastes de notre temps (TV Series documentary)
as
Self
- Jacques Becker (1906-1960) (1967) - Self
1966
Bibliothèque de poche (TV Series)
as
Self
- Episode dated 12 October 1966 (1966) - Self
1966
The 38th Annual Academy Awards (TV Special)
as
Self (video)
1966
Late Show London (TV Series)
as
Self
- Episode #1.27 (1966) - Self
1965
Un certain regard (TV Series)
as
Self
- Six comédiens sans personnage (1965) - Self
1965
Grand écran (TV Series documentary)
as
Self
- Compartiment Tueurs, Le Jour d'après (1965) - Self
1964
Les femmes aussi (TV Series documentary)
as
Self
- William Klein aux grands magasins (1964) - Self
1963
Le joli mai (Documentary)
as
Narrator (English version) (voice)
1956
Cinépanorama (TV Series documentary)
as
Self
- Episode dated 13 April 1963 (1963) - Self
- Episode dated 13 May 1961 (1961) - Self
- Episode dated 15 May 1959 (1959) - Self
- Episode dated 27 July 1956 (1956) - Self
- Episode dated 4 February 1956 (1956) - Self
1961
What's My Line? (TV Series)
as
Self - Mystery Guest
- Simone Signoret (1961) - Self - Mystery Guest
1961
Here's Hollywood (TV Series)
as
Self
- Episode #1.92 (1961) - Self
1960
Face to Face (TV Series)
as
Self
- Simone Signoret (1960) - Self
1960
Carrefour (TV Series)
as
Self - actrice
- Episode dated 12 April 1960 (1960) - Self - actrice
1960
Cinq colonnes à la une (TV Series documentary)
as
Self
- Episode dated 8 April 1960 (1960) - Self
1960
The 32nd Annual Academy Awards (TV Special)
as
Self - Winner
1959
Small World (TV Series)
as
Self - French Actress
- Episode #2.8 (1959) - Self - French Actress
1959
Tabloid (TV Series)
as
Self
- Episode dated 2 December 1959 (1959) - Self
1959
The Tonight Show Starring Jack Paar (TV Series)
as
Self - Guest
- Episode #3.13 (1959) - Self - Guest
1959
Filmfestspiele Cannes 1959 (TV Movie documentary)
as
Self
1959
Reflets de Cannes (TV Series documentary)
as
Self
- Episode dated 16 May 1959 (1959) - Self
- Episode dated 2 May 1959 (1959) - Self
1957
Poyet Ives Montand (Documentary)
as
Self
1957
Die Windrose (Documentary)
1953
La joie de vivre (TV Series)
as
Self
- Yves Montand (1953) - Self
1952
Jouons le jeu
as
Self (segment 'La Jalousie')
1951
Saint-Germain-des-Prés (Documentary short)
as
Self
Archive Footage
2023
Beau geste (TV Series)
as
Self
- Episode dated 29 January 2023 (2023) - Self
2022
Chansons! (TV Mini Series)
as
Self - Singer
- Episode #2.1 (2022) - Self - Singer
2022
Les effrontées: Le cinéma au féminin (TV Series documentary)
as
Self
- Sois belle et tais-toi (2022) - Self
- Une femme peut en cacher une autre (2022) - Self
2021
Yves Montand entre en scène (TV Movie documentary)
as
Self
2021
Alain Jessua, le franc-tireur du cinéma français (TV Movie documentary)
as
Self
2021
Vivement dimanche prochain (TV Series)
as
Self
- Episode dated 14 November 2021 (2021) - Self
2021
Daniel Day-Lewis - L'héritier (TV Movie documentary)
as
Self
2021
All About Yves Montand (Documentary)
as
Self
2021
Le drôle de drame de Marcel Carné (TV Movie documentary)
as
Self
2021
Rembob'Ina (TV Series documentary)
as
Self
- Les Femmes -Aussi - 1ère partie (2021) - Self
- François Chalais (2021) - Self
2021
Blow up: Le web magazine cinéma d'Arte (TV Series documentary)
- C'était quoi Simone Signoret? (2021)
2020
Signoret et Montand, Monroe et Miller: Deux couples à Hollywood (TV Movie documentary)
as
Self
2020
Simone Signoret, figure libre (TV Movie documentary)
as
Self
2020
Melville, le dernier samouraï (TV Movie documentary)
as
Self
2020
Paris Calligrammes (Documentary)
as
Self
2019
Le temps des nababs (TV Series documentary)
as
Self
- Les romanesques (2019) - Self
2018
Lettre à Inger (Documentary)
as
Self
2018
Lino Ventura, la part intime (TV Movie documentary)
as
Self
2018
Jane Fonda in Five Acts (Documentary)
as
Self (uncredited)
2017
Journeys Through French Cinema (TV Series documentary)
as
Self
- Mes années 1960 (2017) - Self
2017
Le scandale Clouzot (TV Movie documentary)
as
Nicole Horner
2017
Un Français nommé Gabin (TV Movie documentary)
as
Self
2016
L'ombre au tableau (TV Mini Series documentary)
as
Self
- Yves Montand, l'ombre au tableau (2016) - Self
2015
Compression (TV Series documentary)
- Compression Casque d'or de Jacques Becker (2015)
2015
The End of a Beautiful Epoch
as
Self (uncredited)
2015
In the cutting room: An interview with Françoise Bonnot (Documentary short)
as
Lise London
2010
Nous nous sommes tant aimés (TV Series documentary)
as
Self
- Montand - Signoret (2014) - Self
- Simone Signoret (2010) - Self
2013
René Clément, témoin et poète (TV Movie documentary)
as
Self
2013
La case du siècle (TV Series documentary)
as
Self
- Les artistes et le parti, 1945 - 1968 (2013) - Self
2007
Vivement dimanche (TV Series)
as
Madame Geneviève / Self
- Jean-Paul Belmondo 2 (2013) - Madame Geneviève
- Anne Sinclair (2007) - Self
2012
Le monde en face (TV Series documentary)
as
Self
- Le goût de l'amour (2012) - Self
2012
Casque d'Or: Au coeur des sentiments (Video documentary short)
as
Self
2012
Cinéphiles de notre temps (TV Series documentary)
as
Self
- Le cinéma est à nous (1942-1949) (2012) - Self
2011
Ivo Livi, dit Yves Montand (TV Movie documentary)
as
Self
2008
Un jour, un destin (TV Series documentary)
as
Self / Various roles
- Simone Signoret, de Simone Kaminker à Madame Signoret (2011) - Self / Various roles
- Yves Montand: Les secrets d'une vie (2008) - Self
2010
Moy otets Evgeniy (Documentary)
as
Self
2010
Thé ou café (TV Series)
as
Self
- Episode dated 18 September 2010 (2010) - Self
2010
Deux de la Vague (Documentary)
as
Self
2009
Henri-Georges Clouzot's Inferno (Documentary)
as
Self
2008
Marilyn, dernières séances (TV Movie documentary)
as
Self
2008
House of Harrington (Documentary short)
2008
Catalogue of Ships (Documentary)
2007
Personnel et confidentiel (TV Series documentary)
as
Self
- Cannes, 60 ans d'histoires (2007) - Self
2006
Gabin intime, aristocrate et paysan (Video documentary)
as
Self
2004
Legends of World Cinema (TV Series documentary)
as
Self
- Simone Signoret - Self
2004
Les 40 ans de la 2 (TV Movie documentary)
as
Self
2004
Le fantôme d'Henri Langlois (Documentary)
as
Self
2002
Great Performances (TV Series)
as
Self
- Making 'The Misfits' (2002) - Self
2001
Simone Signoret (TV Movie documentary)
as
Self
1998
... y otras mujeres de armas tomar (TV Short documentary)
as
Self
1997
Monsieur Montand (TV Movie documentary)
as
Self
1995
Empire of the Censors (TV Movie documentary)
as
Self
1994
Heinz Rühmann: Kleiner Mann ganz groß (TV Movie documentary)(uncredited)
1994
Stars 90 (TV Series)
as
Self
- Spécial Sardou (1994) - Self
1987
Le cinéma dans les yeux (Documentary)
as
Self
1986
Mémoires pour Simone (Documentary)
as
Self
1965
The Love Goddesses (Documentary)
as
Self
References
Simone Signoret Wikipedia
(Text) CC BY-SA