Covid-19
6.2

/

10

1

Votes

Alchetron

Rate This




Bruce Kessler




Stu Phillips




Robert Phippeny




English






Horror





United States






1971 (1971)




Horror, Drama, Supernatural




Andrew Prine

(Simon),

Brenda Scott

(Linda Rackum),

Norman Burton

(Dist. Atty. Willard Rackum),

Sharon Berryhill

(Secretary),

Allyson Ames

(Olivia Gebhart),

Buck Holland

(Detective)


Harry Potter and the Order of the Phoenix

,

Harry Potter and the Prisoner of Azkaban

,

Harry Potter and the Chamber of Secrets

,

Harry Potter and the Goblet of Fire

,

Harry Potter and the Half-Blood Prince

,

Hansel & Gretel: Witch Hunters




The Black Mass... The Spells... The Incantations... The Curses... The Ceremonial Sex...
Simon, King of the Witches is a 1971 film directed by Bruce Kessler and starring Andrew Prine. Not technically a straight horror film as the title might suggest, it also falls in the realm of camp and psychedelia. It is considered a cult classic.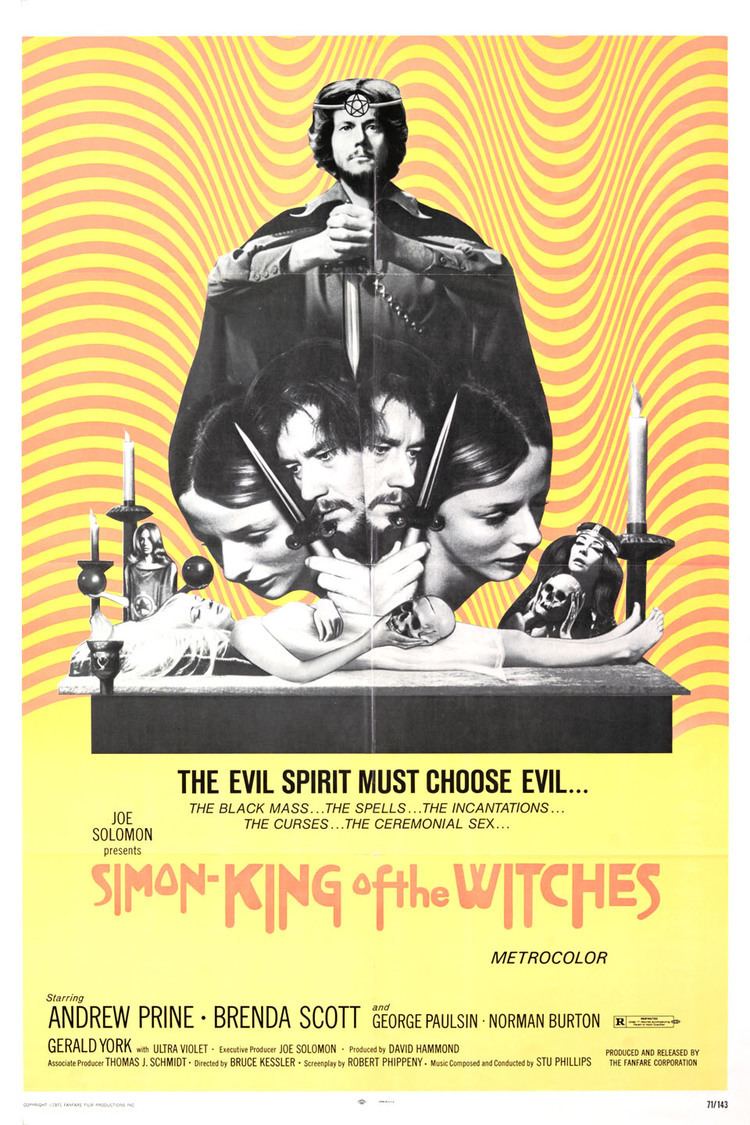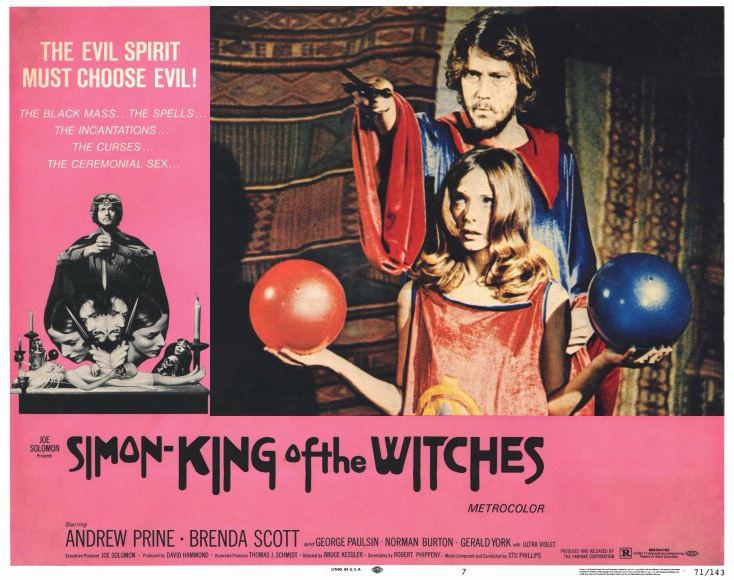 Simon Sinestrari (Andrew Prine), a cynical Ceremonial magician, is on a quest to become a god. Simon is living in a storm sewer, selling his charms and potions for money, when he is befriended by a young male prostitute named Turk (George Paulsin). Turk introduces Simon to his world of drugs, wild parties, and bizarre Satanic rituals featuring a goat and Andy Warhol star Ultra Violet. Death, freakouts and mayhem ensue, along with romance for Simon with the district attorney's vague daughter (Brenda Scott).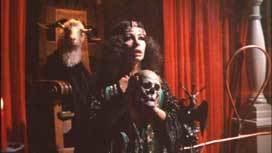 Andrew Prine as Simon Sinestrari
George Paulsin as Turk
Brenda Scott as Linda
Gerald York as Hercules
Norman Burton as Rackum
William Martel as Commissioner Davies
Ray Galvin as Chief Boyle
Art Hern as Mayor
Ultra Violet as Sarah
Harry Rose as Landlord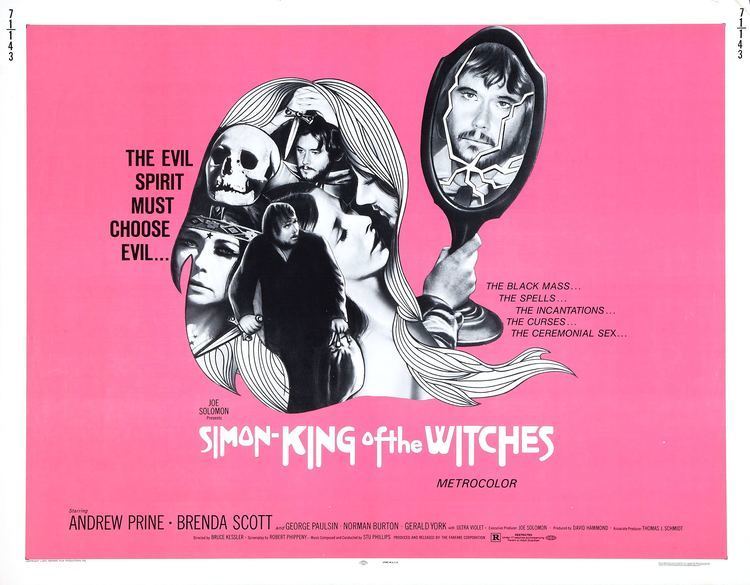 The misleading advertising campaign, which set up Simon as a Satanic sex orgy film cashing in on the Charles Manson trials, seriously hurt the film at the box office. The film is practically bloodless, with only brief nudity (which, again against the norm, actually serves a purpose in the story) but no explicit sex and no parallels whatsoever with Manson. Like many other more eccentric 1970s low budget genre films, Simon has become a cult film over the years, albeit an extremely marginal one.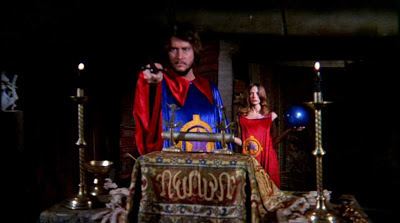 There was also a paperback novelization of Simon by Baldwin Hills, more than likely a pen name, which took the satirical camp of the film one step further into full-on absurd comedy. Long since out of print, the book comes up occasionally on eBay and online used book stores.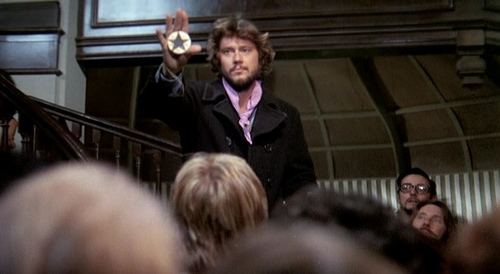 What sets Simon, King of the Witches apart from the legion of occult genre films of the late-1960s and early-1970s is the script, which is far more literate and versed in the esoteric than the norm, both offering new twists to and poking fun at the clichés of the genre.
Simon is also much more of a camp satire than a horror film. Several scenes are obviously meant to be taken as black comedy, a fact that tends to escape traditional horror fans.
The movie begins with Simon walking in the rain, reciting a monologue about being a powerful warlock, after which he is immediately busted for vagrancy.
Simon lives in a storm drain, where he performs rituals to the Goddess Aphrodite, and advises us on magical etiquette.
A rainstorm floods the storm drain and washes away his magical paraphernalia.
Simon's fortunes improve and, per the stereotype of many "powerful magicians", takes up residence in a basement (though, breaking another stereotype, it is not his parents' basement).
Turk and Simon crash a "Wiccan" ceremony presided over by Ultra Violet. Every cliché in the book is dragged out, from spooky music, sinister chants, references to "Queen of the Night", to people undressing and eventually worshiping a real live goat. In a separate room, Turk is getting it on with a nude woman on an altar who refers to herself as a "sacred object" (a reference to the Church of Satan tradition of woman-as-altar). Simon is thoroughly unimpressed with the goings on and eventually ridicules the coven much in the way Frank Langella mocks Lena Olin's devil worshipers in the Roman Polanski film The Ninth Gate. The amused couple make a hasty exit with the angered "Wiccans" on their tail.
Simon commands a pulsing ball of light that attempts to harm him, pointing his athame (ritual knife) at it and declaring, "I am Simon! I am God!"
Simon shares with us his elaborate plans to enter the realm of the gods via sex magic, a special mirror, and the importance of proper timing.
Simon attempts to hex "the establishment", to the manic, scenery-chewing delight of drug dealers and petty criminals.
Simon yells at the gods, "Yea, though you may cast me down, I will rise and rise again until I stand among you!"
Through all of this, Simon's approach to his magic and the world is nothing short of cynical, and simultaneously practical yet grandiose. He holds absolutely no romanticism at all towards his work and reacts to everything else with laconic amusement.
The film was released on special edition DVD by Dark Sky Films in 2008.
Simon, King of the Witches Wikipedia
Simon, King of the Witches IMDb
Simon, King of the Witches themoviedb.org