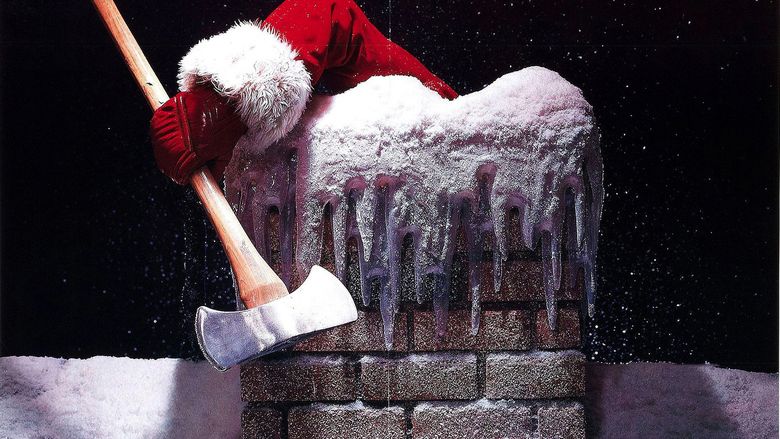 In 1971, 5-year-old Billy Chapman and his family go to visit a nursing home where his catatonic grandfather stays; he tells Billy about how Santa Claus give presents to the nice children, but punishes the naughty. While driving back, a criminal dressed in a Santa outfit, who robbed a liquor store and killed the store clerk, seemingly has car trouble and gets Billy's family's attention to pull over and help. As they pull over, the Santa-clad criminal shoots the father with a pistol and slits the mother's throat with a switchblade in front of Billy and his younger brother Ricky. Billy then runs off to hide with Ricky left in the car.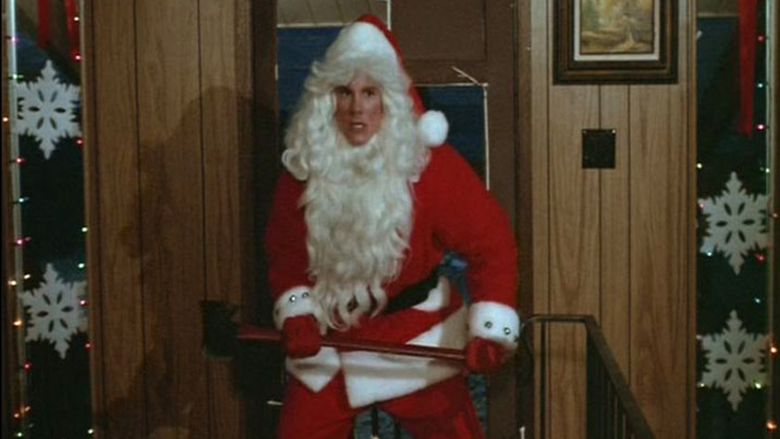 Three years later in 1974, Billy and Ricky are celebrating Christmas in an orphanage run by Mother Superior, a strict disciplinarian who persistently strikes children who misbehave and considers punishment for their wicked actions a good thing. Sister Margaret, the only one who sympathizes with the children, tries to help Billy play with the other children, but Billy is constantly subject to Mother Superior's scrutinizing eyes and regularly punished. On Christmas morning, the orphanage invites a man in a Santa Claus suit to visit the children; Billy gets dragged by Mother Superior and he punches the man before fleeing to his room in horror.
Ten years later, in Spring of 1984, a now adult Billy leaves the orphanage to find a normal life, and obtains a job as a stock boy at a local toy store thanks to Sister Margaret. At the store, he develops a crush on his coworker Pamela; he has sexual thoughts regarding her, but are often interrupted by morbid visions of his parent's murders. On Christmas Eve, the employee who plays the store's Santa Claus has been injured the night before and as a result Billy's boss Mr. Sims makes him take his place. After the store closes, the staff has a Christmas Eve party. Billy (still dressed in a Santa Claus suit) tries to have a good time at the party, but he keeps having memories of his parents murder causing him to feel depressed. At one point, he sees his co-worker Andy making out with Pamela and they both walk into the back room. Billy walks after them and sees Andy trying to rape Pamela. This finally psychologically triggers his insanity; he hangs Andy with a string of Christmas lights and stabs Pamela with a utility knife, uttering darkly that punishment is good. A highly intoxicated Mr. Sims goes into back room to check on the noises he hears. Just when he's about to leave Billy murders him with a hammer. Billy turns off the store's lights, causing his manager Mrs. Randall to go check out the back room. She screams at the sight of Mr. Sims's corpse and tries to call the police but Billy cuts the phone line causing her to run and hide. Billy walks around the store trying to find her and at one point Mrs. Randall jumps out and trips Billy, stealing his double-bit axe. She attempts to break the windows with the axe but Billy shoots her with a bow and arrow, killing her.
As Sister Margaret discovers the carnage and returns to the orphanage to seek help via telephone, Billy breaks into a nearby house where a young couple named Denise and Tommy are having sex; Billy then impales Denise on a set of deer antlers before he throws Tommy through a window. This awakens a little girl named Cindy who may either be a younger sibling or a daughter of one of the 2 people killed there (ages and circumstances were not established in the movie). Billy then confronts her and asks her if she has been nice or naughty; she says nice and Billy gives her the utility knife he had used earlier. After this, he witnesses bullies picking on two sledding teenage boys and decapitates one of the bullies with his axe as the other screams in horror.
The next morning, the orphanage is secured with Officer Barnes and Captain Richards aided by Sister Margaret, who knows that Billy has been doing the murders. The deaf pastor Father O'Brien, who was dressed in a Santa outfit, is mistakenly shot by Barnes upon coming forward and is soon axed by Billy while distracted. Due to his Santa outfit, Billy gains access into the orphanage and confronts Mother Superior, who remains in a wheelchair. She taunts Billy due to her disbelief in Santa Claus and just as he prepares to kill her with his axe, Richards appears and shoots him in the back much to Sister Margaret's disapproval. As the dying Billy lays on the ground, he utters to the nearby children "You're safe now, Santa Claus is gone." before succumbing to his wounds. As the children gather around, his younger brother Ricky witnesses this and coldly staring at Mother Superior, he utters "naughty".
Initially throughout production, the film was titled as Slayride, before TriStar decided to change the title to Silent Night, Deadly Night. The film was shot on location in Salt Lake City and Heber City, Utah.
The film's editor Micheal Spence came in as the co-director for the film. This was because director Charles E. Sellier Jr. was uncomfortable with shooting the death scenes.
The film was released theatrically in the United States by TriStar Pictures on November 9, 1984, opening to 400 theaters in the Eastern United States. On its opening weekend, the film outgrossed Wes Craven's landmark slasher A Nightmare on Elm Street, which opened the same day. Before being pulled from theaters, it grossed $2,491,460 at the box office, still making the film a success against its $750,000 budget.
In November 2013, it was announced that Fangoria in association with Brainstorm Media and Screenvision would be re-releasing the film to theaters in the United States throughout December 2013.
Silent Night, Deadly Night was one of the most controversial films of the 1980s due to its advertising campaign, particularly posters and TV spots, that made significant emphasis on the killer being dressed as Santa Claus. The PTA fought to have this film removed from theaters due to its subject matter and the fact that it was shown around Christmas, although an earlier film with a similar premise had gone unnoticed. Television advertisements, which aired between episodes of family-friendly series such as Three's Company and Little House on the Prairie, led to parents complaining that their children were terrified of Santa Claus. Large crowds (mostly angry families) formed at theaters and malls around the nation to protest the film; at the film's East coast premiere at the Interboro Quad Theater in The Bronx in New York City, protesters picketed the theater and sang Christmas carols in protest.
In response, TriStar Pictures, the film's original distributor, pulled all ads for the film six days after its release on November 15, 1984. The film itself was also withdrawn shortly thereafter, due to the controversy. In response to the public outcry, producer Ira Barmak told People magazine: "People have taken offense at Santa being used in a scary context... Santa Claus is not a religious figure, he's a mythic character. I didn't deliberately ride roughshod over that sensitivity and I didn't anticipate the objection to it." An editorial published in Variety stated: "Most protests were generated by the feeling that the depiction of a killer in a Santa Claus suit would traumatize children and undermine their traditional trust in Santa Claus."
The film was later re-released by an independent distributor, Aquarius Films, in May 1985, with an ad campaign replacing the original "Twas the night before Christmas"-themed trailer with a new one that centered on the controversy surrounding the film and edited out all close-up shots of Billy, in the Santa suit, with weapons. The print ad material also replaced the original 'Chimney' picture with one that talked about the controversy.
In the United Kingdom, the movie was never submitted for certification to the BBFC, and its sequel was denied a video certificate in 1987 after the distributors refused to make the cuts required for an '18' certificate. However, in 2009, Arrow Films submitted the film to the BBFC for classification, who passed the film uncut with an 18 certificate. The UK DVD was released on November 23, 2009.
Upon its original release in 1984, it received a negative reception from critics. However upon years since it release, as the controversy began to fade away, later reception turned generally mixed-to-negative with reviews being slightly more positive, and has since gained a cult audience. On review aggregator website Rotten Tomatoes, it currently holds a 31% approval rating based on 13 reviews.
Siskel and Ebert condemned the film and Siskel went as far as to read names of the film's production crew on air, telling them, "shame on you". Siskel also said that all the money the filmmakers were making off of this film was blood money. Leonard Maltin also denounced the film, calling it a "...worthless splatter film", giving it zero stars and asking: "What's next, the Easter Bunny as a child molester?" A Daily Variety review argued that whatever arguments the film was making on the commercialism of Christmas was overshadowed by the graphic violence, which the reviewer saw as off-putting. Michael Wilmington wrote in the Los Angeles Times: "[it's] safe to predict that Silent Night, Deadly Night… will start making 'Worst Movie of All Time' lists almost immediately." One positive notice came from Kirk Ellis from The Hollywood Reporter, who complimented director Sellier's "workmanlike competence," and praised the cinematography and Gilmer McCormack's performance as Sister Margaret.
The film was released three times on DVD in the United States by Anchor Bay Entertainment. The first release was a double feature disc alongside sequel Silent Night, Deadly Night Part 2 in 2003. The second release was in 2007. The first two region 1 releases are currently out of print.
The film was released on DVD in the United Kingdom in 2009 by Arrow Video; this set includes an audio interview with director Charles E. Sellier Jr., poster, booklet including "Deadly Director: Charles Sellier Interviewed by Calum Waddell" and "Silent Night, Sex Night: The Slice and Times of Linnea Quigley".
On December 4, 2012, the film was again released alongside Part 2 as a two-disc "Christmas Survival Double Feature", containing the same archival bonus features as the 2003 release.
On September 16, 2014, the film was released on Blu-ray by Anchor Bay/Starz Entertainment as a 30th Anniversary Edition. No new special features were included, with the exception of a few new commentaries, none of which any of the actors participated in. The Blu-ray contains exactly the same release as previous DVD editions with the extended scenes edited back into the film with noticeable picture quality changes. There has yet to be a release of the full, uncut print from a single source.
On December 5, 2017, Shout Factory under it's Scream Factory label will release the film in a two disc-set collector's edition on Blu-ray and DVD. It will contain the film remastered in a 4K resolution from the original negative. It will also contain new special features such as an interview and audio commentary from actors Robert Brian Wilson and Linnea Quigley, co-executive producers Scott J. Schneid and Dennis Whitehead, writer Michael Hickey, music composer Perry Botkin, and editor Michael Spence. It will also contain a new documentary on the making of the film entitled Slay Bells Ring: The Story of Silent Night, Deadly Night which will include interviews from the cast and crew. The original theatrical trailer, radio and TV spots will be included. It will also contain the original special features from the 2003 and 2012 DVD and 2014 Blu-ray releases as well.
Scream Factory is releasing a limited edition deluxe offer that will contain the collector's set along with a 18x24 size poster of the new artwork for the film, as well as an 8" tall figure of Billy in his Santa suit holding his double-bit axe. This offer is limited to 2,000 orders and pre-orders have started on September 7, 2017.
Due to the minor success of the film, four sequels were created. Two of which, Silent Night, Deadly Night Part 2 and Silent Night, Deadly Night 3: Better Watch Out!, focus on Billy's younger brother Ricky turned evil and becoming a serial killer similar to his older brother Billy, in which he was killed from having become insane of his past. Silent Night, Deadly Night 4: Initiation and Silent Night, Deadly Night 5: The Toy Maker, however, are entirely different and each focusing on a different Christmas-themed horror story.
A loose remake of the film titled Silent Night was released on December 4, 2012, starring Jaime King and Malcolm McDowell.
Muir, John Kenneth (2012). Horror Films of the 1980s. 1. McFarland. ISBN 978-0-786-47298-7.
Rockoff, Adam (2011). Going to Pieces: The Rise and Fall of the Slasher Film, 1978-1986. McFarland. ISBN 978-0-78646-932-1.