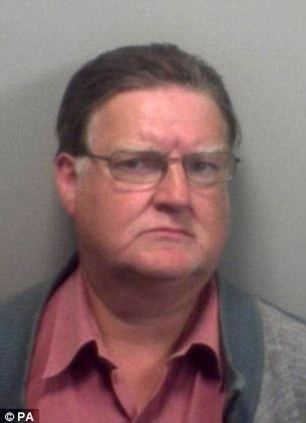 After working as a farm labourer, Cooke found a job as a fairground worker by the 1960s, which allowed him to travel around the UK easily. As part of his system to lure in young boys, Cooke set up a child's version of the "Test Your Strength" amusement.
In the 1970s, Cooke and a group of paedophiles began hiring rent boys and then taking young boys off the streets, who then were drugged and then raped and abused in group orgies. By the mid-1980s, the group had acquired a flat on the Kingsmead estate in Hackney, East London.
In November 1985, a group led by Cooke had each paid £5 to gang-rape 14-year-old Jason Swift in what the media described as a homosexual orgy. After his body was found in a shallow grave by a dog walker, an investigation by the Metropolitan Police led to the arrest of Cooke, along with three accomplices – Leslie Bailey, Robert Oliver and Steven Barrell. Cooke was sentenced at the Old Bailey to 19 years in Wandsworth Prison in May 1989 for the manslaughter of Swift.
Bailey had informed authorities that Cooke was among those who murdered 7-year-old Mark Tildesley in Wokingham, Berkshire. Tildesley disappeared while visiting a funfair in Wokingham on the evening of 1 June 1984. Bailey alleged that Tildesley was lured away from the fair by Cooke for the promise of a 50p bag of sweets. His bicycle was found chained to railings nearby. Cooke's role in the murder was not investigated until 1999; by this time, Bailey was dead, having been murdered in prison in October 1993. In 1991, the Crown Prosecution Service declined to prosecute Cooke for Tildesley's murder as he was already in prison for the manslaughter of Swift. Cooke has indicated he knows where Tildesley's body is buried, but refuses to tell the police, or the boy's family, the exact location.
Cooke's sentence for the murder of Swift was reduced to 16 years on appeal in 1989, and he was paroled nine years later in April 1998. He told an appeals court that Bailey was the ringleader of the gang, who are believed to have killed at least nine victims. Cooke's parole caused huge public outrage. This was exacerbated by a plan to move him to a hostel near two schools, and Cooke himself admitted that he might re-offend; while in prison, he refused to take part in rehabilitation sessions. Police refused to disclose the location where he was to be moved, smuggling him out of jail to avoid a vigil for his victims.
Following an investigation by the Channel 4 documentary programme Dispatches, Thames Valley Police began the reinvestigation of a series of rape and other serious sexual offences against young boys. On 26 January 1999, Cooke was again arrested by Thames Valley Police, and charged at Reading police station with committing 18 sex offences which occurred between 1972 and 1981. These included repeated abuse and assault of two brothers and the rape of a young woman. Many of the offences had come to public attention after they were disclosed in the Channel 4 documentary.
At his trial on 5 October 1999, Cooke pleaded guilty to sexually abusing the two brothers on ten occasions in 1972 and 1973. He admitted to having carried out five counts of indecent assault and five counts of buggery but denied the remaining eight charges, which were four counts of rape, three further counts of indecent assault, and one of buggery, that occurred in 1981. These were abandoned by the judge, who ordered them to lie on file. Following Cooke's sentencing, NSPCC director Jim Harding said:
On 17 December 1999, Cooke received two life sentences, and the judge told Cooke that he would only be considered for release after he had served a five-year jail sentence.
In the 2001 Brass Eye satirical special Paedogeddon, Chris Morris reported that Cooke had been sent into outer space to keep him away from children. Prior to the launch, an eight-year-old boy was placed on board by mistake.