Sidlaghatta is a town in the Chikkaballapur district in the Indian state of Karnataka. It is known for raw silk.There are 243 inhabited villages in the town. Sidlaghatta is the taluk headquarters. All the taluk administration lies with the taluk panchayat for the implementation of developmental schemes and their progress.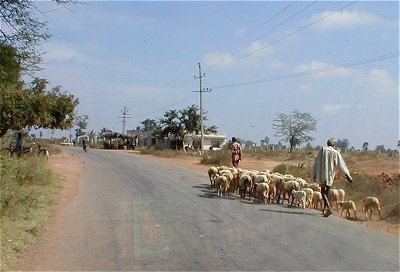 Sidlaghatta word is derived from Kannada word sidilu ghatta. which means the place where normally thunder storms(sidilu) would occur at the mountains(ghatta). There were also proof less stories which says Maratha king chatrapathi Shivaji lost his horse because of the thunder bolt hit, hence the then local commander of shivaji gave the name sidilu ghatta.
Sidlaghatta has an average elevation of 878 metres (2880 feet).
As of 2001, Sidlaghatta had a population of 41,105. Males constitute 52% of the population and females 48%. Sidlaghatta has an average literacy rate of 62%, higher than the national average of 59.5%: male literacy is 67%, and female literacy is 56%. In Sidlaghatta, 14% of the population is under 6 years of age.
The climate is dry and hot during summer. The average rainfall is 768 mm, which is slightly above the district's average rainfall. On average, it rains 45 days in a year.
Shidlaghatta is famous for silk production in the world. It has Asia's second biggest cacoon market.
Sidlaghatta has almost 100 villages and including 'Sonnenahalli', Anooru, Ammagarahalli, Bashettahalli, Valasenahalli,Dibburahalli, Sadali, Dyavarahalli, Idludu, Melur, Malluru, Muttur, Yannanguru and Nadipinayakanahalli, Kambadahalli, Hemarlahalli, Hittalahalli.