Croatia




Zeljko Buric (HDZ)




46,332




Krka, Sibenik Cathedral, Zlarin, Krapanj, Prvic



Sibenik is a historic town in Croatia, located in central Dalmatia where the river Krka flows into the Adriatic Sea. Sibenik is a political, educational, transport, industrial and tourist center of Sibenik–Knin County.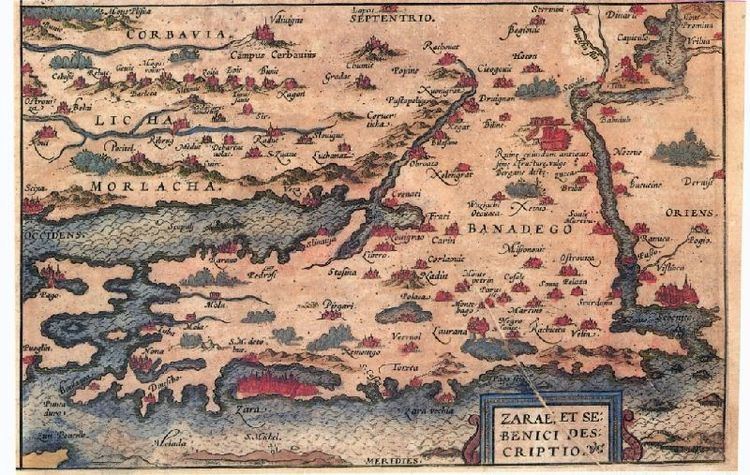 Unlike other cities along the Adriatic coast, which were established by Greeks, Illyrians and Romans, Sibenik was founded by Croats. Excavations of the castle of Saint Michael, have since proven that the place was inhabited long before the actual arrival of the Croats. It was mentioned for the first time under its present name in 1066 in a Charter of the Croatian King Petar Kresimir IV and, for a period of time, it was a seat of this Croatian King. For that reason, Sibenik is also called "Kresimirov grad" (Kresimirs city). It is the oldest native Croatian town on the eastern shores of the Adriatic.
Between the 11th and 12th centuries, Sibenik was tossed back and forth among Venice, Byzantium, Hungary and the Kingdom of Bosnia. It was conquered by the Republic of Venice in 1116, who held it until 1124, when they briefly lost it to the Byzantine Empire, and then held it again until 1133 when it was retaken by the Kingdom of Hungary. It would change hands among the aforementioned states several more times until 1180.
The city was given the status of a town in 1167 from Stephen III of Hungary. It received its own diocese in 1298.
In the 14th century, "Vlachs" were present in the hinterland of Sibenik.
The central church in Sibenik, the Cathedral of St. James, is on the UNESCO World Heritage list.
Several successive architects built it completely in stone between 1431 and 1536, both in Gothic and in Renaissance style. The interlocking stone slabs of the Cathedrals roof were damaged when the city was shelled by Serbian forces in 1991. The damage has since been repaired.
The annual Sibenik International Childrens Festival (Medunarodni Djecji Festival) takes place every summer. Since 2011 the Terraneo festival is held in August on a yearly basis on a former military area in Sibenik. The composer Jakov Gotovac founded the citys "Philharmonia Society" in 1922. The composer Franz von Suppe was part of the citys cultural fabric, as he was a native of nearby Split.
Sibenik Wikipedia
(,)http://www.intechopen.com/source/html/38306/media/image5_w.jpg(,)http://img.zvab.com/member/a1010w/46642347.jpg(,)http://www.sic-journal.org/uploads/articleimgs/fb3a33c9-74d9-4afb-a3d3-c72b5bfddd66.jpg(,)http://www.croatia-expert.com/wp-content/uploads/2008/02/sibenik_old_town_map.jpg(,)http://croatiaexperience.com/EasyEdit/UserFiles/zadar%2520detalj.jpg(,)http://www.croatianhistory.net/gif/zadar/berchich_shibenik_bosnia.jpg(,)https://secretdalmatia.files.wordpress.com/2014/03/secret_dalmatia_pyramid_2_.jpg(,)http://farm8.staticflickr.com/7142/6744415261_76be2ffbdb.jpg(,)http://www.sic-journal.org/uploads/articleimgs/33cbd444-42f7-4d48-943e-534b9d439acf.jpg(,)https://i0.wp.com/farm8.staticflickr.com/7005/6744406879_8710fe6f55.jpg(,)http://www.croatianhistory.net/gif/art/sibenska_katedrala_sv-jakova.jpg
(,)https://c2.staticflickr.com/4/3937/15342675509_f9aecdfc42_b.jpg(,)http://static.panoramio.com/photos/large/97298491.jpg(,)http://static.panoramio.com/photos/large/97298488.jpg(,)http://www.solaris.hr/wp-content/uploads/2014/09/Game_of_thrones_in_%25C5%25A0ibenik_Croatia_st_John_fortress_4.jpg(,)http://photos1.blogger.com/blogger/6805/772/1600/DSCN3190.jpg(,)http://www.solaris.hr/wp-content/uploads/2014/09/Game_of_thrones_in_%25C5%25A0ibenik_Croatia_st_John_fortress_3.jpg(,)http://www.sunreef-charter.com/img/paragraphs/644881_41395970.jpg(,)http://i.ytimg.com/vi/CHGZn5JQ7L4/maxresdefault.jpg(,)http://previews.123rf.com/images/plotnikov/plotnikov1205/plotnikov120500102/13658802-Picturesque-landscape-with-Sibenik-old-city-Croatia-Stock-Photo.jpg(,)http://www.adria-holidays.net/img/en/camp-park-solaris-sibenik-croatia-bak/adria-holidays-sibenik-croatia-city-landscape.jpg(,)https://www.artmajeur.com/files/labrovic/images/artworks/650x650/141998_motiv-kod-sibenika-36x47.jpg
(,)http://www.eurodyssee.eu/fileadmin/Images/EntitesGeo/Europe/Croatia/SibenikKnin/sibenikknin_eurodyssee.jpg(,)http://www.techtransfersikc.eu/m/20150116mzos04.jpg(,)http://www.techtransfersikc.eu/m/20150116mzos03.jpg(,)http://www.techtransfersikc.eu/m/CYC20140000.jpg(,)http://hotspots.net.hr/wp-content/uploads/2013/01/skradin_7.jpg(,)http://croatia.hr/Images/t900x600-3262/Mediterannean_Croatia_Sibenik_Primosten.jpg(,)http://www.techtransfersikc.eu/m/SBP20150109.jpg(,)http://hotspots.net.hr/wp-content/uploads/2013/04/sibenik1.jpg(,)https://a2.muscache.com/pictures/73500048/x_large.jpg(,)http://croatia.hr/Images/t900x600-18796/croatia_dalmatia_sibenik_blitvenica_001.jpg(,)http://www.techtransfersikc.eu/m/20150116mzos02.jpg(,)http://www.techtransfersikc.eu/TTSiKC.png
(,)http://allyouneed.hr/wp-content/uploads/2015/01/regata.jpg(,)http://data.myadriatic.com/travel/files/terraneo-%25C5%25A1ibenik-croatia-130506-102716.jpg(,)http://www.solaris.hr/wp-content/uploads/2014/07/Sibenik_child_friendly_city_children_fetsival1.jpg(,)http://venia-mag.net/wp-content/uploads/2014/08/Puncke.jpg(,)http://blog.terradalmatica.hr/wp-content/uploads/2013/07/sv.frane_.church.jpg(,)http://s.inyourpocket.com/gallery/item_64918.jpg(,)http://www.mdf-sibenik.com/wp-content/uploads/2012/03/mdf-foto-628x417.jpg(,)http://allyouneed.hr/wp-content/uploads/2015/01/sibenik_001.jpg(,)http://data.myadriatic.com/travel/files/Sibenik-International-Childrens-Festival-130617-121839.jpg(,)http://thegardenfestival.eu/img/newsletter/images/sibenik%2520bungee%2520jumping.jpg(,)http://www.likecroatia.com/wp-content/uploads/2013/07/terraneo_djecaci8-080812.jpg(,)http://s.inyourpocket.com/gallery/item_64917.jpg(,)http://imgc.allpostersimages.com/images/P-473-488-90/29/2968/628QD00Z/posters/martin-moos-audience-at-international-children-s-festival-sibenik-croatia.jpg
(,)http://s.inyourpocket.com/gallery/item_99337.jpg(,)http://s.inyourpocket.com/gallery/item_99339.jpg(,)http://www.inyourpocket.com/gallery/97916.jpg(,)http://s.inyourpocket.com/gallery/item_64915.jpg(,)http://croatia.org/crown/content_images/2009/sibenik/sibenik_djecji_festival3e.jpg(,)http://croatia.hr/Images/t900x600-21667/Medunarodni-djecji-festival-%257C-Sibenik.jpg(,)http://visitdalmatia.com/sibenik/images/sibenikarts4.jpg(,)http://croatia.hr/Images/t900x600-21668/Medunarodni-djecji-festival-%257C-Sibenik.jpg(,)http://www.likecroatia.hr/wp-content/uploads/2012/11/Niksa-Stipanicev-vino-ino-3.jpg(,)http://hmd-cms.hr/power-of-fungi-2015/wp-content/uploads/2014/07/sibenik-detalj.jpg(,)http://s.inyourpocket.com/gallery/item_97917.jpg(,)http://www.likecroatia.com/wp-content/uploads/2014/07/Game-of-Thrones-Iron-Throne.jpg(,)http://croatia.hr/Images/t900x600-18424/zongleri.jpg(,)https://s-media-cache-ak0.pinimg.com/736x/92/bc/9e/92bc9e8f36111fd95a840f242fa1becb.jpg(,)http://hotspots.net.hr/wp-content/uploads/2014/09/Sajam-u-srednjovjekovnom-%25C5%25A0ibeniku-9.jpg(,)http://upload.wikimedia.org/wikipedia/commons/4/45/Dinarska_nosnja_KUU_Zvona_Zagore_Knin_04082011_4910.jpg(,)http://hanna-murter.com/wp-content/uploads/2015/02/sibenik6.jpg
(,)http://www.sibenik-croatia.info/images/sibenik-area-map.jpg(,)http://www.holidayscroatia.biz/vacation-rentals-apartment-villas-house-homes-rooms-croatia/tourist-travel-guide-informations-croatia/coastal-map-of-sibenik-riviera-croatia-dalmatia.jpg(,)http://www.solaris.hr/wp-content/uploads/2015/03/10495378_10154464641240057_1015309229185308133_o.jpg(,)http://www.visit-sibenik.com/images/sibenik-mapa.gif(,)http://thegardenfestival.eu/img/newsletter/images/sibenik2.jpg(,)http://www.bestourism.com/img/items/big/8005/Sibenik_Bustling-tourist-center_15044.jpg(,)http://www.solaris.hr/wp-content/uploads/2014/11/Sibeniks_St.Michael_fortress_winner_the_best_cultural_tourist_attraction_of_the_year_06.jpg(,)http://croatia.hr/Images/t900x600-306/croatia_dalmacija_sibenik_0001.jpg(,)https://www.connecto-taxi.com/files/images/gallery_croatia/sibenik_vodice_1.jpg(,)http://www.solaris.hr/wp-content/uploads/2015/01/Sibenik_tourist_region_attraction_best_destination_sibenik_old_town.jpg(,)http://www.croatiacharterholidays.com/tolteam/upload/lokacija/53/v170.jpg(,)http://www.mappery.com/maps/Sibenik-City-Map.mediumthumb.jpg(,)https://www.connecto-taxi.com/files/images/gallery_croatia/sibenik_vodice_2.jpg