Azerbaijan




Siy?z?n



700 km2




Siyazan or Siazan (Azerbaijani: Siyəzən) is an rayon in Azerbaijan, capital Siyəzən.The word Siyazan means "black female" in Tati. The area has population 37,900 (2010 census).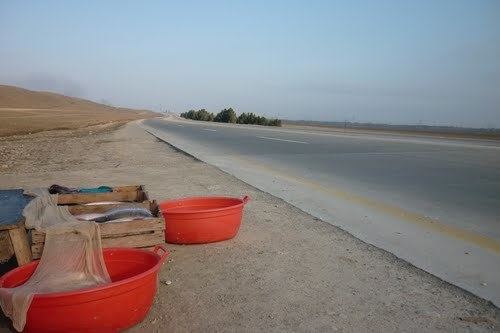 The rayon is located in the eastern part of Azerbaijan, in Samur-Davachi lowland, on the shore of the Caspian Sea near Greater Caucasus. It borders upon Khizi and Shabran Rayons. Greater Caucasus Mountain ridge crosses western part of the lowland extending along the Caspian Sea. Its latitude is 28 m. Beshbarmag Mountain is its most well-known mountain with an altitude of 500 m. Geological structure and sedimentation detected in the territory of the rayon is dated to Paleogene and Neogene periods.
Surface of the lowland's south-western part makes up a semi-desert landscape. Meadow and forest landscapes are typical for its mountainous parts, where grey meadow and chestnut-brown soils spread. The Atachay and Gilgilchay Rivers flowing through the territory of the rayon spring from mountainous parts. Snow and rain swell the rivers.
For the first time Siyazan Rayon was originated on February 11, 1940. In 1959, it was eliminated and included into Shabran Rayon. On April 2, 1992 borders of Siyazan Rayon were restored by the order of Supreme Soviet of Azerbaijan. Until February 11, 1939 Siyazan Rayon was a part of Absheron Rayon. From 1939 to 1959, Khizi and Siyazan Rayons were a single rayon. Gizilburun, later renamed to Siyazan in 1954, was its center. In 1992, the status of the rayon was re-established, but Chirag-gala and Aghbash sanatoriums were given to Davachi Rayon (the given settlements are in the territory of Siyazan Rayon).
Siazan District Wikipedia