Batting average

.257




Win–loss record

14-4




Height

1.93 m




Hits

103




Earned run average

3.07




Salary

15 million JPY (2013)





Home runs

13




Name

Shohei Otani




Siblings

Ryuta Otani




Runs batted in

51




Role

Baseball player




Parents

Toru Otani, Kayoko Otani






Current team

Hokkaido Nippon-Ham Fighters (#11 / Pitcher)




Similar People

Shintaro Fujinami, Sho Nakata, Yu Darvish, Yuki Saito, Takahiro Norimoto
【Shohei Otani】Amazing Straight in high school age
Shohei Otani (大谷 翔平, Ōtani Shōhei, born July 5, 1994) is a Japanese baseball pitcher and outfielder who currently plays for the Hokkaido Nippon-Ham Fighters of Nippon Professional Baseball's (NPB) Pacific League. He was the first pick of the Fighters in the 2012 draft. He has officially recorded the fastest pitch by a Japanese pitcher and in NPB history at 165 kilometres per hour (102.5 mph).
Contents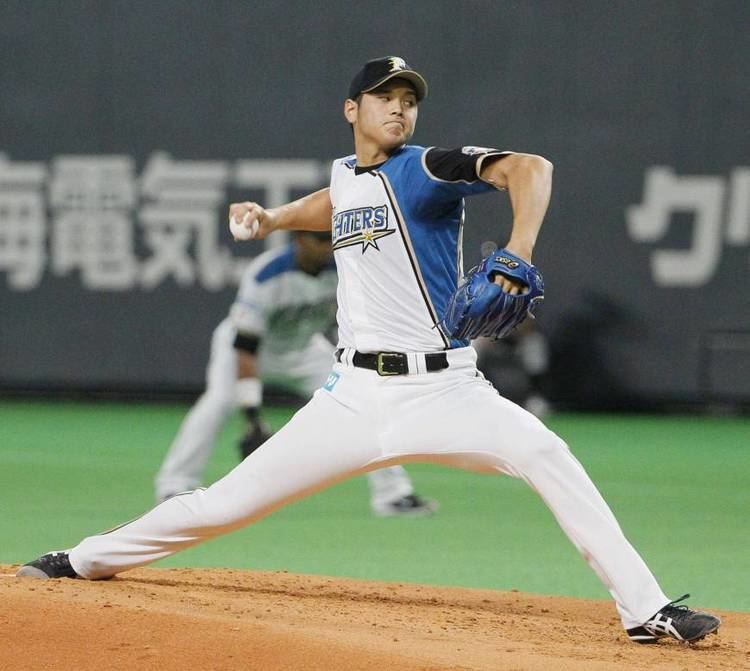 Shohei otani 2016 highlights
Early career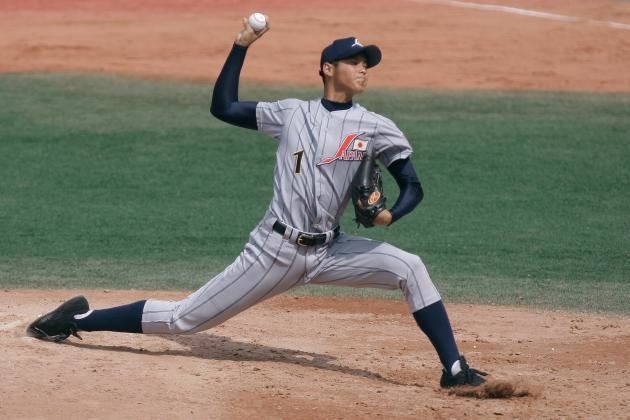 Shohei Otani attended Hanamaki Higashi High School in Iwate prefecture, Northern Japan. Otani recorded the fastest pitch by a Japanese high school pitcher at 160 km/h (99 mph). He set the record in the Japanese national high school baseball championship tournament, commonly called Summer Koshien. Otani was 0-1 in the 2012 18U Baseball World Championship, with 16 strikeouts, 8 walks, 5 hits and five runs in 10 1/3 IP. In the 5th/6th place game, he fanned 12 and allowed just two hits in 7 innings but was outdueled by South Korea's Geon-Wook Lee.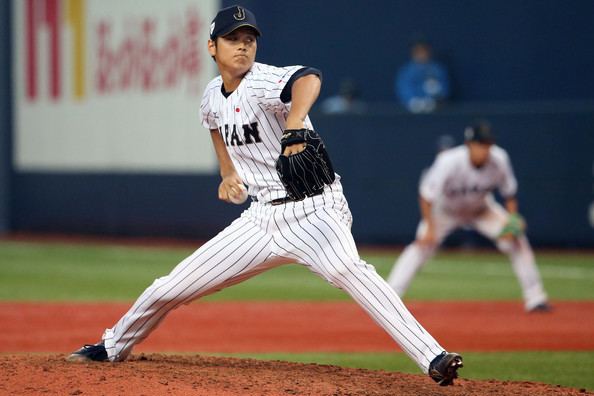 Otani expressed a desire to move directly to the major leagues after high school and received interest from numerous teams including the Texas Rangers, Boston Red Sox, New York Yankees and Los Angeles Dodgers. And on October 21, 2012 he announced that he would pursue a career in Major League Baseball rather than turn professional in Japan. The Hokkaido Nippon-Ham Fighters decided to draft him anyway, knowing that there was a high likelihood he would not play for them. But after a month-long negotiation between him and the Fighters, Otani announced that he would sign with the Fighters and spend some years in Japan before a possible MLB move. He was assigned the jersey number 11, previously worn by Yu Darvish. The official press conference was held on December 25.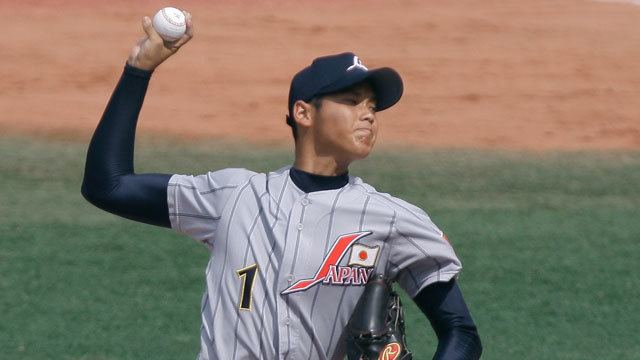 In Nippon Professional Baseball, Otani is often compared to Shintaro Fujinami, another young star pitcher who currently plays for the Hanshin Tigers. This has been the case since the two were matched up in the second round of the 2012 Spring Koshien, and Fujinami (from Osaka Tōin High School) took away the win.
2013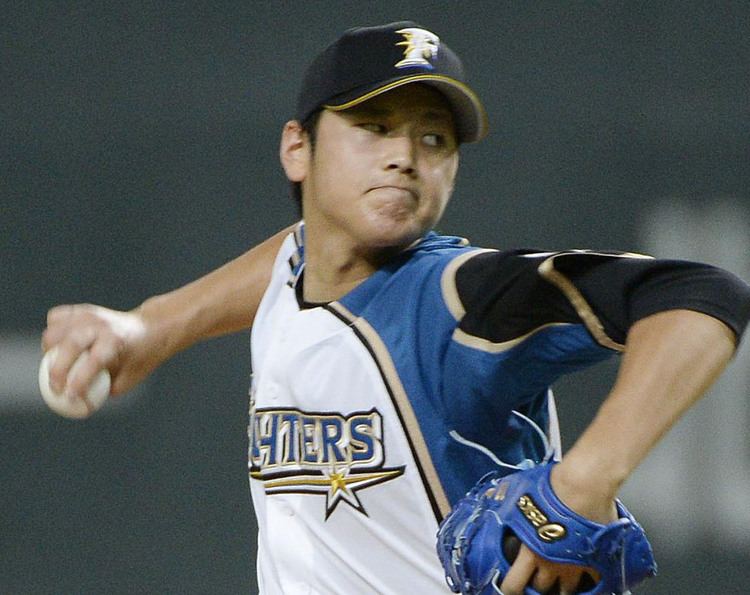 Otani made his debut at age 18 in the Hokkaido Nippon-Ham Fighters' season-opening game on March 29, 2013, playing as the rightfielder. He was selected for a Pacific League roster spot for the 2013 All-Star Game. As a pitcher, he finished the season with a 3–0 record in 11 starts. Otani was used as a rookie in both the outfield (leading the Fighters with 51 games in right) and at pitcher. The unusual two-way role was historic in lots of ways. He was the second Nippon Pro Baseball rookie drafted out of high school the prior year to be used as both a pitcher and position player, following Kikuo Tokunaga in 1951; Otani was the first to start in both roles. He was the first NPB pitcher since Takao Kajimoto in 1963 to bat 3rd, 4th or 5th and the first rookie hurler to do so since Junzo Sekine in 1950. He was the second player, following Osamu Takechi (also 1950), to start a game at pitcher, bat in the heart of the order (3rd through 5th) and get a hit and RBI in that game. He missed time during the year with a right ankle sprain and right cheekbone fracture. The fans voted the high-profile rookie into the All-Star Game despite mediocre numbers. For the season, he was 3-0 with a 4.23 ERA with 33 walks to 46 K in 61 2/3 IP and hit .238/.284/.376 in 204 plate appearances. He had 7 outfield assists to one error. His 8 hit batsmen tied Manabu Mima, Tadashi Settsu, Hideaki Wakui and Ryoma Nogami for 5th in the 2013 Pacific League. He did get 4 of the 233 votes for the 2013 Nippon Professional Baseball Rookie of the Year Award (Pacific League), tying Tatsuya Sato for a distant second behind Takahiro Norimoto.
2014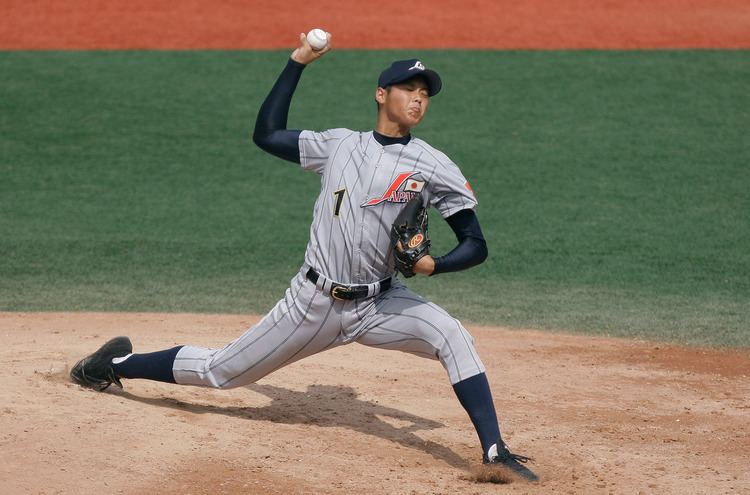 Throughout the entire season, Otani performed double-duty as a pitcher and outfielder, utilizing his strong throwing arm as well as his impressive batting skills. As a hitter, he batted .274, with 28 extra-base hits (including 10 home runs), 31 RBIs and a .842 on-base plus slugging percentage in 212 at-bats. As a pitcher, he was 11–4 with a 2.61 ERA in 24 starts and struck out 179 (third in NPB) in 155.1 innings. His 10.4 K/9 was the best in the league and opponents hit just .223 against him.
In a September 7 game against the Orix Buffaloes, he homered to straightaway center at Kyocera Dome to become the first Japanese player to reach double digits in both home runs and wins. He tossed a 1–0 shutout against Orix on September 13 and became the first pitcher out of high school to record a 1–0 shutout victory within his first two years for the Fighters since Toshiaki Moriyasu in 1967. He also became the first pitcher out of high school to notch two shutout victories within his first two years in the NPB since Yu Darvish.
During the July 2014 Mazda All-Star Game, he threw a 162 km/h (101 mph) fastball in the bottom of the 1st inning, setting a new record for the fastest official pitch thrown by a Japanese pitcher, beating the record set by the Yakult Swallows' Yoshinori Sato in 2010 (161 km/h (100 mph)). The jersey he wore during the game sold for 1,752,000 yen (US$16536.92), making it the top-seller at the All-Star 2014 Charity Auction. The proceeds were donated to three Tohoku earthquake children's relief funds.
On October 5 against the Eagles, Otani recorded the fastest pitch by a Japanese pitcher in an official game, tying Marc Kroon's all-time record for NPB pitchers. The pitch came against lead-off hitter Akiminai Ginji in the 1st inning. With the count 0–1, Otani threw a fastball that registered 162 km/h (101 mph) on the stadium radar gun and shattered Ginji's bat in half. He also hit 162 km/h twice against the second hitter, Aoi Enomoto. Of the fifteen pitches he threw in the 1st inning, eight were in the 160s.
During the postseason, Otani was chosen to become a member of the national team, dubbed Samurai Japan, and participated in the Suzuki All-Star Series, a five-game friendly competition with a squad of major leaguers. In game 1, he pitched one shutout inning in relief, retiring 3 consecutive batters. He started game 5 at the Sapporo Dome and, although his team ultimately lost (3–1), he wasn't charged with an earned run (he gave up two unearned), and of the 12 outs he recorded in four innings, he got seven via strikeout. He threw mostly fastballs, even clocked one at 160 km/h (99 mph), occasional curveballs, and a few forkballs in the mid-140s, including one he threw perfectly in the second inning to strike out Tampa Bay Rays star Ben Zobrist.
In December, he became the 2nd player out of high school in NPB history to reach 100M yen in salary in his third year, after Daisuke Matsuzaka in 2001. His new contract more than tripled his previous salary estimated at 30M yen.
2015
2015 marked Otani's third professional season (and second full season). Though his offensive production declined somewhat (5 home runs), his performance on the mound was among the best in the league, earning him the starter role in the 2015 All-Star Game and the pitching spot in the end-of-year Pacific League Best Nine awards. Otani started 2015 NPB All-Star Game 1 for the PL. He went two innings and fanned two, allowing one run (on a double by Yoshitomo Tsutsugo and a single by Jose Lopez), relieved by Nishi with a 1-0 deficit. The PL would lose 8-6 but he got a no-decision. He finished the season 15-5 with a 2.24 ERA, 196 strikeouts and only 100 hits in 160 2/3 IP. He led the PL in ERA (.14 over Nishi), tied Wakui for the most wins and was second in strikeouts (19 behind Norimoto, though he threw 34 fewer innings). He rarely played the field but did see some action at DH, hitting .202/.252/.376 with 5 HR in 109 AB. He made the Best Nine as the PL's top hurler. He finished third in MVP voting again, placing behind Yanagita and Shogo Akiyama for the 2015 Pacific League MVP. Otani placed third in MVP voting (first among pitchers) and was one of three candidates considered for the 2015 Sawamura Award, given annually to the top pitcher in either league.
Otani led the league in wins and winning percentage with a 15-5 record in just 22 starts, and his 2.24 ERA, 5 complete games, and 3 shutouts were also best in the league. All these stats were career bests, as were his 196 strikeouts, 0.909 WHIP, and 11 strikeouts per nine innings.
Otani was dominant for the Japanese national team in the 2015 Premier 12. He hit 100 mph while blowing away eventual champion South Korea (10 K, 2 H, 2 BB, 0 R in 6 IP) before Norimoto relieved. Facing South Korea again in the semifinals, he was even sharper (11 K, 0 BB, 1 HB, 1 H in 7 IP). He did not give up a hit until Keun-woo Jeong singled in the 7th and had the most whiffs in a game for the first Premier 12 ever. Norimoto relieved with a 3-0 lead but he and two other relievers combined to allow four in the 9th to blow it as Japan fell in a shocking defeat. He led the event in ERA (Scott Diamond had 12 innings with a 0.00 ERA to Otani's 13) and strikeouts (one ahead of Chun-Lin Kuo) while allowing the lowest average by a starting pitcher. He was named the All-Star SP for the event (Sho Nakata was the only other member of Samurai Japan to be picked for the All-Star team).
2016
In 2016, Otani had a breakout season as a hitter. In 104 games and 382 plate appearances, he hit 22 home runs. He also hit 18 doubles, 67 RBI, batted .322 with an OBP of .416, scored 65 runs and had 7 stolen bases. He won the Best Nine award as the designated hitter. Otani was the same dominant pitcher on the mound. In 21 games pitched, he had a career low in ERA at 1.86. He had a 10-4 record, struck out 174 batters in 140 innings with 4 complete games and one shutout. He also won the Best Nine award as a pitcher and won the Pacific League MVP.He got nearly double as many votes as any other pitcher for the PL for the 2016 NPB All-Star Game; he had 300,025 while #2 Shota Takeda had 158,008. He could not pitch in the event due to a blister on his finger but wound up starring as a DH. In Game 1, he batted for DH Yuya Hasegawa and lined out in the 8th against Scott Mathieson. Starting at DH and hitting 5th in Game 2, he homered off Shoichi Ino in the 5th to start the PL comeback from a 3-0 deficit. He singled against Ryo Akiyoshi in the 7th and scored on a hit by Kenta Imamiya for a 4-3 lead. Coming up with a 5-4 deficit in the 8th, he singled off Shinji Tajima to bring in Shogo Akiyama with the tying run. He thus produced three of the PL's five runs in the 5-5 tie, earning him game MVP honors. He hit 165 km/h (102.5 mph) on the radar gun during the year, breaking Marc Kroon's NPB record of 163 kmph.
He finished the year at .322/.416/.588 with 22 HR in 382 PA on offense and 10-4, 1.86 on the mound with 174 K in 140 IP. He tied for 8th in the PL in wins, was third in strikeouts (behind Norimoto and Kenda Segai) with a significantly better strikeout rate than either of those hurlers), would have led in ERA had he qualified (Ayumu Ishikawa led at 2.16; Otani was 3 IP shy of qualifying), would have been second in average if he had qualified (52 plate appearances shy; Katsuya Kakunaka led at .339), would have ranked 4th in OBP (between Akira Nakamura and Haruki Nishikawa), would have led in slugging (.065 ahead of Yanagita), would have led in OPS (35 ahead of Yanagita) and was 8th in home runs (every other player with 15+ had at least 50 more plate appearances).
He led Nippon Ham to the 2016 Japan Series, but lost the opener to the Hiroshima Carp; he fanned 11 in 6 innings but allowed 3 runs, two on a homer by Brad Eldred and one on a steal of home by Seiya Suzuki. Down 2 games to 0, he came up big as the DH in game 3, getting 3 hits, a run and a RBI. In the bottom of the 10th, he singled off Daichi Oserato score Nishikawa with the winner; Nippon Ham would take the next three games to win their second Japan Series title. Teammate Brandon Laird would win the Series MVP. Otani hit .375/.412/.625 with four doubles, doing more on offense than on the mound for the Series.
He made the Best Nine as the top pitcher in the PL - and as the top DH. He topped 4-time Cuban MVP Alfredo Despaigne easily at DH (190 votes to 47; 3 others combined for 8 votes) but the vote at pitcher was closer (he had 111 of 245 votes, Ishikawa 69 and Tsuyoshi Wada 61). He was the run-away winner of the 2016 Pacific League Most Valuable Player Award, getting 253 of 254 first-place votes (Naoki Miyanishi got the other one) and one second-place vote. He had 1,268 vote points, to 298 for runner-up Laird.
2017 World Baseball Classic
Otani was on the 28-man roster but was forced to withdraw due to an ankle injury. He was expected to be the ace of the Japan National Baseball Team.
Playing style
Otani is a 6 ft 4 in, 213 lb right-handed starting pitcher. With an overhand delivery, he throws a four-seam fastball averaging 96.2 mph (tops out at 165 kph/102.5 mph), an 86–88 mph forkball with late diving action, an occasional curveball, and a solid slider at 82–84 mph. Although he has great raw stuff, there is still room for improvement in his command (career 3.1 BB/9 in NPB). Otani has been compared to Justin Verlander by some MLB scouts.
Otani also plays the outfield for the Fighters in NPB.
References
Shohei Otani Wikipedia
(Text) CC BY-SA