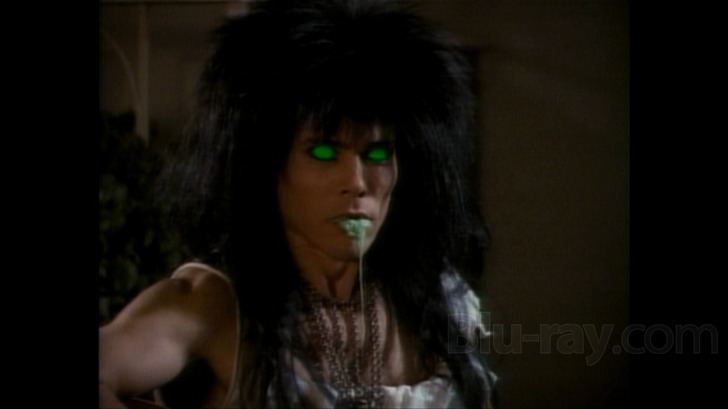 Angel Martin (Stephen Quadros) has just made the deal of a lifetime. Fame, fortune and beautiful women will all be his - for a price. To become a rock star Martin must give his soul, and to survive he must feed on the souls of others. But Angel wants to possess more than just the soul of the woman of his dreams.
Lindsay Roberts (Traci Lords) is the manager of a rising rock band that has a talented new band member. When Angel Martin joined the band she suddenly had her hands full with concerts, contracts--and private meetings with Angel. But success isn't the only new thing in her life: their recent concerts have been marred by a series of brutal killings, which remain unsolved. As Angel lures Lindsay further into his dark mysterious world--the lines are drawn for a terrifying black magic battle... against the ultimate evil.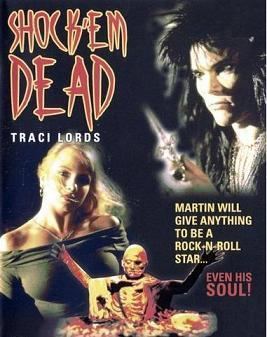 Traci Lords as Lindsay Roberts
Troy Donahue as the Record Executive
Aldo Ray as Tony the Pizza Shop owner
Stephen Quadros as Angel/Martin
Michael Angelo Batio > Stand-in guitarist for Guitar Playing close-ups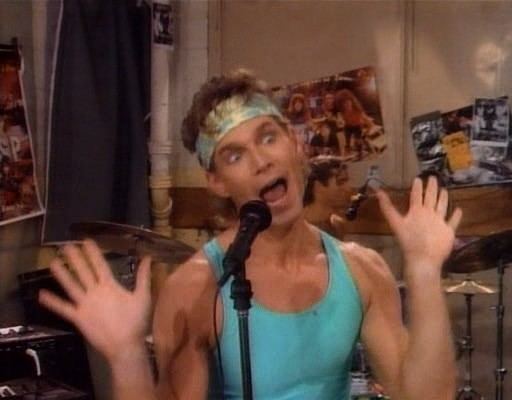 Mark Freed, Director/Producer/Writer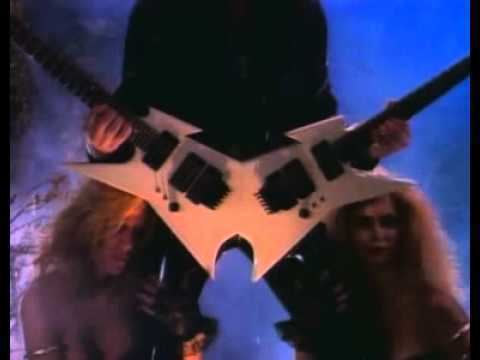 When we finished writing the script, it was obvious that the movie was going to need more than just an average guitar player to emulate the role of Angel Martin. This 'character double' needed to be a heavy metal, highly skillful guitar player with a dynamic stage presence. The producers and myself agreed that the best man for the job would be Michael Angelo Batio. Two years earlier, I produced Michael in a Star Licks Productions instructional guitar video – hence, I knew of his incredible style and technique.
I called Michael to see of he'd be interested in reading the script; he said his schedule was busy but he'd make time for it. Soon afterwards, he said he'd love to get involved – e.g., doubling the guitar shots on film, playing the role of the demon in Martin's dream sequence and overdubbing the guitar tracks for the film's concert scenes in advance of principal photography.
Many fans have asked me if Michael's guitar parts were sped up in the film. The answer is no, what you see in the film is in fact Michael playing with no special effects.
Robert Decker, Music Producer
I recorded the band tracks in my Santa Monica studio utilizing a Korg 01/W workstation, Emax 8-bit sampler, and a Roland R-8 rhythm composer – recorded on a Otari MX one-inch 16-track.
For the session, Michael showed up with a Dean, twin-necked guitar, which I plugged into a Rockman then direct into the board. Preferring a bit more distortion, I patched in a stomp box that Michael brought as well. I don't believe that he had heard the band tracks prior to the session – so, as a result, Michael took time to work out the main solo and harmony on a single-neck but would refer to the double-neck to verify that the two parts could be performed in a dual-necked fashion. In our quest to get precision solos in one short studio evening, Michael performed his parts on a single-neck for instant accuracy. Overdubs were added for a fatter sound.
Additional music Facts
The band music and guitar solos were pre-recorded except for the final concert scene in which Michael performed live on film
Supplementary solos were pre-recorded and performed live on film by David Celentano
There is no guitar notation available for these guitar tracks
The band cues (except for Purple Haze) were written by Mark Freed and Robert Decker
There was no back-up guitar on the recorded tracks or rhythm guitarist in the film
The lead vocalist on the band tracks is Rick Livingstone