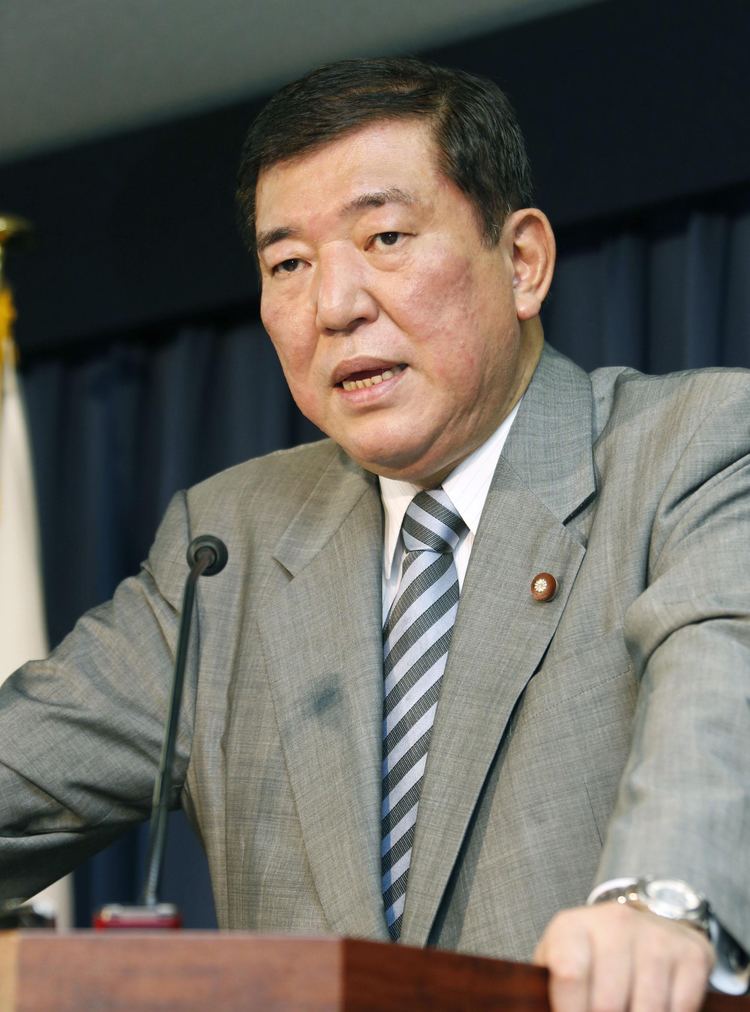 Born and raised in Yazu District, Tottori, his father Jiro was the governor of Tottori Prefecture. Ishiba graduated from Keio University in 1979 and started working in Mitsui Bank.
Ishiba was appointed as the Minister of Defense to the cabinet of Prime Minister Yasuo Fukuda on 26 September 2007, serving in that post until 1 August 2008. Ishiba was the second person in the cabinet of Fukuda to express belief in the existence of UFOs after Nobutaka Machimura. To that end he appeared on a Japanese TV program which featured dubbed extracts from the National Geographic Channel's Alien Invasion series in June 2012.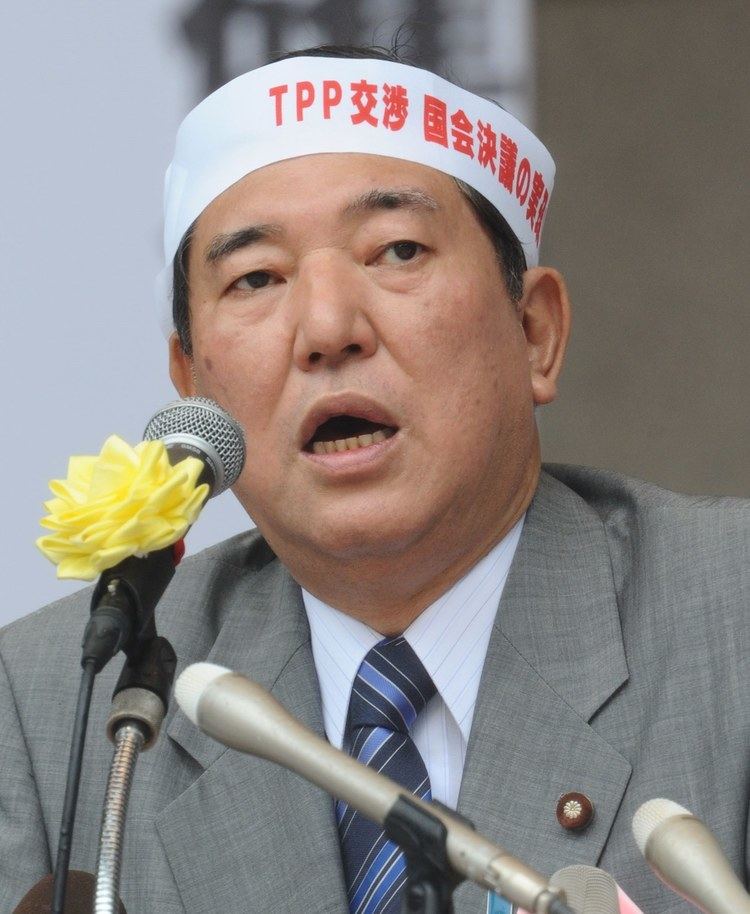 Following Fukuda's resignation, Ishiba stood as a candidate for the LDP presidency. In the leadership election, held on 22 September 2008, Tarō Asō won with 351 of the 527 votes; Ishiba placed fifth and last with 25 votes. In Aso's Cabinet, appointed on 24 September 2008, Ishiba was named as Minister of Agriculture, Forestry and Fisheries.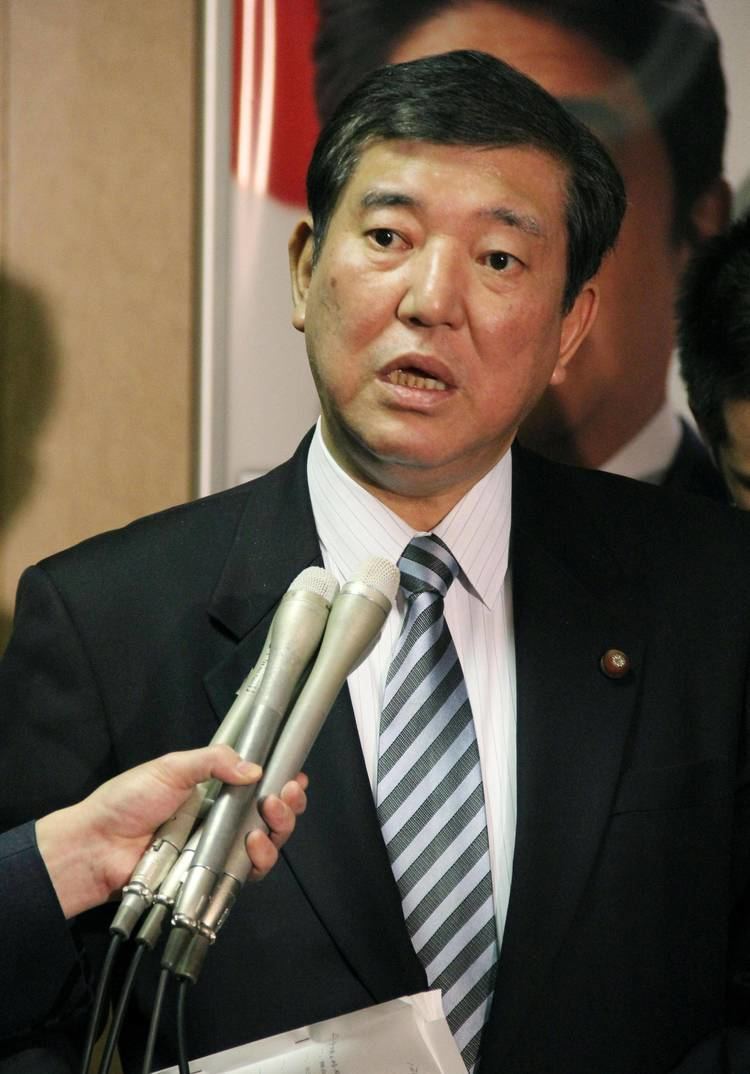 In 2012, while the LDP was still in opposition, Ishiba again stood for the presidency of the LDP and was narrowly defeated by Shinzō Abe. He accepted the position of secretary general on 27 September 2012. Abe re-appointed him to the position after the December 2012 election in which the LDP returned to government.
He attracted considerable criticism for his statement in November 2013 that likened peaceful public protests against the new secrecy bill being introduced by his government to "acts of terrorism". He later withdrew the comment.
In the September 2014 cabinet reshuffle, Abe moved Ishiba from his position as LDP Secretary General and appointed him to a newly created office of Minister for Overcoming Population Decline and Vitalizing Local Economy. He was reported to have declined the offer of a cabinet post responsible for the government's upcoming security legislation.
In spite of having been a vocal critic of factionalism in the LDP, Ishiba launched his own faction, the Suigetsukai, on September 28, 2015, with the aim of succeeding sitting prime minister, Shinzo Abe. However, with 19 members, excluding Ishiba, it was one member short of the 20 votes required for nomination for LDP leadership.
Ishiba is affiliated to the openly revisionist organization Nippon Kaigi.
Ishiba is known as a "gunji otaku" (military geek) and has a keen interest in military matters. He is known for having a lot of expertise related to weapons systems, legal issues about defense and is also fond of building and painting models of aircraft and ships.
Ishiba has repeatedly stated that he believes that Japan needs its own equivalent of the United States Marine Corps to be able to defend its many small islands, in 2010 when he was policy chief for the LDP in opposition, and as secretary-general of the party in March 2013 after the LDP regained government.
In 2011, Ishiba backed the idea of Japan maintaining the capability of building nuclear weapons:
I don't think Japan needs to possess nuclear weapons, but it's important to maintain our commercial reactors because it would allow us to produce a nuclear warhead in a short amount of time ... It's a tacit nuclear deterrent
During the 2013 North Korean crisis, Ishiba stated that Japan had the right to deliver a preemptive strike against North Korea.