Birth name

Shashank Subramanyam




Name

Shashank Subramanyam




Instruments

Venu flute


Spouse

Shirisha Subramanyam




Years active

1984–present




Genres

Carnatic music


Website

shashank.org








Occupation(s)

Musician / instrumentalist




Role

Music performer · shashank.org




Albums

Hamsadhwani, Mohana, Rasayana, Moksha




Similar People

Purbayan Chatterjee, Sowmya Raoh, Muthuswami Dikshitar
Art talk shashank subramanyam flute player
Shashank Subramanyam is a Grammy nominated renowned exponent of the Bamboo Flute from India and specialises in Indian Classical Music. He was a child prodigy and began performing from his age of 6 in 1984 and has performed in the top circuit for three decades.
Contents
Rakesh Chaurasia | Shashank Subramanyam | Raag Hansdhwani | Flute | Instrumental Music
Early life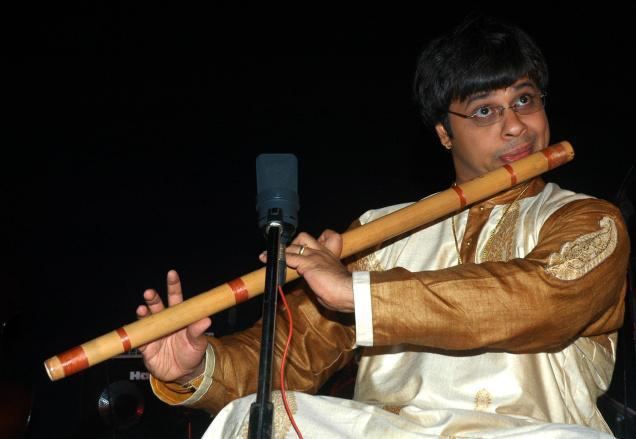 Shashank Subramanyam was born in 1978 in a Tamil Brahmin family in Rudrapatna, India to Hemalatha and Subramanyam. His forefathers belong to Tirunelveli dist of Tamil Nadu. He was trained by his father and by vocalists R.K. Srikantan, Palghat K.V. Narayanaswami, and Hindustani music under Pandit Jasraj. Shashank is married to Shirisha, a Bharatanatyam dancer. Shashank and Shirisha have a daughter Swara and son Samvit and live in Chennai, India.
Performing career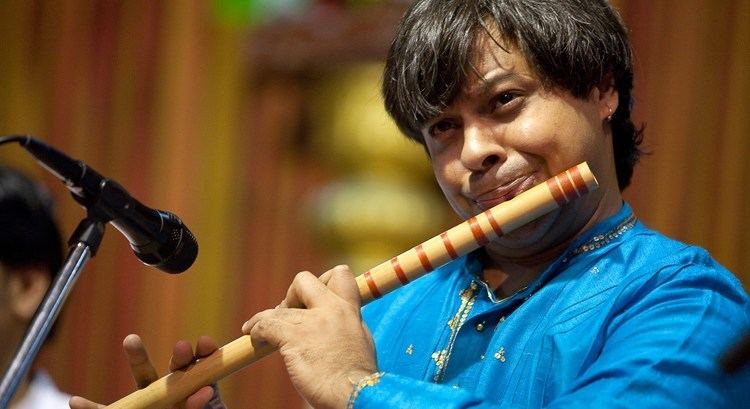 Shashank performed for the general public in 1984 for the first time at the age of 6.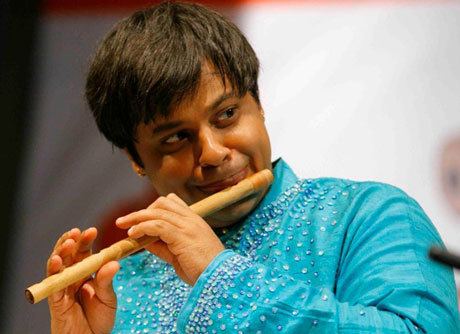 Shashank began performing at the top circuit in 1990 with major performances in Adelaide, Australia, Kuala Lumpur, Malaysia and in Singapore followed by his major performance at Shastri hall in Dec 1990. His career-defining moment came when the Music Academy invited Shashank, just 12 years old, to perform in the senior most performance slot "SADAS concert" at The Music Academy, Chennai 1 January 1991 – a record that is yet to be broken.
Shashank has been a senior flautist in the field of Carnatic Music and has collaborated with host of musicians from India and around the world including John McLaughlin, Paco de Lucia, The New Jungle Orchestra, Mikkel Nordso, Terry Riley, Ustad Shahid Parvez, Zakir Hussain, Ustad Sultan Khan, Pandit Vishwa Mohan Bhatt, Ronu Mazumdar, Ustad Shujaat Khan, Debu Choudhury
Shashank performs in a wide range of concert environments from the pure Indian classical, Symphonies, Jazz and cross over projects. He has led many ensembles and also has been a guest artist on many famed bands like Remember Shakti, New Jungle Orchestra, etc.
Style
Shashank has evolved a Flute playing style of his own and has been an inspiration to flute players in India and around the world. Some of his techniques including the use of multi flute transposed fingering technique and dual octave production has won him world acclaim. Specialized in Carnatic classical and trained in Hindustani Classical music, he incorporates patterns of improvisation from both systems of Music from India and uses a range of flutes to cover octaves that are not supported by the traditional Carnatic flute. Shashank is known for his intricate and intense (Improvisations), melodious keerthana ( composition) renderings and pulsating kalpanaswaram (Faster and rhythmic improvisations). His concerts generally include a Ragam Tanam Pallavi as a central piece, normally composed by Shashank himself.
The BBC World TV did a documentary on Shashank titled Destination Music, recently.
Awards and recognition
Grammy Nomination for the album Floating Point with John McLaughlin – 2009
Kalaimamani' the prestigious state award / title from the Tamil Nadu Government in the year 2001.
Proclamation of the city of Memphis, TN (Shelby County Govt, USA) – May 2014
Proclamation of the city Tulsa, OK – USA – April 2010
A Top ranking in the All India Radio and Doordarshan (TV).
Kuzhal Arasar by Kellogg School of Management, Northwestern University, Chicago.
Empaneled artist of the ICCR under Outstanding and senior category since 1995.
Shashank was awarded a direct A" Grade ranking in the All India Radio and Doordarshan (TV) at his age of 13.
The National Integration Award ( Spirit of Unity series) – 1991.
Rotary awards of excellence 1995 and 1997.
Asthana Vidwan of Sringeri Mutt, by His Holiness Shankaracharya of Sringeri, Karnataka – May 2000
Countries visited
India, USA, Canada, Macedonia, Hungary, Bangladesh, UK, France, Holland, Belgium, Germany, Switzerland, Austria, Italy, Denmark, Norway, Portugal, Spain, South Africa, Kuwait, UAE, Qatar, Oman, Bahrain, Iran, Morocco, Indonesia, Sri Lanka, Malaysia, Singapore, Australia, New Zealand, Japan, Hong Kong, Taiwan, Philippines and Korea.
Major Performances
Rashtrapathi Bhavan (The President's Palace at New Delhi),
Sawai Gandharva Festival-Pune,
Ganga Mahotsav-Haridwar, Saptak_Ahmedabad, Navi Mumbai Sageet Utsav, Skopje Jazz Festival – Macedonia, NCPA – Mumbai, Fes Festival in Morocco - West Africa, Roudaki Hall - Tehran-Iran, Vishnu Digambar Festival-Delhi, Ravishankar Center-Delhi, Harivallabh Sangeet Samora-Jallandhar, the Music Academy-Chennai, Chowdiah Memorial Hall-Bangalore, India Music Group – Bombay, The Mysore Palace Ramakrishna Mission-Calcutta, Dover Lane Festival Calcutta, ITC SRA Festival-Delhi, Krishna Gana Sabha-Chennai, The Smithsonian, Kennedy Center and National Academy of Sciences in Washington D.C., J. Paul Getty Hall -Hollywood, Cerritos Performing Arts Center in Los Angeles, Eastman School of Music – Rochester, World Music Institute – New York, Asian Art Museum – San Francisco, Amadeus Mozart Conservatory-Salzburg, Austria, UC Los Angeles, UC Berkeley, UC Santa Barbara, UC San Diego, San Diego State University, UC Irvine, Arizona State University – Tempe, University of Arizona-Tucson, University of Texas at Austin, University of Texas at Arlington, Texas Tech-Lubbock, University of North Texas-Denton, University of Chicago, University of West Virginia, University of Illinois – Urbana, University of Wisconsin-Madison, University of Maryland-College Park, University of Florida-Jacksonville, University of North Carolina-Greensboro, Duke University- Durham, North Eastern University – Chicago, North Western University- Evanston, Royal College of Music – London, Leicester University – UK, University of Washington – Seattle, University of Washington – Pullman, University of Oregon – Eugene, Oregon State University – Corvallis, University of Oklahoma-Norman, Carnegie Melon University-Pittsburgh, Harvard and MIT at Boston, Wesleyan University- Connecticut, Yale University, Stanford University, University of Cincinnati, Rice University-Houston, Florida State University – Tampa, Drexel University, Drake University-Des Moines, Iowa State University-Ames, Colgate University, University of Pennsylvania- Philadelphia, Rutgers University-NJ, Texas A&M College Station, St. Thomas University-Houston, University of Louisiana-New Orleans, University of Alabama, Cornell University, Amherst College, Emory University – Atlanta, Georgia Tech, University of Tenn-Knoxville, Berkeley College of Music-Boston, SUNY Buffalo, Concordia University-Montreal, University of Calgary, Guilford College, Arizona State University-Flagstaff, Lausanne Conservatory-Switzerland, Xebec Hall and Across Fukuoka in Kobe and Fukuoka, Japan, Women's University- Osaka, Japan, Tsuyama Jazz Festival-Japan, Hong Kong Museum of Art – Hong Kong, World Flute Conference – Nashville, Theater De- La-Ville, UNESCO & Musee Guimet in Paris -France, Tropical Institute – Amsterdam, Music Gebou-Amsterdam, Rasa house of World Culture-Antwerp-Belgium, University of NSW, Sydney, Mcquarie University-Sydney, Monash University-Melbourne, University of Darwin, SUNY-Long Island, Judith Wright Center- Brisbane, Port Fairy Folk Festival-Australia, Darwin Entertainment Center-Darwin, University of Auckland, New Zealand, Richard Strauss Conservatory-Munich, WDR-Cologne, Bayriche Radio – Munich and Nurnberg, Rytmisk Conservatory-Copenhagen, Opera House-Copenhagen, University of Uppsala-Sweden, The Club in Oslo-Norway, International Book Fair-Torino-Italy, World Sacred Music Festivals- France, Germany and Belgium, The Lowry in Manchester-UK, The Sage in Gateshead – UK, Modigliani Hall -Padova-Italy, Museum Rietberg -Zurich, The Munchen Residency in Munich-Germany, SLF Auditorium, Singapore, Singapore Radio, Esplanade Theater-Singapore, Putra World Trade Center – Kuala Lumpur, Malaysia, The Adelaide Festival- Australia, Improvisation Festival in Lausanne – Switzerland, Seoul Plaza in Seoul – Korea, Les Oriental Festival -France, Festival of Nantes-France, Abbaye Royal Du Fontevraud in Samur -France, Royal Society Flute Conference in Manchester-UK, Oriental Festival in Evora, Portugal, The Meyrin Forum in Geneva, Trondheim Festival, Norway and a host of other institutions across the world.
Discography
He has released over 65CDs and 6 DVDs.
DVDs.
Charukeshi - 2016
Spirit of Krishna – Shashank and the Folk Musicians of Rajasthan – 2012
Shashank, John Sund and Phalgun – Trio Indo Danish jazz CD 2011
RoR Touch Part 2- a Fusion album – EMI / India Beat Records – 2008
Sundara – DVD – 2010
Mohana – DVD- 2010
Sundara – CD – 2010
Mohana – CD – 2010
Live at the Playhouse – Copenhagen Jazz Festival – Jazz CD – 2009
RoR Touch – a Fusion album – EMI / India Beat Records – 2008
Floating Point with Legendary Guitarist John McLaughlin
Bindumalini
Josh – Live concert held at Saptak, Ahmedabad – CD 1
Josh – Live concert held at Saptak, Ahmedabad – CD 2
Utsav – Celebrations of Indian Classical Music – Shashank by Music Today – DVD – 2007
Enchanting Hamsadhwani
Utsav – Music Today Masters of Indian Music – DVD intro by Pandit Jasraj
Raag Lathangi
Rasayana – Flute and Sitar in a dialogue – CD 1
Rasayana – Flute and Sitar in a dialogue – CD 2
Margazhi Melodies – Live Concert 2004 – CD 1
Margazhi Melodies – Live Concert 2004 – CD 2
Kalarasana – Live in Chennai – CD 1
Kalarasana – Live in Chennai – CD 2
Kalarasana – Live in Chennai – CD 3
MOKSHA – Salvation
FLIGHTS OF ECSTASY – 2005
INTUITVE MINDS- The lute and Bamboo in a dialogue – CD 1
INTUITVE MINDS- The lute and Bamboo in a dialogue – CD 2
KRISHNA SMARANAM – DVD
ANUBHAV – DVD
KRISHNA SMARANAM – CD 1
KRISHNA SMARANAM – CD 2
PULLANKUZHAL OF SOUTH INDIA – KING RECORDS
MUSIC ACADEMY, MADRAS – CD 1 – Live
MUSIC ACADEMY, MADRAS – CD 2 – Live
MUSIC ACADEMY, MADRAS – CD 3 – Live
SAMMILAN – North and South in a melting pot
MEDITATIVE SPELL
THE BAMBOO IN A DIALOGUE
MOONLIT MELODIES – MUSIC TODAY
FLUTE FANTASIA – NAVRAS RECORDS
REMINISCENCE OF BRINDAVAN
MOMENTS OF ECSTASY – CD 1
MOMENTS OF ECSTASY – CD 2
God has many names – Swiss text book CD – 1995
Endless beauties from the Bamboo – 1994 – CD 1
Endless beauties from the Bamboo – 1994 – CD 2
Melodies from the Bamboo Flute – Album 4 – 1993
Melodies from the Bamboo Flute – Album 3 – 1993
Melodies from the Bamboo Flutes – Album 2 – 1992
Melodies from the Bamboo Flutes – Album 1 – 1991
References
Shashank Subramanyam Wikipedia
(Text) CC BY-SA