Sharon Matola (born June 3, 1954) is a biologist and environmentalist originally from Baltimore, Maryland, United States. She is the founding director of the Belize Zoo and Tropical Education Center, a zoo which was started in 1983 to protect native animals that had been used in a documentary film in Belize.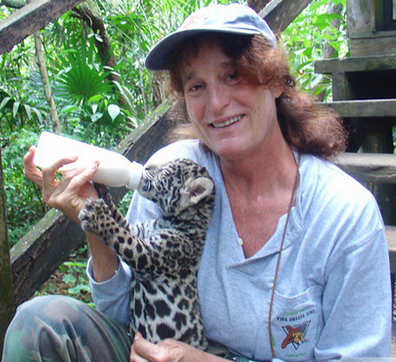 Matola, the founder and driving force behind Belize's first zoo, arrived in that country after a colorful career that included a stint with a Romanian lion-tamer and a circus tour through Mexico.
Matola was hired by filmmaker Richard Foster in 1982 to care for 20 animals being used in the making of a wildlife documentary film. When shooting of the film was completed, she was left to decide how to dispose of the animals. Many of them were too tame for life in the wild, so the idea of an unusual zoo cropped up. Matola hung signs around the country to raise awareness about the wealth of Belizean wildlife and the country's deteriorating habitat; and she went outside Belize to raise money from environmental groups.
The zoo is now home to over 125 native species, and instructs people about Belize's wildlife.
Matola fought to stop Belize's Chalillo Dam project. Her struggle was documented in the book The Last Flight of the Scarlet Macaw: One Woman's Fight to Save the World's Most Beautiful Bird (2008), by Bruce Barcott.
She's also been a contributor to BFBS Radio in Belize since 1992, starting with a popular wildlife series called "Walk on the Wildside", in which she explored the lives of Belize's flora and fauna. She now freelances for the BFBS.