Covid-19



Kevin ONeill




1h 24m




Horror, Science Fiction




United States







Sharktopus Series




Matt Yamashita




English






August 2, 2014 (2014-08-02)




Robert Carradine

,

Tony Evangelista

,

Rib Hillis

,

Conan O'Brien

,

Hensy Pichardo

,

Katie Savoy




Sharktopus vs Pteracuda and Sharktopus are part of the same movie series



Sharktopus vs. Pteracuda is the sequel to the 2010 SyFy original monster film Sharktopus and has premiered on August 2, 2014. The film is produced by Roger Corman, who directed the Conan O'Brien cameo, and starring Robert Carradine, Katie Savoy, and Rib Hillis. Other actors in the movie include Conan O'Brien, who makes his acting debut in a scene described as "truly violent, patently disgusting and darkly humorous". It is the second film in the "Sharktopus" franchise.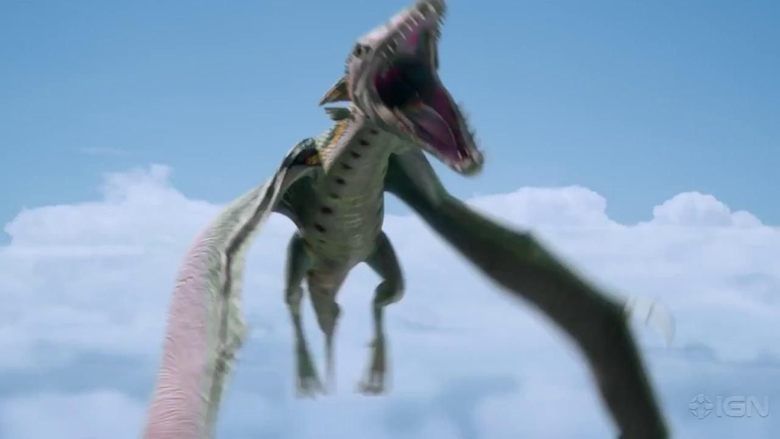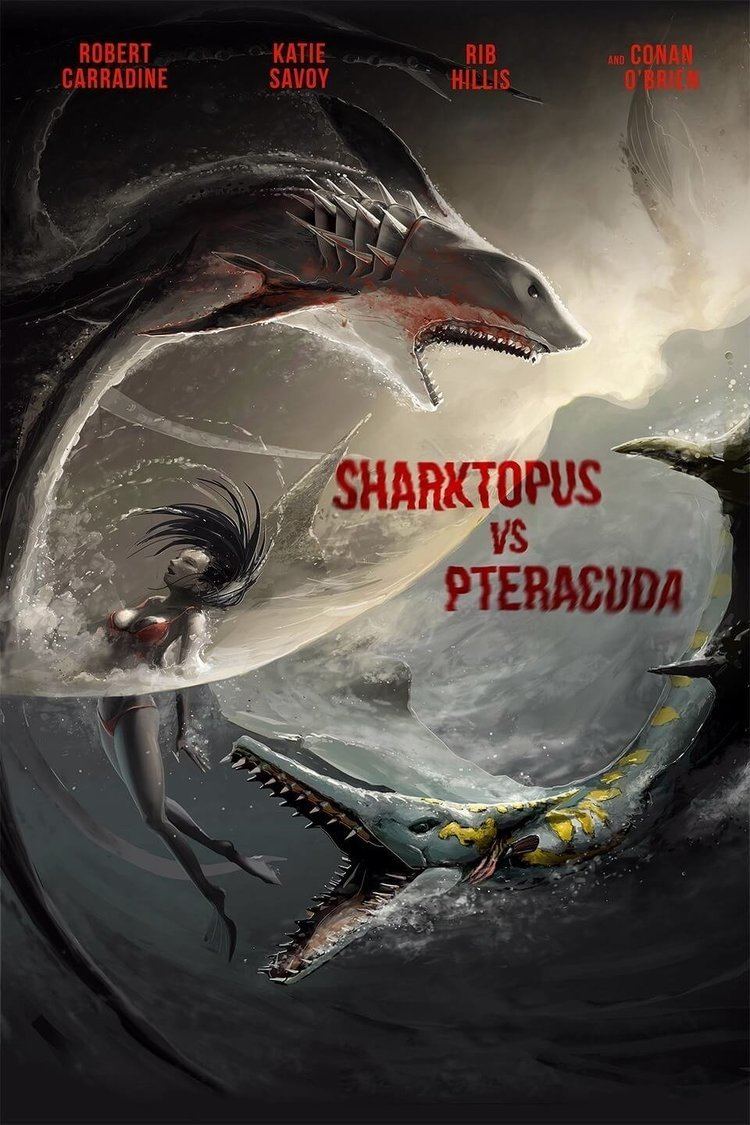 After Andy Flynn destroyed the original Sharktopus (a half-shark half-octopus creature), its various pieces floated back out into the ocean. However, among the scattered anatomy was an egg sack and marine biologist Lorena Christmas (Katie Savoy) finds herself the ward of the creature's sole offspring which she begins raising at her greedy uncle's aquarium to mixed success. Meanwhile, Dr. Rico Symes (Robert Carradine) is hard at work on his own biological weapon. After harvesting a pterodactyl's DNA, he used the DNA from a barracuda to fill in the gaps, creating a monster that can terrorize land, sea, and air. Things are looking pretty good during the initial test flight until the creature is hijacked by a rogue engineer looking to sell it to the highest bidder. After the rogue engineer accidentally spills his coffee all over his console, the Pteracuda is free to rampage the coast in search of food.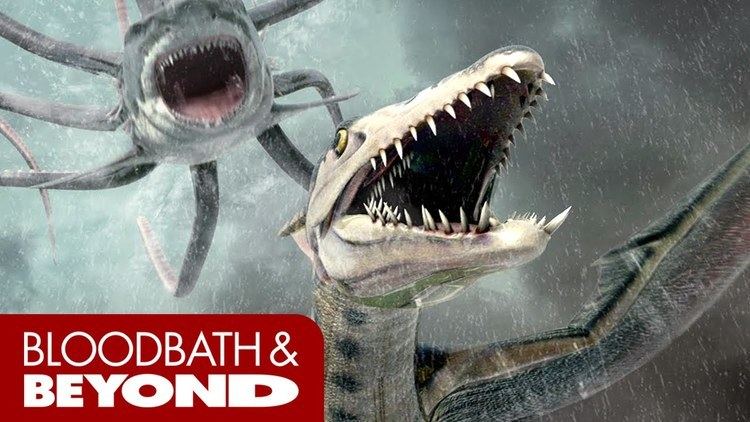 On a sunny beach, Conan O'Brien has his head first spiked and then bitten off by the Sharktopus. Unsuspecting volleyball players knock his severed head around as it continues to squirt blood.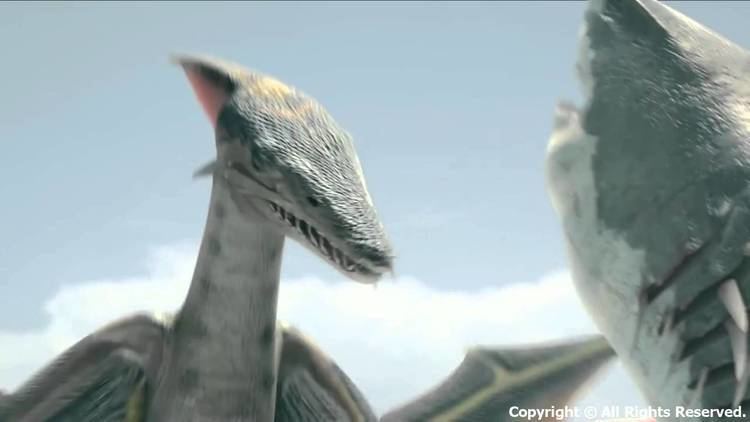 Running out of options, Symes and his head bodyguard Hamm (Rib Hillis) learn of the new Sharktopus' existence when they pick up Lorena to help them. After fitting it with a neural remote to control its actions, Symes and Hamm pit the two fearsome fusions against each other in a battle to the death.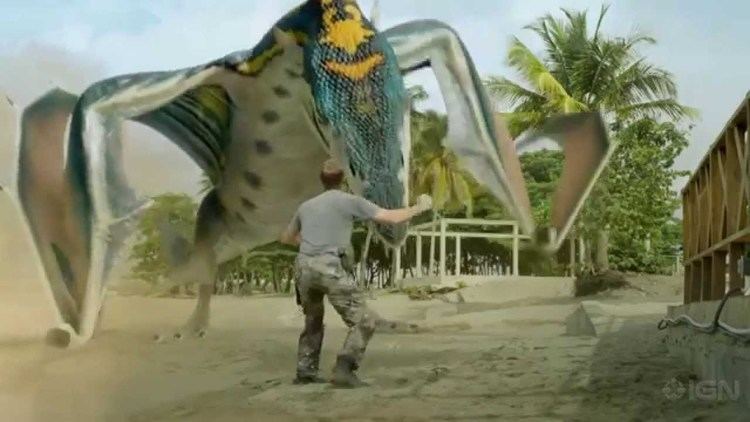 Robert Carradine as Dr. Rico Symes
Rib Hillis as Hamilton "Hamm"
Katie Savoy as Lorena Christmas
Conan O'Brien as Himself
Akari Endo as Veronica Vega
Hensy Pichardo as Lorena's Uncle Munoz
Tony Evangelista as Rick Hoffman
Hector Then as Harold "Harry" Smith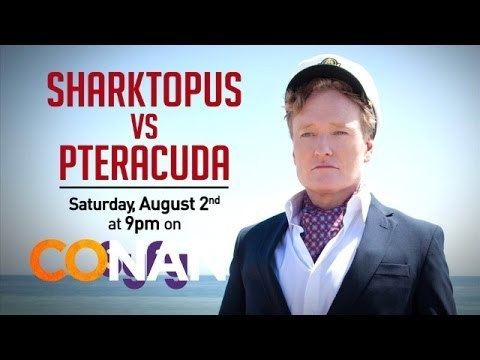 The film was followed by a third installment called Sharktopus vs. Whalewolf which aired on July 19, 2015 on Syfy.
Sharktopus vs. Pteracuda Wikipedia
(Text) CC BY-SA
Sharktopus vs. Pteracuda IMDb
Sharktopus vs. Pteracuda themoviedb.org