Original language(s)

Hindi

Created by

UTV Software Communications

Starring

Farida JalalShoma AnandMahesh ThakurPoonam NarulaEva GroverShruti SethDaisy IraniAditi ShirwakarHarsh VashishtSimple KaulKaranvir BohraSuhail Jaffer

Similar

Best of Luck Nikki, Sanya (TV series), Kartika (TV series)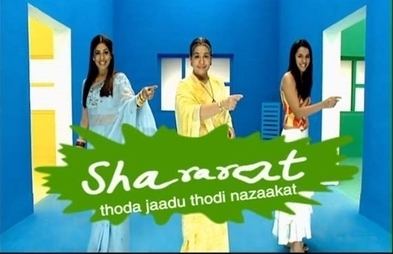 Shararat – thoda jaadu, thodi nazaakat (Hindi: शरारत – थोडा जादू, थोड़ी नज़ाकत; translation: Mischief – a little magic, a little finesse) was an Indian fantasy-sitcom, originally broadcast on Star Plus channel from 2004 to 2009. Over the years, it has reaired on many channels, namely STAR Utsav, TV Asia, and Disney Channel India. Shararat is loosely similar to the American show Sabrina, the Teenage Witch. Despite initial competition from soap-operas and other fantasy shows, Shararat became very popular as the series progressed and has since become a cult-classic. After almost five years of airing, the show came to an end on 23 April 2009 with 5 seasons. In September 2010, Disney Channel India bought the rights to the show.
Contents
Synopsis
Shararat revolves around Jiya (Shruti Seth), who is the great great great grand daughter of Rani Devi. It opens with Jiya celebrating her 18th birthday and unknowingly, is now the wielder of supernatural powers. Jiya lives with her family: her father Dr. Suraj Malhotra, her mother Radha, her brother Jai and her maternal grandmother Sushma. Apart from this, there are Jiya's college friends and acquaintances such as Dhruv - on whom Jiya secretly has a crush. Dhruv returns her ardor, Parminder (or Pam, as she yells at everybody to call her), the latest NRI entry in the college, who threatens Jiya that she will grab all of Dhruv's attention; Meeta, her starry-eyed and romantic best friend and Raja, Dhruv's best friend who is always irritated with Meeta running around him. Pam is also the niece of Shanti Saberwal - the classic neighbour - who is convinced that everything is not normal with the Malhotra household and who always goes there to borrow something or the other. The Malhotra home with three fairies who use, or rather misuse, their magic nearly always ends up in trouble. Suraj, who learnt on his wedding day that not only his wife, but also his mother-in-law is a fairy, has to deal with his mother-in-law who insists that her daughter and grand daughter practice magic. Midway through the series, Bebo, a 10-year-old fairy, is sent to live with the Malhotra family as she is causing mischief everywhere in Paristan, the world of fairies. Normally, a fairy cannot use her magical powers until her 18th birthday, at which Rani Devi sprays a few drops of magical potion on the fairy, thereby freeing all her magical powers. However, Bebo accidentally fell in the entire pot of potion, and that's why she can do magic when other underage fairies cannot.
In season 5, the Malhotras move into a new house, which is haunted by four stupid but paranoid ghosts: Colonel Pritam Singh, who used to attend Sushma's college and has a crush on her since then; his son Amar Prem, whose life ambition is to get 1000 customers to make life insurance with him; Amar's wife Pritika, who wants to become an antagonistic actress; and their son Nidar, who has developed a crush on Jiya. The ghost family had died whilst holidaying in the Malhotra house, and hate the family as they do not want humans to stay at the house, which they now call theirs. They play many pranks on the Malhotras, and the Malhotras in turn use their magic to annoy them, with both parties trying to force the other to leave the house forever. The story ends with Dhruv returning from Australia. He proposes to Jiya and they get married and live happily ever after.
Fairies
Farida Jalal as Sushma Khushwant Mehra/ Nani
Shruti Seth as Jiya Malhotra
Poonam Narula Goel (ep 1-86) / Eva Grover (ep 145-192) as Radha Malhotra
Daisy Irani as Rani Devi
Supporting Characters
Carren Kapoor as Neel (magician, antagonist; some episodes only)
Unknown as Bebo (Child Fairy)
Humans
Karanvir Bohra as Dhruv (main lead & Protagonist), Jiya's lover
Mahesh Thakur as Suraj Malhotra (main lead & protagonist)
Suhail Jaffer as Jai Malhotra (child protagonist)
Shoma Anand as Shanti Saberwal (antagonist)
Aditi Shirwaikar as Meeta- Jiya's best friend (Parallel Protagonist)
Harsh Vashisht as Raja, Dhruv's best friend, Meeta's love interest (Parallel Protagonist)
Simple Kaul as Parminder Sohni alias Pam (Antagonist)
Rinku Worah as Eena (Pam's closer)
Maneka Lalwani as Tina (Pam's closer)
Sindhu Parjaat as Lovely (Pam's closer friend)
Ghosts
Delnaaz Irani as Pritika
Sooraj Thapar as Amar Prem
unknown as Colonel Pritam Singh
unknown as Nedar
Guest Appearances
Parikshit Sahni as Khushwant Mehra, Sushma's (Nani) Husband / Nana
Karishma Tanna as Natasha (A pretty girl made by Nani to test the love of Dhruv for jiya (appears in episode 30)
Deepshika as Ria (Appears in episode 16 as Radha's and Suraj's best friend)
Amit Varma as Rocky (Appears in the Prom Night episode)
Pushtiie Shakti as Monti's (Jai's friend) mother, (Appeared in episodes 22 and 23)
Swapnil Joshi (Appears in one episode only, sent by Jiya's grandmother to marry Jiya but refused by all)
Rakesh Shrivastav (Appears in two episodes, in episode 21 as a restaurant waiter and in serial killer episode as a police inspector)
Dhananjay Singh(Appears in one episode only)
Teejay Sidhu(She is the real life wife of Dhruv(Karanvir Bohra), appears as Dhruv's Secretary )
Purab Kohli( A student, who is really interested in science. Appears on episode 130 ) Dhunketu - He is attracted to Jiya
Vishal Malhotra( Ranjha, who appeared from the book, because of Nani to test Dhruv. )
Kamini Khanna (Suraj's mother, few episodes)
Shammi as Rani Devi (appear in episode 1 only)
Production
Production for Shararat began in September 2002, when Rajiv Mehta pitched an idea for a show revolving around fairies and magic. Originally, the show featured a girl who hid magic from her father and friends while trying to become the world's best fairy under her mother and grandmother's guidance. Jiya was originally named Pooja and the characters of Pam, Meeta, Raja and Shanti did not exist. When the series was finally picked in January 2003, Mehta combined several aspects of his stories and created what is now known as Shararat. The tentative title was Thoda Jaadu. It was changed to Jaadu aur Nazakat in January 2003 and again in March 2003 to Jaadu, Nazakat aur Shararat. It was finally changed to Shararat in May 2003. The cast was chosen through various auditions. Finally, the show entered production in October 2003. Writing for first season began in June 2003 and concluded in November 2003. Shooting for the first season officially began in the final week of February 2004 and concluded on New Year's Day 2005. When extra episodes were announced, the show was shooting the pilot. The writers concluded work in June 2004, while the show was shooting episode 30. It was originally to last for 28 episodes but was extended to 56 in the first week of February 2004. Shooting took a break in October 2004 for Diwali. Thanks to good reception, the show was renewed for a second season in May 2005. Writers got to work immediately, while the shooting crew followed on 1 August 2005. The second season consisted of 56 episodes. The second season's shooting was concluded in September 2006, after a breaks in October 2005 and 20 December to 20 January 2006. The show was renewed for a third and final season in January, 2007. Since there was a very small time left in airing the 3rd season and the cast was unavailable starting in March 2007 to August 2007, 7 episodes of the 2nd seasons as 3rd season episodes. Six episodes were shot starting in February 2007 till April 2007. The show was renewed for a fourth season thanks to the audience's intense requests. Shooting began in September 2007 and concluded in December 2007. Though shooting for 5th began in February 2008, it did not premier until June 2008. The shooting concluded in September 2008. The channel held a meeting in July 2008 to decide the show's future. Most of people wanted the show to conclude and in a month, the channel announced Season 5 as the final season.
Seasons
Original telecast
Repeat telecast
References
Shararat (TV series) Wikipedia
(Text) CC BY-SA