Shane Bugbee (born November 9, 1968) is an underground artist, publisher, multi-media communicator, filmmaker and event promoter.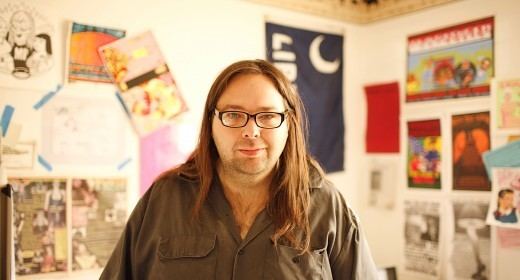 He has been criticized for allegedly exploiting the death of Dana Plato of Diff'rent Strokes by releasing a CD recording of her "dying breath".
In 1986 he established Michael Hunt Publishing, he began publishing cartoonist Mike Diana during his obscenity trial. Bugbee was a strong supporter of Mike Diana, and acted as his publisher and manager for nearly a decade. Bugbee hosted Mike Diana's first solo art show at Goat Gallery in Chicago in Dec. 1994. From the article: "He's just making graphic what's already in the paper every day," says Bugbee, who got involved when Diana told him he was going to stop publishing. "I said that was horrible," he recalls. "I told him that I would do it, and when they got me and shut me down then someone else would do it." Diana, he confirms, "is very quiet and soft-spoken. He's really ultrasensitive: that's why he chooses the subject matter he does. It really bothers him."
In 1992 Bugbee became an agent of Serial Killer John Wayne Gacy art, eventually publishing Gacy's bio "A Question of Doubt".
A self-proclaimed expert in the subject of Serial Killers, Bugbee has spoken extensively on the subject, even touring a collection of artifacts including Ed Geins tombstone. These "side show" style speaking engagements have drawn criticism as exploitive and over the edge. Salem, Ma. Mayor Stanley Usovicz tried to stop one event, calling it "an outrage" after Bugbee displayed Ed Gein's truck in the center of Salem's downtown area.
In 1997 Bugbee and his wife Amy organized "The Expo of the Extreme", a three-day event featuring bands, artists, films, petty criminals, and porn stars. The second installment of "The Expo Of The Extreme" in 1999, was to include Dana Plato as the hostess of an event highlighting Motörhead and Fang, but she died just weeks before the event from an alleged prescription drug suicide.
In the course of his work, Bugbee has interviewed various well-known individuals, including TV magician Penn Jillette, and Anton LaVey, the High Priest of the Church of Satan.
Bugbee created his own blueberry soda pop, Ely Soda. The popularity of the soda led to wider revelation of Bugbee's other entrepreneurial and artistic endeavors (via Google searches, etc.), eventually ending in controversy and exile.
Bugbee turned his attention to environmental and political concerns. Shane Bugbee was a winner in the Willie Nelson peaceful solution video contest. From Nov. 4 2007 until Nov. 5, 2008 Bugbee, with his wife Amy, embarked on a year long road trip called A Year At The Wheel covering art, politics, religion and revolution which culminated into a book and documentary release [3].
Bugbee settled in a small beach town in 2008 on SE corner of Washington state after the road trip. Shortly after arriving he began using sculpture as a medium of expression, producing dozens of works which have been exhibited in various shows. He was interviewed about his art in ArtSync magazine in 2011. [4]
Shane and Amy Bugbee organized a variety show style tour in 2012 called WTF Fest, the tour, which appeared in 5 cities included poet and revolutionary John Sinclair, Star Trek artist Dave Archer, known for painting with a million volt Tesla Coil, scream queen Ruby LaRocca, and Dave Densmore a poet and commercial fisherman. The show included additional musical guests. it received mixed reviews. [5]
In 2013, Shane and Amy Bugbee turned over all of the materials - footage and writing - from the year long road trip to the Internet Archive. The largest archive in the world. [6] They also spoke at Harvard University in May 2013 about their travels.
In 2014, Shane Bugbee was involved in the formation of the Satanic Temple, assisting his former protege Doug Mesner develop what was originally set to be a mockumentary about the separation of Church and State, but developed into a religion. Bugbee acted as an advisor until it became clear the group's plans had changed.
Additionally in 2014, Shane and a partner developed a concept for an underground news show called "Counterculture". Despite interest from Showtime and other networks, Shane turned his back on the project. [7] [8]
In October 2015, Shane Bugbee with fellow artist and friend Dave Archer, did a show at AFRU Gallery in Portland, the exhibit titled "Black Magic House Blessings and Fukushima Death Curses" featuring Shane's sculptures and Dave Archer's wood burnings. It received favorable reviews in local press. [9]
Bugbee has been profiled in The Chicago Reader and Spin Magazine, Sept 2001 during the underground publishing boom. Bugbee was featured on the cover of The Chicago Reader; the feature was titled "Shocks to the System."
Bugbee has been a guest on Court TV with Nancy Grace. He appeared on E! True Hollywood Story regarding Dana Plato. Bugbee has been a guest on multiple Howard Stern radio shows, once explaining how he obtained serial killer Ed Gein's gravestone.
A full chapter from the book ART THAT KILLS by George Petros is dedicated to Bugbee. The book covers the Transgressive Art Movement from 1984-2000. [10]
In 2013, Shane and Amy Bugbee spoke at Harvard University about their book and movie 'The Suffering and Celebration of Life In America'. [11]. The Harvard Crimson: [12]
Jody Picoult's 2010 bestseller House Rules begins with discussion about Shane Bugbee and the cookbook he put out with serial killer Dorothea Puente.
Naked Aggression magazine 1991-93, by various
Superfly 1 by, Mike Diana 1993
For the Love of Bijork, by Al Frank 1993
Dixie Do Me, by Lisa Brosig 1993
Chicago Cartoon comix magazine 1993, by various (editor)
Worst of Boiled Angel, by Mike Diana, 1996
Extermination Zone, by Randall Phillips, 1996
MF Magazine 1995, 1996, 1997 by various
Chicago At Night adult newspaper 1998,1999, by various (editor)
Dana Plato's Last Breath, book & CD, by Shane and Amy Bugbee, 1999
Superfly 2 by, Mike Diana 2000
Bad Pill's, by Sverre H Kristensen 2000
Slipknot comic, by Tony Kelly 2000
ANSWER Me! #4, by Jim Goad 2001 (reprint)
Cooking With A Serial Killer, with Dorothea Puente, 2004
Might is Right, with Anton LaVey, 1996, 2006, 2013
The Trench Coat Diaries, by Shane Bugbee 1999
Ely Pride arts and entertainment magazine 2006, by various (editor)
• The Suffering & Celebration of Life in America, by Shane and Amy Bugbee (2012) [13]
Expo of The Extreme 1997 & 1999, Chicago, IL
Court of Porn 1997, 1998, 1999, Chicago, Il
Angry White Male Tour, 2001
True Crime Warped Minds Tour, 2004–2006
Festival of the Dead, 2005, Salem, Ma.
Satan's Rockin' 666 Eve, 2006, Los Angeles