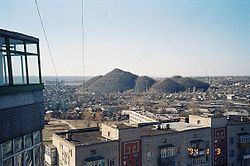 In the beginning of the 19th century sergeant-major Popov founded on the Grushevka River a Cossack stanitsa of Alexandro-Grushevskaya (Александро-Грушевская). While the exact reasoning behind this name is unclear, it is possible that the name was given in honor of Emperor Alexander I. Twelve Cossacks and fourteen peasant serfs lived in the stanitsa at that time. By the mid-19th century, fifty-seven coal mines operated in this area. In 1867, it was granted town status and renamed Gornoye Grushevskoye Poseleniye (Горное Грушевское Поселение). The name was changed to Alexandrovsk-Grushevsky (Александровск-Грушевский) in 1881.
By 1914, the population had reached 54,000. The main source of income was coal mining, which had been carried out in that region since the end of the 18th century. The population was poor, but the town had rail, telegraph and telephone networks, electricity and plumbing as well as libraries, hospitals and a post office. 1917 saw the city change hands three times, until it was taken on April 28, 1919, by the Don Army, under General Fitskhelaurov. For twenty months it was independent of the Bolsheviks, but was ravaged by typhoid.
In 1920, the city was given its present name. The name, which literally means mines in Russian, was chosen due to the strong association with coal mining. During the 1920s, many of the churches and the archives were destroyed. In 1928, the city was the location of the Shakhty Trial, a precursor of the show trials of the 1930s.
In 1941, an independent Cossack republic had been declared in Shakhty although this was suppressed by the NKVD before the Russian invasion. In July 1942, during the Great Patriotic War, the city was occupied by the Germans; many coal pits and buildings were blown up by the Germans during their retreat in February, 1943. Twenty-nine of the townsmen were awarded the title of the Hero of the Soviet Union.
In 1948, production levels in the mines reached what they had been before the war. During the Leonid Brezhnev years, the city was at the height of its development, with a population of over 250,000, and about ten million tons of coal being mined each year.
In the 1970s and 1980s, the city was the scene of many of Andrei Chikatilo's murders.
Perestroika proved devastating for the city, as mines were privatized and shut down, causing massive unemployment, which led to a severe rise in crime and drug abuse. Today's Shakhty is the main industrial center of the Eastern Donbass. The city is also one of the main producers and exporters of tile in Eastern Europe.
Within the framework of administrative divisions, it is incorporated as Shakhty Urban Okrug—an administrative unit with the status equal to that of the districts. As a municipal division, this administrative unit also has urban okrug status.
The city's population was 239,987 as of the 2010 Census; up from 222,592 recorded in the 2002 Census. As of the 1989 Census, the population was 225,797.
Shakhty is twinned with:
Gelsenkirchen, Germany
Nikopol, Bulgaria