India




Madhya Pradesh




Shahjahan




Hindi




Shajapur






Shajapur is a City in Malwa region of Madhya Pradesh state in west-central India. in June 2017, large scale farmer's protests took place here to highlight the high rate of suicides taking place among them due to the non implementation of the Swaminathan commission report (1 suicide daily in Shajapur, 1 suicide every 30 minutes in India). As it proceeded, farmers were fired upon by the police forces and tear gassed.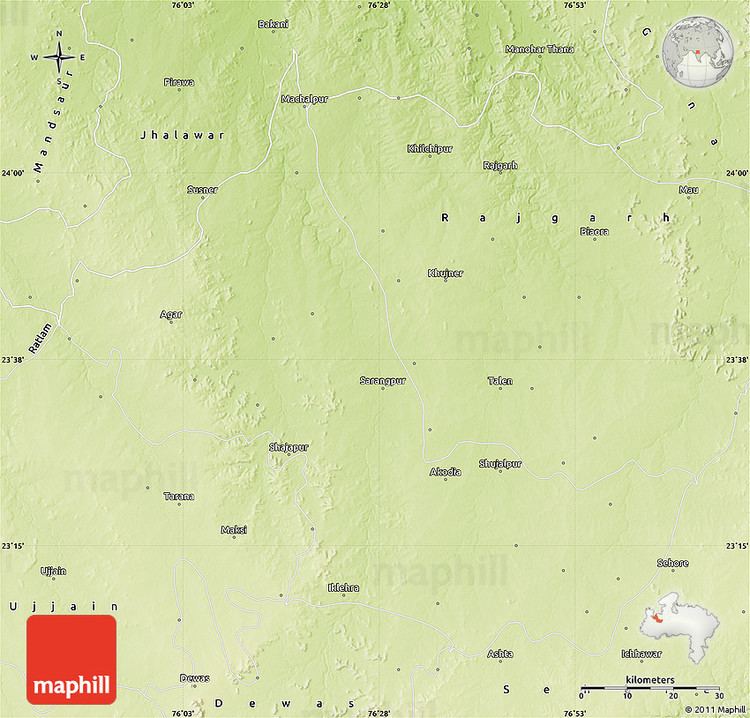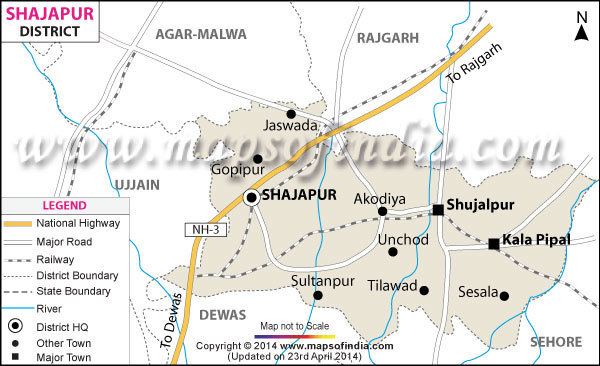 Shajapur is located at 23.43°N 76.27°E / 23.43; 76.27. It has an average elevation of 443 metres (1453 ft).The highest peak is known as bhairo dungri.
As of 2011 India census, Shajapur district had a population of 1,290,685, with 669,852 males and 620,833 females.
The most common language spoken is Hindi, but people still speak Malvi, a local language similar to Hindi in dialect and script.
The town contains numerous places of interest including:
The Raj-Rajeshwari Temple is one of Famous Shakti Temple Sculpture of temple is about 10th century A.D. Age of Parmars.situated Near the A.B, Road- It is estimated to have been built between 1007 and 1009 by Raja Bhoj. Mangal Nath Temple is just Behind the Raj Raeshvari Temple and near the Bank of Chillar River.
The Karedi Mata temple, which was built by Karan (MAHABHARATa)(15 km From Distt HQ situated In UJJAIN-Shajapur Distt Boundaries)"mahakaleswar temple" is situated in "sundersi".it was from ancient time.sundersi is a historical place.in the honor of 'sunderbai"sister of "maharaja vikramaditya"this place is known as "sundergarh'.
The old fort near the bank of the Chiler river built by the Mughal Emperor. The fort used to contain the district court but it is now home to the Central School of Shajapur.
Pale wale Baba ka Mandir (Khardon Kalan) & mata Vijyasan Mandir (Lasudliya Patla) are at 110 km from Shajapur.
Pandu Kho (Near LalGhati) where Pandwas (Mahabharat) stayed during their Vanvas.
Bapu Ki Kutia is situated near collectorate at AB ROAD shajapur (Temple & Samadhi)
Muradpura Temple (Old Famous Temple of God Hanuman)
Mankamneshwar Mahadev Temple (Kumharia Khas) is very old Temple of God Shiva.
Baba Baijnath Temple (Agar) is 70 km from Distt HQ.
Mata Baglamukhi Temple (Nalkheda) is one of the shakti peeth in India and a very famous temple of Nalkheda tehsil(now in newly made distt. AGAR).
Nityanand Ashram is situated at AB Road Shajapur
bhairo dungri. it is a high mountain peak and having a temple at the top.
Fort, and jama masjid.
mazare-e-sherif, the famous mazare is situated near at kashinagar shajapur.
chillar dam is very important place of tourist it is life line of shajapur. It's situated village sanpkheda.
In the opening scenes of the popular yesteryears Hindi film Shree 420, the protagonist (Raj Kapoor) finds a road crossing showing the direction to three places, of which one is Shajapur. The other two are Dewas and Bombay.
Shajapur Wikipedia